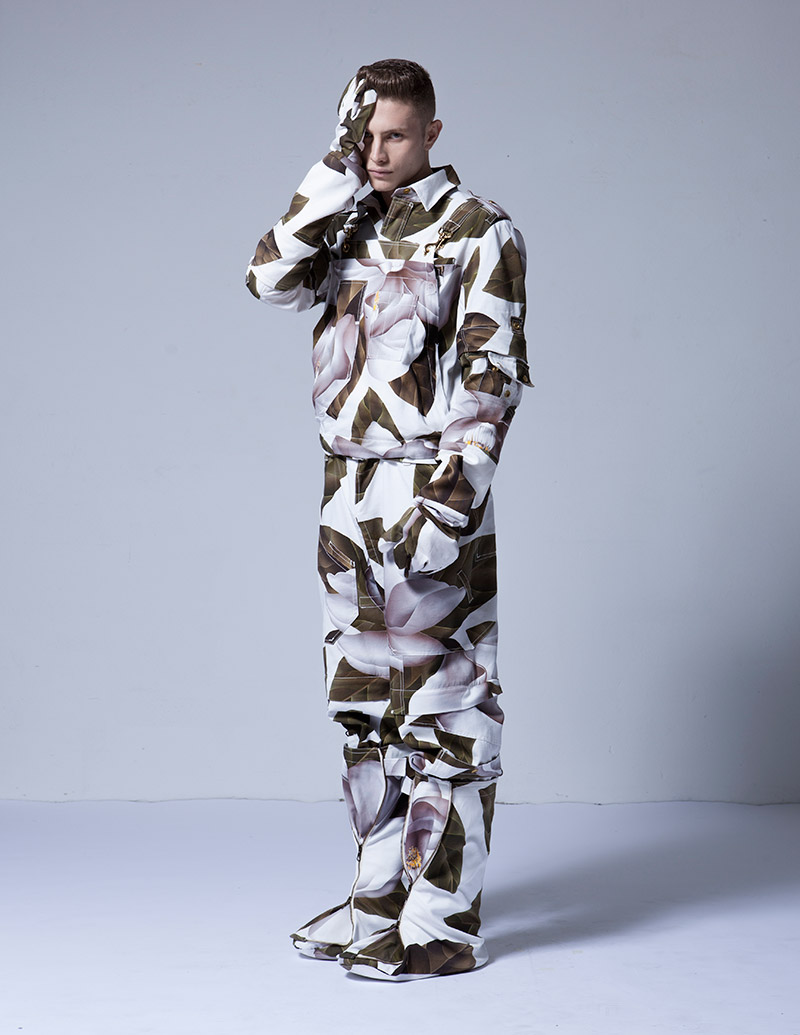 Florence, late winter, the city is quiet, the Arno flows incessantly and the market squares seem abandoned. History is allowed to whisper, sullenly along a crisp breeze. A perfect occasion to catch up with Mr. Andrea Cammarosano, a man of many interests. As he speaks fluently, without hesitation, we are drawn into his world. One of witty anecdotes, profound research, historic references and a sense of bohemian irreverence. Meet the man behind the always graphic and contrasting collections: for a moment with Andrea.
Fucking Young! – Ciao Andrea, let's start with the humble beginnings, what is your story and how did you get to where you are now?
Andrea Cammarosano – My dad was an artist and had an academic career in history. From him, I developed the passion for reading and for storytelling. His house is completely full of books – they literally creep up from the floor and fill up every possible place, from the fireplace to the kitchen cupboards. You are looking for sugar, and you find books. I think it is for this reason that I've always seen culture and ideas as part of everyday life.
And then there was Walter Van Beirendonck. When I graduated from Antwerp he hired me to work in his studio, but always watched out for me, making sure that I would carry on my own line. He always encouraged me and reminded me to stay true to my identity. Both my dad and Walter showed me how to live a second life through imagination, but also to remain firmly rooted in reality. I feel very strongly these values in my life: the culture, the formality, the history, the originality, the art and the avant-garde.
FY! – As you are hailing from Italy, history and modernity often clash. How do you see the current design and fashion landscape in Italy develop and reform?
AC – In Italy we have a huge cultural heritage, which sometimes that acts as an impediment for modernization. Nonetheless, the painters of our tradition – let's say, the Renaissance painters – where in strong disagreement with the previous style – in that case, the Gothic school. They trashed that conception; they respected the masters but they revolutionized the arts – often while those masters were still alive!  Think of Cappella Brancacci in Florence, one of my favorite places here, where the work of the pupil, Masaccio, stands out so clearly against that of his master Masolino, yet manages to respect the formal construction of the work. I think this says a lot on how the concept of "tradition" must be placed into a context, instead of simply being historicized. This should inspire us today, in fashion, as in everything else.
FY! – Andrea, could you tell us a little about how you see art, the body and identities, and conduct the extensive research, we have grown to love in your work?
AC – Well, all things – words, objects, images – are tied to a meaning. When they are replicated for a certain amount of times, that meaning can fossilize, or evaporate. The only way to avoid that is to constantly question the meaning of things and this is what art does. Think about the word "fashion" – it doesn't have any relation to its etymology, which meant "façon" – the way of making things.  Fashion meets art when designers look at the essence of their discipline: the garment and its making, the body, the identity.
Henceforth, the Bbdy and identity are ideas, we connect to these ideas through our clothing. We cut out areas and volumes of our body and highlight others; we seek for approval of others to reassure our identity. Next to this, we seek for the pressure of belts, harnesses, collars to reassert our bodies.  The summer capes that I am showing this season (ed. new for SS15) are strongly related to this practices: they close at the neck with a firm, tight collar  which is the emblem of strictness and discipline,  while the large, airy cape hiding the body is an assertion of freedom. This is how clothes act both on our bodies and on our minds.
FY! – Let's speak of conversations, as you are all for dialogues and openness. Could you describe a valuable moment interaction you had recently?
AC – Well, Polimoda (ed. the fashion institute in Florence) gives me plenty of mental interaction, it is something I could not do without. Linda Loppa (ed. Polimoda Director) creates such a special energy around her. We are launching next year a new Master course in Art Directing, that connects a huge amount of disciplines through intuitive and counter-intuitive methods. I also happen to ask a lot of questions to my students, I like to listen to their answers. This kind of energy is self-inducing – the more stimulus you get, the more you need to put out.
FY! – Recently, menswear seems to be a beacon of hope, with fresh creativity and tailoring developments rapidly spring up. Would you say your work is traditional when it comes to techniques or innovative and why?
AC – As I said before, I think tradition is as much about historical information as much as with breaking clean with this information. Last season I asked to my manufacturers to realize a classic-cut male blazer partly in a combed cashmere wool, partly in a 2cm thick printed foam. The women that sew it – some had been making classic men's blazers for 50 years – did not even raise an eyebrow. They were like, "Of course, a foam blazer". These women might have not traveled much in their lives and maybe they can't even use the Internet, but they totally get it, because they know it can be beautiful when they make it in the right way – and they are right.
Also the tailors that had to develop the pattern didn't flinch. The development of this pattern, turns out, can't rely on regular grading techniques: for instance, the circumference of the sleeve must be recalculated in every point, and it has a different ratio at the elbow than it has at the cap. It must then meet a specific measure at the armhole, which has yet another ratio. Only someone that has been tailoring and measuring bodies for years could make that happen, and almost at the first shot. It's all about having a real passion for making clothes – this is why working in Italy is an amazing opportunity for me and for any designer.
FY! – Travels. Identities. Cross-Cultural references. How important is connecting the world and experiencing different spaces to you?
AC – Computers have multi-cores parallel processors, that allow them to perform different operations at the same time, but then it all comes together as one precise output. Our minds and our world work in a similar way; It's important to have multiplicity, as well as clarity and focus. It is a constant exercise. My motto is, "Dream and question your identity, but never forget who you are": it is important to explore, but also to be focused and create roots.
FY! – Some Tunes. What do you listen to?
AC – In this period I am always listening to Glenn Gould and to Giorgio Moroder. I also love Trentemøller, Ratatat and Hot Chip. I get inspired by Patti Smith, Pink Floyd and the everlastingly willful Nina Simone.
FY! – Finally, As is tradition, what to you is really FUCKING YOUNG?
AC – I love Fucking Young! It's totally international, but it also really carries this amazing Barcelona energy – a hunger and a curiosity that you rarely find in other places. It's a publication about storytelling, extensive research and discovering; it questions the status quo, but is solidly rooted in its own world and in its own vision. Designers need magazines like this, because they inspire us and give us ideas.
Take a look below at Andrea Cammarosano's Spring/Summer 2014 Collection: