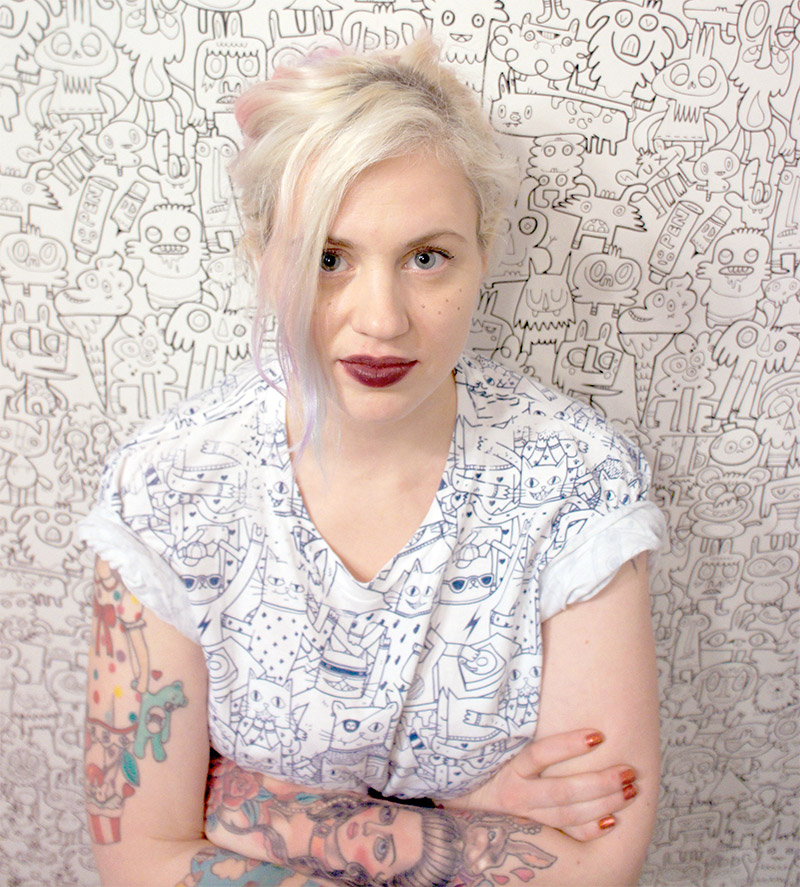 Her hair was blue when we met her in London at the Freemasons' Hall during the presentation of her S/S14 Collection… Today she might have it green, orange or pink… Oh yes because her – Fam Irvoll – likes to change, dare, surprise… Fam seems to have come out from a Japanese manga, the humorous and light-hearted ones with an exuberant and reckless protagonist. She is halfway between a future Arale and a present Nanako SOS and Call the Exterminator is the name of her latest "invention" created in collaboration with the formidable duo Vin + Omi.
Beautiful birds, pesky ants and curious rats have formed the print basis for her delicately coloured and somewhat romantic line. With pastel tones of mint and purple combined with the darker undertones of black and grey. Fam's world has been injected with a dose of sex appeal, whilsh still retaining the colourful, child-like elements just as one of our favourite 90' fresh, pooop songs!
Fucking Young! – Hello Fam! In a previous interview you said that your passion for fashion was gradually born… What actually was the spur making you exclaim: "Fashion is my future!"?
Fam Irvoll – It was thirdly in my first uni, I was going to be in India for many many months and my mum actually applied for fashion schools. After the first two years I was really interested in fashion; it was at the end that I started to love it.
FY! – From Oslo to London… When did you realize that the British capital was the right place in which to present your collections? Norway or England?
FI – After living here and attending Central Saint Martins I realize that fashion was here. I prefer England, definitely.
FY! – After graduating at Central Saint Martins you collaborated with brands such as Vivienne Westwood, Alexander McQueen and Gareth Pugh… What survives today of those experiences?
FI – I learnt  a lot from people I worked for, while assisting them  I learnt how the industry works, like a big scale.
FY! – Colorful, eccentric, moderately above the lines… Your garments are able to capture the attention of fans, buyers and experts… Always… How would you define your style?
FI – Quirky, colorful and trying to be humoristic clothes
FY! – From what do you get inspired for your collections? Do you have any model?
FI – Disney films and music. No, I don't have any model, maybe Linda Evangelista.
FY! – Call the Exterminator is the name of your  SS14 Collection… Do you want to talk about it?
FI – For the prints I have liket  to get inspired by birds, by that kind of animals that people want to exterminate today.
FY! – What is the most representative cloth?
FI – I made a collaboration with VIN + OMI and they make really nice latex clothes.
FY! – You started from womanswear and after you to moved to the man line… What do you prefer? What are the differences?
FI – I think I prefer both, I make so unisex clothes.
FY! – Who is the Fam Irvoll ideal male customer? And the one you'd like to dress?
FI – Prabably East London gays.
FY! – An adjective to describe you…
FI – Whimsical.
FY! – The song of this man collection…
FI – Oh, A song for Call the Exeterminator? My favourite songs from the 90s, actually.
Thanks a lot!