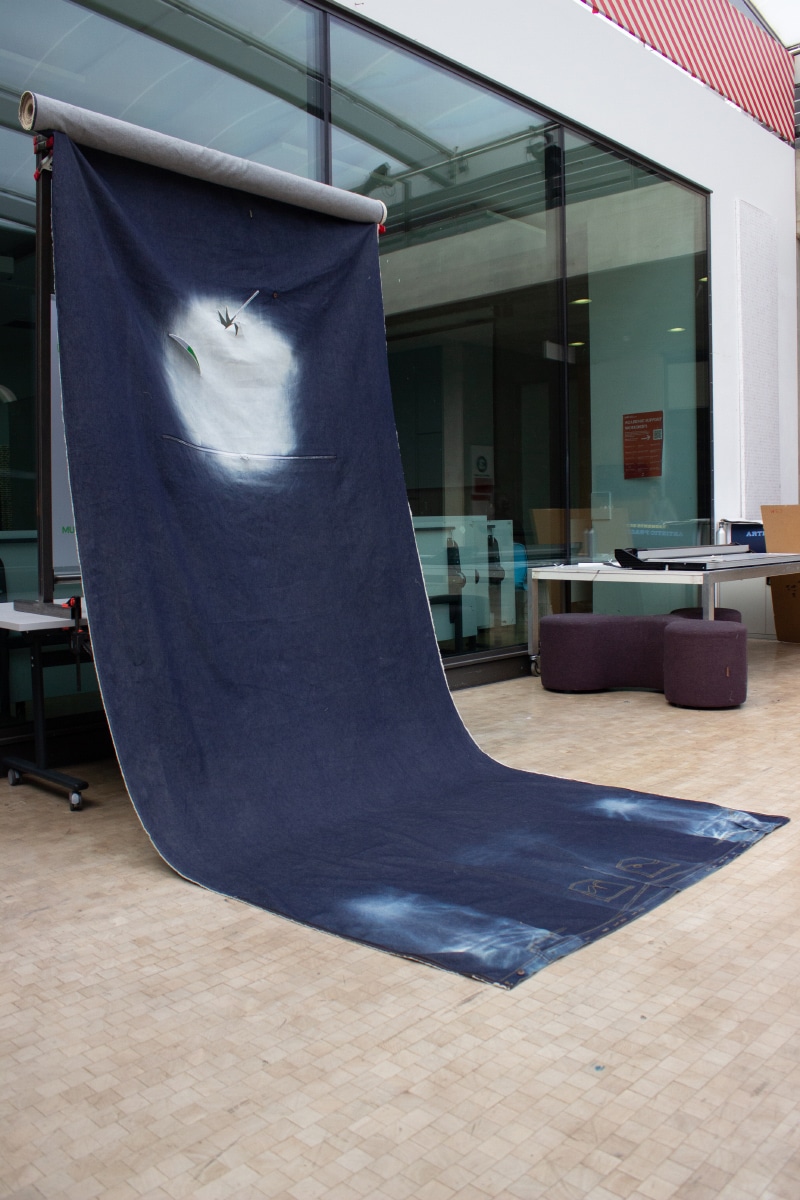 Born and raised in the UK, and with an incomparable sense of creativity, Eden Tan, recently graduated in design from the prestigious London fashion school Central Saint Martins and winner of the L'Oréal Professionnel Young Talent Award at the university's graduate fashion show, is one of those young people who, fortunately, still believes that fashion is something creative and that to succeed in it it's not necessary to fall into the obvious or commercial as logos can be.
Art is something that has always been linked to the industry and that in a way moves the designer. This can be seen very well in the designs that make up his collection and winning proposal of the CSM show, called "On Borrowed Fabric", which won us over as soon as we saw it.
To talk about it and everything that this triumph has meant, Eden himself has kindly agreed to chat with us so that we can get to know him and his project a bit better.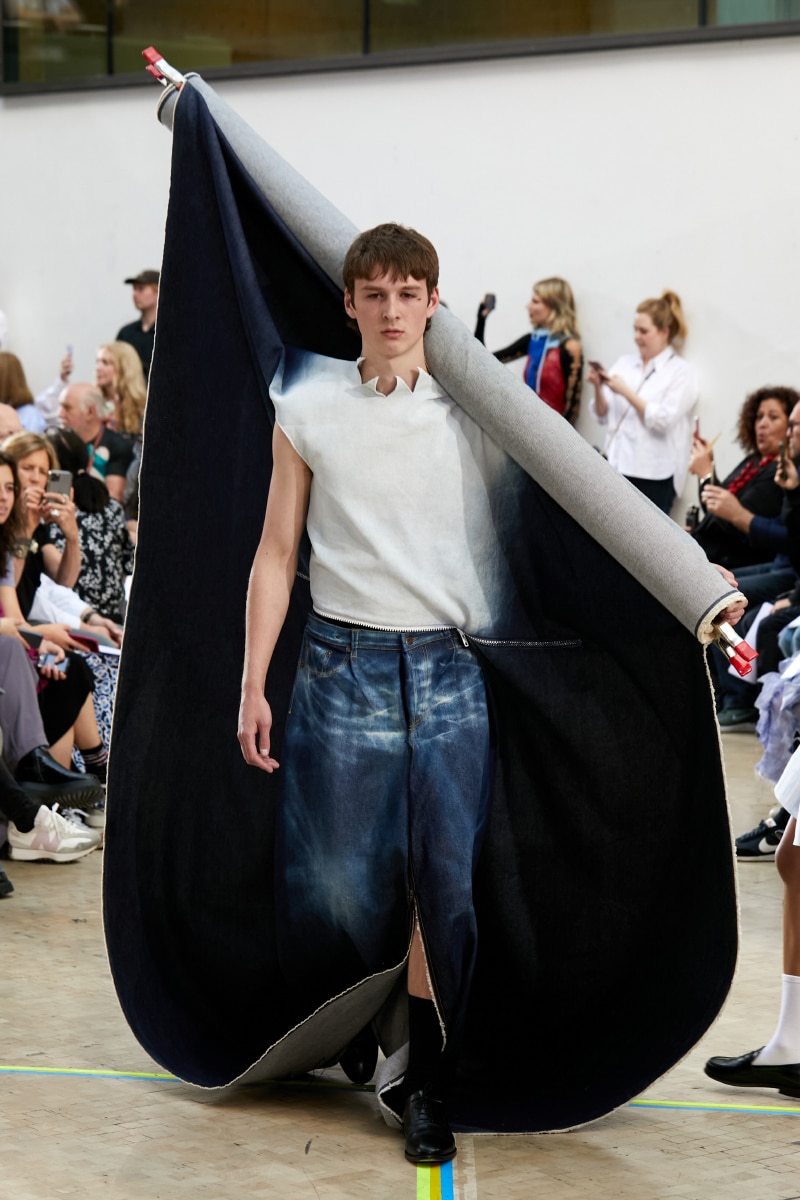 Eden, first of all, congratulations on becoming the main winner of the last Central Saint Martins show. How do you feel? And what does this mean to you?
Thank you very much! The truth is that I feel great and I'm very happy. It's been crazy to experience firsthand how everything changes overnight. Seeing my name on the front pages of newspapers or magazines is something that, even though it's been a few days, still surprises me, especially when the week before practically nobody had heard my name. It's all new to me and I'm trying to get used to certain things, like suddenly having a lot of followers. It's a strange feeling, but I'm calm because I'm still the same and I haven't changed. When I stop to assimilate my current situation, I think that all the effort and time invested this year has been worth it.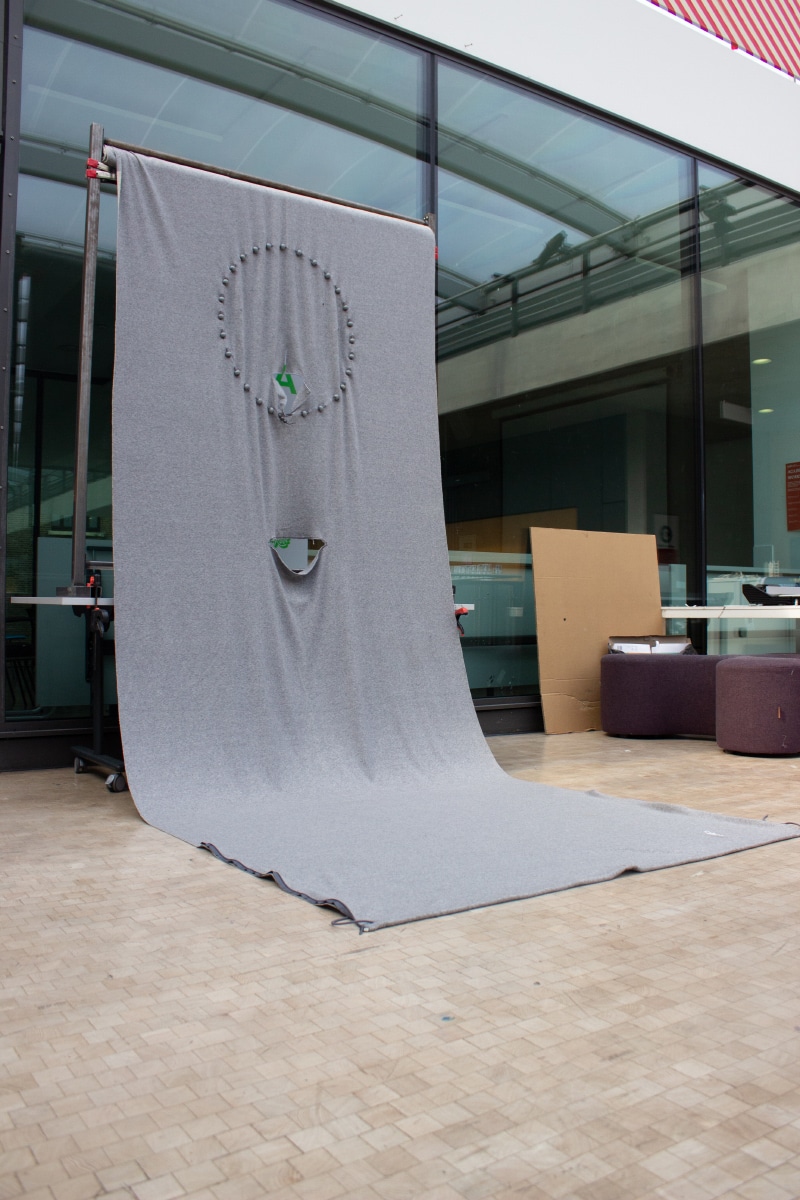 You mention the fact of appearing on the front pages of newspapers or magazines. How do you experience that as a recent design graduate? 
I'm still taking it in. It's very nice and rewarding. I appreciate it a lot, and seeing how the magazines I've always followed talk about me is something that excites me, even if some of them don't comment on what the project was about. But well, it doesn't matter, I appreciate it all the same.
The same thing happened with social media. It was surprising to see how those fashion magazines that I've always followed echoed my proposal on their respective Instagram profiles and to see how people shared my designs and tagged me in publications.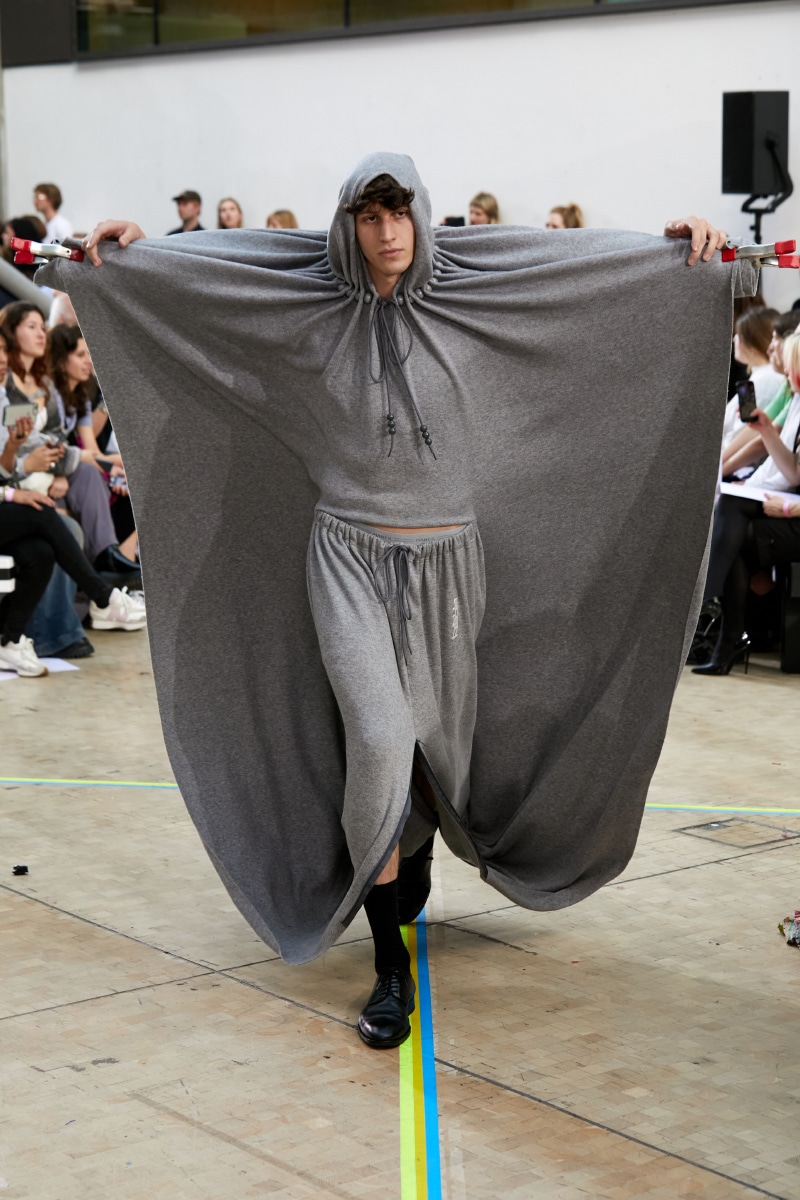 "On Borrowed Fabric", the name of your proposal, focuses on sustainability and the development of new techniques. What can you tell us about this?
Yes, exactly. That's the main idea, although I would like to say that it's not a practical proposal on how to save the world. I don't pretend that in the future everybody will wear clothes that stick to a roll, but on a personal level, a year before this project I have been doing a lot of things that I think favour sustainable development, like using old recycled clothes and giving them a new life, or using clothes that were already made and so not wasting the textile that already existed, and in this way being able to make two collections with the same amount of fabric.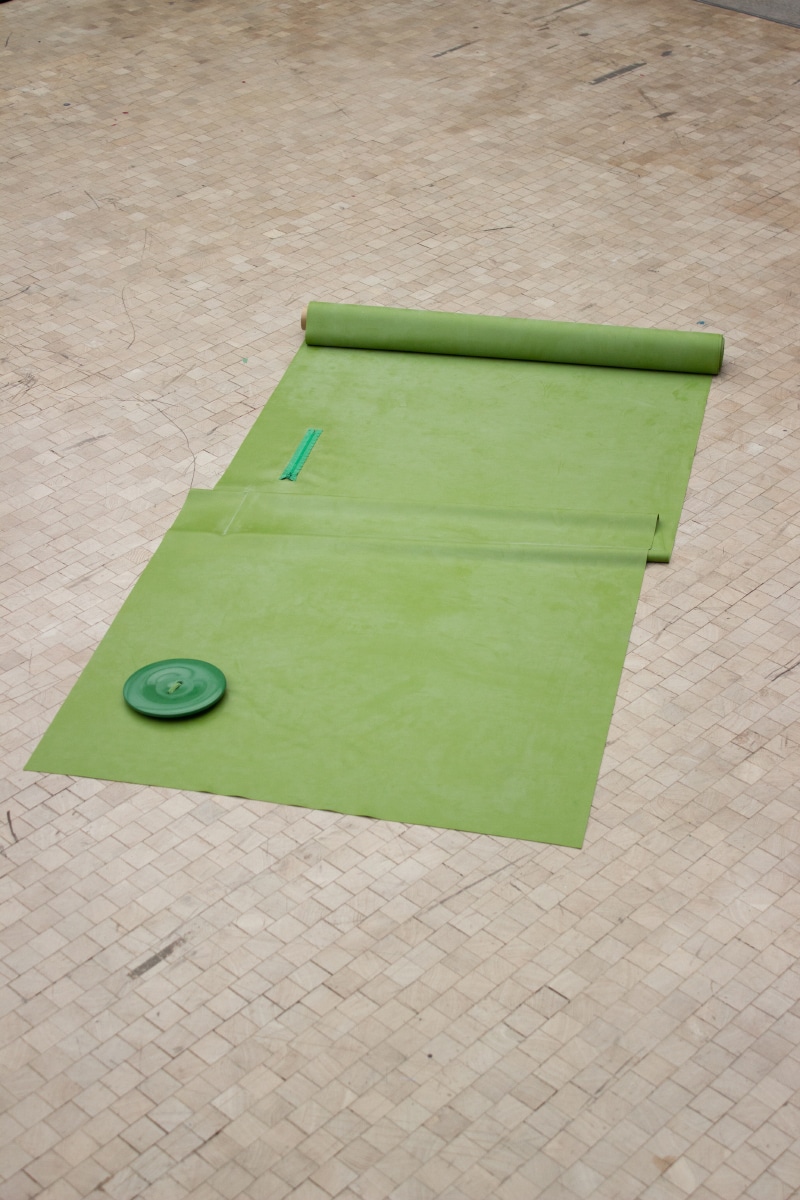 Have you applied any new techniques? 
The techniques used are quite simple and I have used them before. I wanted to be sure that all my knowledge acquired during my years of study was present in the proposal and in the right place. There are also some others that I hadn't seen before, like the intensive bleaching process for jeans, where I put an airbrush on the surface of the denim, which gives the desired effect, but without damaging the fabric. That one I would say is the most innovative, the rest are all traditional techniques and are used conventionally.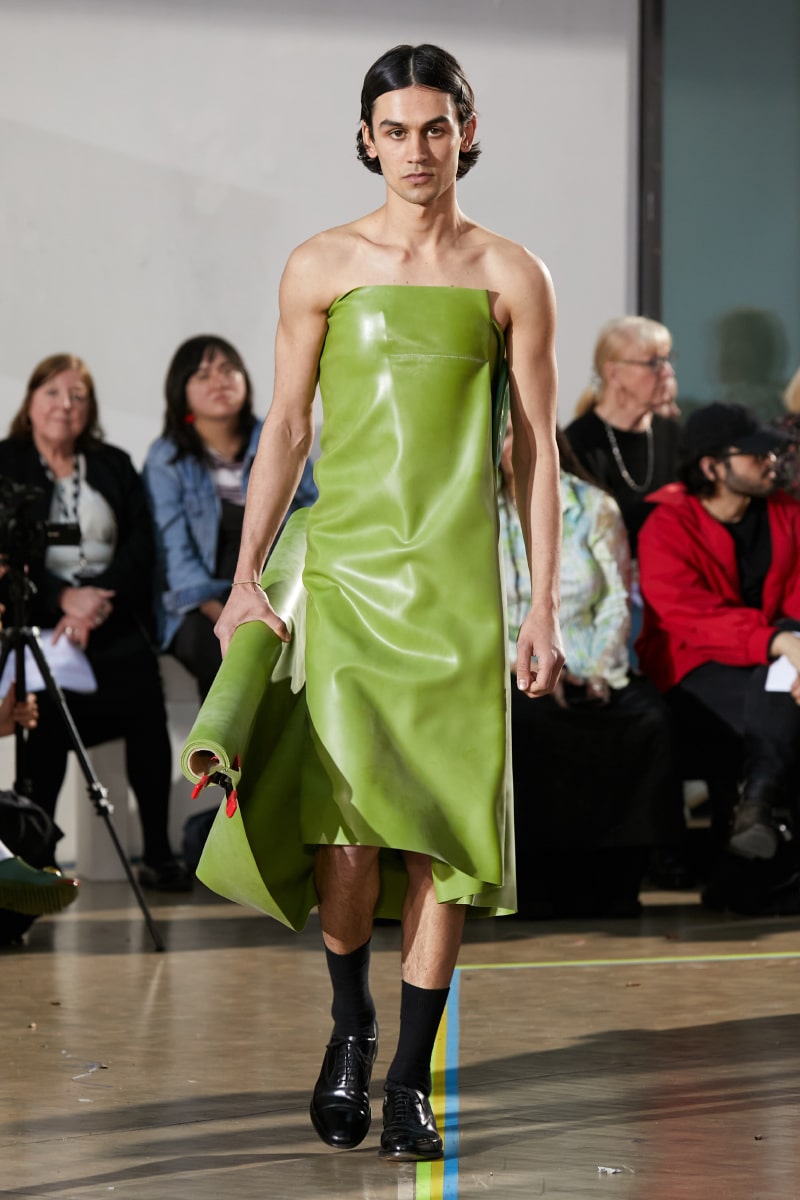 What do you think they saw in your collection that they didn't see in the others to make it the winner?
I guess they saw something striking and different in it. The tutors have been with me from the beginning to the end, so they have followed the full development of the project. Since I started creating this collection I aimed to make a line that could be turned into a new one. That was my real motivation, more than the fact that it was beautiful, which by the way is something that I think is very subjective.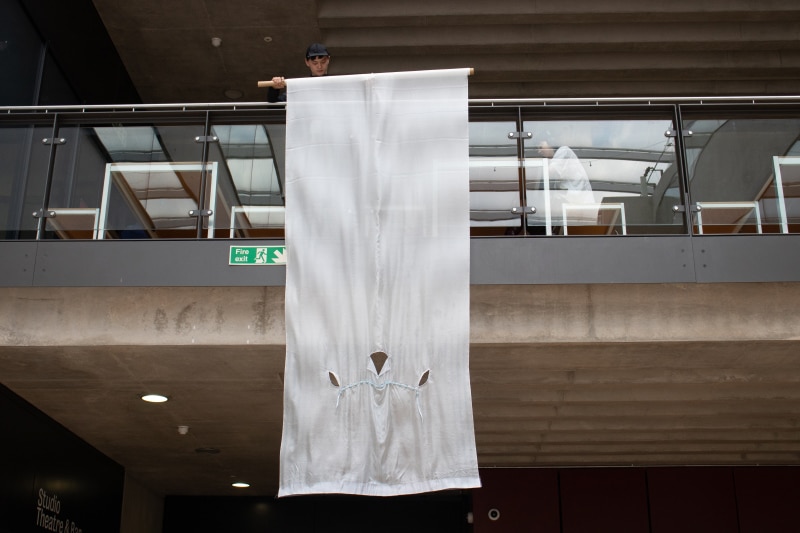 Where do you usually look for inspiration?
Most of my inspiration comes from finding a new tool or a new way of doing something. When I think of ways to apply this new skill to create results, that's when I feel most inspired. An example of this would be finding a new way of sewing or a new technique, and then applying it in an unconventional way to create.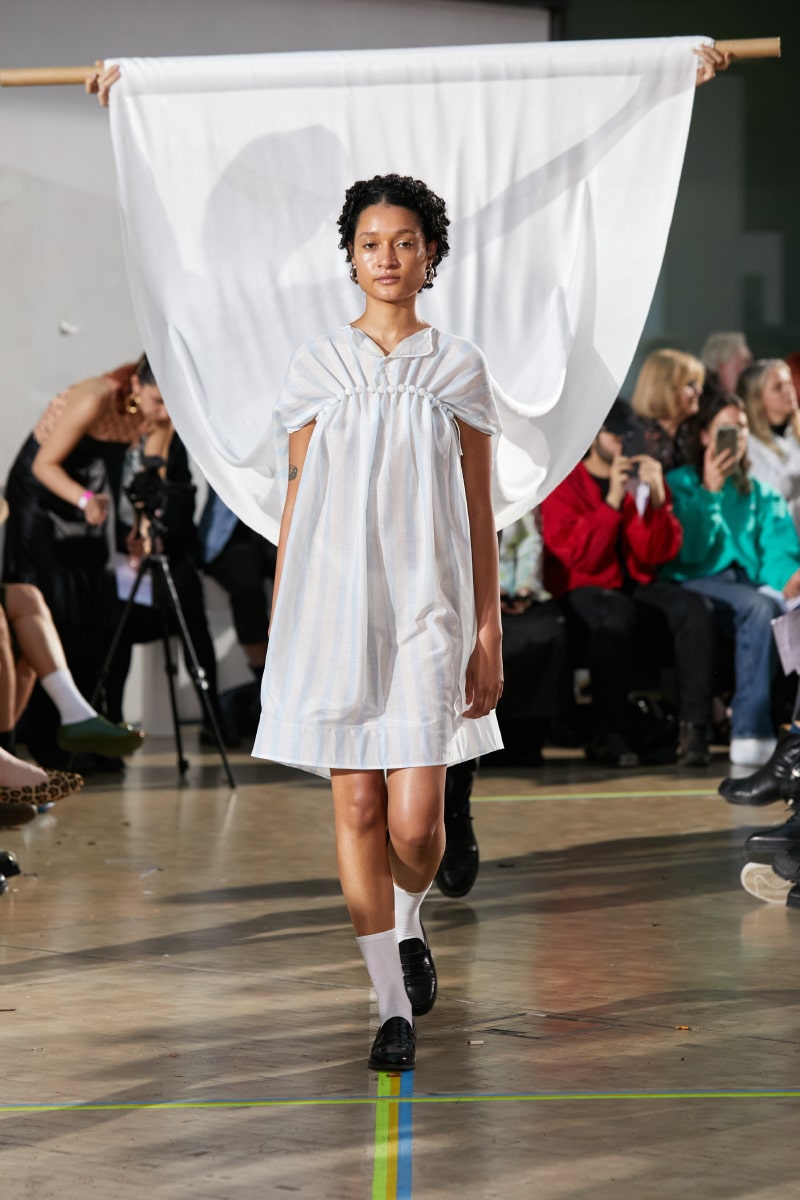 In any of your garments, we can appreciate your taste for art. What would you say are your favorite artists? And, is there any artist you have been inspired by when designing the garments?
I love art! One of the references I used when creating and developing my "On Borrowed Fabric" proposal was the whole universe related to Christo and Jean Claude and the covering of buildings. If you look closely at all the drama and the material, you can understand the link between the work and the last white silk dress.
And then, another artist I like very much and who has also been an inspiration to me has been Lucio Fontana, someone I admire and whose work I find very interesting. Lucio's works are more complex than mine, but I'd like to think that what I do has something to do with his, even if it's more simple.
If we talk about fashion designers…Who are your references?
When I'm creating, a lot of my research comes from experimentation, and if I ever go to a fashion designer it's to research them, understand them and contextualise my work, never to inspire me. It is practically impossible to be oblivious to the history that precedes us.
A reference for me could be Martin Margiela, who in 2006 did a spring ready-to-wear collection related to the roll, although that one is very different from mine, as his is just a roll sewn on the bottom of the fabric.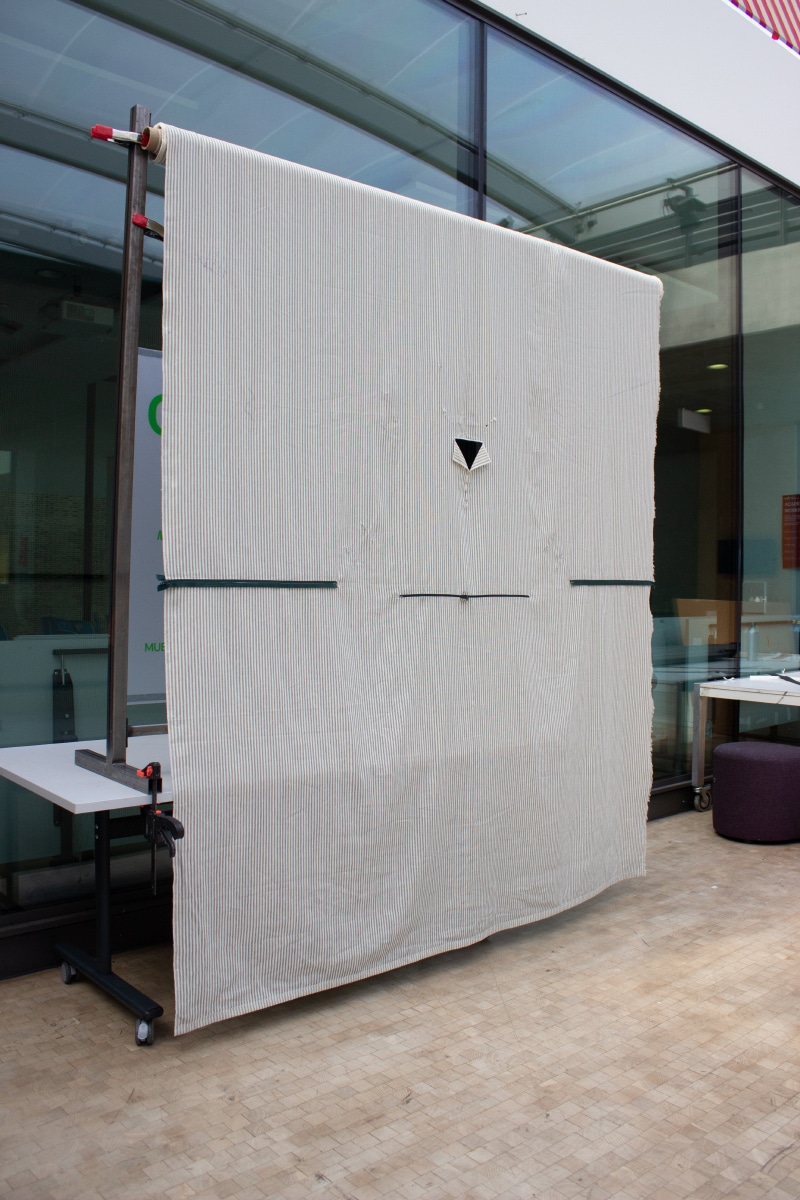 Your designs are aimed at a male audience. Why did you choose to focus on menswear and not womenswear?
The reason I decided to focus my career on men's fashion is because of the way it is made, that is, there is a whole process behind it that I find more inspiring and feel more connected to. I think men's fashion, although it has evolved and come a long way, there is still a lot to do and explore.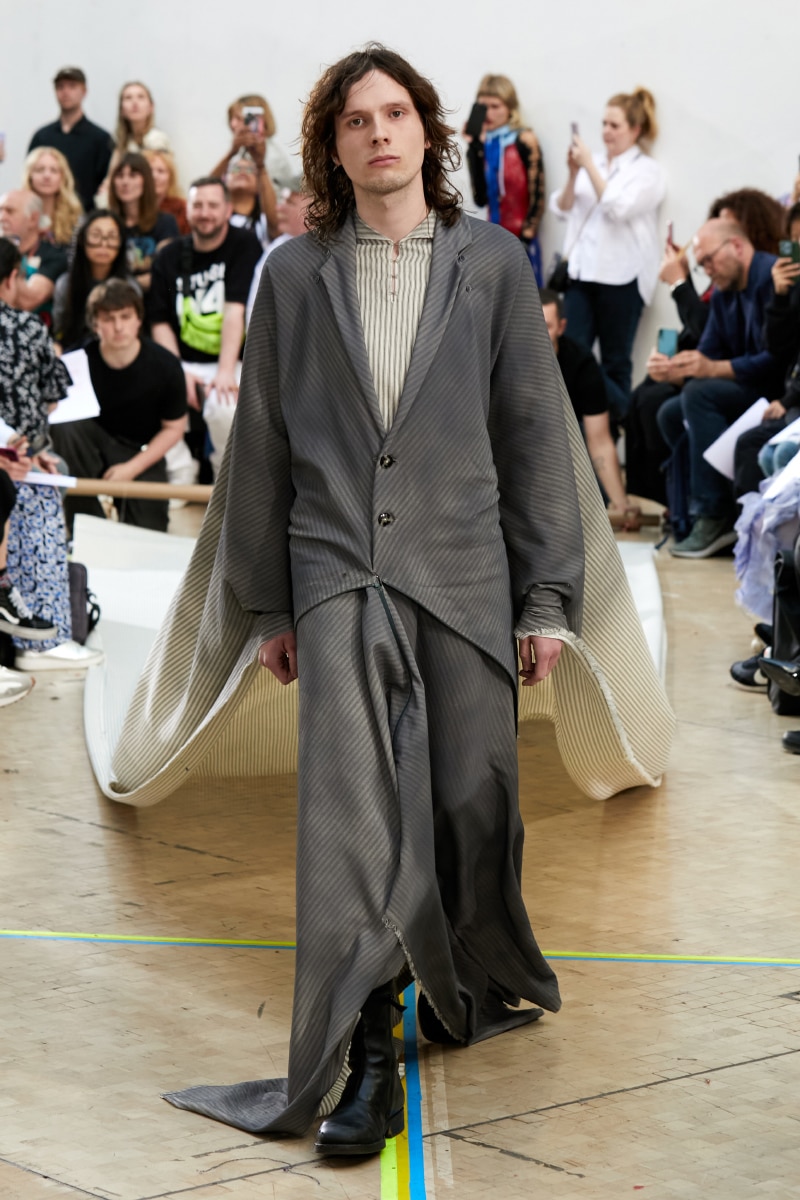 What do you think you can bring to men's fashion?
I would say creativity, as I consider myself a pretty creative guy. My problem with fashion is that I'm not so much inspired by the industry itself, but more by the self-referential, i.e. referring to previous collections I've designed and trying to make a connection between all of them.
For example, I look at the collar of a jacket and say: I'm going to do the same thing but a bit bigger, or I'm going to change the colour and make it something new, but at the same time fundamental. I try to look at fundamental aspects of fashion and come up with new ideas. In short, to rethink clothes so that they can be made again, which is what the project is all about.
If you could choose a celebrity to wear your creations and represent your brand, who would it be?
I wouldn't know who, as my work is not so closely linked to that culture. The designs I presented are not intended as garments to be worn by people, but as objects in themselves, as some of them are flat and I consider them sculptural pieces, so it's difficult for a person to wear them casually.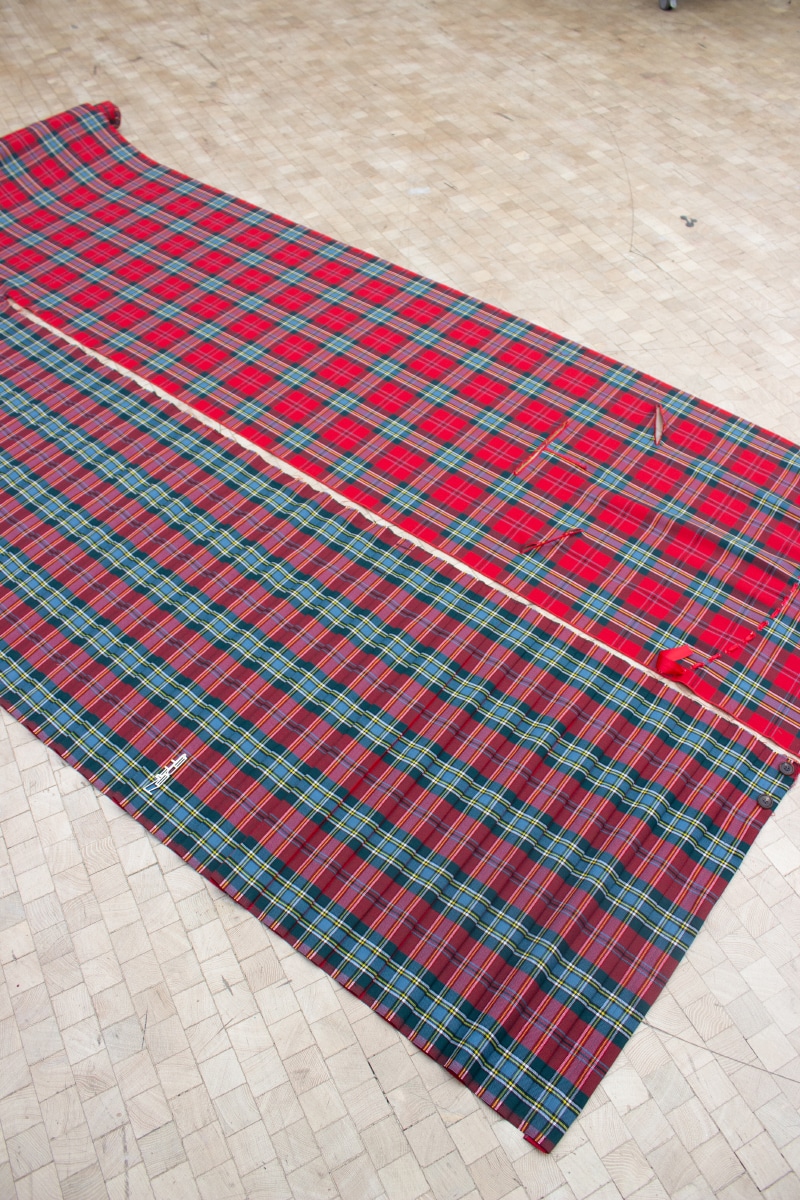 You've already graduated from Central Saint Martins in London. What are your next steps in the fashion industry?
That's something I still have to think about. All this year there have been a lot of deadlines and deadlines that have consequently generated quite a lot of stress for me. Focusing on the final collection has caused me to put several projects on hold, which I think now is a good time to take up again. The future is not something that worries me, as I am a person who lives in the moment and day by day and takes opportunities as they come and as they arise. At the moment I have already received some proposals and I am evaluating them, but I want to be sure of my decisions and that what I choose motivates me and is something I feel identified with.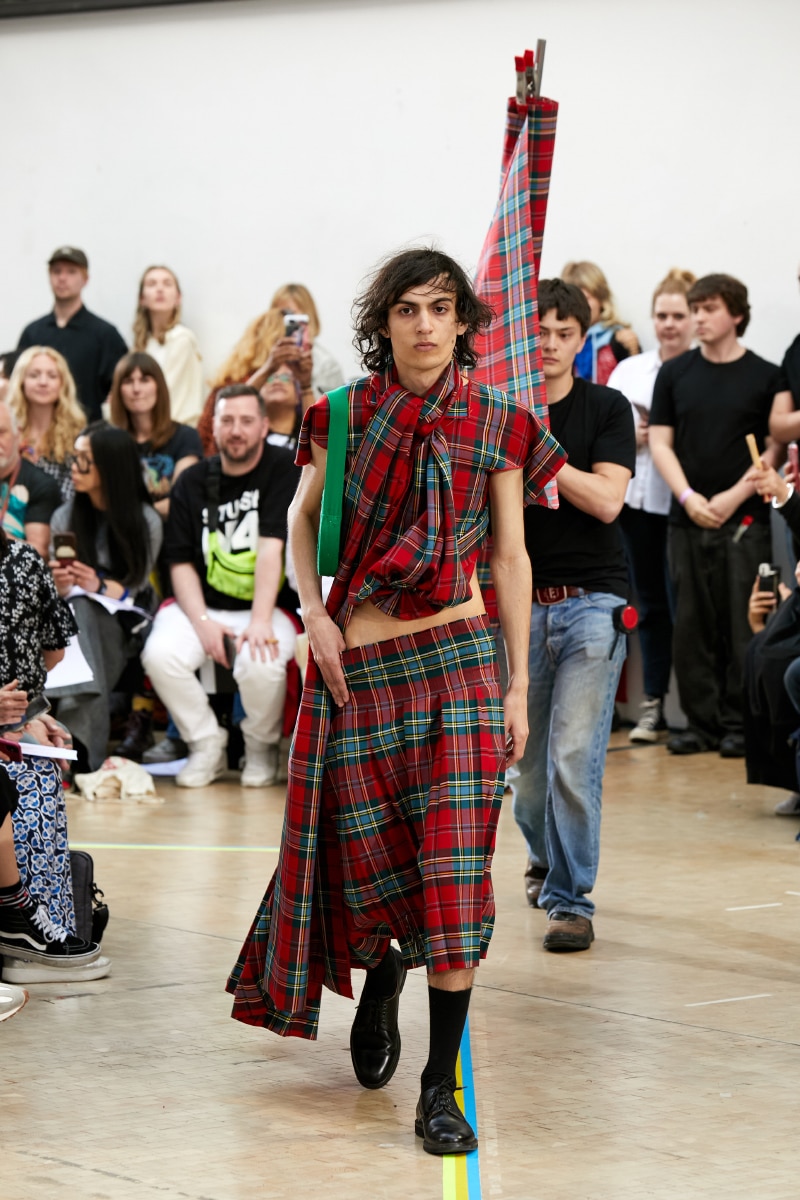 In which direction do you want to take your brand?
I have been talking about this with several people and they all agree that I should do what I feel and take the path I want to take. I'm starting to realise that it's unnecessary to plan anything in advance and that it's better to let everything develop organically. Step by step, what is clear to me is that this is not the time to start selling my designs, turn my brand into high fashion, or conventionally do anything. Now I'm going to focus on taking advantage of the platform I have and explore how to recycle waste.