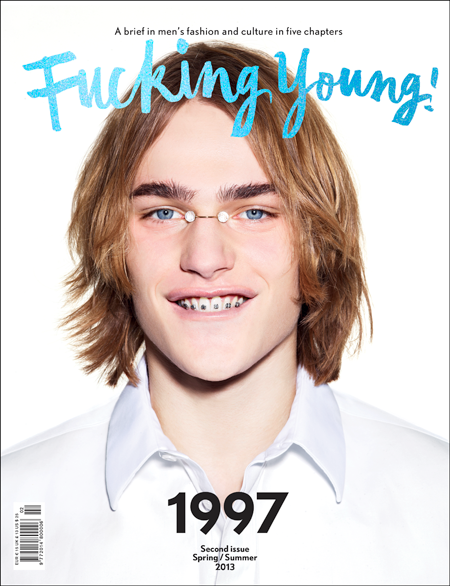 1997 was a great year for us, even though we were only 10 years old. We didn't have any worries – everything was great, except we didn't enjoy fashion as much as we should have. And it was a big year for fashion. Because of this, the second issue of FUCKING YOUNG! will be an ode to the fashion of '97. We think a return to the past this summer will be more now than ever.
The magazine is split into five chapters, with 14 fashion editorials; illustrations by Mario González; texts from Antonio Rodríguez, Evan Ross Katz and Jack Cullen about music and cinema from 1997;  a letter from American writer Brad Matsen about Jacques Cousteau; a piece on Jean-Paul Gaultier by Thierry-Maxime Loriot; texts about Princess Diana and Dodi; an interview with Antonio D'Amico about his bond with Gianni Versace, the happy years together and that dramatic 15 July in 1997… and much more!
EDITORIALS by Alice Rosati, César Segarra, Conan Thai, Edu García, Fernando Gómez, Ferrater Studio, James White, Kristiina Wilson, Liam Warwick, Luca Finotti, Michiel Meewis, Saty and Pratha, Saverio Cardia and Stefan Khoo.
FEATURING Sebastian Sauvé, Zhao Lei, Mikkel Jensen, Miles McMillan, Ton Heukels, Ben Allen, Jester White, Jake Shortall, and a big etcetera.
THE COVER features Ton Heukels from Elite, shot & art directed by Luca Finotti, and styled by Paolo Zagoreo, with a white shirt and bridge crystal piercing from Givenchy by Riccardo Tisci.
DESIGN by Folch Studio.
FRANCE
Lyon
Boutique Datta
10 Rue du Griffon
www.datta.fr
Paris
Agora Presse
19 Rue des Archives
www.agorapresse.fr
Artazart
83, Quai de Valmy
www.artazak.com
Boutique Colette
213 Rue Saint-Honoré
www.colette.fr
Drugstore Publicis
133, avenue des Champs Elysées, 75008 Paris
www.publicisdrugstore.com
Espace Kiliwatch
64, Rue Tiquetonne
www.espacekiliwatch.fr
Kiosque Presse Mr. Goubert
170 BD Saint Germain
Les Mots a la Bouche
6 Rue Sainte-Croix de la Bretonnerie
www.motsbouche.com
Palais de Tokyo
13 Avenue du Président Wilson
www.palaisdetokyo.com
Presse Martyrs
51 Rue des Martyrs
The Broken Arm
12 Rue Perrée
Facebook
Thierry Presse
76 Rue du Chateau d'Eau
WH Smith
248 Rue de Rivoli
www.whsmith.fr
GERMANY
Berlin
Do you read me?
Auguststraße 28
www.doyouredme.de
STATION
310 K Presse + Buch
STATION
620 Psg Friedrichstr.
STATION
723 HDS Lehrte K2002
STATION
630 Psg Alexanderplatz
Hamburg
STATION
101 K Presse + Buch, Mz Wandelh
STATION
122 K Presse + Buch, Altona HH
STATION AIRPORT
137 K Presse + Buch, Flughafen HH
Frankfurt
SCHMITT & HAHN
Querbahnsteig Gleis 16/17
STATION AIRPORT
262, Hds Ffm Laden 62
Munich
STATION
400 K Presse + Buch
SINGAPORE
Allscript
Tanglin Mall
Allscript
Thomson Plaza
Kinokuniya Bookstores
Bugis Junction
Kinokuniya Bookstores
NGee Ann City
Miracle Tradex
Prologue @Ion
Gp Thambi Trading & Services P/L
Saranya Link @ CCK
MALAYSIA
Borders – Berjaya Book
The Curves
The Gardens/Mid Valley
Bangsar Village II
Diamond Store
Daily News
Kinokuniya Book Stores
Kiddies Stores
Damansara Heights
Popular Book Co.
S/B Sunway Pyramid
Read & Cook Publications
NEW ZEALAND
Auckmand
Magnation
123 Ponsonby Road
Ponsonby
PORTUGAL
Lisboa
Livraria Bertrand
Rua Garrett 73
El Corte Inglés
Avda. António Augusto de Aguiar 31
Livraria Barata
Avda. de Roma 11 A
Lopes Ferreira e Gomes LDA
Rua Loreto 54
Presse Linha
Rua Dom António Luís de Meneses
Sunrisepress
Avda. Liberdade 9
Comporpresse
Rua Carmo 2, piso 4
Porto
Bazar Molhe
Avda. Brasil 803
Jocorum Tabacaria
Alameda Antas 28-31
Bonapapel
Rua Gonçalo Sampaio 350
Seixal
Odete & Fátima Lda
Rua Luís Freitas Branco 15
Vila Nova de Gaia
Jocorum Tabacaria
Praceta José Fernandes Caldas 274
Infortitulos
Avda. da República
SOUTH KOREA
Malaysia
Kangnam-gu
Bandi & Luni's in COEX
159-9 Samsung-dong
World Magazine Co., Ltd.
Yujin Building 1F, 13-7 Nonhyun-dong
Seocho-gu
Bandi & Luni's in Kangnam
19-3 Banpo-dong
Kyobo in Kangnam
1303-22 Seocho-dong
Jongro-gu
Bandi & Luni's in Jongro
Jongro Tower B2, 6 Jongro 2-ga
Kyobo in Jongro
Jongro-1ga, Jongro-gu
Youngpoong in Jongro
33 Seorin-dong, Jongro-gu, Seoul
Youngdeungpo-gu
Youngpoong in Yeoido
B2 IFC Mall, 23 Yeoido-dong
SPAIN
Barcelona
FREE TIME
Las Ramblas 114
freetimekiosko.blogspot.com
KR Store
Montsió 6 bis
www.kriziarobustella.com
La Central del Raval
Postigo de San Martín 8
www.lacentral.com 
Laie del CCCB
Montalegre 5
www.laie.es/cccb
MUTT
Comerç 15
www.mutt.es
Madrid
Garcia Madrid
Conde de Aranda 6 (Serrano)
Corredera Baja de San Pablo 26 (Malasaña)
www.garciamadrid.com
La Central MNCARS
Ronda de Atocha 2
www.lacentral.com/mncars
La Central de la Fundación Mapfre
Paseo de Recoletos 23
www.lacentral.com 
La Central de Callao
Postigo de San Martín 8
www.lacentral.com 
Palma de Mallorca
Dersat Concept Store
Plaza Frédéric Chopin, 1 Local D
www.dersat.es 
Valencia
Librería Dadá
Guillem de Castro 8
www.libreriadada.com
SWEDEN
Stockholm
Press Stop
Arlanda Terminal
Trädgärdstorget
Kungsportsavenyen
Klostergatan
Pressbyrän
Odenplan T-Bana
Frölunda Torg
Lugnets Allé
Bromma Flygplats
Time
Södra Esplanaden
Akademibokhandeln City
Sveavägen
Ps Online / Interpress
Hejargatan
Göteborg
Pressbyrán
Centralhallen
Centralstationen Glashallen
Stortorget
Press Stop
St. Persgatan
Stationsgatan
Malmö
Pressbyrán
Telefonplan Tb, Biljetth
Södergatan
Helsingborg
Nk Press & Tobak
JAPAN

Osaka
Standard Bookstore Shinsaibashi
Crysta Grand BLGD. 1F&BF, 2-2-12
Nishi-Shinsaibashi, Chuo-Ku, Osaka-shi
www.standardbookstore.com
Tokyo
Tsutaya Daikanyama
Tsutaya Tokyo Roppongi
Tsutaya Sendai Izumi-Ten
Tsuyata site
Athens Shinsaibashi
Shinsaibashi-Suji Shopping Center
Tower Record Shibuya
1-2 2- 1 4 Jinnan, Shibuya
tower.jp
Parco Book Center Shibuya
1 5-1 Udagawacho, Shibuya
parco.co.jp
Libro Ikebukuro
Libro Kichijoji
Libro Nagoya
www.libro.jp
Maruzen Junkudo Umeda
Maruzen Hakata
www.junkudo.co.jp

Aoyama Book Center Aoyama Honten
Aoyama Book Center Roppongi
www.aoyamabc.jp
Wut Berlin
5-1-15 Jinguumae Shibuya-ku, Tokyo 150-0001
www.wutberlin.com
Amazon Japan
Online store
TAIWAN
Taipei City
Merci Select Shop Company
1F. No.37, Ln. 177, Sec. 1, 
Dunhua S. Rd. Da'an Dist.
Facebook
Kinokuniya – Tien Mu Store
4Fl, n55, sec2, Zhong Cheng Rd.
Kinokuniya – Breeze Center Store
No 39 Sec 1 Fushing S. Rd.
Eslite Bookstore
www.eslite.com
Fnac – Nan Xi Store
9F No. 12, Nan Jing West Rd.
UNITED KINGDOM
London
Good News
23 Berwick St W1V
Compton News
48 Old Compton St W1
Capital News (Greens B/Shop)
17 Marylebone HG St
Wardour News
118 Wardour St W1
Whsmith @ Selfridges
400 Oxford St W1
Terrys News Stand
GT M'Bourogh St W1V
Rococo
12 Elgin Cres W11
Marshall News
11 Marshall St W1
Charlotte Street News
66 Charlotte St W1
M2 Covent Garden
30-35 Drury Lane WC2
Barbican News
34 Goswell Road EC1
Shreeji
6 Chiltern St W1
Rayden Newsagent
Temple Tube
S.J. News Lines Nº2
London NW6
Selva Food and Wine
Soho London
Thrive News W12
Westfield London W12
Brixton News
London
Magazine Shack
80a Sandringham RD
Artwords (Shoreditch)
Rivington St EC2
Artwords (Broadway Market)
Broadway Market
UNITED STATES
New York
Lafayette Smoke Shop Inc.
63 Spring Street
Google maps
Distribution: 
SPAIN: distribution@fuckingyoung.es
EUROPE, ASIA & USA: Export Press