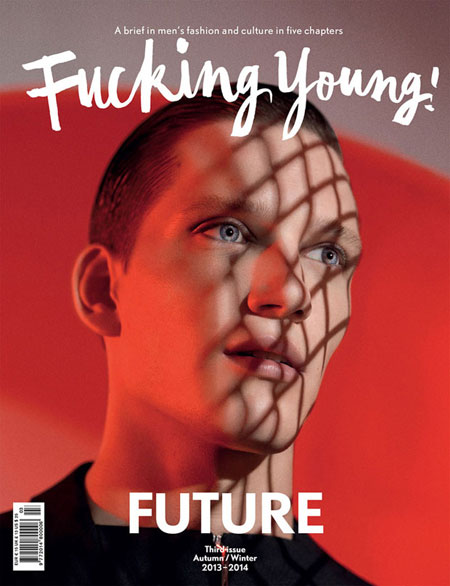 FUTURE
Will the FUTURE be as we imagined? A place where our wildest dreams and deepest desires come together to form our own personal utopia? Or will we instead find ourselves drowning in a rubbish heap of mindless gadgetry and consumerism? If we took a look back at our childhood visions of the future, we would see that the future is already here. Electric vehicles, neoprene clothing, fabrics woven from bacteria, chemical weapons, electronic music, stem cells, clones, sensors on every corner, cameras in every street, cameras in our homes… But every time our idealised visions of the future become present reality, we are forced to reimagine our dreams and fantasies into an updated vision of things to come. The future may be uncertain, but one thing we know for sure is that it is made of fantasy.
For the third installment of Fucking Young!, we wanted to explore the dreams and fantasies that reflect our idealised visions of the future, the fantasies of two editors working on the launch of their third issue, the fantasies of emerging designers who are paving new roads in the world of fashion.
We counted on the participation of international photographers like Alek Pierre, Alice Rosati, Bichon + Bichon, Edu Garci!a, Frederik Heyman, Jerry Buttles, Luca Finotti, Michiel Meewis, Roman Goebel, Wendelien Daan and Wilkosz & Way, as well as recognised models like Florian van Bael, Paul Boche, Rutger Schoone, Reuben Ramacher, Jester White and a big etcetera.
The magazine is split into five chapters, with 11 fashion editorials, illustrations by Mario González, texts about art, music, cinema, interviews with Kris Van Assche, Damir Doma, Tim Coppens, Christopher Shannon, Julian Zigerli, Roberto Piqueras, Agi & Sam, Antonio Azzuolo… And much more!
The Cover The cover features Florian van Bael at Republic Models, shot & art directed by Michiel Meewis, and styled by Kay Korsh with full look from Dior Homme.
DESIGN by Folch Studio.
ITALY
Bergamo
Coffee & Television
Via San Bernardino 22b
Florence
Fashion Room
Via LL Prato 7r
Milan
Armani Libri
Via Manzoni 31
MI-NO
via Verdi 2
Libreria Hoepli
Via Hoepli 2
Mondadori Multicenter
Corso Vittorio Emanuele
Mondadori
Piazza del Duomo
Newsstand
Piazza del Duomo
Largo Treves
Piazza San Babila
Piazza Meda
Via Bergognone
Foro Buonaparte
Via Cadore
Via dei Giardini
Piazza Baiamonti
Rome
Newsstand
Piazza Campo dei Fiore
Piazza Farnese
Piazza San Lorenzo in Lucina
Via del Babuino
Via Veneto
Riccione
Save
Viale Ceccarini
Turin
Liberia Luxemburg
Via Cesare Battisti
FRANCE
Lyon
Boutique Datta
10 Rue du Griffon
www.datta.fr
Paris
Agora Presse
19 Rue des Archives
www.agorapresse.fr
Artazart
83, Quai de Valmy
www.artazak.com
Boutique Colette
213 Rue Saint-Honoré
www.colette.fr
Drugstore Publicis
133, avenue des Champs Elysées, 75008 Paris
www.publicisdrugstore.com
Espace Kiliwatch
64, Rue Tiquetonne
www.espacekiliwatch.fr
Kiosque Presse Mr. Goubert
170 BD Saint Germain
Les Mots a la Bouche
6 Rue Sainte-Croix de la Bretonnerie
www.motsbouche.com
Palais de Tokyo
13 Avenue du Président Wilson
www.palaisdetokyo.com
Presse Martyrs
51 Rue des Martyrs
The Broken Arm
12 Rue Perrée
Facebook
Thierry Presse
76 Rue du Chateau d'Eau
WH Smith
248 Rue de Rivoli
www.whsmith.fr
GERMANY
Berlin
Do you read me?
Auguststraße 28
www.doyouredme.de
STATION
310 K Presse + Buch
STATION
620 Psg Friedrichstr.
STATION
723 HDS Lehrte K2002
STATION
630 Psg Alexanderplatz
Hamburg
STATION
101 K Presse + Buch, Mz Wandelh
STATION
122 K Presse + Buch, Altona HH
STATION AIRPORT
137 K Presse + Buch, Flughafen HH
Frankfurt
SCHMITT & HAHN
Querbahnsteig Gleis 16/17
STATION AIRPORT
262, Hds Ffm Laden 62
Munich
STATION
400 K Presse + Buch
SINGAPORE
Allscript
Tanglin Mall
Allscript
Thomson Plaza
Kinokuniya Bookstores
Bugis Junction
Kinokuniya Bookstores
NGee Ann City
Miracle Tradex
Prologue @Ion
Gp Thambi Trading & Services P/L
Saranya Link @ CCK
MALAYSIA
Borders – Berjaya Book
The Curves
The Gardens/Mid Valley
Bangsar Village II
Diamond Store
Daily News
Kinokuniya Book Stores
Kiddies Stores
Damansara Heights
Popular Book Co.
S/B Sunway Pyramid
Read & Cook Publications
NEW ZEALAND
Auckmand
Magnation
123 Ponsonby Road
Ponsonby
PORTUGAL
Lisboa
Livraria Bertrand
Rua Garrett 73
El Corte Inglés
Avda. António Augusto de Aguiar 31
Livraria Barata
Avda. de Roma 11 A
Lopes Ferreira e Gomes LDA
Rua Loreto 54
Presse Linha
Rua Dom António Luís de Meneses
Sunrisepress
Avda. Liberdade 9
Comporpresse
Rua Carmo 2, piso 4
Porto
Bazar Molhe
Avda. Brasil 803
Jocorum Tabacaria
Alameda Antas 28-31
Bonapapel
Rua Gonçalo Sampaio 350
Seixal
Odete & Fátima Lda
Rua Luís Freitas Branco 15
Vila Nova de Gaia
Jocorum Tabacaria
Praceta José Fernandes Caldas 274
Infortitulos
Avda. da República
SOUTH KOREA
Malaysia
Kangnam-gu
Bandi & Luni's in COEX
159-9 Samsung-dong
World Magazine Co., Ltd.
Yujin Building 1F, 13-7 Nonhyun-dong
Seocho-gu
Bandi & Luni's in Kangnam
19-3 Banpo-dong
Kyobo in Kangnam
1303-22 Seocho-dong
Jongro-gu
Bandi & Luni's in Jongro
Jongro Tower B2, 6 Jongro 2-ga
Kyobo in Jongro
Jongro-1ga, Jongro-gu
Youngpoong in Jongro
33 Seorin-dong, Jongro-gu, Seoul
Youngdeungpo-gu
Youngpoong in Yeoido
B2 IFC Mall, 23 Yeoido-dong
SPAIN
Barcelona
FREE TIME
Las Ramblas 114
freetimekiosko.blogspot.com
KR Store
Montsió 6 bis
www.kriziarobustella.com
La Central del Raval
Postigo de San Martín 8
www.lacentral.com 
Laie del CCCB
Montalegre 5
www.laie.es/cccb
MUTT
Comerç 15
www.mutt.es
Madrid
Garcia Madrid
Conde de Aranda 6 (Serrano)
Corredera Baja de San Pablo 26 (Malasaña)
www.garciamadrid.com
La Central MNCARS
Ronda de Atocha 2
www.lacentral.com/mncars
La Central de la Fundación Mapfre
Paseo de Recoletos 23
www.lacentral.com 
La Central de Callao
Postigo de San Martín 8
www.lacentral.com 
Palma de Mallorca
Dersat Concept Store
Plaza Frédéric Chopin, 1 Local D
www.dersat.es 
Valencia
Librería Dadá
Guillem de Castro 8
www.libreriadada.com
SWEDEN
Stockholm
Press Stop
Arlanda Terminal
Trädgärdstorget
Kungsportsavenyen
Klostergatan
Pressbyrän
Odenplan T-Bana
Frölunda Torg
Lugnets Allé
Bromma Flygplats
Time
Södra Esplanaden
Akademibokhandeln City
Sveavägen
Ps Online / Interpress
Hejargatan
Göteborg
Pressbyrán
Centralhallen
Centralstationen Glashallen
Stortorget
Press Stop
St. Persgatan
Stationsgatan
Malmö
Pressbyrán
Telefonplan Tb, Biljetth
Södergatan
Helsingborg
Nk Press & Tobak
JAPAN

Osaka
Standard Bookstore Shinsaibashi
Crysta Grand BLGD. 1F&BF, 2-2-12
Nishi-Shinsaibashi, Chuo-Ku, Osaka-shi
www.standardbookstore.com
Tokyo
Tsutaya Daikanyama
Tsutaya Tokyo Roppongi
Tsutaya Sendai Izumi-Ten
Tsuyata site
Athens Shinsaibashi
Shinsaibashi-Suji Shopping Center
Tower Record Shibuya
1-2 2- 1 4 Jinnan, Shibuya
tower.jp
Parco Book Center Shibuya
1 5-1 Udagawacho, Shibuya
parco.co.jp
Libro Ikebukuro
Libro Kichijoji
Libro Nagoya
www.libro.jp
Maruzen Junkudo Umeda
Maruzen Hakata
www.junkudo.co.jp

Aoyama Book Center Aoyama Honten
Aoyama Book Center Roppongi
www.aoyamabc.jp
Wut Berlin
5-1-15 Jinguumae Shibuya-ku, Tokyo 150-0001
www.wutberlin.com
Amazon Japan
Online store
TAIWAN
Taipei City
Merci Select Shop Company
1F. No.37, Ln. 177, Sec. 1, 
Dunhua S. Rd. Da'an Dist.
Facebook
Kinokuniya – Tien Mu Store
4Fl, n55, sec2, Zhong Cheng Rd.
Kinokuniya – Breeze Center Store
No 39 Sec 1 Fushing S. Rd.
Eslite Bookstore
www.eslite.com
Fnac – Nan Xi Store
9F No. 12, Nan Jing West Rd.
UNITED KINGDOM
London
Good News
23 Berwick St W1V
Compton News
48 Old Compton St W1
Capital News (Greens B/Shop)
17 Marylebone HG St
Wardour News
118 Wardour St W1
Whsmith @ Selfridges
400 Oxford St W1
Terrys News Stand
GT M'Bourogh St W1V
Rococo
12 Elgin Cres W11
Marshall News
11 Marshall St W1
Charlotte Street News
66 Charlotte St W1
M2 Covent Garden
30-35 Drury Lane WC2
Barbican News
34 Goswell Road EC1
Shreeji
6 Chiltern St W1
Rayden Newsagent
Temple Tube
S.J. News Lines Nº2
London NW6
Selva Food and Wine
Soho London
Thrive News W12
Westfield London W12
Brixton News
London
Magazine Shack
80a Sandringham RD
Artwords (Shoreditch)
Rivington St EC2
Artwords (Broadway Market)
Broadway Market
UNITED STATES
California
Above the fold-Larchmont
226 N Larchmont Boulevard, Los Angeles

Centerfold International
716 N Fairfax Avenue, Los Angeles
Century World News
10597 W Pico Blvd, Los Angeles
Los Feliz Newstand
4657 Melbourne Ave, Apt 2, Los Angeles
Marck's Brentwood News
11737 San Vicente Blvd, Los Angeles
Robertson Bookstore INC.
1414 s ROBERTSON BLVA, Los Angeles
Sheltam Books
6333 W 3rd St. #550, Los Angeles
The Kosher News
370 N Fairfax Avenue, Los Angeles
Westwood News Stand
2371 Westwood Boulevard, Los Angeles

World Book & News
1652 N Cahuenga Blvd, Los Angeles
New York
Lafayette Smoke Shop Inc.
63 Spring Street
Google maps
Philadelphia
Avril 50 Coffee/Magazine
3406 Sansom St
Distribution: 
SPAIN: distribution@fuckingyoung.es
EUROPE, ASIA & USA: Export Press