Valentino just announced that the iconic house will be staging their FW23/24 Haute Couture collection at the Château de Chantilly which you can stream live July 5th 2023, at 7.30 pm live on Valentino.com and on the Maison's social channels.
A train ride less than 30 minutes from Paris will find you transported to the idyllic village, a popular weekend spot for Parisians, polo players, jockeys, golfers, antique car enthusiasts, and gourmands, and is still something of an unknown hidden gem to the outside. While Chantilly is more known for its quiet elegance, nothing tops the opulence of the Château or for the chance to dress up don't miss a race at the Hippodrome.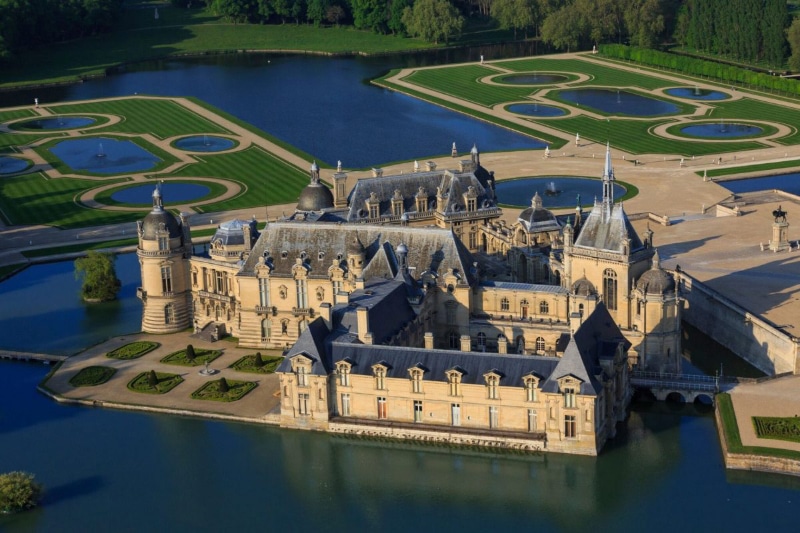 Domaine de Chantilly ©Jerome Houyvet
The manicured grounds around the Château are no stranger to the big screen along with the Condé Museum standing for the Louvre. The museum collection is one of the most important in France for old masters and includes three by Raphael. The collection is never loaned out due to the conditions attached to the bequest by the Duke d'Aumale, resulting in a museum that remains almost unchanged since it was opened in 1898. Beyond the Château, Chantilly conjures up images of lace, cream, and horses. Yes, horses! Across from Château is the Living Horse Museum housed in the grandes écuries (Great Stables) where you can catch an equestrian show in the majestic dome. The stables already set the backdrop in 2018 when Dior staged their cruise collection there and down the road is the small but fascinating Chantilly Lace Museum tracing the history of lace-making from when it was done by hand to machines.
Of course, no day at Chantilly is complete without a taste of the iconic cream. From the Michelin star Auberge du Jeu de Paume, for star spotting, to just about any eatery on the Rue Connetable you can expect to dip into some Crème Chantilly. Additionally, you can book a cream workshop at the Château or l'Atelier de la Chantilly and go back home a certified whipmaster.