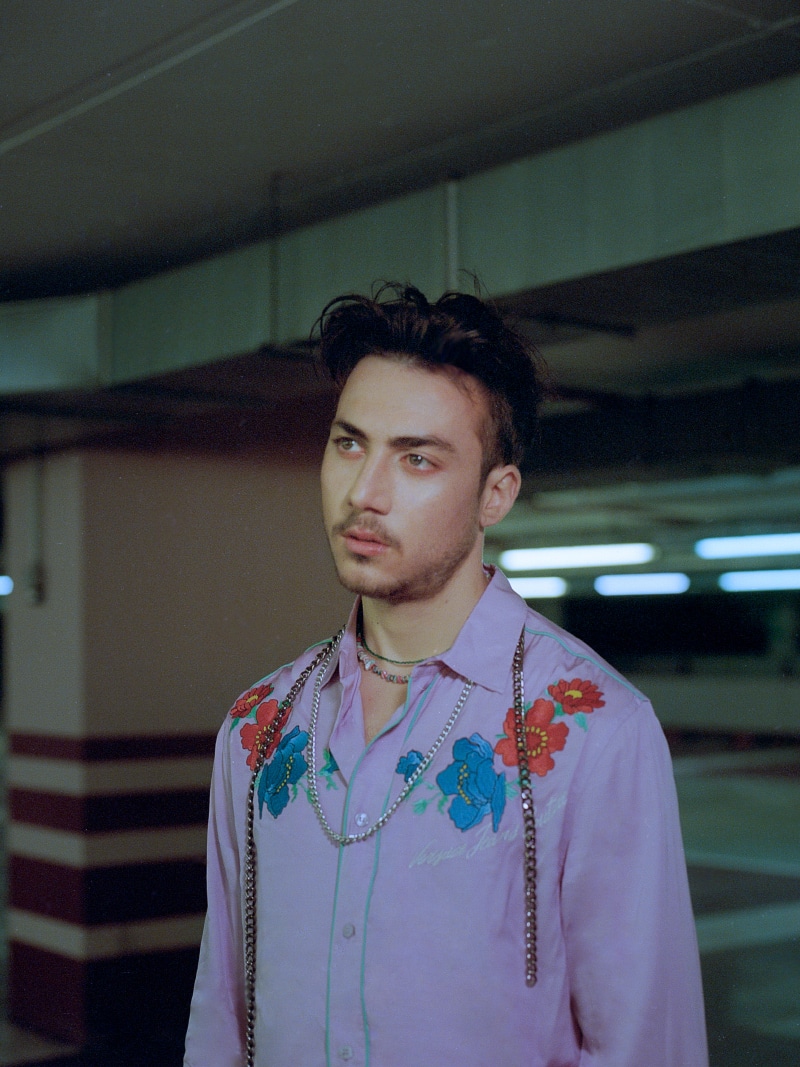 Matteo Paolillo was born in Salerno. When we had our chat I recognized the deepness of our Mediterranean sea, the warmth of our sun, the freshness and sincerity of our people. Matteo is an actor and a singer. More simple, Matteo is an artist because as he himself said: "Art is not just a passion, it is daily nourishment. Art attracts me in all its forms". Matteo is the very expression of the young artistic Italian panorama. He's concrete, passionate, and histrionic.
Graduating from the Centro Sperimentale in Rome, Matteo started his career on TV in the cult series Don Matteo in 2016. Well-known for the role of Edoardo in the Mare Fuori by Carmine Elia, with no doubt he's one of the emerging talents to keep an eye on. In cinema, we saw him in Famosa directed by Alessandra Mortelliti in 2020. In the same year, he worked on his first solo album under the pseudonym of Icaro, and in 2021 he released his new single 'O mare fa paura.
We met him in Rome on the exclusive set for Fucking Young! to talk about life, career, and future projects.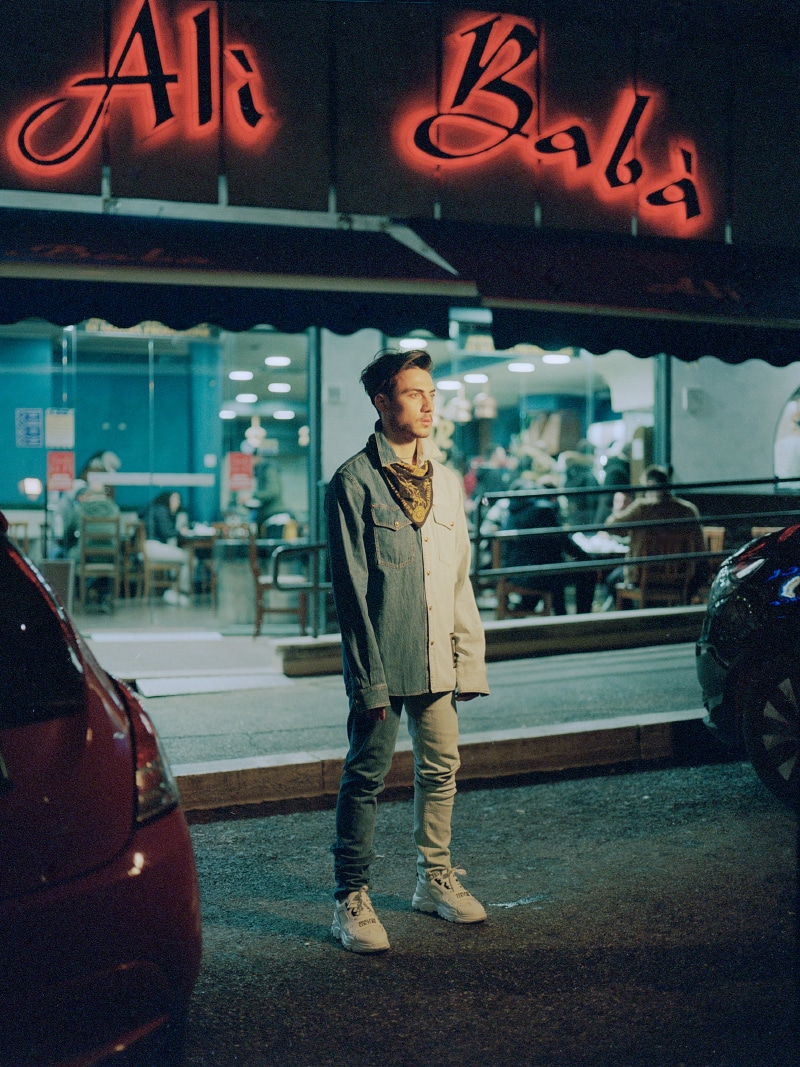 Hi Matteo! How are you? Please define the concept of art today.
We have been living in the era of cyborgism, and with the events of recent years, it has become increasingly difficult to distinguish science fiction from the near future. On the one hand, there is the feeling that the human body can evolve exponentially thanks to machines, on the other hand, we have the annihilation of humanity in the face of a planet that is now on its last legs. In this extreme condition of survival, I do believe that art must move away from the realism of the past and cross a new current of surrealism where reality is a dream and science fiction is reality.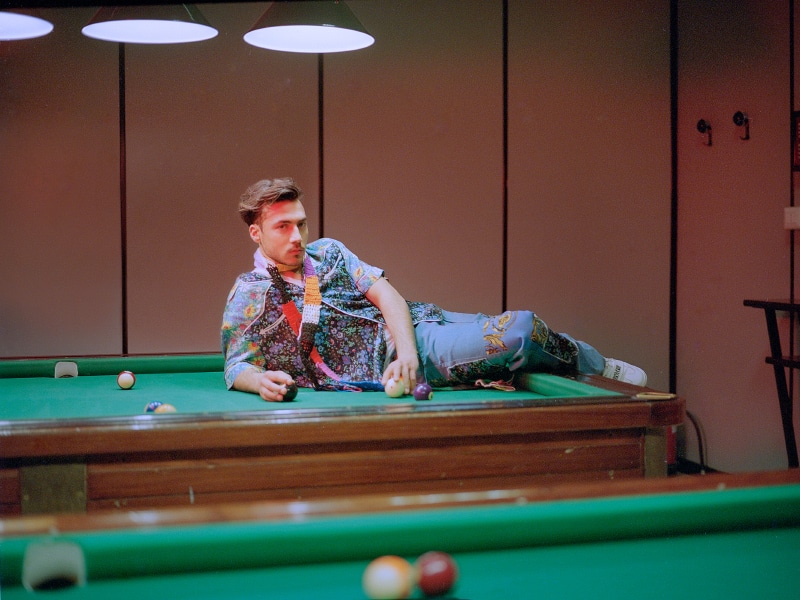 Which one of your two passions, music and acting, was born first?
For me, art is not just a passion, it is daily nourishment; it attracts me in all its forms. It has always been like this for me since I was a child.
From Salerno to Rome: why did you feel the need to move to the capital? Why not Naples, for example?
At 17, I had already realized that to study acting I had to leave my city. I chose Rome because I wanted to enroll in the Centro Sperimentale di Cinematografia (Experimental Film Centre) to improve my diction, too. I like Rome because the many shades of the world are here; it can happen to be talking to people who come from every corner of Italy, from every continent, and it is essential for me to discover what is completely different from who I am, from what I know…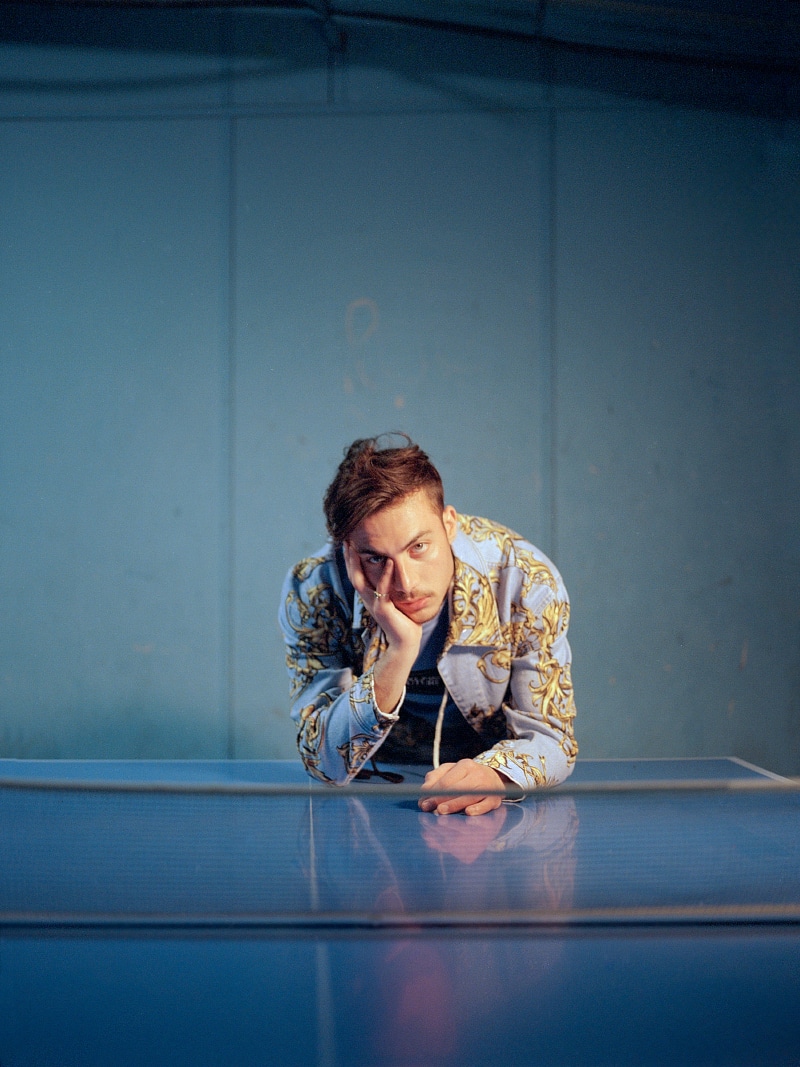 In 2016 you debuted in the RAI cult tv series, Don Matteo. What do you remember of that experience?
I was so scared because I had never been on a set before and had no idea how it worked. On the set, there's often a frenzied pace and you have to go with it! That experience taught me one important thing: the actor is not the center of the 'mechanism' as many think, it is a part of a complex system and it has to interact and co-operate with other 'connected parts' to make the project successful.
The series Mare Fuori (The Sea Beyond) by Carmine Elia gave you popularity. Do you want to tell us a little about your character, Edoardo?
On the set of Mare Fuori I found a special environment, everyone with the same desire to give their best. We were all full of passion and we supported each other. Edoardo is constantly dissatisfied. He feels good only when he meets Teresa, but when he loses her, things become difficult: his relationship with his family and his son, the serenity inside the prison, the revenge. I am happy to be able to portray a character that is so different from me; it is exactly what I want as an artist and as a man.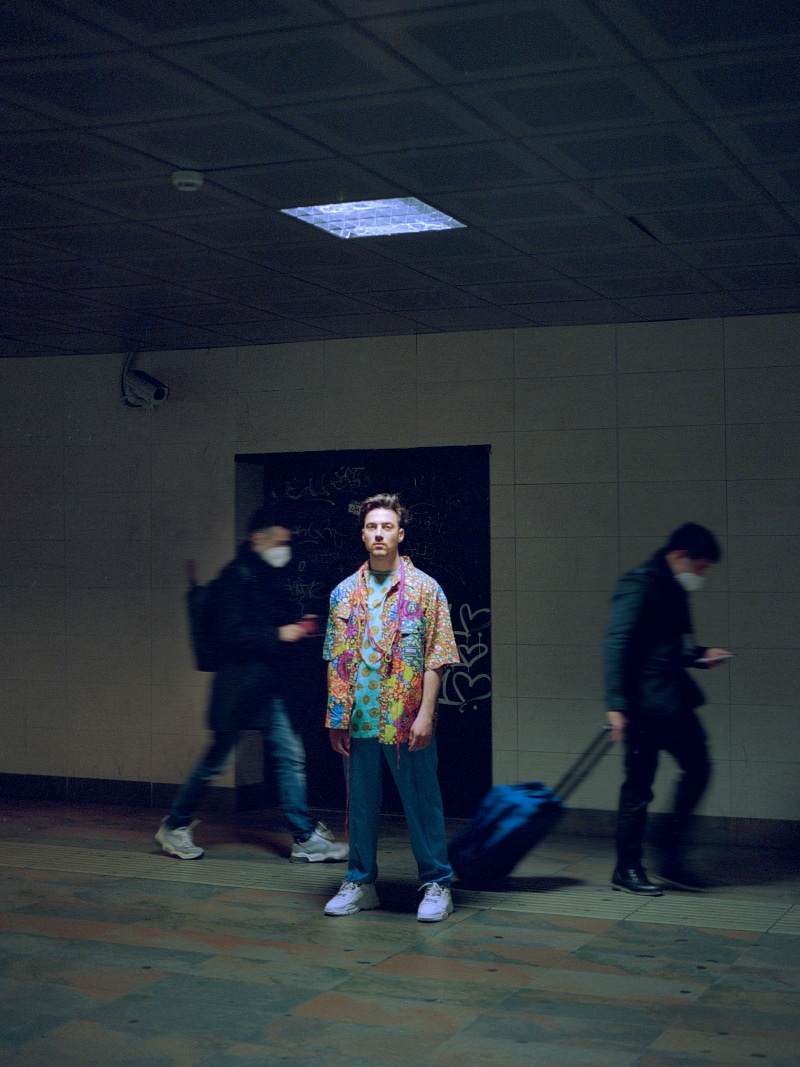 For the role of Edoardo you received the nomination for the Meno di Trenta award dedicated to young talents. What does it mean to be a rising star in 2022?
I was very lucky that Mare Fuori met with great success. Being an emerging actor today is not easy at all; it takes years of study and personal research to be a sensible actor and to be able to 'shape' a character. During these years, however, other actors emerged and stood out, even without having a proper background, because the audition is not always won by the best, but by the most suitable one.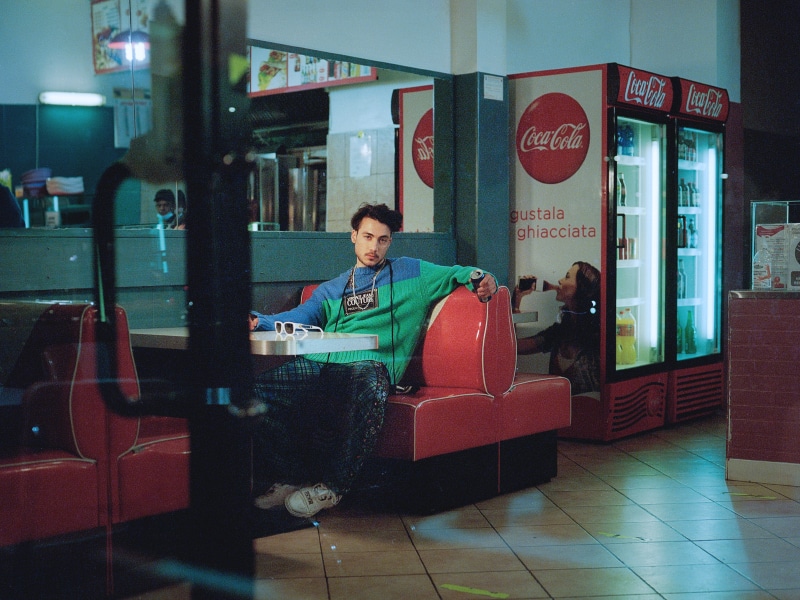 How do you choose the characters you want to interpret and which roles do you think are more appropriate for you?
As much as I am fascinated by characters that have nothing to do with me, there must always be some characteristics that impress me much, that I feel particularly mine. I change over time and so does my identification with the characters. Through the characters I portray, I want to narrate an era, a generation, or simply the reality around me.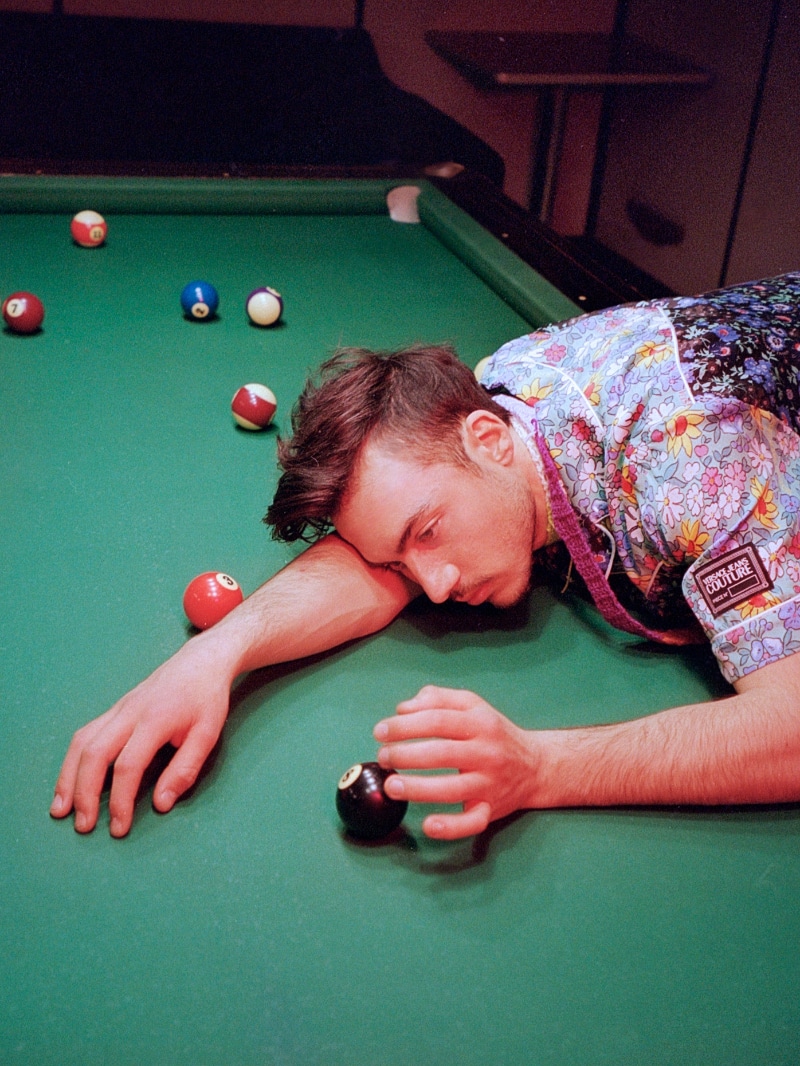 TV, cinema, but also, and above all, music. In 2020 you worked on your first solo album going by the pseudonym Icaro. Why this name?
With my music, I can describe more directly what surrounds me. Icaro is a pseudonym that I chose in 2017 when I switched from freestyle to writing rhymes. Icaro is the metaphor for most of the hardships of my generation and probably of many other generations. We grow up stuffed with ambitions and demands. We are not satisfied with mediocrity, you have to make it or you will 'fail'. You have to graduate on time, find a job on time, etc…, you know, time slips through our fingers and we will be eternally disheartened because even if we have achieved important goals, we are always asked to do more. As Einstein said, "Everyone is a genius".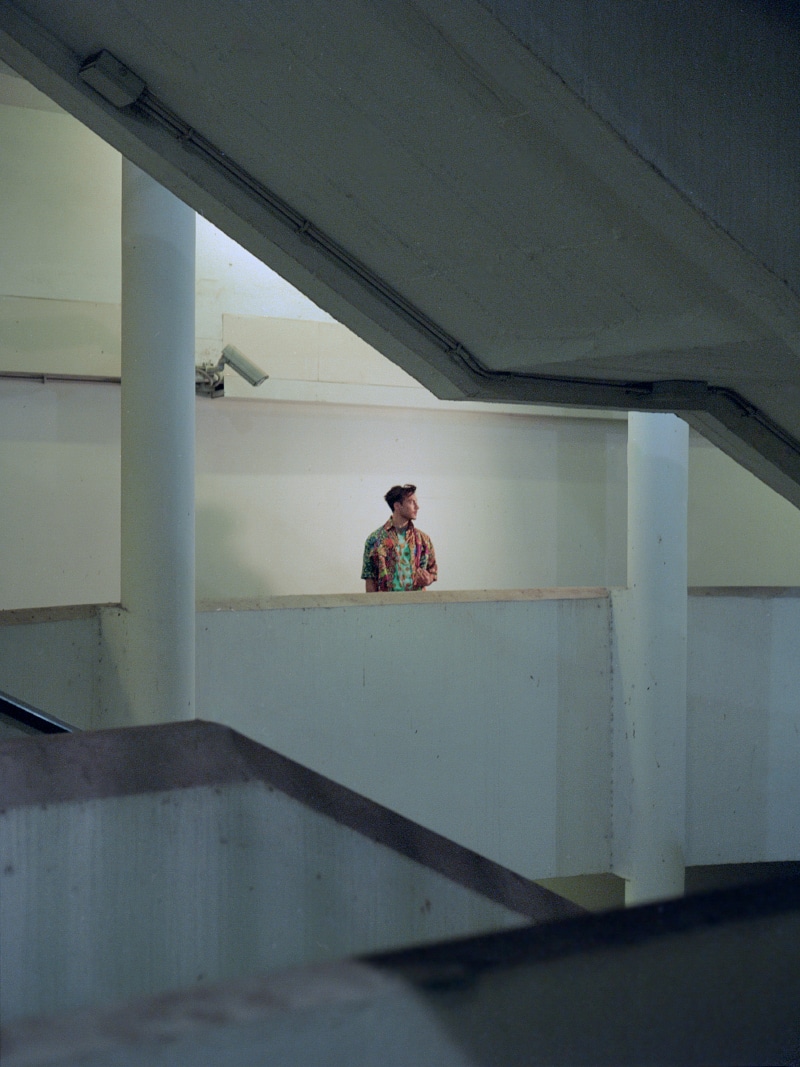 How much are you influenced by Neapolitan music (old and modern)?
The Neapolitan people care a lot about traditions and pass them on to new generations and this is felt so much in both old and modern music. It is like an infinite canvas that Neapolitan art continues to weave without losing sight of the past. Music continuously exerts a strong influence on me, every moment of the day. That's why when I want to go back to my roots or when I make myself ready for the character of Edoardo I listen to Neapolitan music.
On March 25th, the remix of the song Sangue Nero (Black Blood) was released, and violence is its main theme. Please tell us something about it.
Ma comme aggia fa (What I have to do) has been released on April 8th. I wanted to confront this absurd war, not only for Ukraine but for all the conflicts that kill thousands of innocent people every year. This is why I tried to do something with music, it seemed to me the best contribution I could give. I would like these sounds and words to become a hymn and an invitation to live in peace with others and with oneself. Regardless of religion, skin color, or gender, I would like people to dance together "T quant pa vì from Paris to Amsterdam", to lay down their arms and spread peace across the world with a white flag the size of the earth.
Imagine you're writing a letter to your future self. What would you write?
Don't burn your soul (A. Cechov)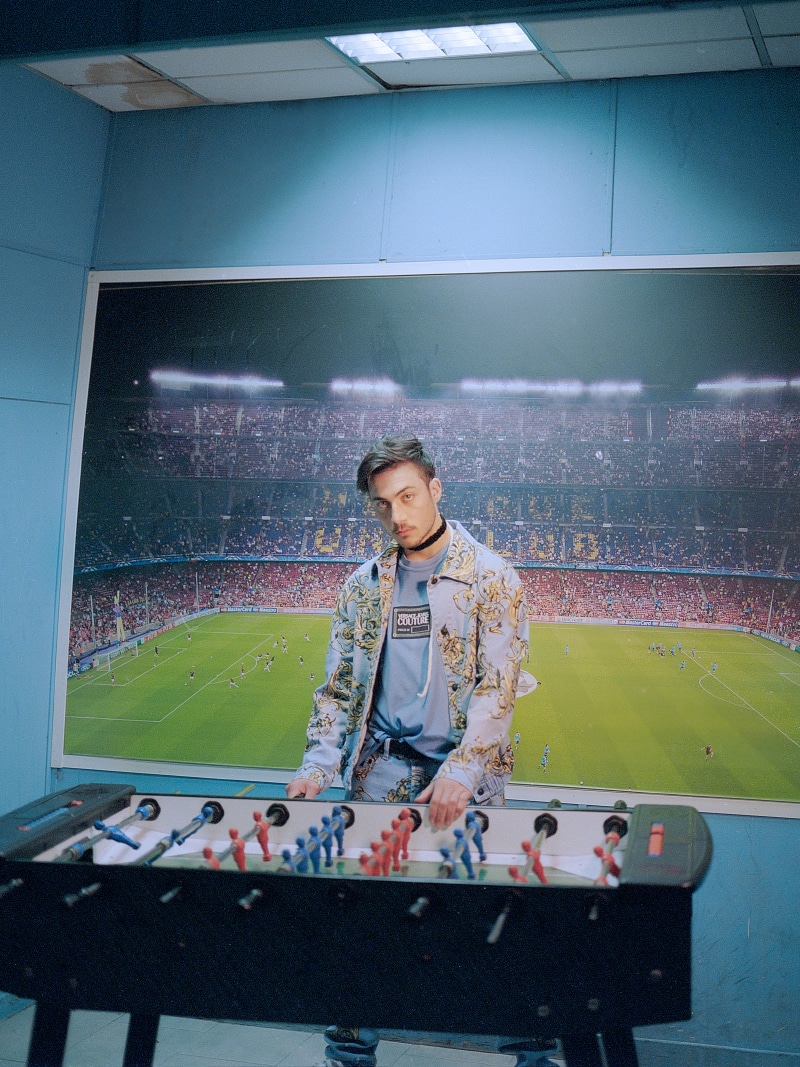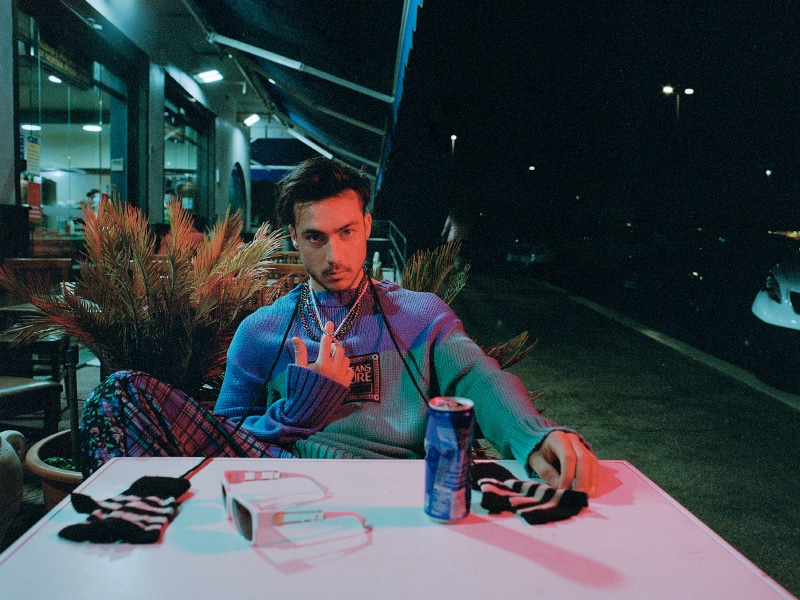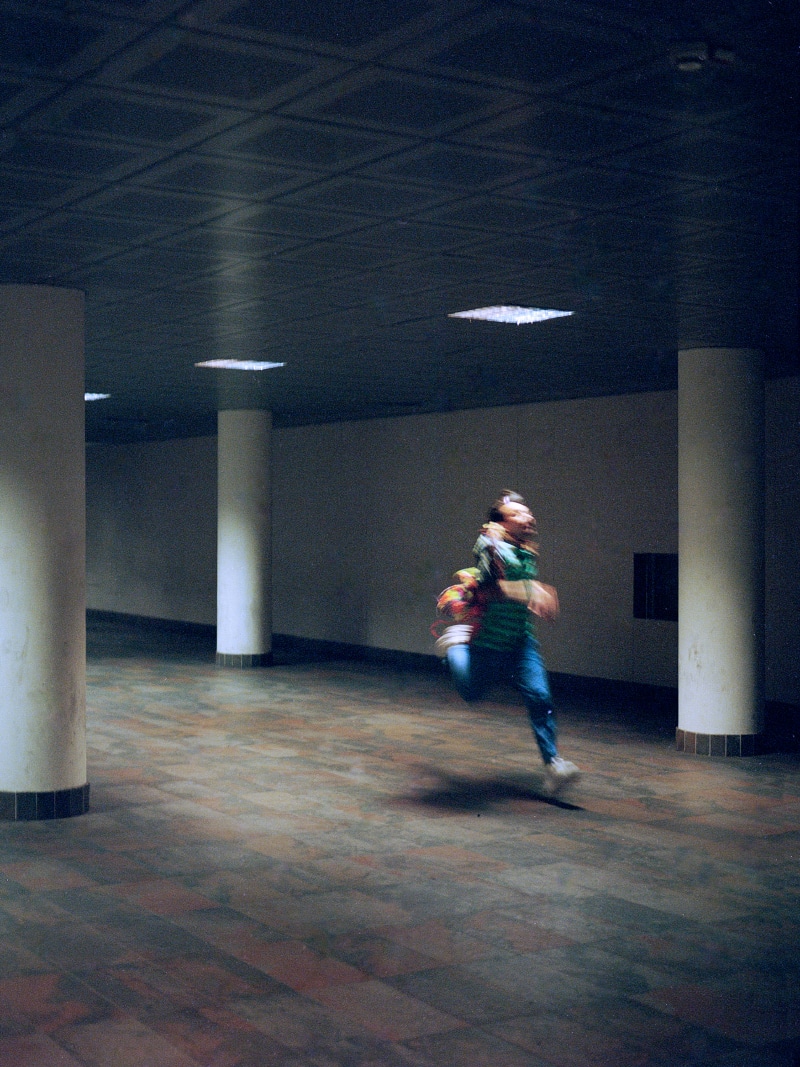 Special thanks to Yari Fiocca
TALENT: MATTEO PAOLILLO @matteopaolilloofficial
BRAND: VERSACE JEANS COUTURE
PRESS OFFICE: GIUSEPPE CORALLO @amendolacomunicazione
CREATIVE &F ASHION DIRECTION: CORINNA FUSCO @corinnafusco.choodtsukiji
PHOTO: @jacopopaglione
MAKEUP & HAIR: @emanuele.alteri
PH. ASSISTANT: SARA DI PANCRAZIO @saradipancrazio