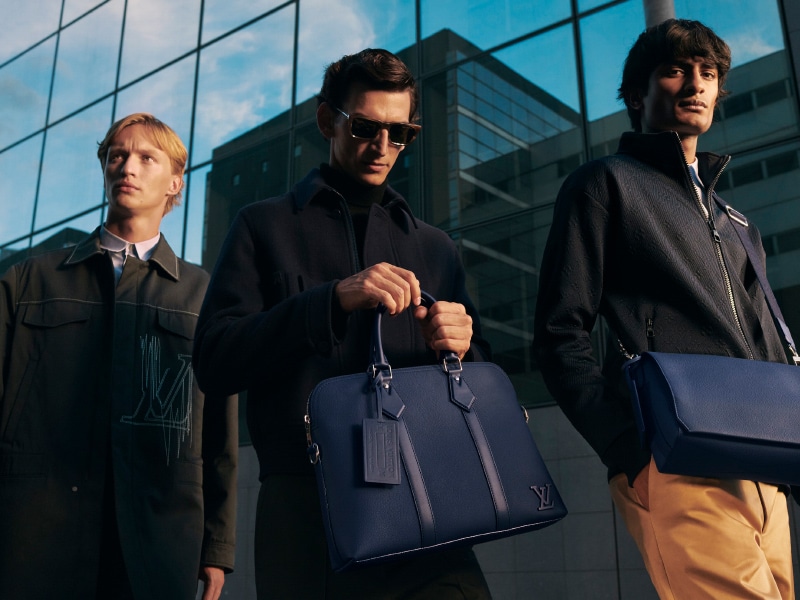 The accessories of the Aerogram collection, originally conceived as a tribute to the art of modern travel, present elegant aerodynamic shapes inspired by the universe of aviation. Through this collection, Louis Vuitton revisits icons such as Messenger and Keepall bags, as well as other urban essentials, distilling their essence and taking them to a new level of sophistication and elegance.
Some of the key designs include: a large capacity backpack with a front pocket, reinforced shoulder straps and a top handle, a zipped fanny pack with a flap pocket and a zipped tote bag; all crafted in supple yet structured leather and discreetly signed with a metallic LV logo, like an airmail stamp. On the larger accessories, an adjustable jacquard strap emblazoned with Louis Vuitton lettering nods to those originally found inside the Maison's trunks. Each piece features a customizable luggage tag that allows its owner to add their own signature.
Building on the original Aerogram collection, the new capsule adds some House favorites like the generous Keepall 50 weekend bag and other must-have travel companions like the Zippy Vertical Wallet and Pilot Compact Wallet. In the same spirit, the collection now welcomes pieces in compelling yet versatile hues such as khaki, deep navy, warm saffron or the already iconic matte black.
Take a look at the collection below: