In a breathtaking fusion of olfaction and vision, the worlds of perfume and painting converge to create a sensory masterpiece known as INSPIRED BY GALENE. E V U M, the Milan-based research perfumery brand, joins forces with acclaimed painter Andrea Bonanno to translate the essence of GALENE fragrance into a visual symphony of oil and canvas, interwoven with memories and emotion.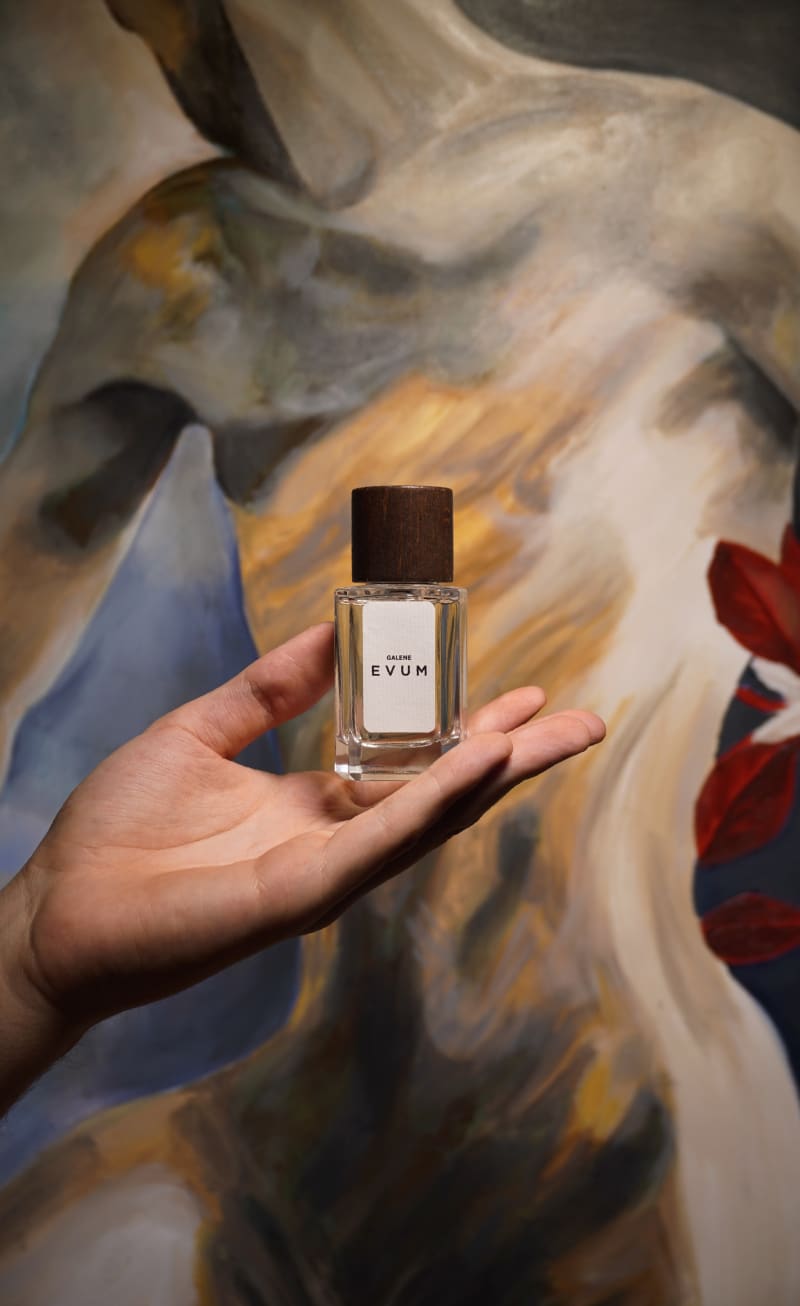 This unique collaboration takes us on an olfactory journey manifested through the stages of painting. The base notes, like an underpainting, provide the ethereal foundation, an intangible truth that supports the visual representation of the heart notes. Structured shapes and deliberate choices bring forth the heart notes, conveying their essence through data and artistry. Finally, the top notes, the initial visual encounter, offer intricate details that invite us to step back and marvel at the completed work.
GALENE represents one of the three fragrances in E V U M's inaugural creative collection. Symbolizing the mystical power of the Greek goddess Aphrodite to calm the waters, it evokes a tranquil sea where one can peacefully navigate, guided by a gentle breeze.
Founded in 2022 by Beatrice Acquarelli and Riccardo Basilio, E V U M is a young perfumery brand rooted in research and based in Milan. In December of the same year, the brand debuted with its THALASSA collection, a result of a collaborative effort with Atelier Fragranze Milano, led by nose Luca Maffei. This partnership allowed E V U M to create three genderless Eau de Parfum under the creative direction of the visionary duo. Each fragrance crafted by E V U M is proudly Made in Italy, reflecting the brand's commitment to exclusive local production and honoring the country's rich heritage of artistry and craftsmanship.
Ver esta publicación en Instagram
Prepare to embark on a multisensory adventure, as E V U M and Andrea Bonanno invite you to experience the magic of INSPIRED BY GALENE, where perfumery and painting become one, evoking emotions that transcend words and ignite the imagination.