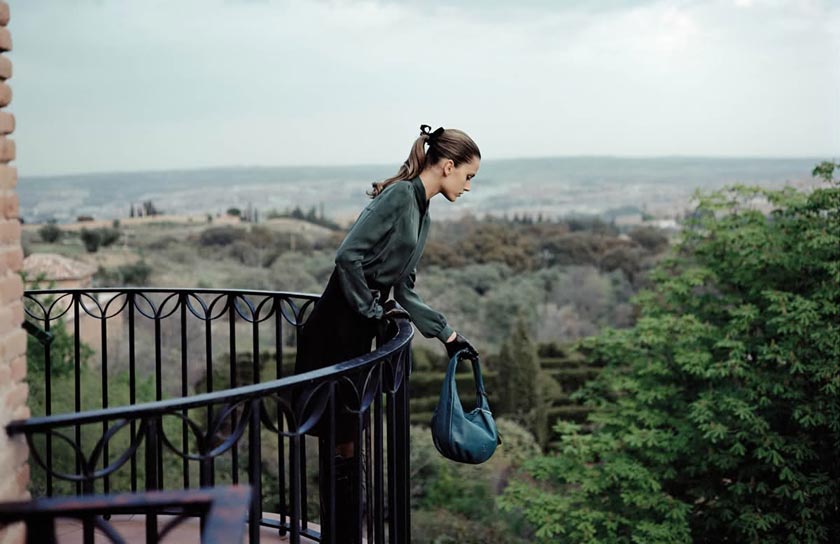 Last week, alongside other bloggers, I joined Stuart Vevers (Loewe's creative director) and PR crew extraordinaire to take part in a roundtable at the 2nd floor of the company's Gran Via store. Together, we were to celebrate the excellence and skill of the in-house artisans as portrayed by Stuart Vevers in the "Masters of Leather" book. Predictably, I was late on arrival. Upstairs, a tall man with strawberry-blond hair was already answering the many questions of my internet peers, and under dimmed lights and bowl shaped crystal chandeliers everyone seemed to have a lot to question. I, for one, felt more entertained by the PR girl's red lipstick and Stuart Vevers' heartbreakingly refined bone structure – thus allowing myself to contemplate such small lusts while the Vogue correspondent asked all the questions.
Leather cuts, Ava Gardner, Mariacarla Boscono, cowhide, marketing gimmicks, it bags, fashion shows, collaborations, return to profitability, and Spanish heritage were the memes of a roundtable which I briefly interrupted to blabber some of my 5th grade knowledge on 'narrative journeys and tales of wonder'. I think I might have succeeded in getting Vevers attention yet not so in engaging the rest of the crowd.
Truth is, all that time I couldn't shake the feeling that those many exquisite leather bags in soft-pink and apple green, sewed by the finest hands, had to be righteous counterparts for equally exquisite journeys – or else, they meant nothing. Regardless, the conversation got stuck in the less inspiring pragmatic nature of sales, and while everyone appeared to be genuinely interested in the intertwined subjects of Louis Vuitton Moet Hennessy's consolidating assets, I drifted to memories of Summer 2009, in Southern Spain (onboard of a rented Yatch) where incredibly fit half-naked Finish guys dived into Mediterranean waters oblivious to the girl drama I was throwing inside the cabin.
Now I know: exquisite leather bags are not only the counterpart for exceptional journeys, but also for billionaire clients, parvenus, magazine editors, and slightly naïve gay guys like me: all gathered for the cocktail reception at Loewe's Gran Via, 8. The party was high in Champagne and there were nice people among the sparkling iridescence of the many golden brass frames and windows of the store. But after meeting and greeting ex-flings, micro-mini Spaniards and people I'll never see again, all I could wish for was a taxi.
Inside was a beautiful scene. Outside was the road ahead.
That night, I went to my ex-boyfriend's house in Madrid where we shared a bed.
Sporting the same blue shirt I wore to Loewe's party, I got from the airport directly to the studio to perform my duty as stylist for a photo-shoot commissioned by a model agency who needed brand-new model books to be delivered like fast-food. Meaning, that in the course of three days I would have to battle every fifteen minutes with a suburban photographer in order to avoid ending up having my work closely entangled with lower middle class creative substance.
The glamorous side of fashion is that it is not so glamorous. People are generally poorly informed and miseducated: they read Vogue, but alas not Plato, and fashion gets easily lost in a haze of capricious desires that no one (apart from Lagerfeld) seems to distinguish. Although it was supposed to be a week of wonder and marvel, everyone around kept shunning those in favor of it-bags and advertisers prerogatives. I wanted to create art, but the photographer wanted hairdresser catalog crappiness. I wanted to talk about Loewe's family love for Spain, however people seemed to be more interested in when was Lindsay Lohan last seen carrying an Amazona handbag. I hate to be a bother, but I still prefer my antique philosophy professor status updates, to whatever Tavi is blogging in her room. And also, I would rather have Wikipedia's entry on 'Gold' printed on fine paper to actually go out and buy 24kt anything.
Beauty is what keeps me going. Yet I dream with a totalized supra-reality where beauty lives on a sematic field, which is not reducible to the aesthetic experience.
Can I have it like that?
Probably not.
I'm sure there's a waiting list. Or a very expensive made-to-order service that one only affords after successfully crafting a machine with alchemic properties that turns patriarchal-blood from murdered heterosexuals into raw diamonds, cabochon sapphires or bank accounts under asset-protection trusts.
That would be a dream.
Reality, is often harder.