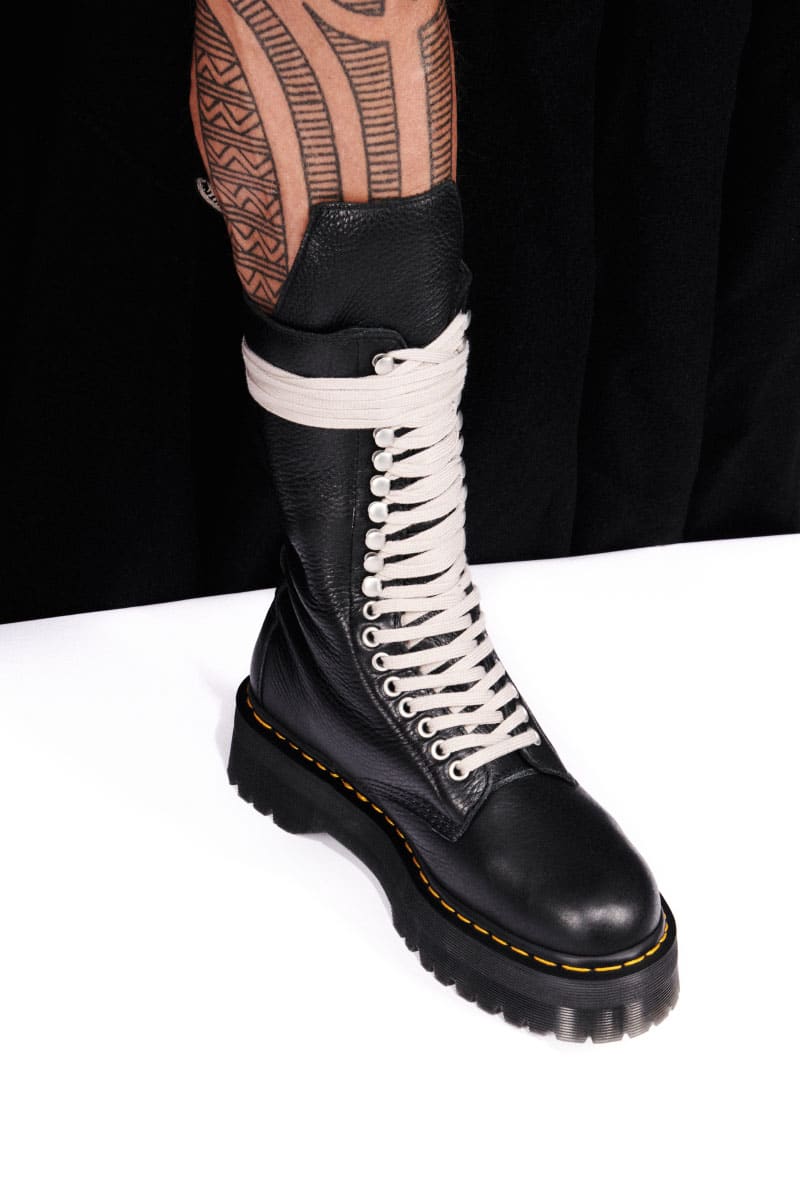 A shared philosophy of celebrating the alternative and challenging the conventional guarantees unorthodox results, and the punk swagger of the latest collaboration between Dr. Martens and Rick Owens does not disappoint.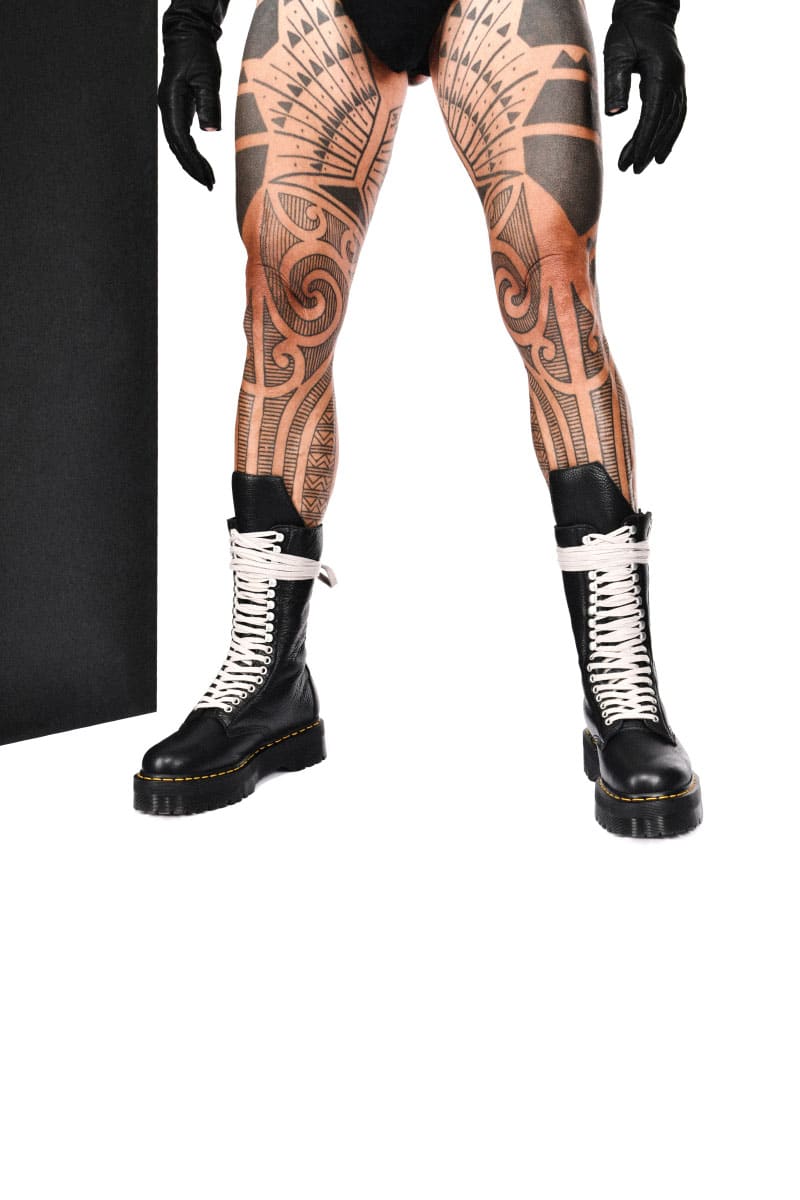 This second drop unleashes the architectural potential of Dr. Martens' utilitarian silhouettes. It focuses attention on the 8 and 18 eyelet boots built on the 2″ Quad Retro sole" and equipped with an oversized, elevated tongue.
Both boots are made from polished black Lunar leather: a soft material that contrasts with the vertical structure of the silhouettes. It wouldn't be a Rick Owens collaboration without the appearance of his signature lacing pattern, and this time it's showcased on our 1460 8-eye boot with thick pearlized wrap-around laces anchored with matte silver hooks. The boot features a heavy zip on the inside of the ankle, a black and pearlized heel loop, and the famous yellow stitching.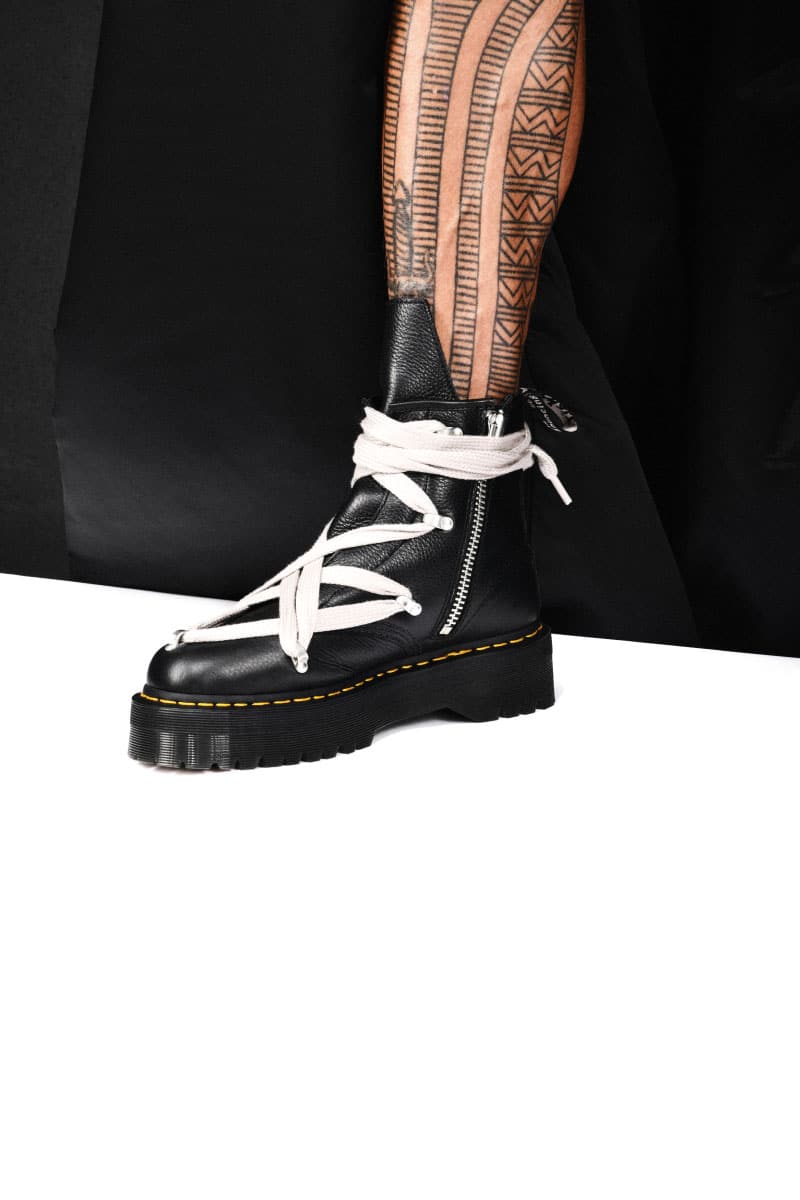 The imposing 1918 boot has also been reconstructed, an 18-eyelet silhouette, also with extra long pearlized laces anchored with silver hook trims. A heavy zip runs along the outside of the boot, and is tagged with a black and pearlized heel loop and finished with our yellow stitching.
Rick Owens has fond memories of the brand from when he was very young, and has said so:
When I was a teenager and beginning to become physically aware, I saw how a well-tied ankle that led to a wide, well-planted foot had a simple, modest, industrial masculinity, almost like a corset between a muscular calf and a sturdy foot that acted as a stoic ballast. DM's were the best example of this. I saw them on all the guys flying through the air at the shows I went to back then… 
Dr. Martens became a symbol of a raw, sweaty vitality that I thought I might be able to achieve… and for a minute there, I think I did… Coming full circle to partnering with Dr. Martens 40 years later brings me to lacing them with pearl-colored cotton laces in a geometric pattern that I often use as a symbol of our collective eternal quest. A search for rational order; signs of hope and an affectionate benediction to the perpetual recklessness of youth.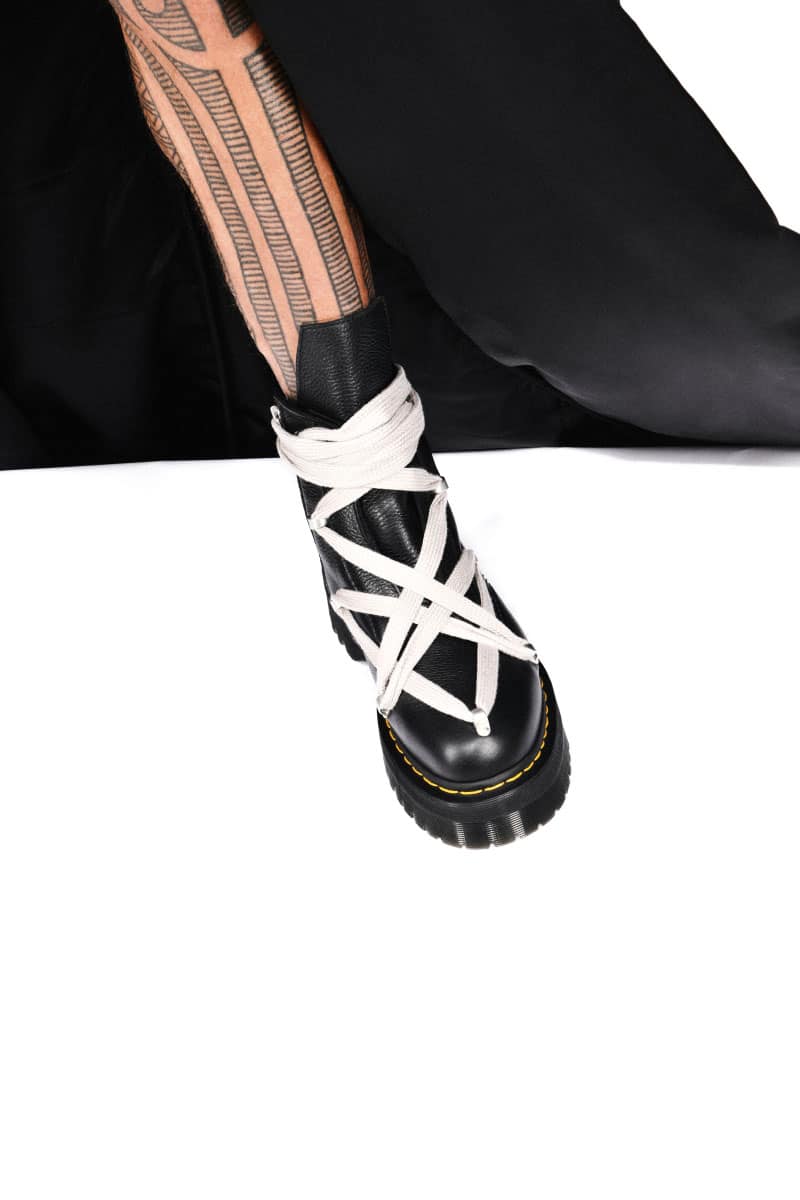 In addition, to present this second drop from Dr. Martens and Rick Owens collection, they have once again enlisted the famed body art artist Ron Athey, of whom the designer comments: "I've known Ron Athey since 1980 when our paths crossed in the grimiest clubs in LA. His work speaks to the eternal primitive in all of us and our shared human experiences – fear, shame, sexuality, mortality, and faith – in a timeless tradition of blood rituals, from the drama of human sacrifice on Mayan altars to the messiah on the cross, childbirth, blood tests, and our current war…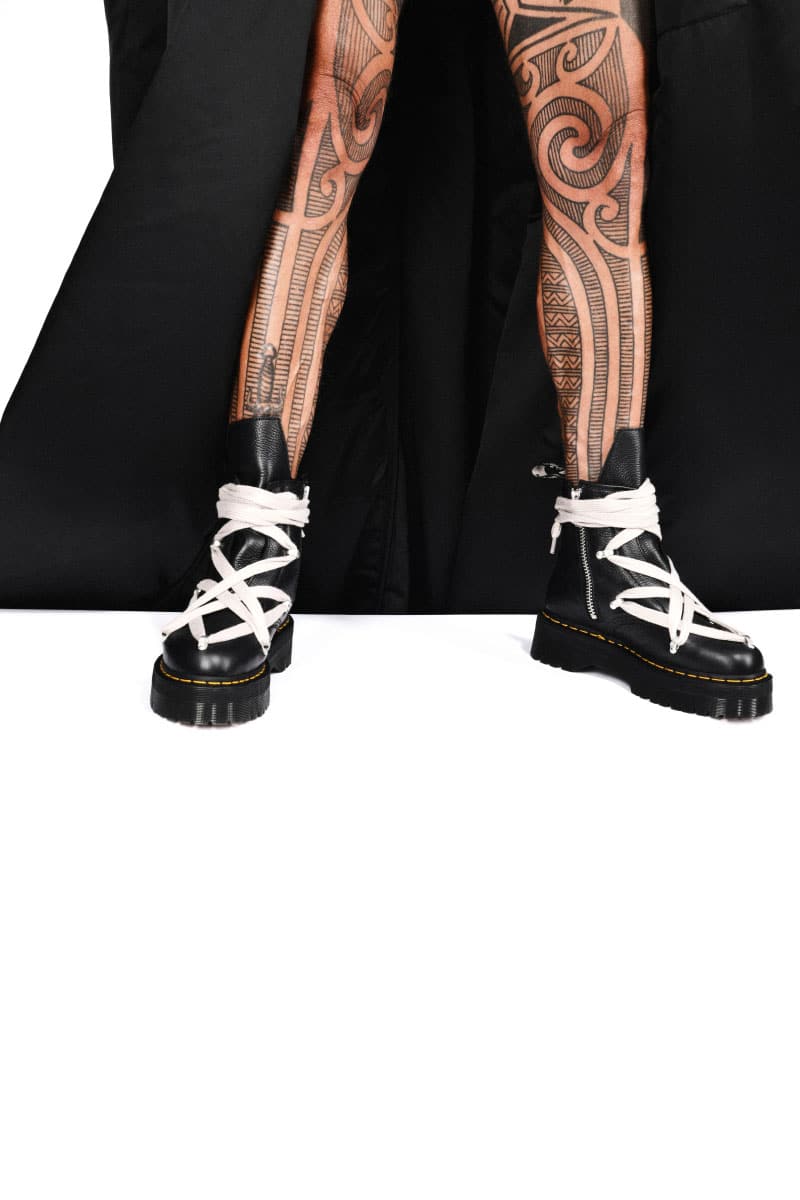 The second drop of this new collaboration arrives on 2 December on drmartens.com, rickowens.eu, and selected partners.
Photos: OWENSCORP