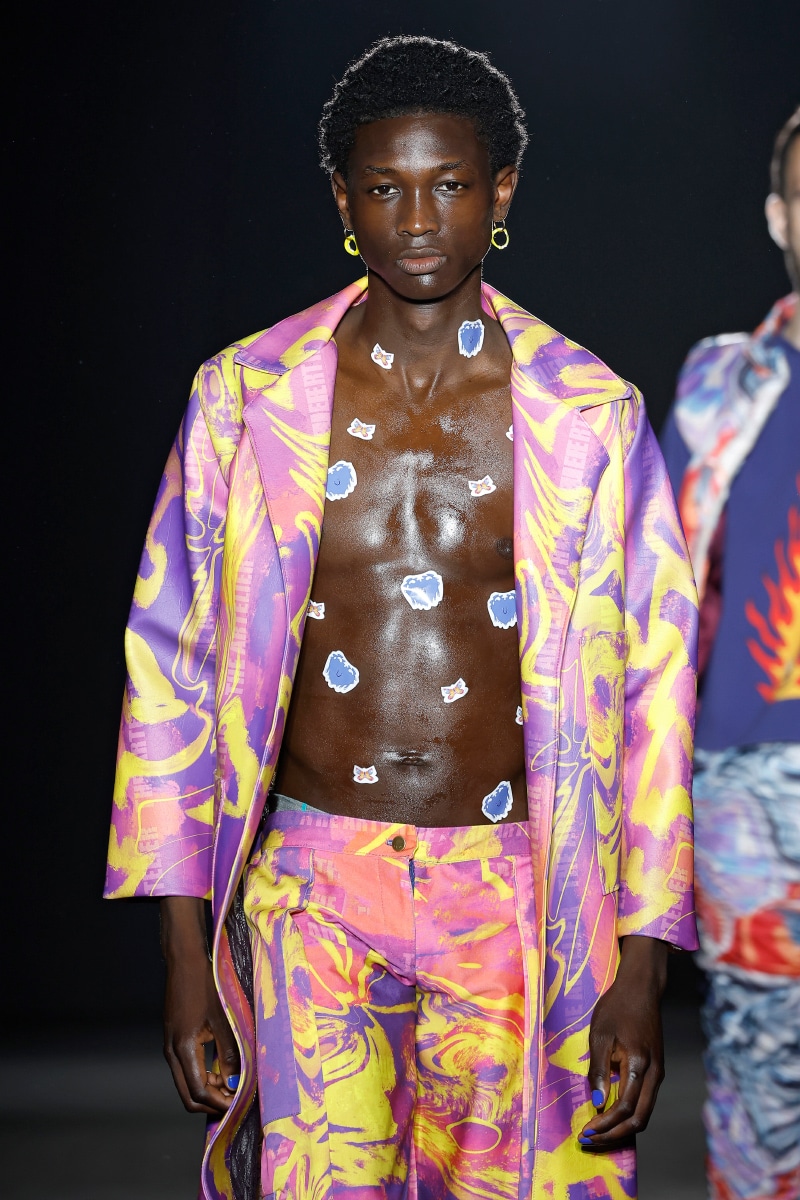 Alba Ayza, the mind behind The Artelier, blends her passion for fashion and illustration to bring you a unique and genderless clothing line that transcends time. The brand's ecological and sustainable fabrics, along with its handmade production in Barcelona, make it a standout in the industry.
The Artelier's one-of-a-kind prints capture the essence of the brand, each piece telling a story that invites you to discover it. The latest collection, "Retiens la nuit," draws inspiration from the elusive nature of time and how it shapes our lives. The shapes in the collection appear to dissolve, simulating the passage of time.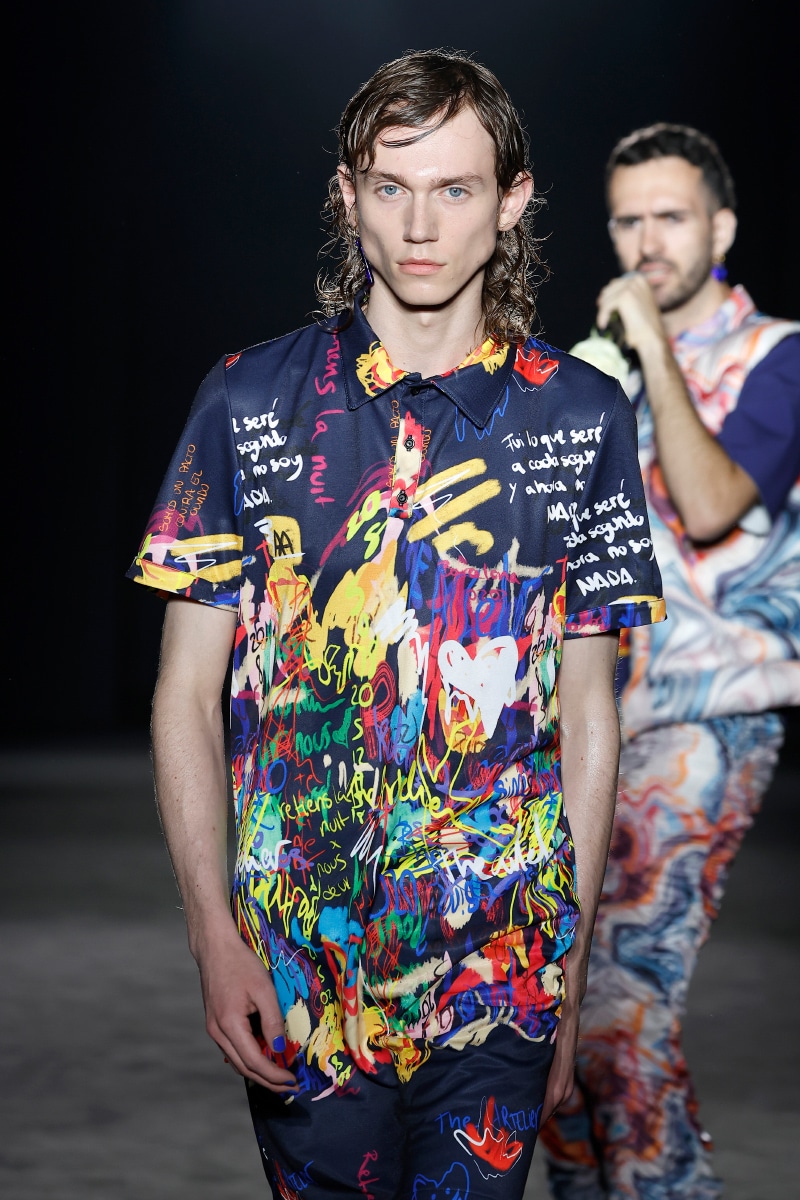 With a nod to her past, Alba named the collection after a song her uncle sang to her on her 18th birthday. "Retiens la nuit" reminds us of the precious nature of time and how it adds value to everything around us.
We had a chance to interview the designer right after showing the collection during  080 Barcelona Fashion and here's what she told us:
Can you tell us about the collection you presented at 080 Barcelona Fashion?
The collection we presented at 080 Barcelona Fashion is called "Retiens la nuit," which means "Hold the night" in French. It was our first collection presented at the 080 in person, so we wanted it to be very special. We had the collaboration of Marc Subliminal, a Catalan urban singer who opened the show and performed live throughout the runway, interacting with the models.
We aimed to present a collection with the most diverse casting possible, creating garments without gender or age restrictions and that could represent all types of bodies. Additionally, we had the great honor of featuring Hugaceo Crujiente to close the show.
What was the inspiration, and how did you go about translating that inspiration into your designs?
Retiens la Nuit is a song that my uncle sang to me when I turned 18, and I've always had it in my head. Finally, everything made sense when I started preparing the collection. It's a genderless, timeless, and barrier-free collection that speaks about time and how it affects us. Time is the only thing that makes us all the same, but each of us experiences it differently, and that's what I wanted to reflect in the collection – both in the prints, design and especially in the presentation. That's why I wanted the models to be wet from less to more, referring to the passage of time.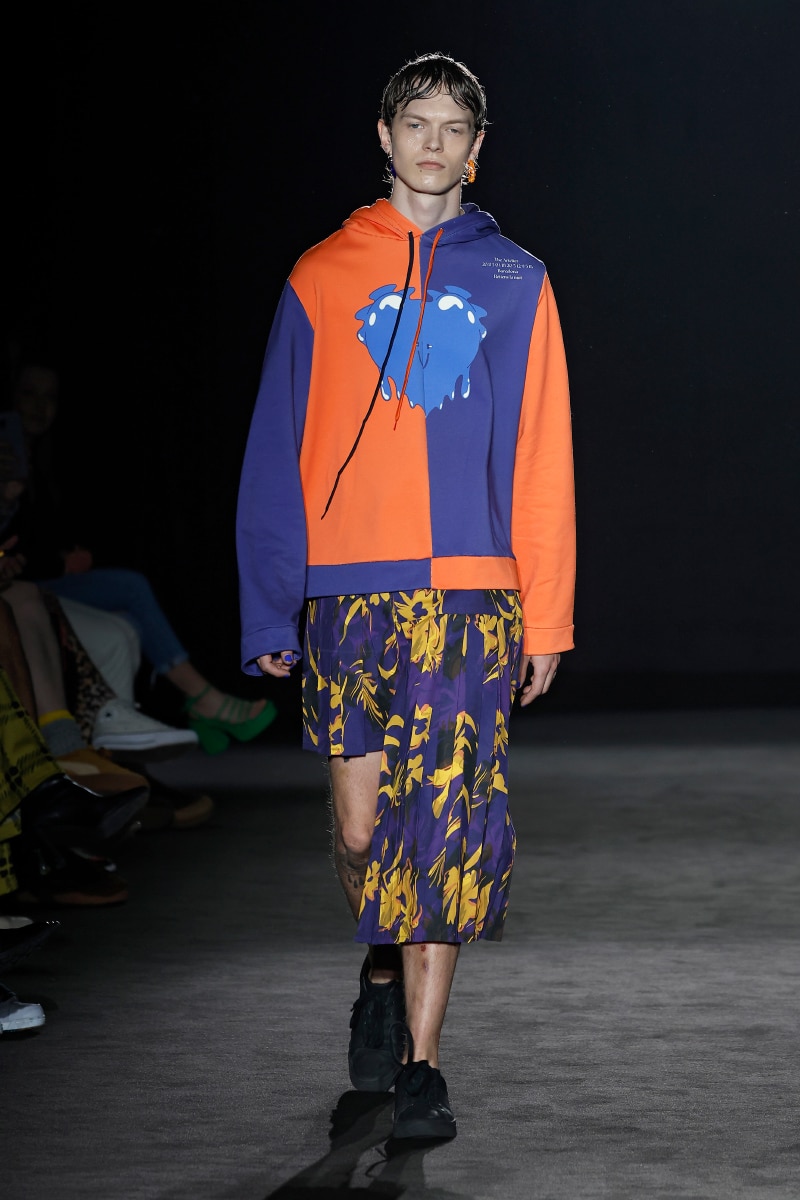 What's your favorite piece from this collection?
Without a doubt, the look of Hugaceo Crujiente was so well thought out that when I saw it on him, my heart broke. Many days of work have resulted in creating so much magic with this look, and he wore it incredibly well.
What materials have you used for the collection? What materials and fabrics do you enjoy working with the most, and why?
We also use a variety of fabrics, but always recycled and organic ones. Our own prints look great on workwear twill or Sequal lycra made from ocean plastics. Inspired by this concept, we decided to create a beautiful black and blue party top by melting plastic bottle caps. Additionally, we used fabrics from a local Barcelona company called Recovo, which utilizes circular fabrics by selling excess materials from larger companies. Finally, I really enjoyed upcycling denim pants for the first time.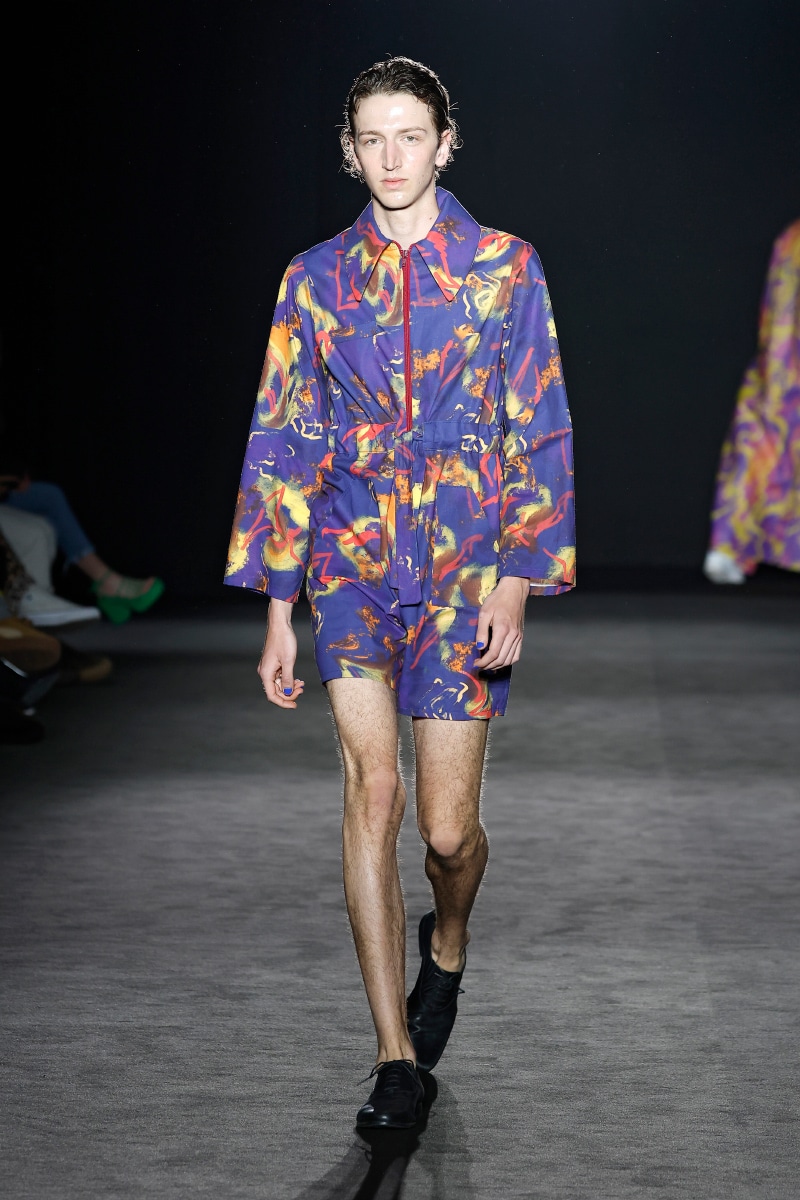 How do you approach the design process? Do you have a specific method or routine that you follow, or does it vary from collection to collection?
I love design, I studied illustration and fashion design, and from that, I was able to combine these two disciplines and create The Artelier. My creative process always starts with a story. For example, with Retiens la Nuit, which talks about the passage of time, it created the need for me to create garments that fall apart or disintegrate through the prints, and then see how those prints become garments. As I create the patterns for my collections, I always make changes to certain details that I believe will work well with the collection.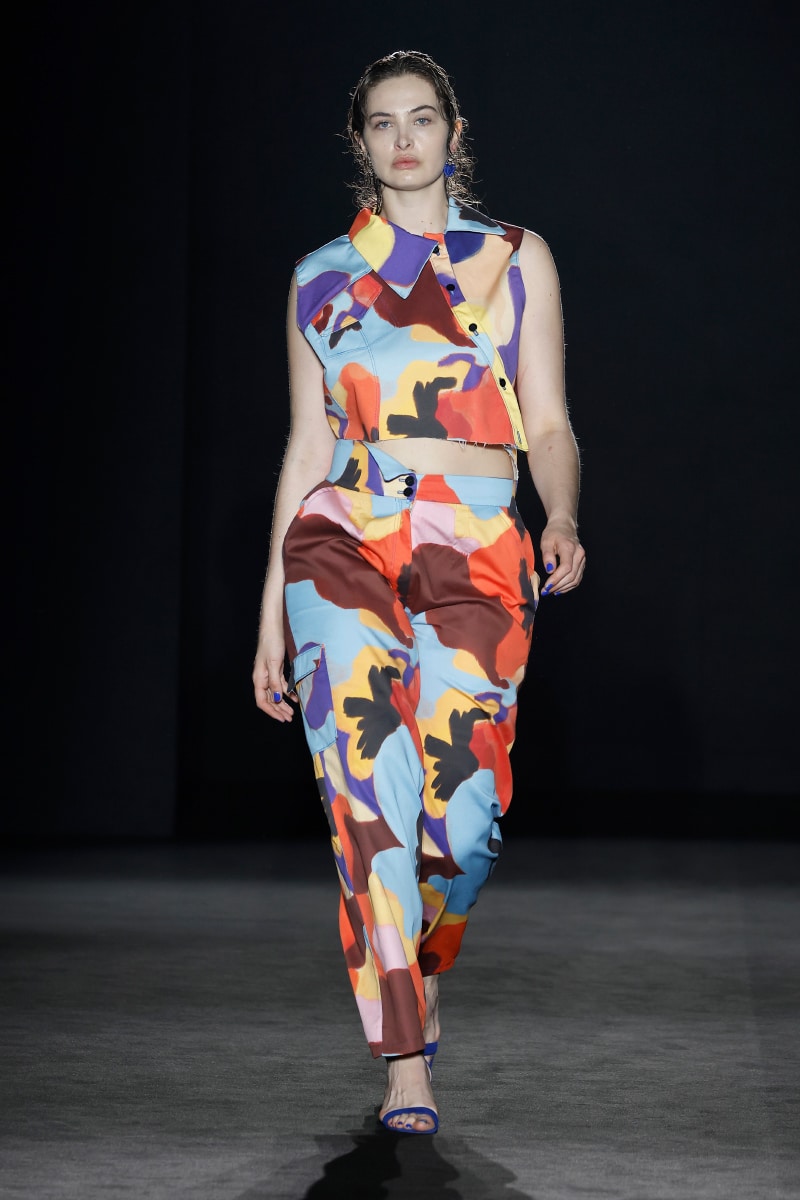 How do you balance creativity and wearability when designing menswear?
As I design and create the pieces, I imagine occasions of use or functionalities for each garment, making them both creative and wearable for everyday life. I particularly love men's fashion because I believe it is becoming more open to creativity and bold designs, whereas in the past it was often hesitant to take such risks.
How do you stay up-to-date on the latest trends and styles, while still maintaining your own unique point of view?
To be honest, it's hard for me to stay up to date, but I'm passionate about flipping through fashion magazines, feeling the paper, and checking out the trends through the pages of the magazines. I usually combine that with watching YouTube videos, but that's about it. I know it's a crime and I apologize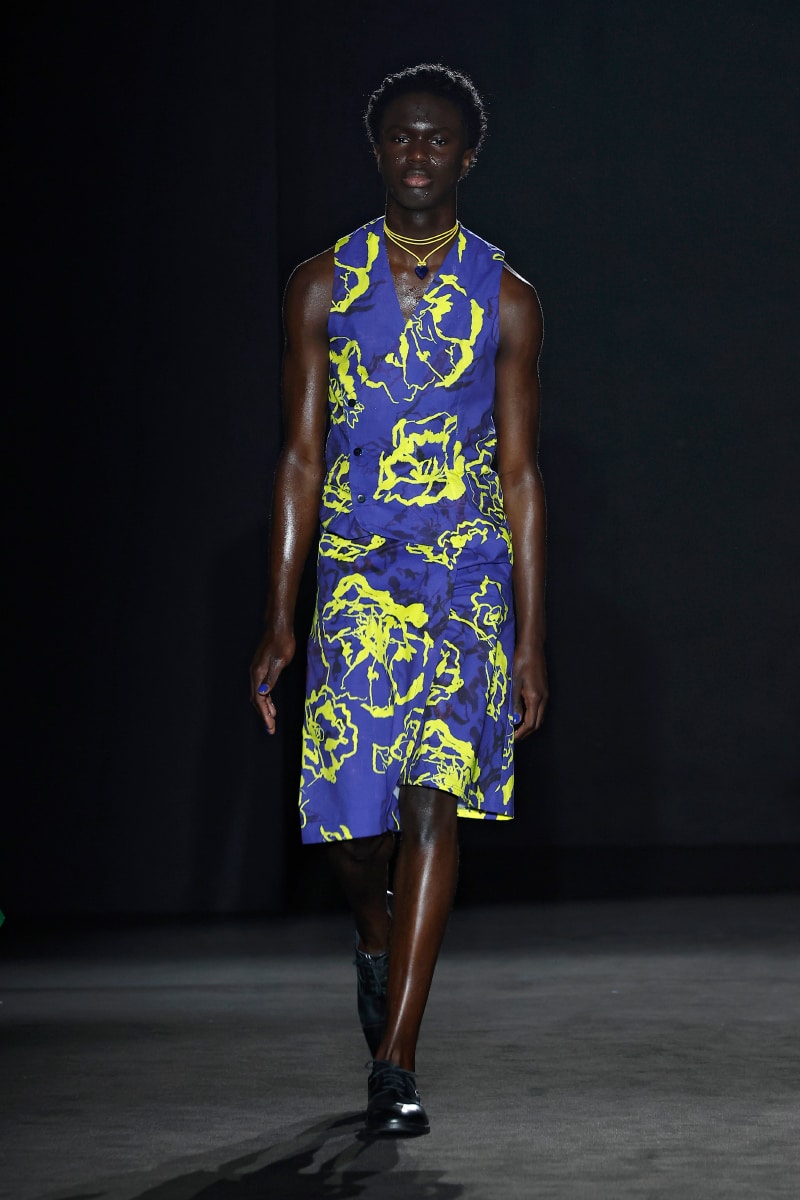 How would you say your brand stands out from other menswear brands?
The Artelier stands out from other menswear brands for its focus on originality and expression of emotions through exclusive and vibrant prints, making its garments more identifiable and meaningful for the wearer. In addition to its unique prints, The Artelier differentiates itself from other menswear brands by its commitment to sustainability and the use of recycled and organic fabrics in its garments. Their designs are genderless and ageless, meaning that their pieces can be worn by anyone regardless of their gender or age. Lastly, The Artelier values inclusion and diversity, aiming to represent all types of bodies in their collections.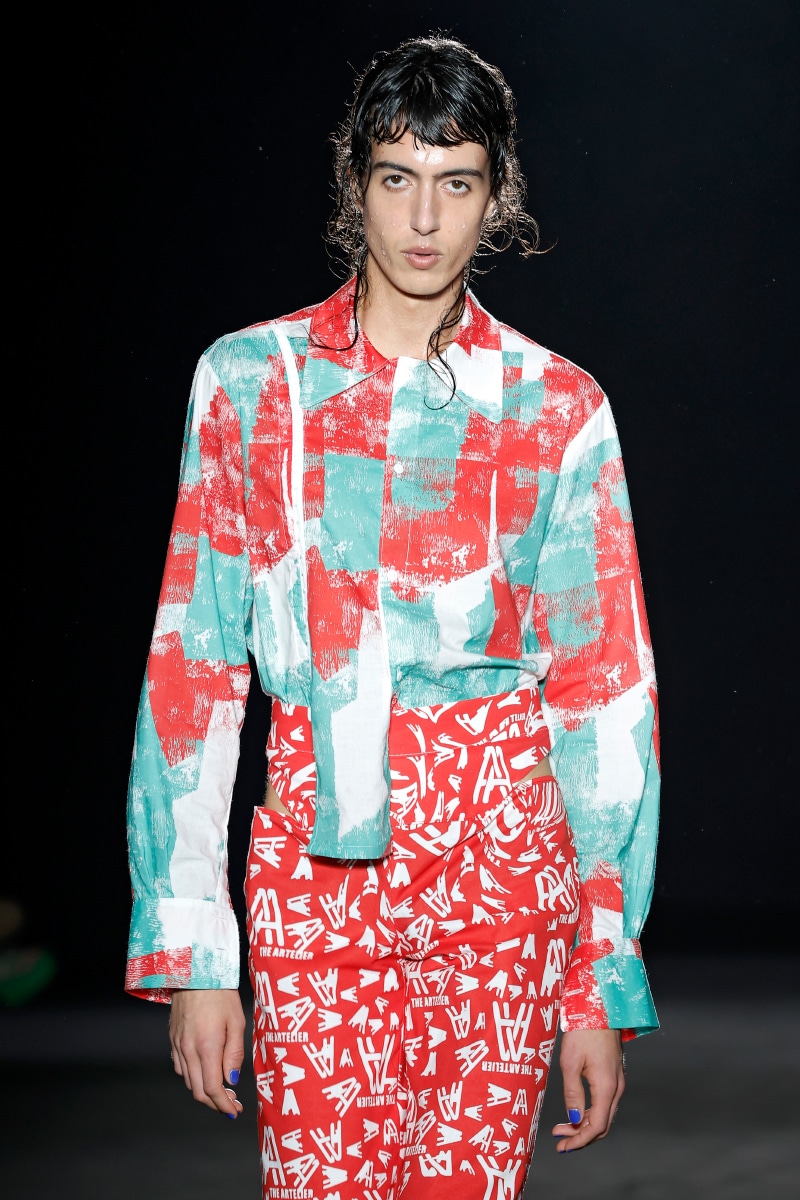 What advice would you give to aspiring menswear designers who are just starting out in the industry?
The Artelier advises emerging menswear fashion designers to stay true to their unique vision and never compromise their creativity. They should focus on developing a strong perspective and distinctive style, while also paying attention to market trends and consumer demands. The Artelier also emphasizes the importance of networking and building relationships within the industry, as well as seeking out mentors and experienced professionals who can provide guidance and support. Finally, The Artelier encourages designers to adopt sustainable practices and consider the environmental and social impact of their work.
What can we expect to see from your brand in the future? Are there any new collections or projects that you're currently working on?
The Artelier has many future projects, and above all, we would love to have our first physical store because there is a high demand for wanting to see and touch all the garments we make. Regarding runway shows, we would love to be able to go to Madrid and wherever we are allowed to reach.