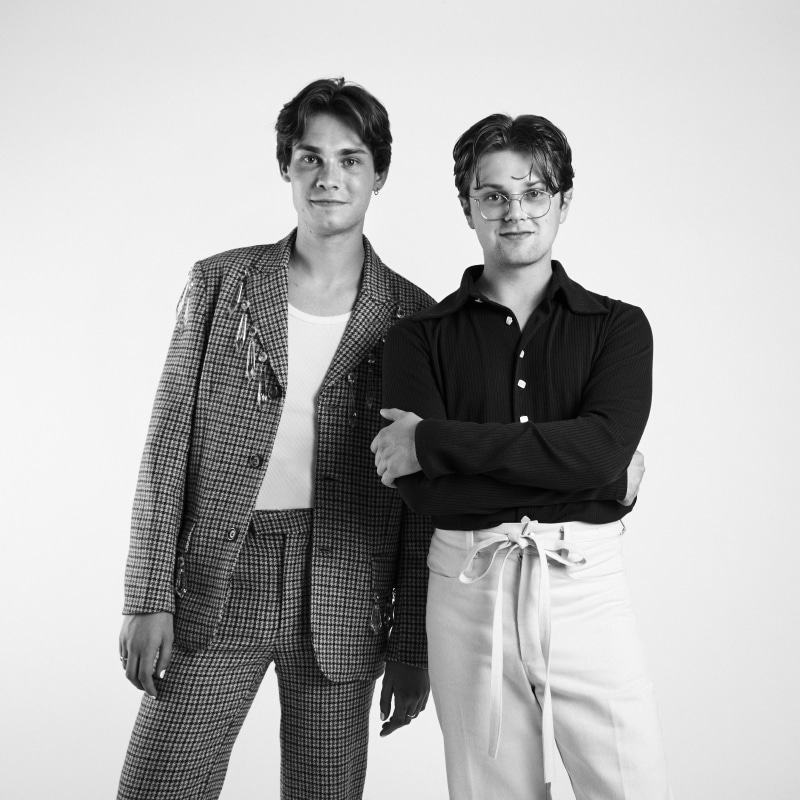 Tanner Fletcher, the emerging genderless brand specializing in responsibly designed ready to wear that push the boundaries between masculinity and femininity, caught our attention with their first collection SS22 presented at New York Fashion Week. Since then, we wanted to meet the duo bringing a modern lens to past eras of interior design and fashion to form a type of style that is more suited for the twenty-first century. We caught up with them during Paris Fashion Week and got to see their FW22 collection up close. Just as they prescribed, it was an ongoing evolution of individuals' style.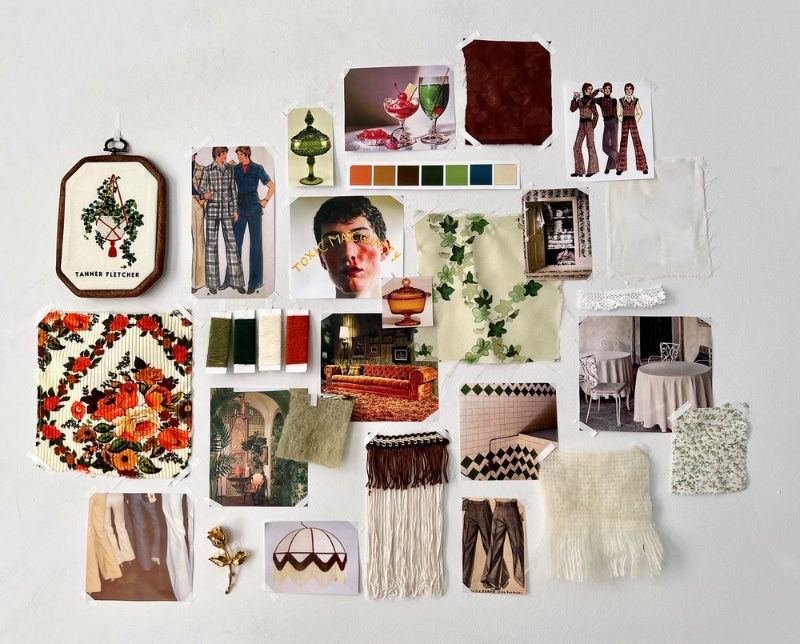 Let's start at the beginning, Tanner Fletcher are two people! If I am correct, you launched your brand during the Covid pandemic. How did you begin and what did you think was missing from the market?
Yes, there's two of us! Tanner & Fletcher. We launched during Covid almost out of necessity. Both of us were at a point in our lives where we were just graduating from college, finishing up some internships and interviewing for jobs post-graduation.
Once the pandemic hit, these plans needed to be completely restructured. We took some time to go back home to Minnesota and Wisconsin where we started to brainstorm about our next steps. We always knew we wanted to start a business together but didn't think it would be until much further down the line. We began to experiment and develop the brand more as a side gig to help get us through the pandemic. When we saw our work was being well received, and bought by stockists, we thought this is something we could actually do. From that point on, Tanner Fletcher has become what it is today. A genderless, luxury, lifestyle brand that pushes boundaries within gender norms and bridges the gap between home and wardrobe. We knew from the beginning that a genderless brand like ours was missing from the market.
The reason we wanted to make Tanner Fletcher genderless from the outset isn't because it's a trendy thing to do. It's because that's how Tanner and I have always shopped. We soon realized there are many others shopping in the exact same way. For as long as we can remember, we have been consumers of both the men's and women's departments for our personal wardrobes. There always seemed to be a stigma around doing this, especially where we grew up. For some reason, if it wasn't in the men's department, then it felt like it was off limits or would be looked at as "weird" for us to buy something from the women's department. We don't want others to have to feel this way. For us, genderless fashion takes away  these unnecessary labels.
We believe that if you like a piece of clothing or anything for that matter, you should be able to rock it without feeling like it wasn't meant for you simply because it is merchandised in the "wrong section." Additionally, much of the genderless clothing we're seeing today is sweatshirts, sweatpants, tees, etc. Just because something is genderless, doesn't mean it has to lose all of its charm and elegance. Whether you identify as a more feminine person, a more masculine person or somewhere in between, Tanner Fletcher is designed to work for you regardless of gender or sexuality. We hope to be a leader on this front and one day make genderless shopping the new normal. In the end, we want to bring our own distinct style into the fashion world, while having nothing to do with the gender of our customers.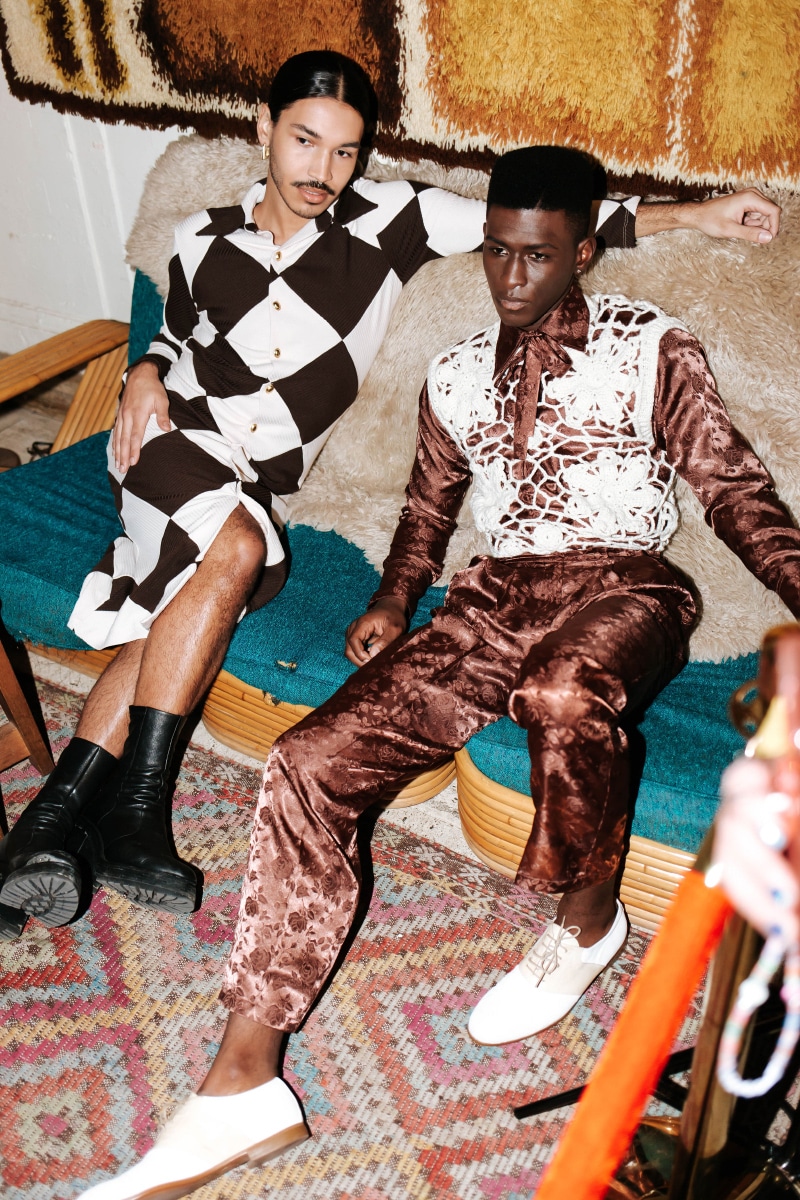 Both of you are from the Midwest, Minnesota, and Wisconsin, I don't think I have ever met a fashion designer from there before! Did you meet before you came to NYC where you are based?
Yes, Fletcher is from Minnesota and Tanner is from Wisconsin. We actually met as freshman roommates at the University of Minnesota in Minneapolis. We met searching for a roommate, went on a few "roommate dates" to get to know each other as roommates but before we even moved in together we started our relationship. We always say it could have been a really good thing or a really bad thing so luckily it has worked out in the best of ways. We're practically inseparable now. We went to school in Minnesota for two years, interned for a summer in NYC together, then made the permanent move shortly after that.
How is it different working as a duo rather than one sole designer?
We both agree that working together is better than working apart. In the end, we completely design each collection together and it all balances out really nicely. We make Tanner Fletcher that much stronger because we really understand each other's creative language and help each other to fine tune our designs. We certainly have our fair share of creative differences but feel it's only brought us closer together in working out these differences. Not to mention, running a fashion business is tough work so having two people helps with work load significantly.
Do you think there is a mid-western aesthetic? And how would you describe it? Can we find any of it in your work?
I'm not sure that the midwestern aesthetic is a desirable aesthetic. Currently it seems to be overloaded with leggings, sweatpants and nothing inspiring at all. We did grow up there so I would say any relation to the Midwest in our work comes from our own nostalgia. I often reference the decor in my Grandmother's home that is practically a time capsule from 1973. My family always comments on how outdated it is and I've somehow found the beauty in it.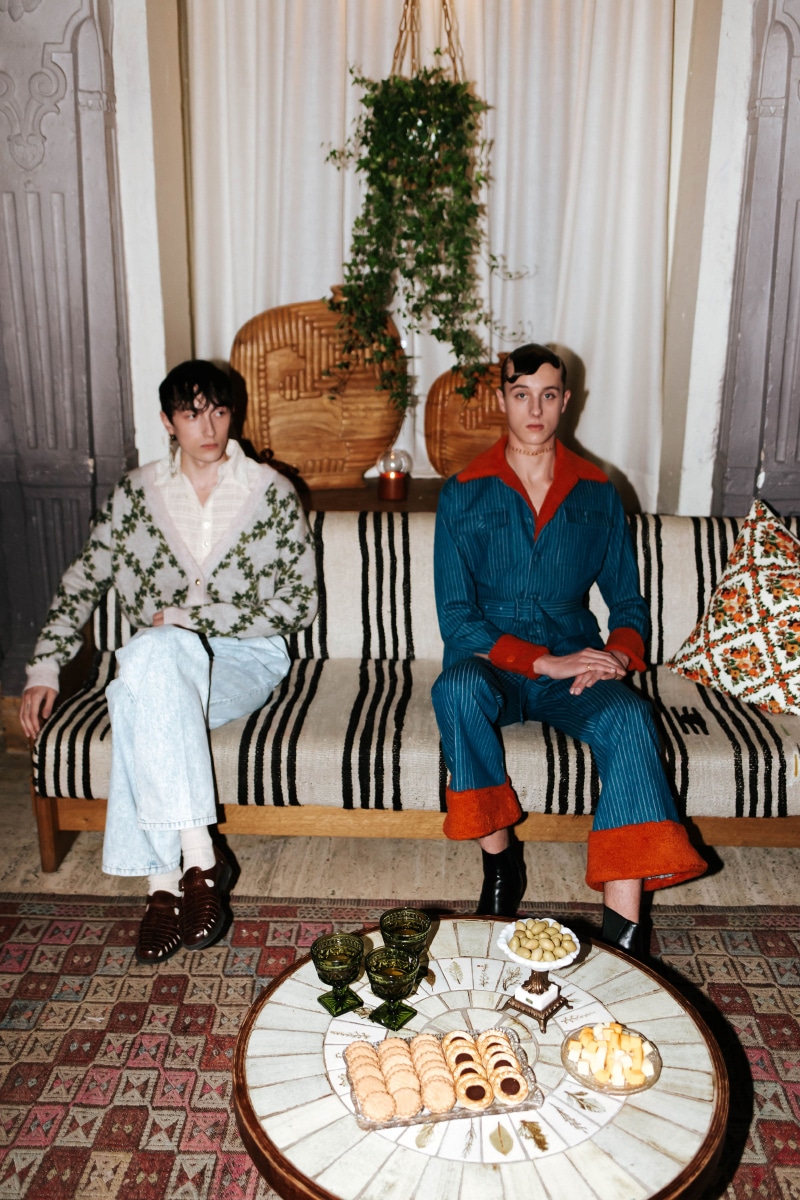 Additionally, who makes up your team?
Right now, the team is made up of only the two of us. We are very lucky to be working with some wonderful outsourced teams for production, PR, sales, and marketing. Our team will surely grow in the near future.
There are a lot of prints and patterns that undeniably draw inspiration from bygone interiors. Can you tell us about them?
We love prints and we love bygone eras so when you bring the two together, it really helps to form our world. We mostly draw inspiration from vintage interior materials such as upholstery fabric and wallpapers. We do this because all of these prints that are no longer in use are so beautiful and have a place in the time we're living in now. It's fun to almost redesign something that was meant for a kitchen wallpaper into a piece of clothing. For example, the Ivy trellis pattern from FW22 is a reference to a 1930's kitchen wallpaper. There's also a great story behind the 70's sofa print. We saw an old rundown sofa on the Facebook marketplace of all places that had this amazing print. Many people were commenting on how ugly and outdated it was but we were immediately obsessed with it. We then took inspiration from that print and now you can see it in our tapestry suit and puffer coats from FW22. As they say, one person's trash is another person's treasure.
How did you go from interiors to fashion?
We like to look at fashion and interiors as one world. Sure, there are nuances between the two but you have to curate and style your home in the same way you do your wardrobe. Just as one dresses themselves with patterns, colors, materials, and silhouettes that are complementary, one also does the same with their home. We design each collection with an approach that is similar to decorating one's home. There are specific time periods in the interior design world just as there are in clothing, and the brand references these different periods constantly by sourcing trims, prints, furniture, wallpaper, and art – transforming them into something one can wear. By connecting the two worlds, we produce fashion that feels nostalgic, romantic, and yes – homey.
We have both dabbled in interior design and Tanner specifically has spent time studying and working within the field. This is a really important part in our design process.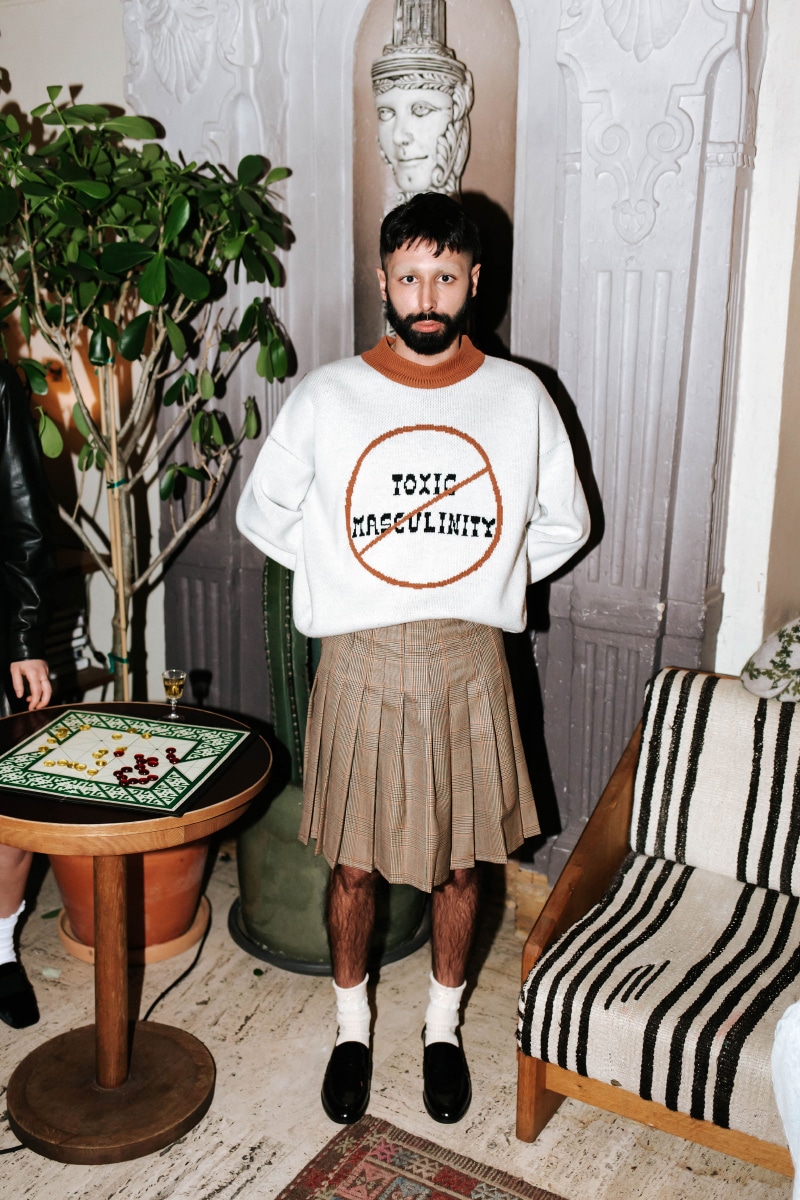 There are lots of high waisted trousers for men, are the 70s one of your favourite decades?
Yes, our high waisted trousers are completely genderless as is everything else from Tanner Fletcher. The 60's and 70's are probably our most favorite decades. There was this specific Victorian revival that happened first in the 1940's then again in the 1970's. The mix of this Victorian revival and Regency design styles are our favorite to live in.
How different was the music you were listening to while working on your SS22 collection to FW22?
Our music is kind of all over the place. There may not be a specific rhyme or reason but it definitely influences our designs. We really like to immerse ourselves in the Tanner Fletcher world when we're designing. The music that is normally playing is a mix of Jazz classics like Chet Baker, Ella Fitzgeral and Nat King Cole as well as Blossom Deary, Rosemary Clooney, Eartha Kitt to more modern names like Dolly Parton, Lana Del Rey, Miley Cyrus, Elton John, Minnie Riperton, and even classical music. That pretty much sums it up. It's all about getting moody and creating a mood.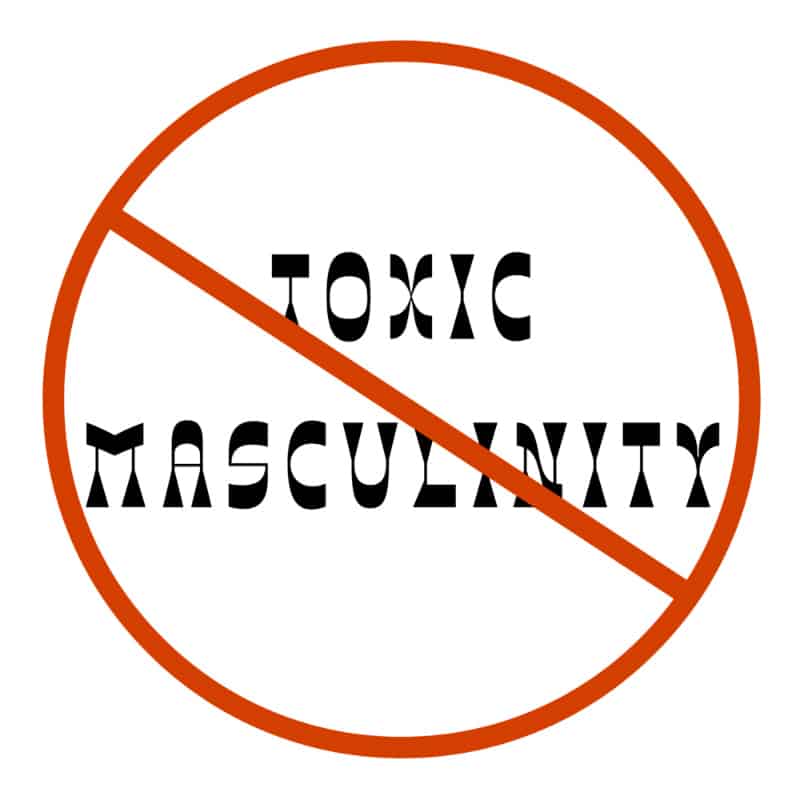 One of my favourite pieces from your Fall Winter collection was your anti toxic masculinity sweater. What statement would you like to make with it and how has the reception been?
Growing up as feminine gay boys in the Midwest, we have seen a lot of Toxic Masculinity and still see it today. It comes down to gender norms and the pressure for Men to "act" a certain way to maintain a certain amount of masculinity. In the FW22 show, the Toxic Masculinity sweater was styled on a model with a beard and more masculine facial hair with a short pleated tennis skirt. The statement we're trying to make here is that toxic masculinity is still running rampant and there is simply no room for it in modern culture. Nobody should ever have to be affected by toxic masculinity from either side. Let's just dissolve this concept all together.
Fashion can be such a communitive tool. What are you trying to say through your work?
We're trying to communicate that you can be stylish with no gender labels. You don't need to be put into a box because of the way you dress or how you identify. We want our customer to feel empowered regardless of their gender or sexual orientation.
Your collection is genderless, but there are some pieces that have a gender specific connotation like suits and dresses, but we see cool suits on girls and cool dresses on men. What are some styling tips you can pass on for exploring genderless fashion?
Exactly! The only reason these pieces have gendered connotations in the first place is because that's what our gender norms have taught us. In the end, it's just clothes, why do we need to over complicate it? Our tip would be to let go of these norms that we've all been assigned and try something outside of the box. Suits aren't only for men and dresses aren't only for women. It's not always easy to do but once you let that go within your own internal style, you get the opportunity to feel free. Have some fun with it! You may find out, I'm not a dress person or I'm not a suit person but there really is only one way to find out.
Another thing to keep in mind is that just because a brand is genderless, doesn't mean it's only for non-binary people or for LGBTQ+ members only. It's for everyone. Even a cisgendered heterosexual person can wear a dress or a suit and rock it. Give yourself a chance to play around with your masculinity and your femininity, everyone has both!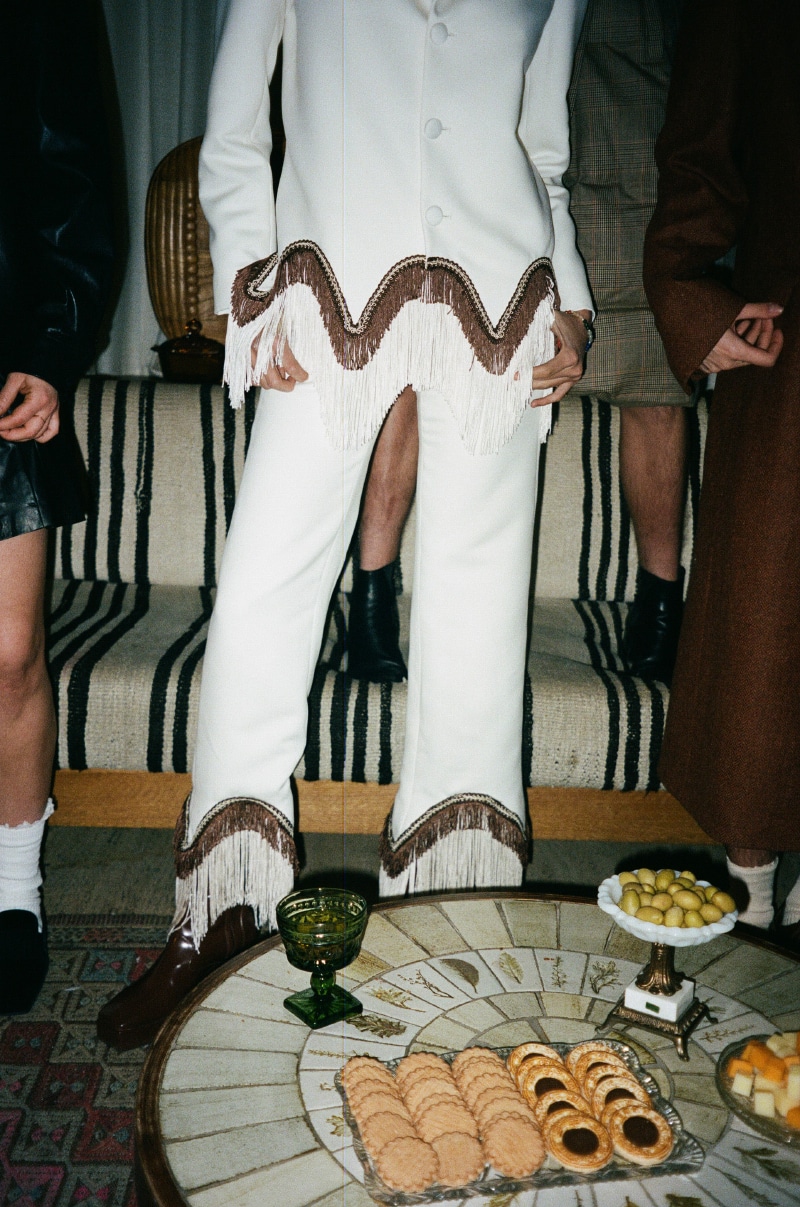 If we went thrift shopping tomorrow, what would you look for?
We are constantly thrifting and constantly looking for inspiration as we do so. Always look for vintage designer pieces. They are sometimes hard to come by but keep your eyes peeled for a diamond in the rough. Vintage Gianni Versace is one of our favorite brands to find.
Something that you can almost always find are old blazers for pretty cheap. This is an easy way to add something cool to your wardrobe. It could be a very oversized blazer or a cropped blazer or fit you just right. If you don't see something you're immediately drawn to, don't be afraid to make it your own by cropping it yourself or even adding some embellishments or even a brooch or two. Neither are very hard to do and it's a great way to have a one of a kind piece in your wardrobe.
What are spots you like to hit up?
Beacon's Closet, 2nd Street, and Crossroads are our favorite NYC spots for a good deal. You may just have to dig a little.
Your price points fit a sweet spot, which can also be rare for American made production. How important is it for you to be in that sweet spot?
This sweet spot for pricing is very important to us. We like to keep the majority of our production in NYC because it supports local artisans and businesses. We are a luxury brand because of the quality that comes with making our products in NYC as well as the unique fabrications and techniques that we use in our designs. We like to offer a range of products and prices that many people can buy into. For example we offer our Toxic Masculinity Sweater ($545) in a tee shirt version for $195. Both get the same message across but we are able to offer it a larger range of customers.
One last question, what are you looking forward to the most in 2022?
We are really looking forward to our next presentation at NYFW in September. It was surreal to show for the first time in February and we had so much fun. We are already in the midst of brainstorming different ideas and show concepts. It is so special to see months worth of planning and designing come to life, not only for us but for the people who come to the show as well.
Tanner Fletcher FW22 images by George Ngatuvai and Sara Bouwman.
Spring/Summer 2022 is now available for at SSENSE.