With a do-it-yourself mentality, Tyler Omeed Mazaheri is a visual artist standing in as the model, photographer, and designer of their own self-directed vignettes. This sensibility has positioned them as a rising star at both women's and men's global fashion weeks and led to collaborative projects with some of the most prestigious brands.
We caught up with Tyler during Paris Fashion Week, captured by Louise Reinke, for some refreshing talk and a chance to get to know who is behind the face that we see buzzing around fashion week!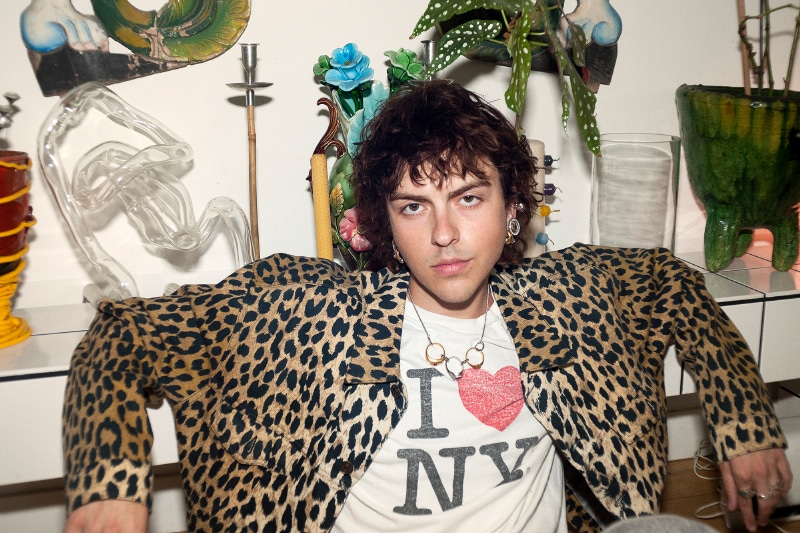 Let's start at the beginning, where did you grow up and how would you describe your childhood? 
People are always surprised whenever they find out I'm from Arkansas in America's South (or Midwest, technically). I don't know if it's because of the way I speak — I tend to draw out my words quite a lot — but people always assume I'm from LA or somewhere along the coast.
To give perspective, my hometown is less than an hour away from the town where they shot The Simple Life; just a really slow town with not much to it but a handful of Walmarts and a bunch of fast food chains. But as I've gotten older, I've realized that's pretty standard for American suburban living (I think?).
Of course, being in the middle of the Bible Belt made things a little more hellish for me as a boy who didn't care for sports, but more about art and fashion, but it gave me the perspective I carry today — and how else would I ever relate to Ethel Cain?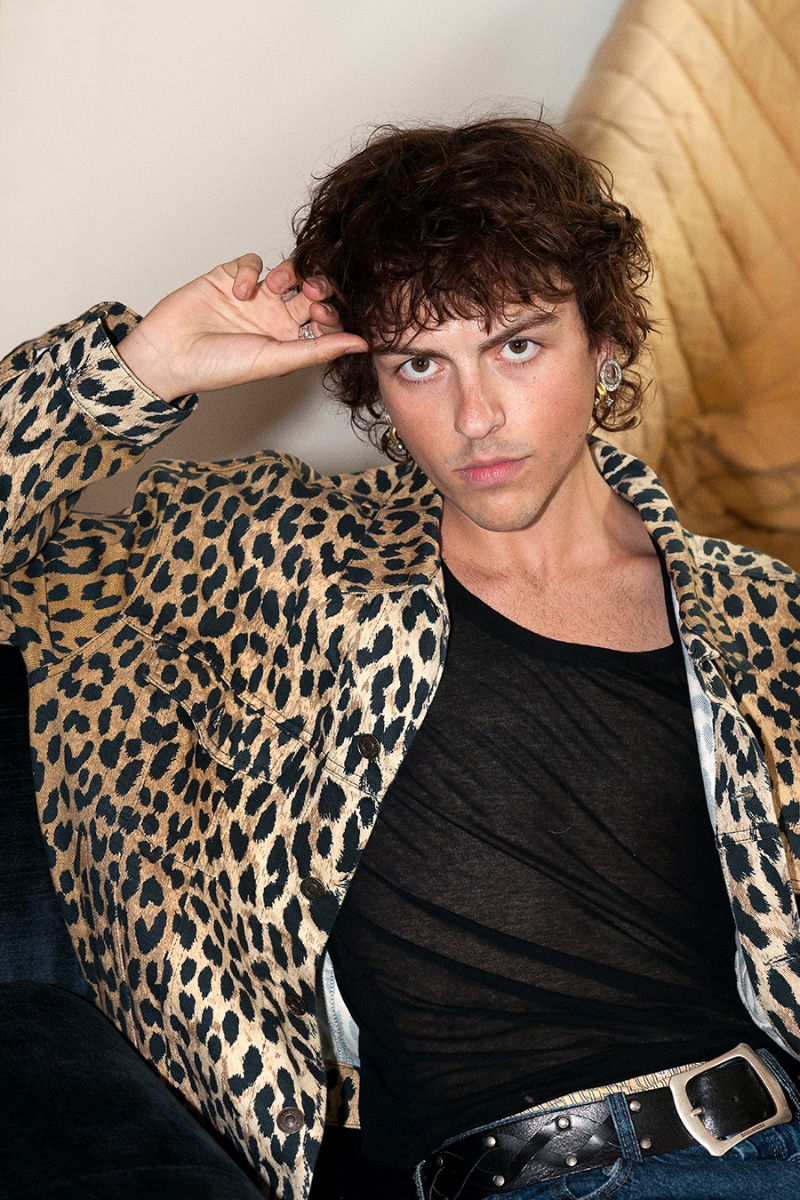 Jacket by Balenciaga, Jeans by Hope Stockholm, Belt and Necklace by DSQUARED2, Earrings by Panconesi
How did you find yourself in fashion?
I'll tell you when I find out because I still don't entirely know how I got here.
Although if I had to pinpoint a single catalyst, it all sort of started with a single TikTok that went viral. Such a Gen-Z rags-to-riches tale. The video was posted by my friend Lily (shoutout to Lily – I love you) and simply showed us swapping outfits back and forth. Within a week of it being posted it went viral, not only on Tiktok but across Twitter and Instagram as well. The comment sections were blowing up with people calling me every name in the book and speculating whether Lily and I were dating or siblings when in actuality neither was true —we were just both brunettes with mullets.
I guess something about me stuck out enough that I came out of the situation with a community of people who apparently valued what I had to contribute to the conversation. Of course, a lot has happened since, but I really think that video is what launched everything.
Do you have a favorite photographer to work with? What has been your most memorable shoot to date?
I don't know if I necessarily have a favorite photographer to work with, but I can say that my most memorable shoot to date was probably the shoot I did for Balenciaga at the beginning of 2022 shot by my friend Caleb Shane (who also is from Arkansas coincidentally). The project came together at the last minute and was a scramble from start to finish, but working with a team of close friends we got to play around and it came together better than I could have expected.
We had a short window to make it happen so we shot through the night. My favorite shot is one where I'm hanging from a clothing rack with my legs dangling out of the Balenciaga garment bag. It was completely unplanned. There happened to be a few large clothing racks on set which I thought would be nice for visual interest. I cut holes into the garment bag (risky call), crawled into it, and tried my best to assume the position — half-hanging from the rack, half-balancing on a box underneath. My favorite part of that shot is that it features my best friend Grace, who was styling and who's supposed to be reaching to grab me off the rack in the shot. That picture is really special to me because now I not only have one of my favorite pieces of work but also a (pretty iconic) friendship portrait with her to hold onto.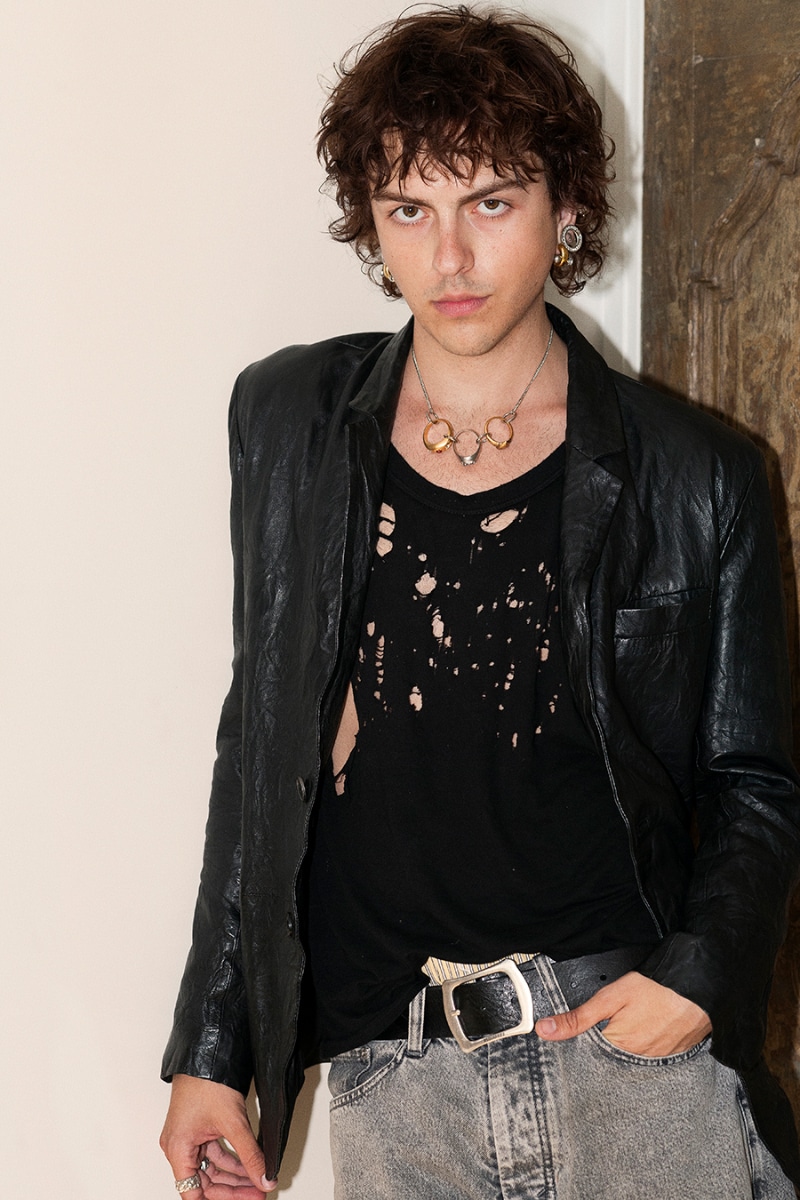 Jacket by Zadig and Voltaire, Tee by Alexander Digenova, Belt and Necklace by DSQUARED2
You are also a visual artist, can you tell us about your work and approach to the creative process?
I never saw myself ever being in any of the big brand campaigns that I saw in the magazines when I was a young Stanley Tucci (Devil Wears Prada reference), so my work is sort of my way of forging that reality for myself. When I make work it's one of the few times that I have complete authorship and control over the way I'm being presented. It's a one-man-show production and I prefer it that way; I do the creative direction, the styling, the modeling, the art direction, and post-production. It's my time to make my reality whatever I want it to be.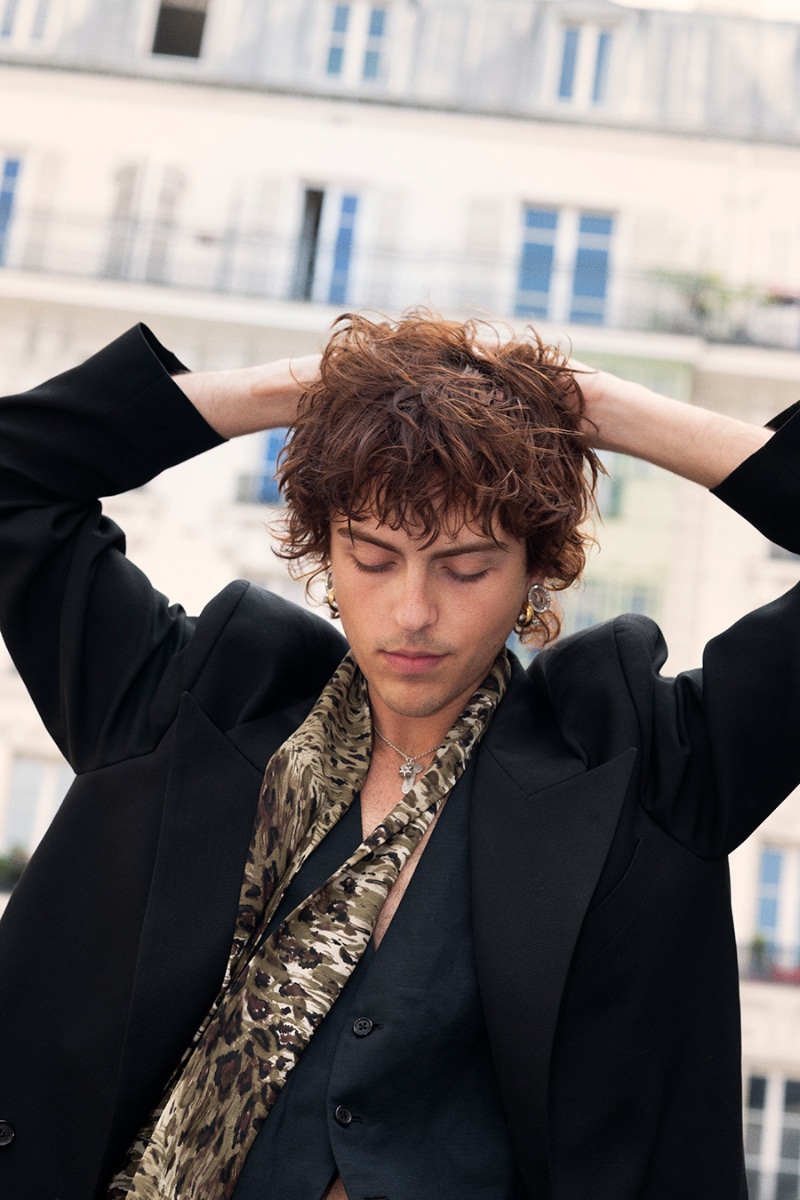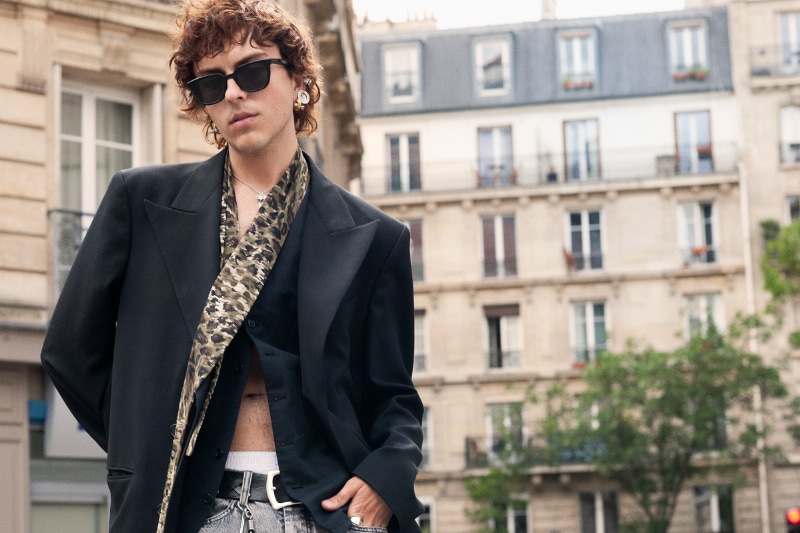 What attracts you to a project?
Good clothing and the right caffeine dosage.
You were just in Milan, what stood out to you there?
Besides the heat?
Anyone we should keep an eye out for?
Jonathan Anderson, you will always be famous.
But also I will say, not my usual style but I'm fully on board with the Dsquared2 revival — bring sex appeal back to the runway.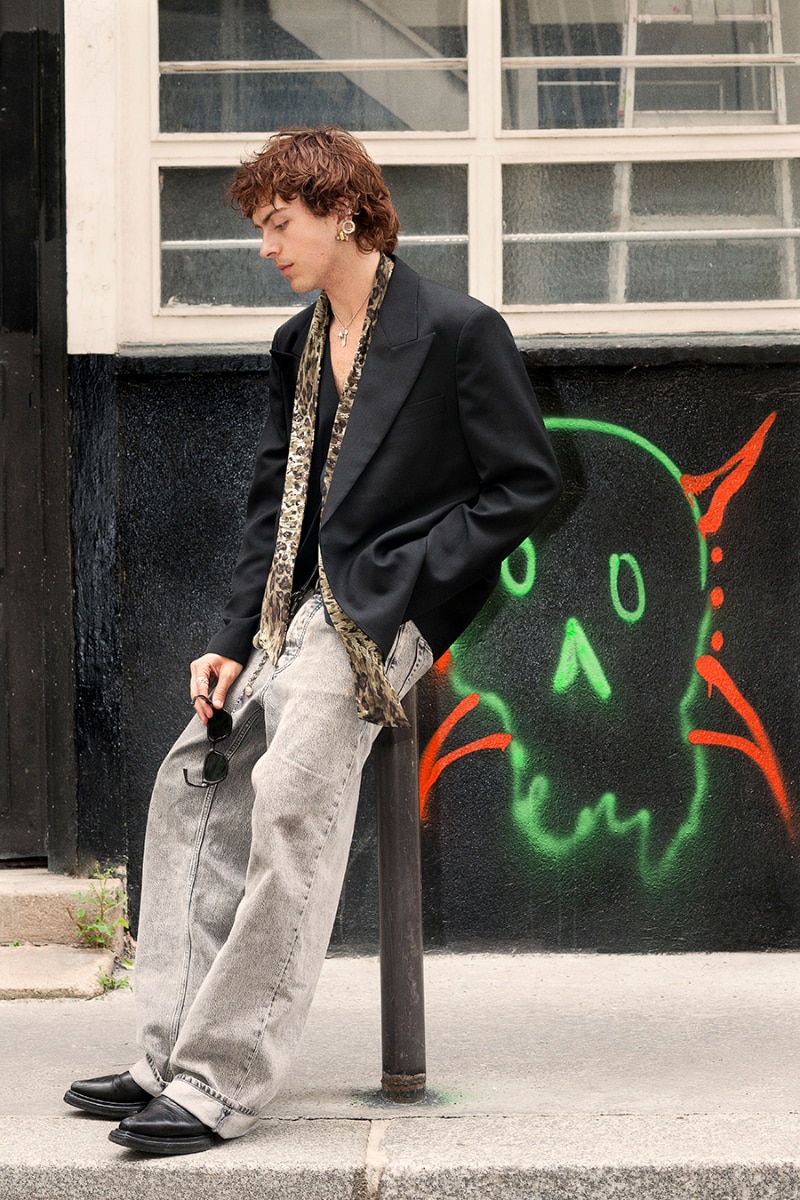 Blazer by Acne Studios, Vest by Ann Demeulemeester, Jeans by Hope Stockholm, Belt by DSQUARED2, Earrings by Panconesi, Boots by Soderberg, Sunglasses by Maison Margiela x Gentle Monster
You are traveling non-stop, what's on your playlist or any podcasts we should check out?
It's a really chaotic mix I can't lie. My friends always get upset with me but during fashion week I need whatever I'm listening to launch me into motion and keep me there. But after the chaos settles, I get to slow it down and walk around romanticizing whatever city I'm in and play the contemplative main character.
I know that's an extremely broad description so I made a playlist on Spotify with my mix from this past fashion week: 'FY! SS24' by Tyler Mazaheri.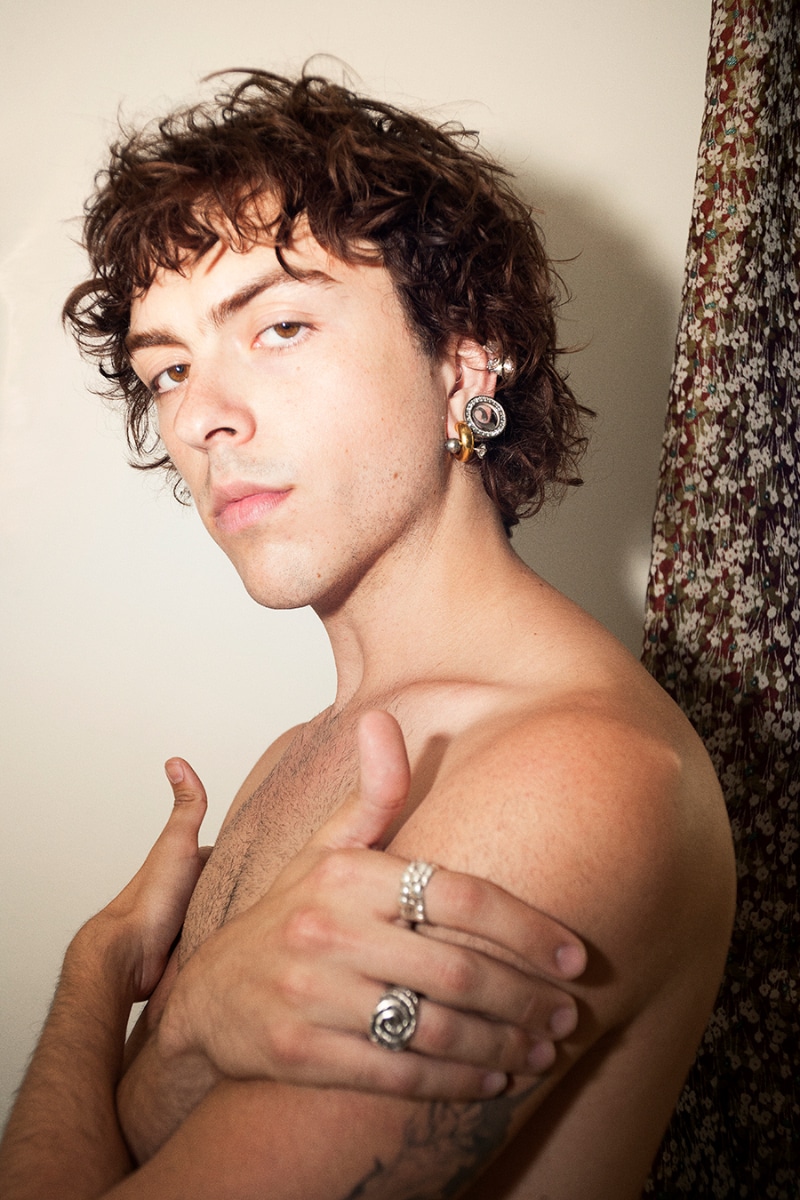 You are also out and about at Paris Fashion Week. How do you plan your wardrobe, what would we find in there, and do you have some go-to pieces?
I'm still trying to crack that code honestly. As a general rule of thumb, I try and pack (1) as many accessories and shoes as possible to personalize whatever looks I'm loaned (2) versatile unbranded basics that I can swap out interchangeably if certain pieces don't fit me properly (3) a few statement pieces that are overdue for their time in the light.
If you were to open up my suitcase right now, you would mostly see an unreasonable amount of black boots and jackets that I over-enthusiastically packed but haven't gotten the chance to wear once.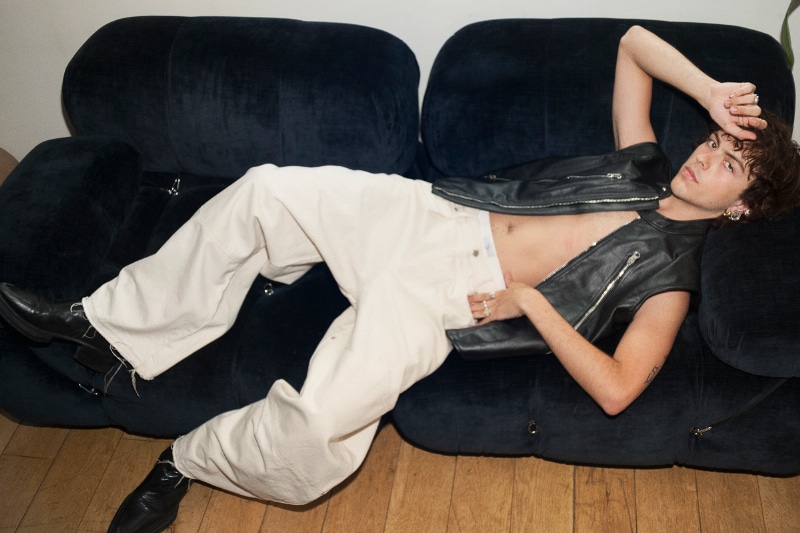 Vest by MM6 Maison Margiela, Earrings by Panconesi, Boots by Soderberg, Boxers by Praying
Men's Fashion Week also coincides with Pride. What dialogues would you like to see or hear more of in fashion?
I'm not going to go on a long tangent about how slow fashion continues to be in terms of diversity and inclusivity, but can we please stop accepting the handful of white, straight-passing cis faces on the runway as enough representation? This is an industry built on queer voices — so where are the rest of us?
What is fucking young to you?
Feeling good in your own skin before it's too late.
Finally, any upcoming projects coming up?
A lot of ideas but nothing concrete; all I know is I've experienced and learned so much over the past year and it's time to sit down and turn it into something that I can hold onto. Don't know what exactly that's going to look like—whether I'll be in front of or behind the camera, or whether there will be a camera at all, but I'm excited to see what comes of it all.