Gerrit Jacob was going to be part of the fashion industry – that was a given, as the Hamburg-born designer grew up in the same municipality as Karl Lagerfeld himself, Bad Bramsted, located in the north of Germany. Who would have thought that such a secluded place would be involved in the personal development of two designers who are so different and yet so similar, partly because of their respective passion for this field.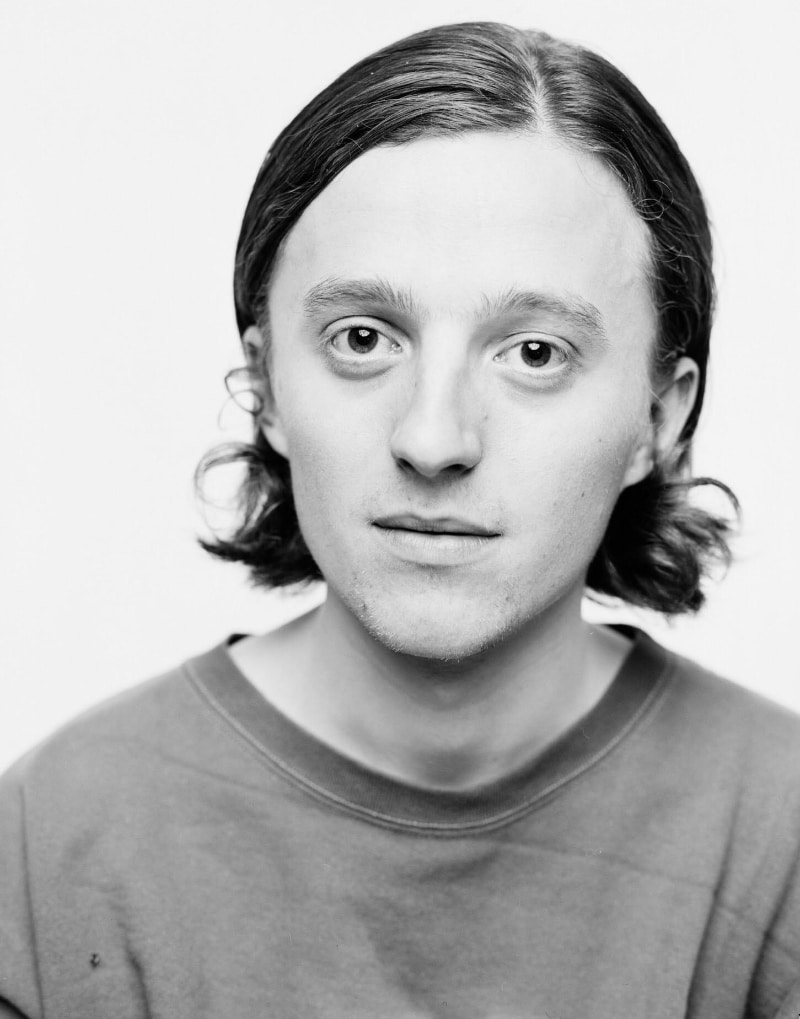 As far as Jacob is concerned, he loves above all else the sector in which he works, but not only that, he fights, like the rebellious kid that he is, to achieve his goals and for each work he presents to receive the attention it deserves, which is a lot, given that behind each collection there are long days of work, done with the help of his four studio mates.
Being a young designer nowadays is a difficult thing, as many have already said, including Gerrit, but the important point is not to lose your enthusiasm and to stay strong in the face of adversity. If you overcome them, the rest is done. G.J. knows a lot about this, and he experienced such situations when he moved to London (UK) to study at the prestigious fashion school Central Saint Martins, where he began his professional career.
We don't want to tell you more about the designer or give you any spoilers, and we'd rather you read the interview we recently did with him…
The first question may seem simple at first, but…who is Gerrit Jacob?
Mmm…interesting. If I had to define myself I would say that I am a fashion designer born in Hamburg (Germany), raised in the same low town as Karl Lagerfeld, Bad Bramstedt, and currently living in Berlin, trying every day to reach my dream, doing my best to achieve it.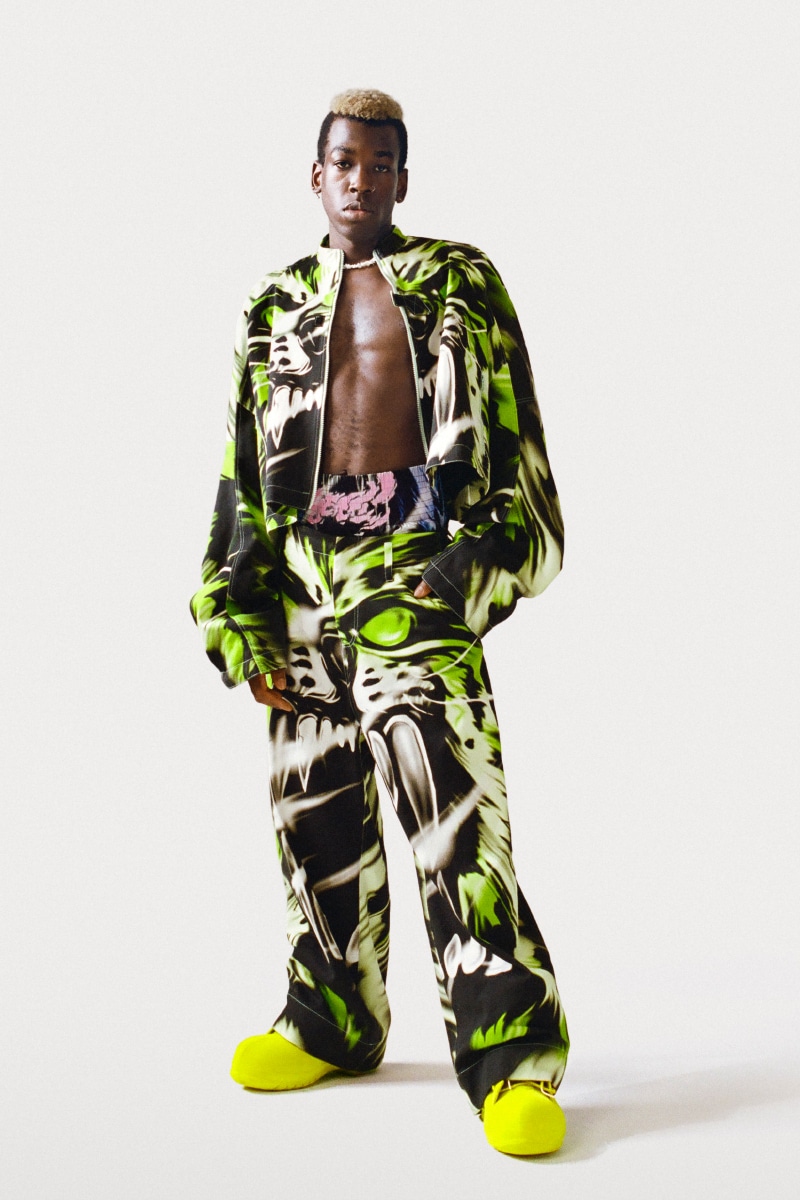 GERRIT JACOB Spring/Summer 2024
When did you realize you wanted to go into fashion? What was that moment like?
It's not something I knew since I was a kid, but I do remember when I was 16 and had access to the internet, I discovered what fashion was. I loved it, and from the moment I saw it, I realised that this is what I wanted to do. I've always been a drawing nerd, and from my point of view being able to combine it with fashion is perfect.
You studied at one of the most prestigious fashion schools in the world, Central Saint Martins. What do you remember from those years?
Being poor (laughs). That's the first thing that comes to mind. I worked three days a week, part-time, to be able to afford the most basic, but at the same time the most expensive things in Europe (at that time).
If I go deeper into my memories, I can recall how at the age of 18 I moved to study in London, which I consider to be one of the best cities in the world and full of creative people. It was clear to me that I wanted to go to the school I went to, in fact, I only applied to that one, not to any other. I would probably say now that the Gerrit of those years was a bit of a fool because I might not have been accepted to the school, but you know what they say, gamble or die.
When I finished my Bachelor's degree, I did a year of internship and then I decided to take a sabbatical year to disconnect and get ready for my next adventure, the Master's. I spent a total of seven and a half years there and I would say that those years have been the best I have experienced so far. Sometimes I miss how much fun I had there. I was very happy and met some lovely people.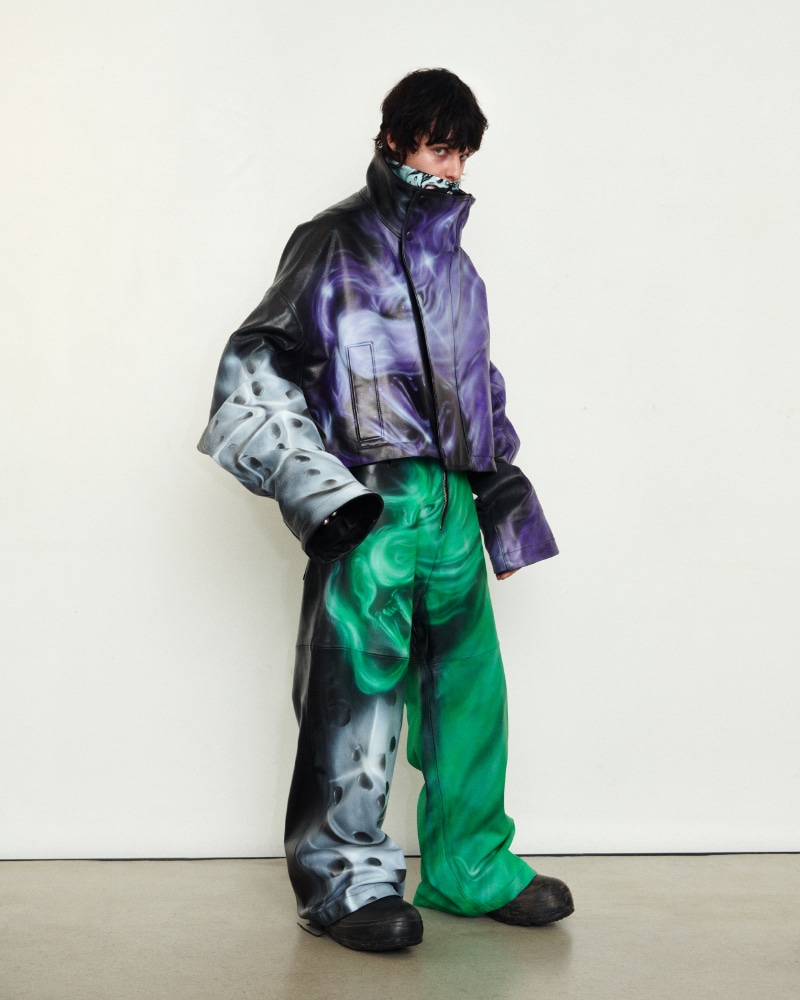 GERRIT JACOB Fall/Winter 2023
After graduating, you worked for big fashion houses like Gucci. How was the experience?
The truth is that it was a positive experience and one from which I learned a lot. Working for a big fashion house like Gucci, which has a great history and a great legacy behind it, was very enriching and I am very grateful for the opportunity.
From the time I was there, I remember very well how impressive it was to see from the inside and in first person how a big company worked and how well-organized everything was. Another thing that fascinated me was the fact that I was able to work in Italy and work close to the factories, building relationships with them, which (relationships) tend to be much closer than in other countries like France or the UK. Through this particular point, I was able to find a new kind of approach, product-driven and product-based. It was something I had not done before and from which I learned a great lesson.
I was also struck by the approval process, which was very strict, especially when it came to making the collections. Everything had to be perfect and checked down to the smallest detail. All in all, it was a very important experience that I would repeat without hesitation.
Let's talk about your eponymous brand. What do you think it brings to the industry?
It brings something authentic that comes from a place that builds trust, and also something daring. I want people to enjoy and feel good about themselves.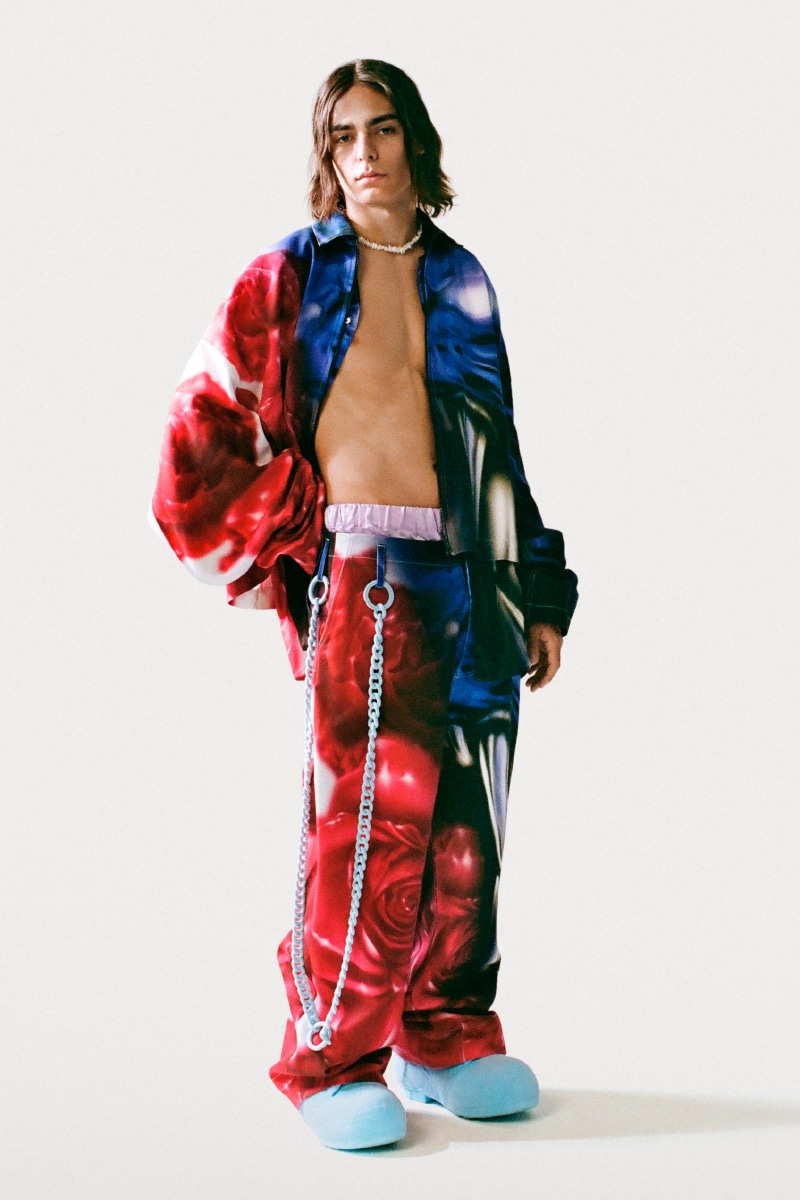 GERRIT JACOB Spring/Summer 2024
As a German, do you feel connected to the German fashion or aesthetics that predominate in the country?
Honestly and with all due respect I would say none of them. I don't consider myself part of any of it.
"Scum" is the name of one of your latest collections. Tell us about it and the reason for this name…
Scum is a collection related to the whole process of making luxury out of things that I consider to be dirty or of poor quality. I love to do this and I love to do it with words. The title of the collection is always one of the first things I decide, even before the research. In this case, I thought: I want something short and catchy but that reflects a bit of my anger and that it goes somewhere and is not ignored in the media, which happens almost every day. I wanted to make sure that this proposal was going to be seen.
Where did you get the inspiration for the prints of that line?
I made those prints almost a year ago. The funfair and the atmosphere at the fair had a lot to do with developing them. This is something that is always in the back of my mind and I go back to it from time to time. The colour palette at the fairs inspires me a lot and I always use them in my collections. Besides this, I am fascinated by dragons and everything related to them. They remind me of my time as a teenager and give off innocent vibes to me. For these reasons, I decided to turn to them and use them from a visual perspective.
Once I have the inspiration, I focus on the drawing, which I usually have little time and between six and eight weeks to do the whole collection, because I also have to be aware of the production times of the factory.
Finally, as for the actual printing, it never takes long to do, and even if I draw it between 10 and 20 times, it's something quite quick and instinctive that directs me to where I want to go, which is fun at the same time.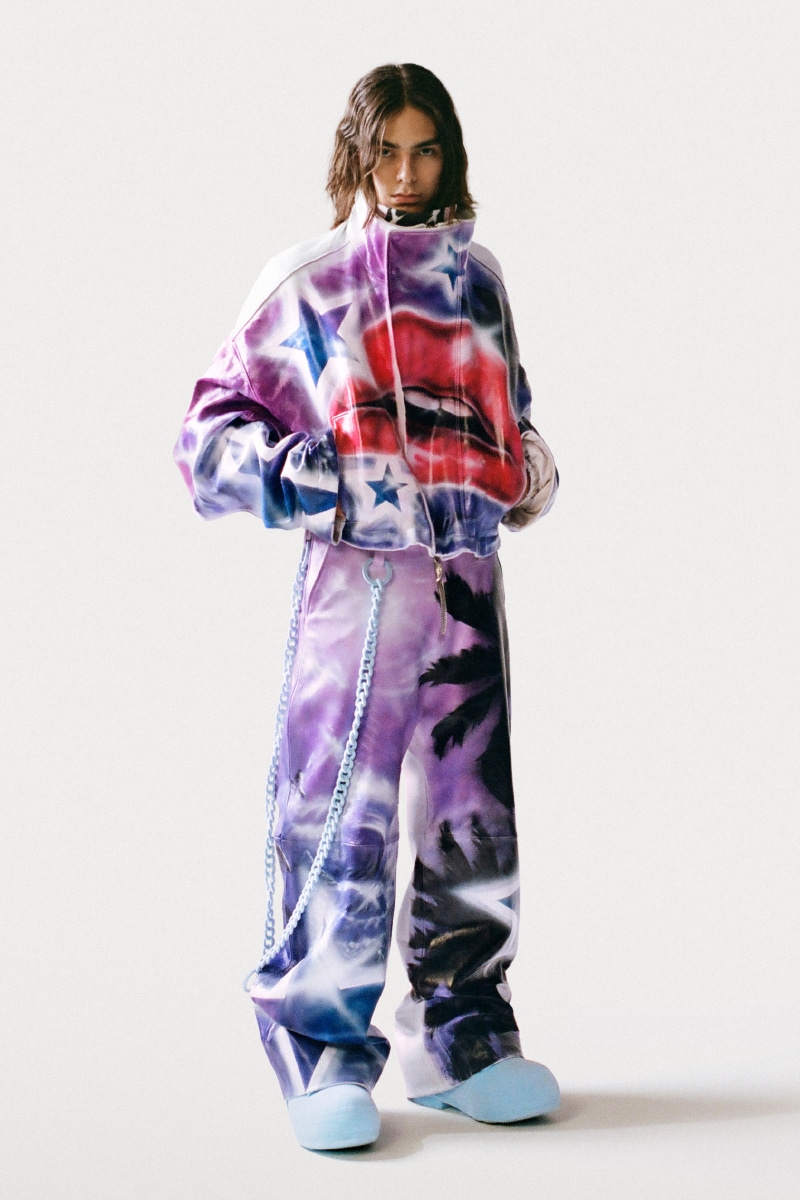 GERRIT JACOB Spring/Summer 2024
Let's move now from the Fall/Winter 23 collection to the Spring/Summer 24 one. What will we find in it?
You are going to see some sensuality and some incredible things, that as soon as you see them you will automatically think that you need them, that you can't live without them, and that they have to be in your wardrobe.
Note: the interview was done prior to the launch of the SS24 collection.
What is the main idea behind it?
The new collection is called "The Traitor" and it's based on the concept of a class merchant, who belongs to the working class and works against the working class. I think it's quite an interesting concept, and it's related to the ambition that certain people can have and the tricks they do to get to a certain level and get money.
Note: the interview was done prior to the launch of the SS24 collection.
In what way is the new one different from the old one?
The difference is that now the studio is bigger and there are five of us. It is also true that I have more resources at my disposal and I am not afraid to use them. This means that everything is a bit more refined and that I have access to new productions, and also the fact that my suppliers and I are starting to take some risks. Situations like this make us get to know each other better. I try to do things that are not done every day and I always think that if it was easy everybody would do it, which means that you have to worry a lot and suffer a lot to get to certain places in terms of production and manufacturing. So overall I would say that my latest work compared to the previous ones is more refined, more professional, and better.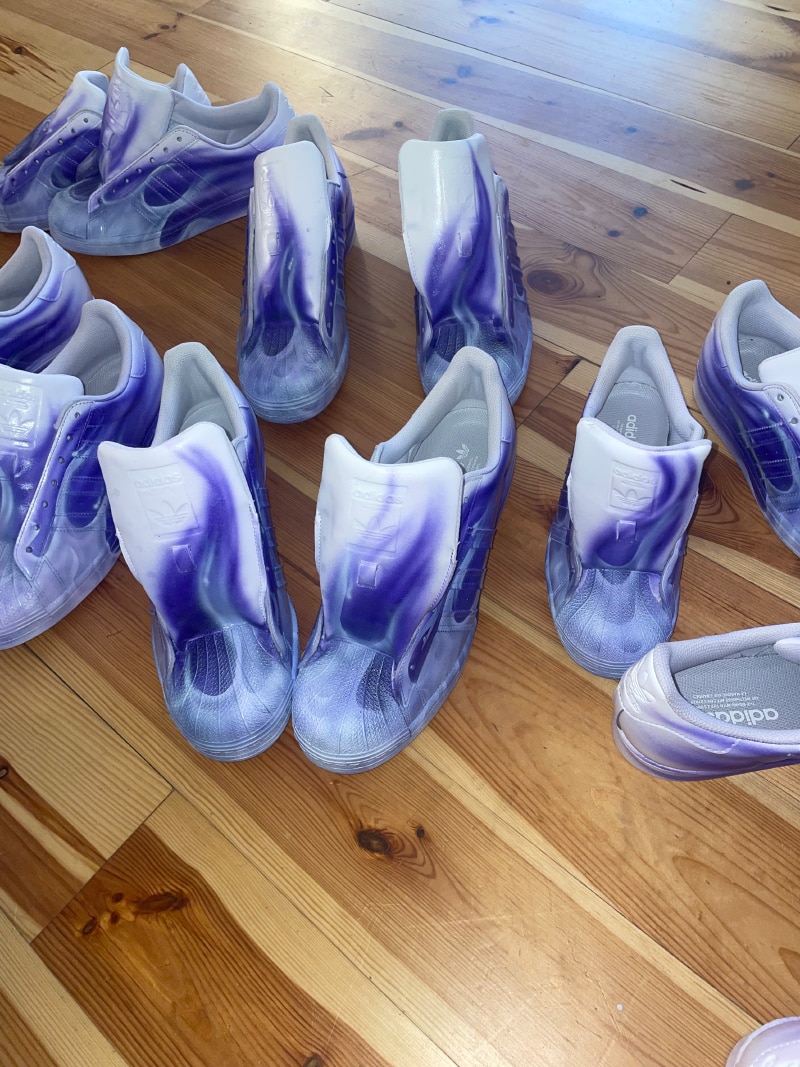 One of your latest achievements has been the collaboration with Adidas. We imagine you are very happy…
Yes, it was a great achievement! It means a lot to me to collaborate with a German company like ADIDAS, which is everywhere. Everyone wears their clothes or their shoes, and they even sponsor the German national team.
It all came about because they contacted me to do this customization project, which of course I accepted without thinking about it, as it was a really interesting proposal. We are still in contact and I hope there will be more collaborations in the future.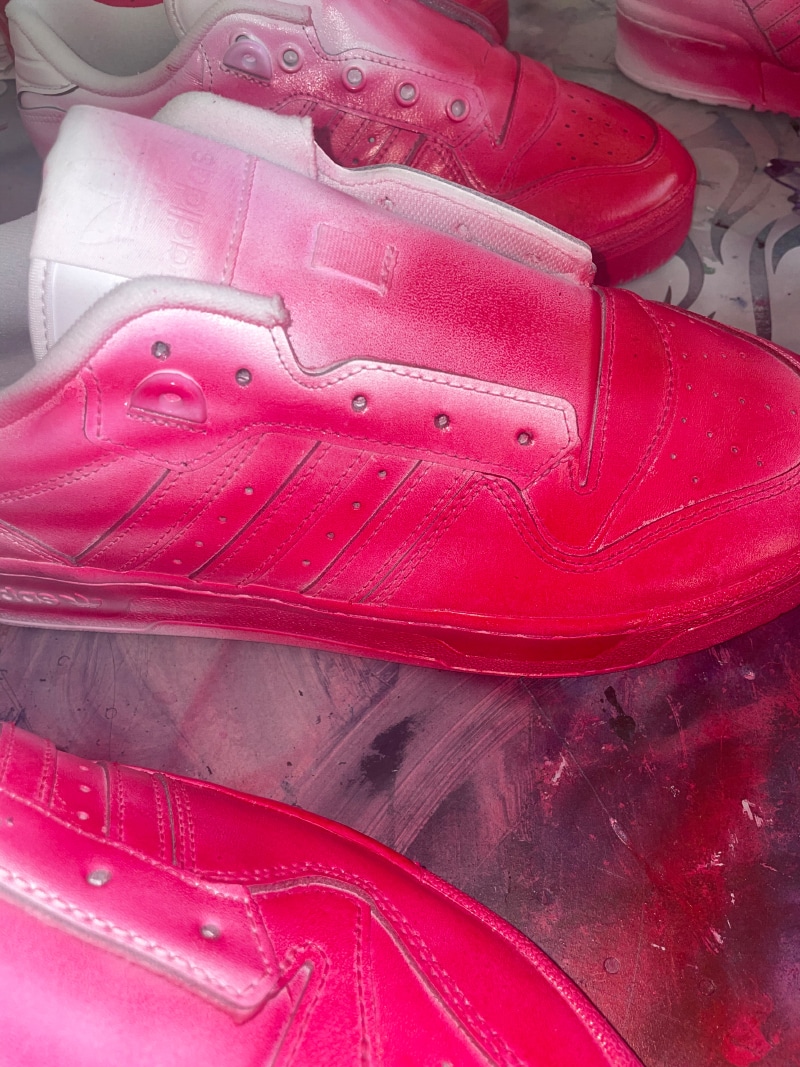 Have you noticed after this a better positioning in the market?
The fact is that the collaboration was never planned as a big project, but as a smaller and safer one. The good thing is that a lot of the media picked up on it and, as a result, my work and my brand got a bit more visibility. It was nice, although I haven't noticed any kind of (commercial) change in my company yet, as the shoes haven't been released yet. This only happens when a product goes viral, appears in an editorial, and, above all, if it's worn by a celebrity, something that hasn't happened yet and which we're working on. If these things happen they will take you anywhere.
Continuing with the theme of collaborations. What would be your dream collab?
I would love to do several things, such as an art exhibition with an artist I like, as well as work on costumes, visual effects, and art direction for a music album.
In terms of fashion, I would love to collaborate with a big fashion house and do something related to prints or airbrushing, or catwalk. I imagine it as a project that would bring together everything I currently do but in a high fashion context. It's something I would love to do and I think it's going to happen at some point. I just don't know when you can't plan these things, they just come up.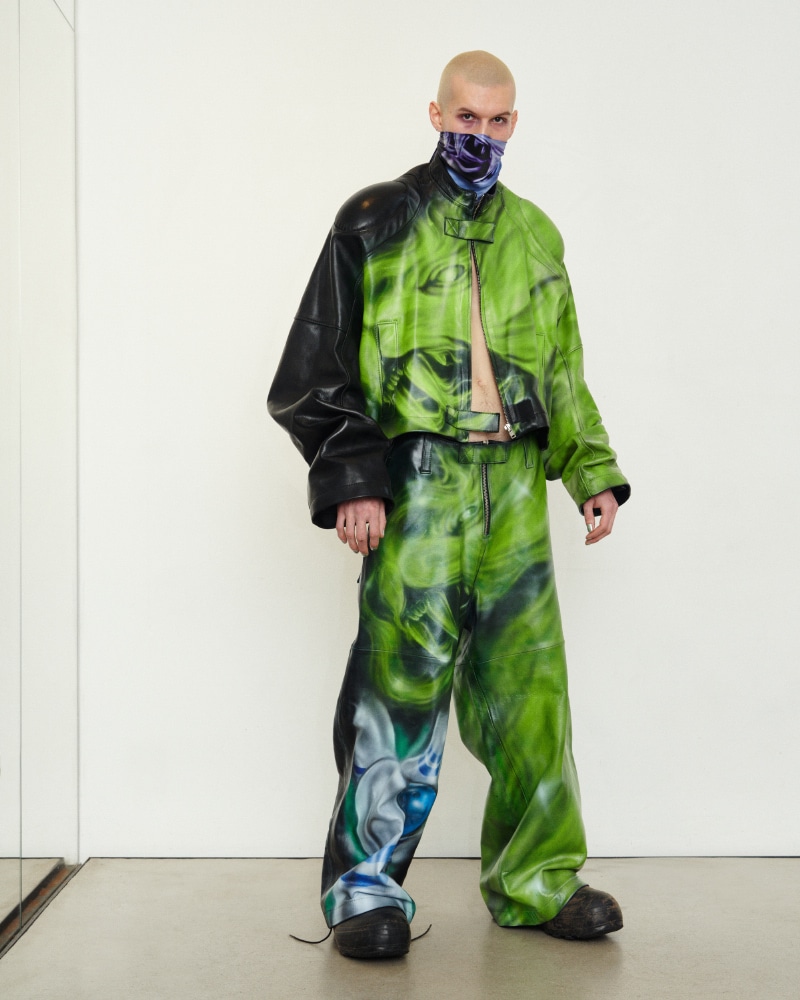 GERRIT JACOB Fall/Winter 2023
Finally, what do you dream of achieving in the fashion industry?
I dream of earning a lot of money and using it to turn my brand into a big one with many employees. Nowadays, being an emerging designer is difficult, as there are a lot of restrictions in terms of product production, not to mention tight budgets. So, although at first, my answer might sound a bit materialistic, it's not just about money for money's sake, it's about the possibility and the opportunity it creates to be able to achieve what you want to do and the way you want to do it, as well as elevating the creative aspect.