Tommy Hilfiger unveils its new collaboration collection with Los Angeles-based studio, Supervsn Studios. Tommy x Supervsn pays tribute to the shared roots and close-knit community that both brands hold dear, while celebrating the multicultural fabric of the United States. At the same time, it champions the new generation of American creatives. Gavin Mathieu, the founder of Supervsn, established the studio to champion the ideas of underrepresented creative individuals. This inclusive vision was also reflected in People's Place, Tommy Hilfiger's first store, which served as a space for people from all walks of life to come together and enjoy fashion, art, music, and entertainment.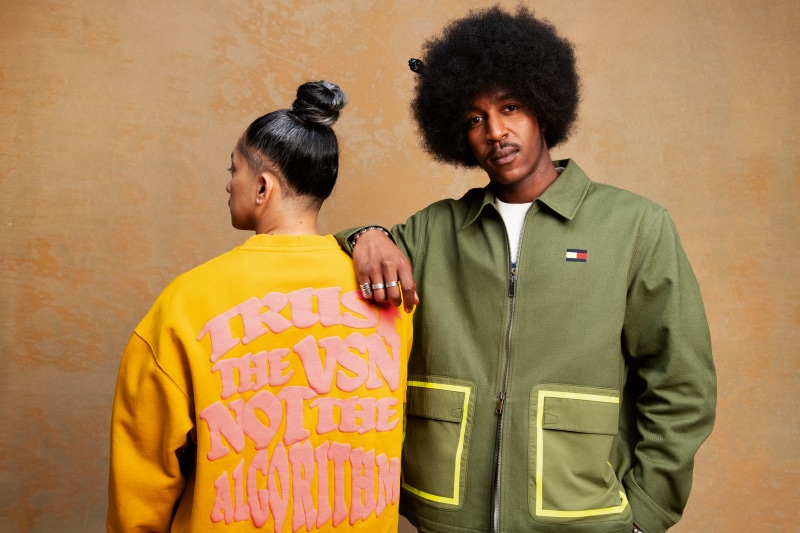 Tommy Hilfiger remarks, "I founded my brand with inclusivity at its core, aiming to create a place that is open to everyone. Supervsn and their work empowering a diverse range of creatives give me great hope for the future. We are proud to present this collection, driven by community and optimism."
The collection and campaign embody a "Tapestry of Americana," a celebration of how communities come together to shape culture. This concept represents a hopeful vision for the United States and a call to creatives to design the world they want to live in.
Gavin Mathieu comments, "Tommy x Supervsn is a celebration of American multiculturalism—a tribute to the people of color responsible for building the United States, acknowledging that the only way to bring about change is by working together and harmoniously uniting creative visions."
The collection consists of 9 oversized and distressed pieces that reflect the spirit of Los Angeles. Faded yet vibrant colors exude relaxed optimism in shorts featuring a blend of camouflage and tie-dye prints. Jackets, t-shirts, and French terry hoodies showcase a symbol of the new American style: a twist on the Tommy logo with paisley patterns in red, white, and blue, combined with the colors of the Pan-African flag. Graphics include messages such as "Trust The VSN, Not The Algorithm," encouraging creatives to value their progress and create with self-assurance while disregarding external opinions.
The campaign showcases the creative family of Supervsn and invites its audience to participate in the realization of the Tapestry of Americana, placing communities and cultures that inspired the collection at the forefront. Captured by photographer Jack Bool, the images depict a multicultural world seen through the lens of Supervsn's extraordinary creative community.
The collection is available at select Tommy Jeans stores, chosen multi-brand retailers, tommy.com, and supervsn.com.
Check out the collection below: