London Collections: Men has made itself known on the global fashion scene again, with four jam-packed days of back-to-back statement fashion for AW15. Runways were saturated with so many brands and looks that it was hard to keep up, but we've done our best to cherry-pick the most dramatic for you to enjoy at your leisure. So simply relax, unwind and sample the best bits right here…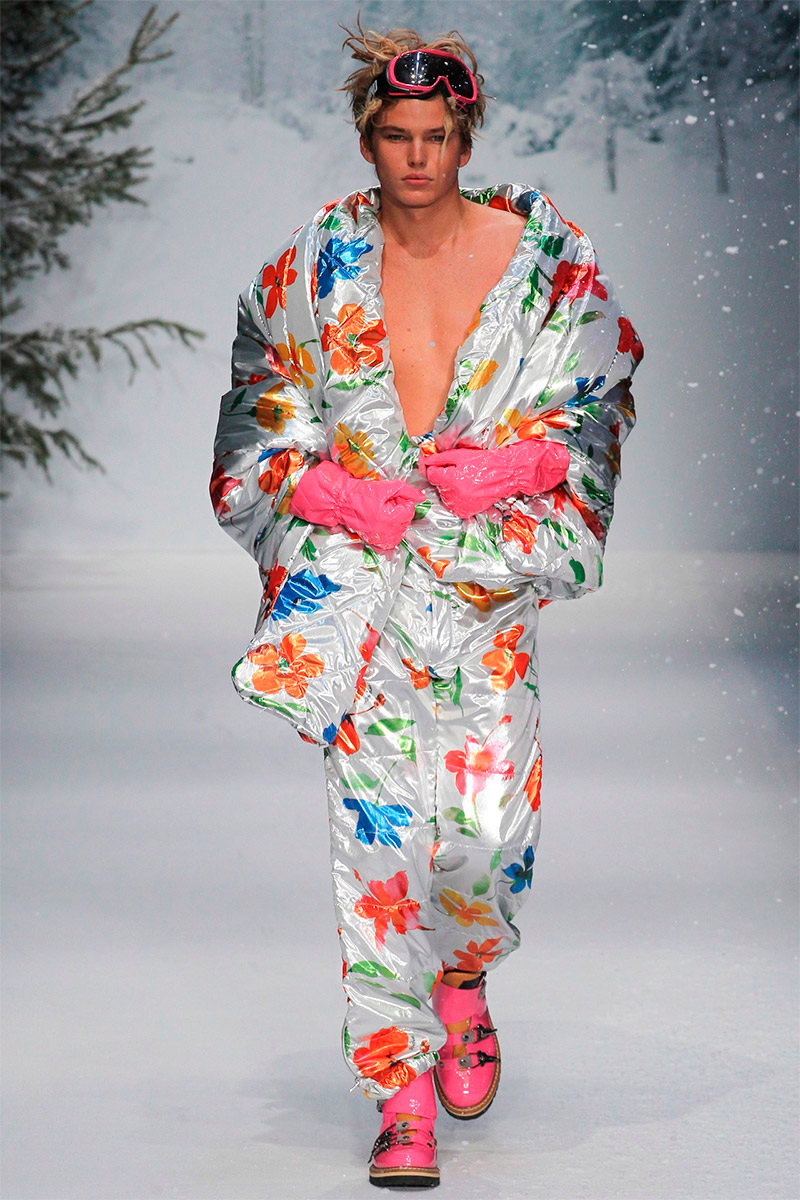 Après ski is set to have an awesome new meaning for next season with Jeremy Scott's fresh interpretation of a perfect winter getaway, complete with ski goggles, puffas and party-primed leopard prints no less. Macho-muscular snowboard pros wondered through a fairytale alpine wonderland of Lapland Christmas trees as powder-white snow cascaded around them like a dusting of silver from an Italian powerhouse fashion fairy. The no-expense spared backdrop was merely the icing on a magical mince pie cake of mixed up creative concepts that fused sinuously like the spicy ingredients of a mulled wine cocktail. Eskimo tribe coats and Siberian trapper hats were ideal for the sub-zero setting, as arctic fox and tiger looks merged with Scottish highlander plaids and icicle blue denims. Post-snowmobile party antics then drew focus towards chalet DJ action with a manic mix of Austin Power floral suits and metallic bauble glitz looks, complete with sequins, shades and gritty ghetto-luxe jewels.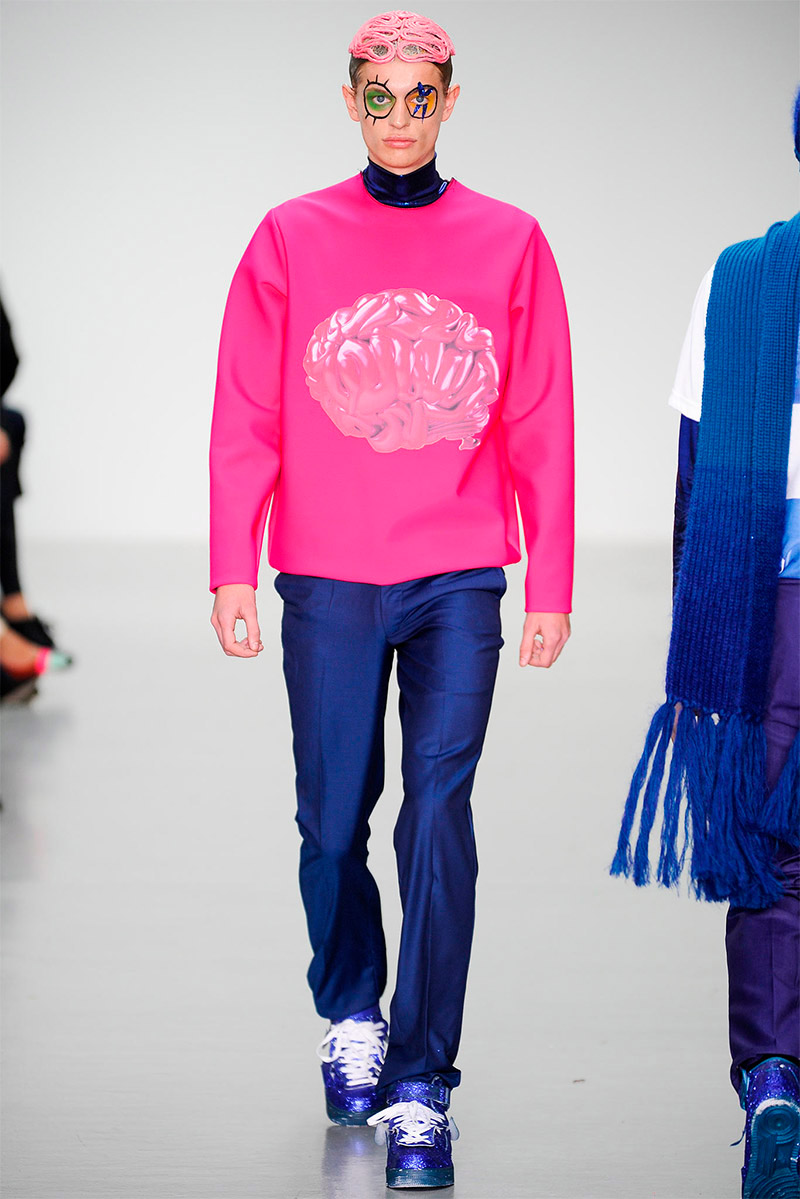 Katie's anatomical exploration of the human body was probably not what the doctor ordered, but we didn't mind at all. Instead of standard monochrome X-ray images appearing on the clothing pieces, we instead saw organs and body parts flashing up feverishly onto tops in gob-smacking gamma ray colours, as if the examining nurse was having some kind of drug-induced mind-trip. Gooey brain graphics flaunted themselves in body-shocking pinks and eye-watering oranges as woven intestine embellishments tangled around blue and blood-red knitwear. Rib-cage prints rocked up on shirts and sweaters in blisteringly bright complexions, which were echoed in the bruise purple and green parka coats. Shimmering trousers and glitter-glam turtle necks added a random but ravishing disco-deluxe edge which threw everything back to a 70s twilight zone, much like the nurse's mind-bending hallucination.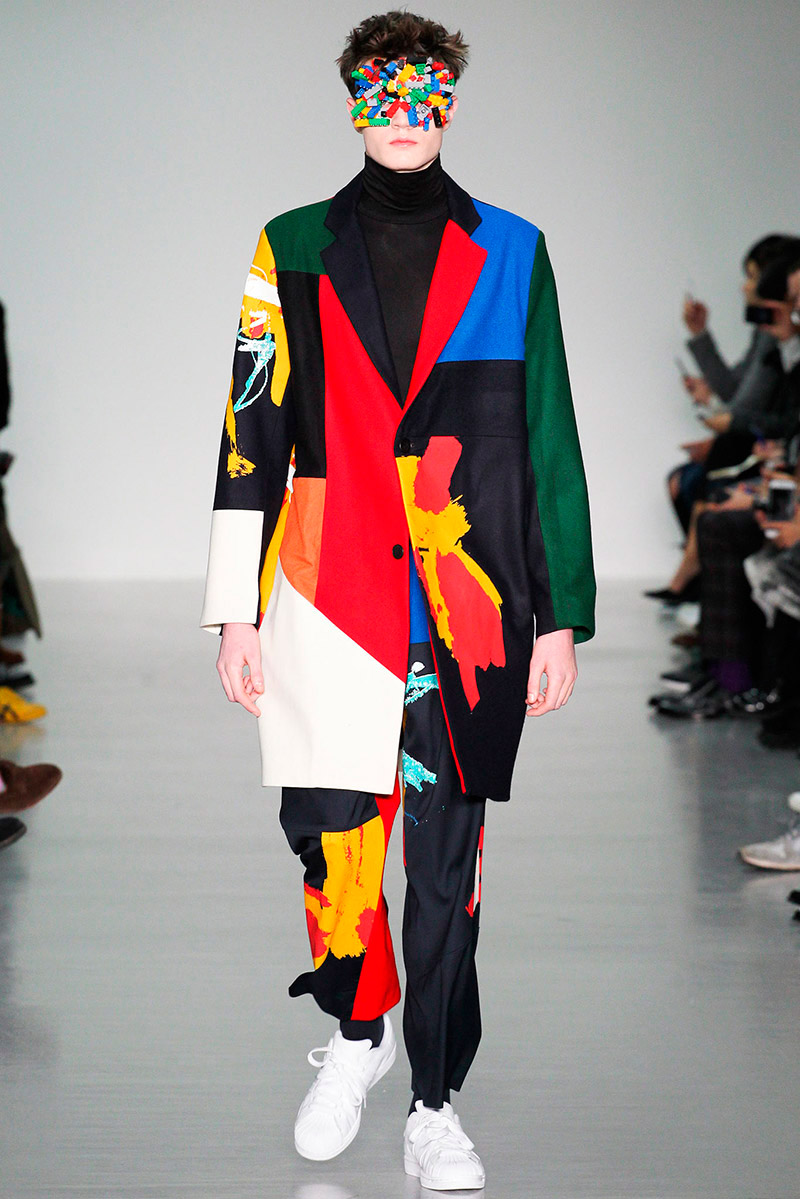 Creative childsplay then took centre-stage at the Agi and Sam show as models strutted down the runway wearing fancy-dress masks that were crafted from Lego by a four year old in art class. Or so it seemed, judging by the messy shapes and colour-splash doodle patterns on the wide-leg trousers, colour-drip knits and coats. A haphazard sense of unplanned adventure ruled the rebellious naughty kid roost as feisty primary poster paint prints covered many of the laid-back, loose fit looks in a messy mash-up of concoctions. Wide trouser cuts and oversized coats made us think of a decorator's slouchy overalls covered in an accidental collage of kaleidoscope paint stains, while the primary patchwork knits evoked abstract art imagery similar to that of Mark Rothko or Henri Matisse. The frenzied trouser scribbles in sun yellow and orange may have seemed scatty and amateur in comparison, but nevertheless bold and creative in their own wild and whimsical way, with a refreshingly adolescent attitude.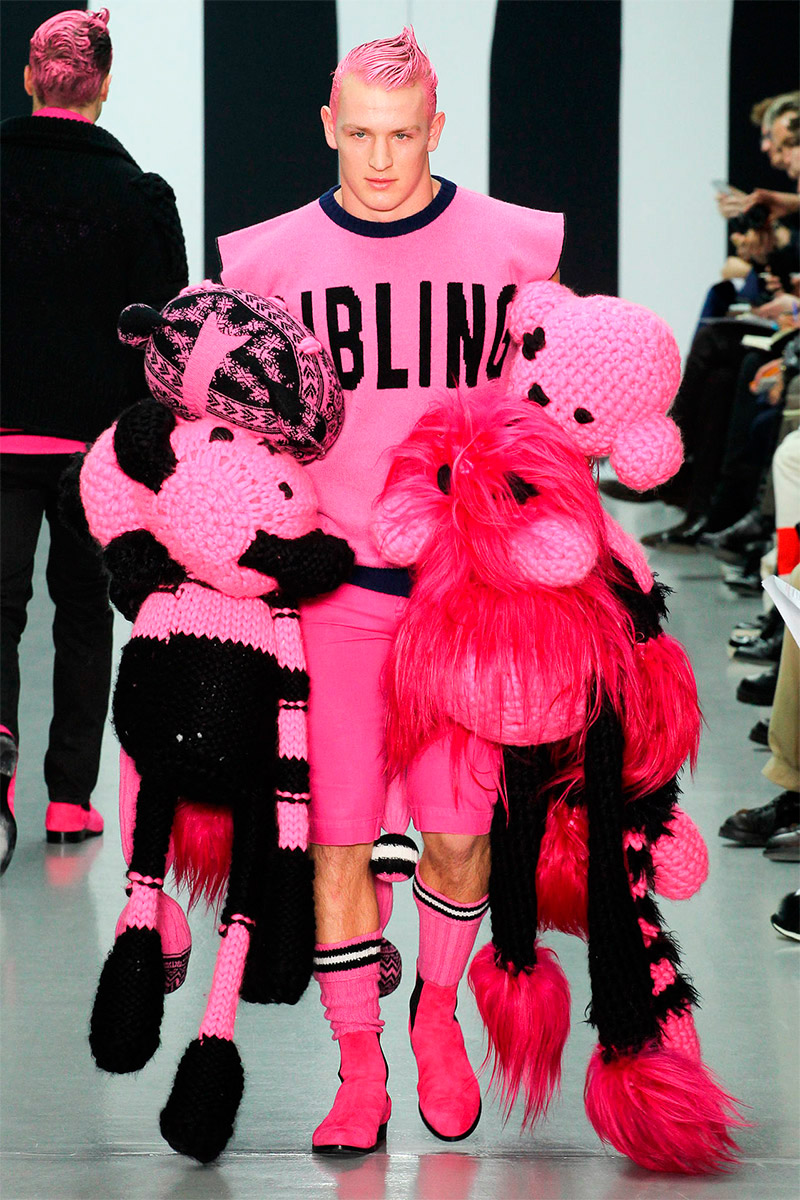 The Sibling models continued the youthful vibe by painting the town pink with a frivolous sense of schoolboy fun in playschool preppy uniform blazers and comforting fairisle cardigans. Oxbridge nostalgia was intertwined with juvenile imagery as a Barbie doll colour-splash pervaded across collegiate classics such as tailored shorts, slacks, sugar-sweet candy-stripe jackets and head-boy ties. Rustic Aran knits and timeless argyles provided a quintessential English-rose theme to the otherwise attention-grabbing aesthetic that was overrun with a piercingly playful power pink hue. This didn't however distract from the hand-crafted tailoring, which came most inventively in retro brown-paper bag suits and biker jackets that evoked childhood memories of mum's home-packed school lunches. The additional giant teddy-bear accessories added a further sense of mesmerising tongue-in-cheek mischief to a show that pushed menswear boundaries for both colour choice and creative flair.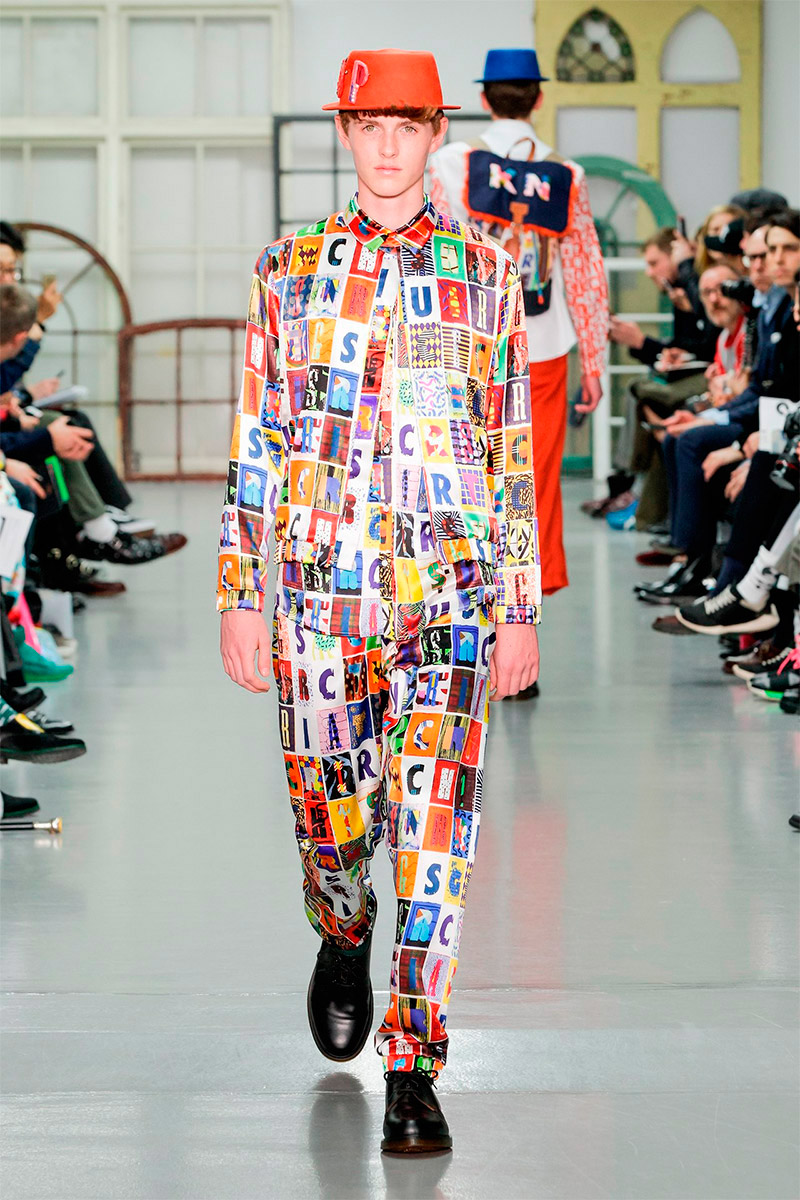 A psychedelic circus box of clown-around colours then mashed with power-pop Punch and Judy prints for Kit Neale's spectacular summer soirée. A Pandora's box of pandemonium was unleashed through a striking plethora of pop-art Circus slogans which appeared in hallucinogenic hues against hypnotic and sensual silken cottons. Kit successfully juggled wearability with wacky acrobatics by casting wardrobe staples such as crisp shirts, denims, backpacks and varsity jackets in scene-stealing stunt graphics that instantly grabbed attention like the bewildering Big Top circus sign jackets. Squiggly trapeze-rope stripes appeared on stage-light luminous sweaters as fuzzy fur jumpers with cartoonish logos gave a humorous nod to choreographed costume extravagance. The circus master top hats completed the day's raucous entertainment in clown-nose reds and Diver Dan blues for a crowd-pleasing finish that totally deserved its ubiquitous standing ovation.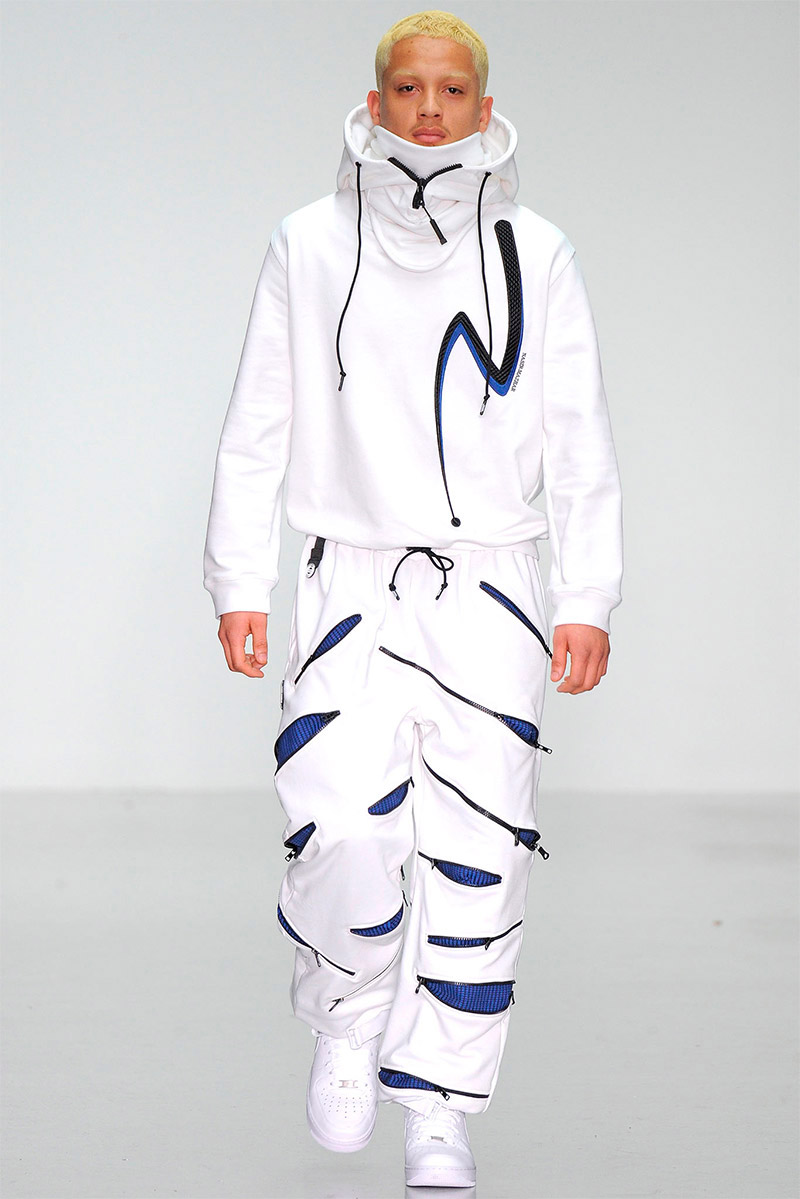 Nasir presented us with a 24-hour cutting-edge wardrobe for party-hard contemporary club-kids who stay out all night and chill all the day. This brilliantly blasé lifestyle was captured perfectly in his nonchalant mix of blissed-out tracksuits and vests, which blended with razzle-dazzle bombers and parkas to create killer street-swag looks for those strobe-light all-nighters at East London warehouse raves. Super slick silky nylons lit up the room like electricity pulsating through bass-fuelled speakers as models cruised down the runway to grime-sublime tunes. Zip-slash track pants added gang-rebel grit to proceedings while shiny puffa-jackets glistened like pumped-up protective bubble wrap for an avant-garde industrial twist. Cola-cranberry crush red and lime tones were as fresh as a newly poured pre-party beverage while final floral looks dazzled us in gold-glitter tones like delectable sweet-wrapper treats. A 'Ferrero Rocher' for the rave-ravaged road anyone…?