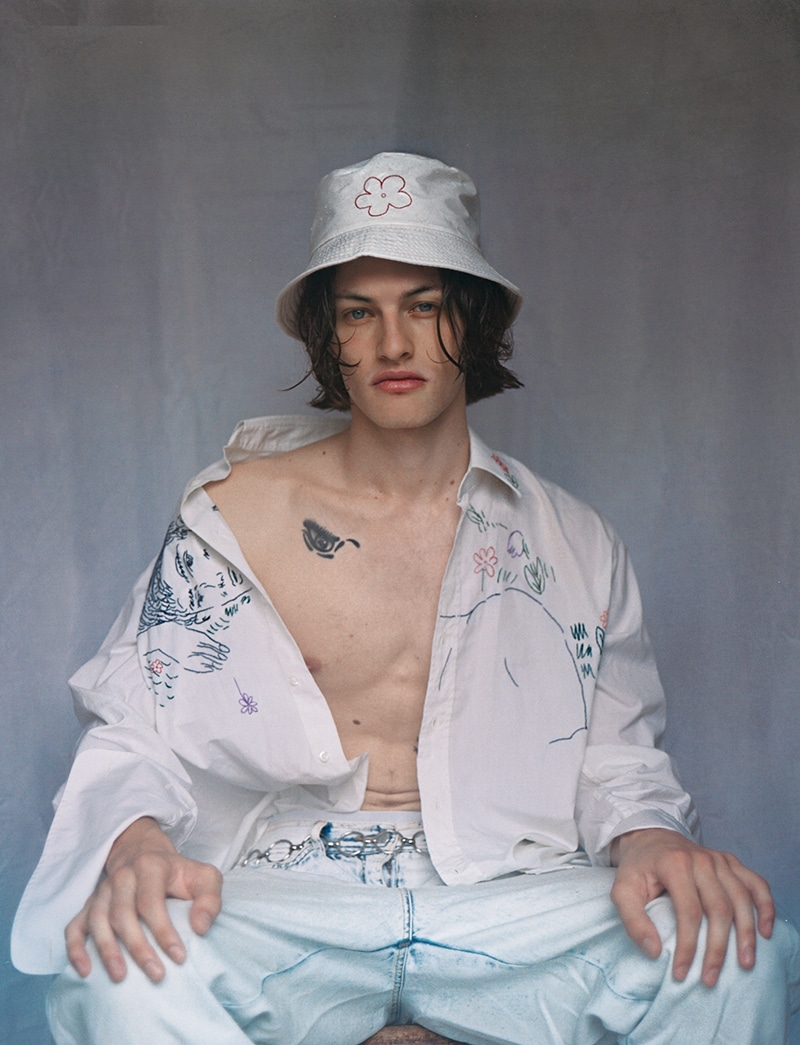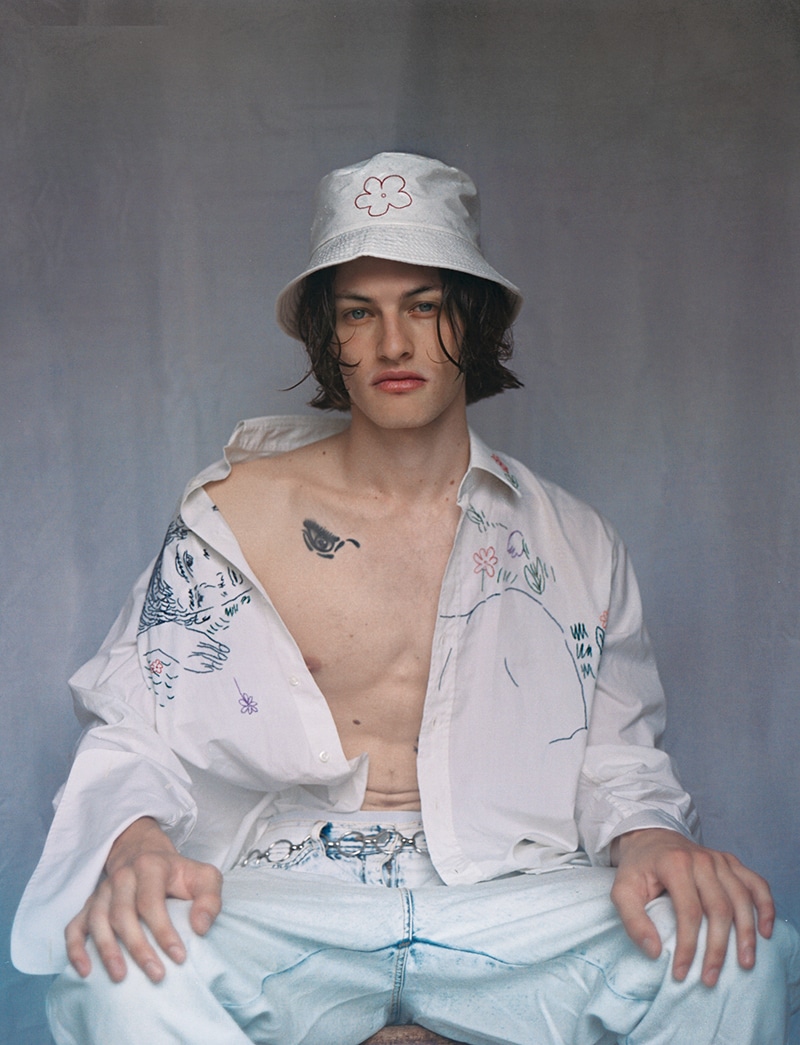 Before we start, there is something you should know. Jacques Merle is an artist, not a fashion designer. It all starts with the drawings. Some resemble scribbles, drawn quickly on the corner of a table. Others could easily find their place on someone's body – like innocent tattoos. They are the heart of his work and look like children conjured them prepped up on a high table, colorful crayons spread everywhere. But with this youthful energy also comes a lot of work: as a second step in his creative process, he also embroiders the faces, flowers, and stars straight from his imagination, like tiny little drops on a blank canvas. Jacques uses clothes as a medium but in the future, he is looking to expand to ceramics, furniture, and even body art. In his world, don't expect to hear about products or marketing as he refreshingly admitted to me: "I don't even know if I created a brand, I just wanted to put a name on my creations. I call them my 'jacqueries'." Sweet as a bedtime story, soft as a lullaby, Jacques Merle's art is a breath of fresh air in these troubling times.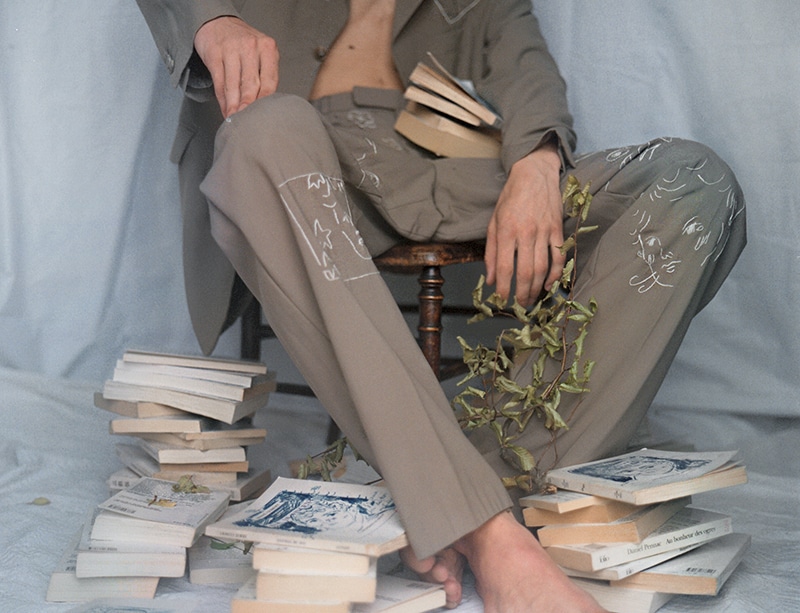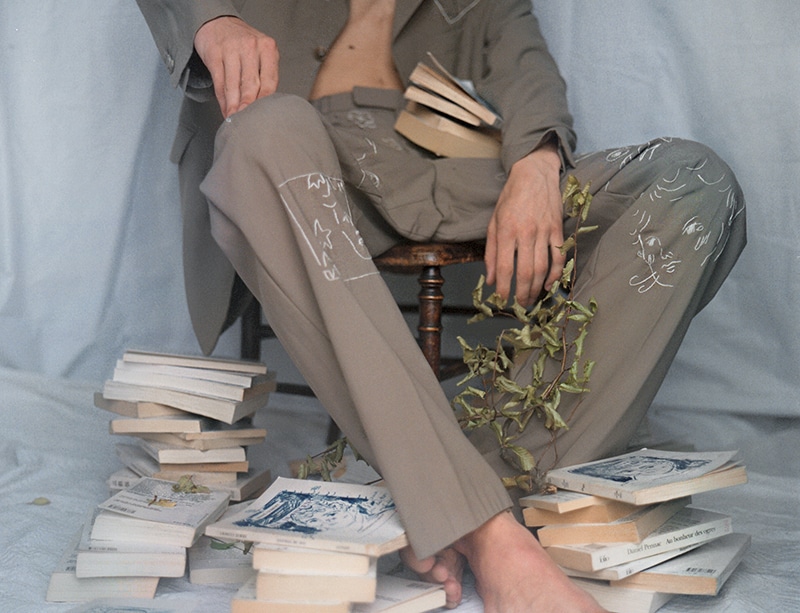 How did you start doing embroidery and what do you like in this art form?
My ex suggested that I draw on a tee-shirt. I transformed the drawing into embroidery and little by little, I started enjoying it. I love finding a piece of clothing that I like and making it mine. There is also this notion of time: I draw quickly but embroidery is the opposite. It takes time, I never know what it will look like… It's exciting!
How did that connection between your drawings and embroidery come about?
When I draw, I try and translate what I feel. Embroidery is soft and fragile. Starting from one to get to the other is a logical journey in my creative process. For me, getting dressed means projecting something onto others, an emotion, a character, a mindset… just like when I draw.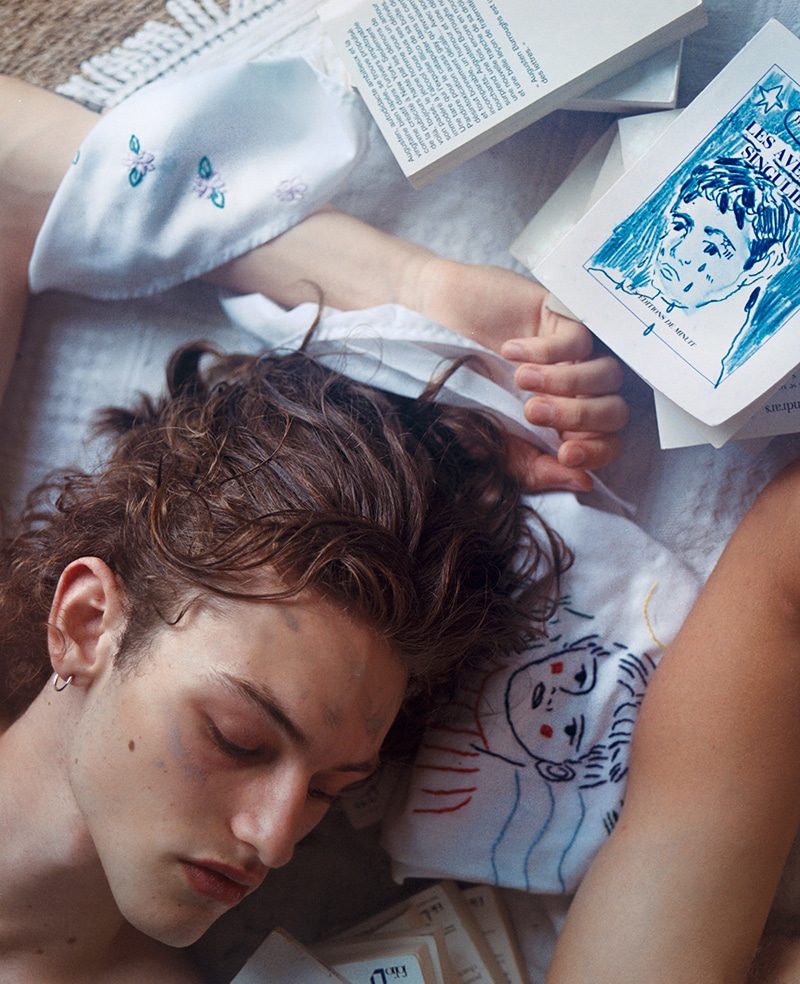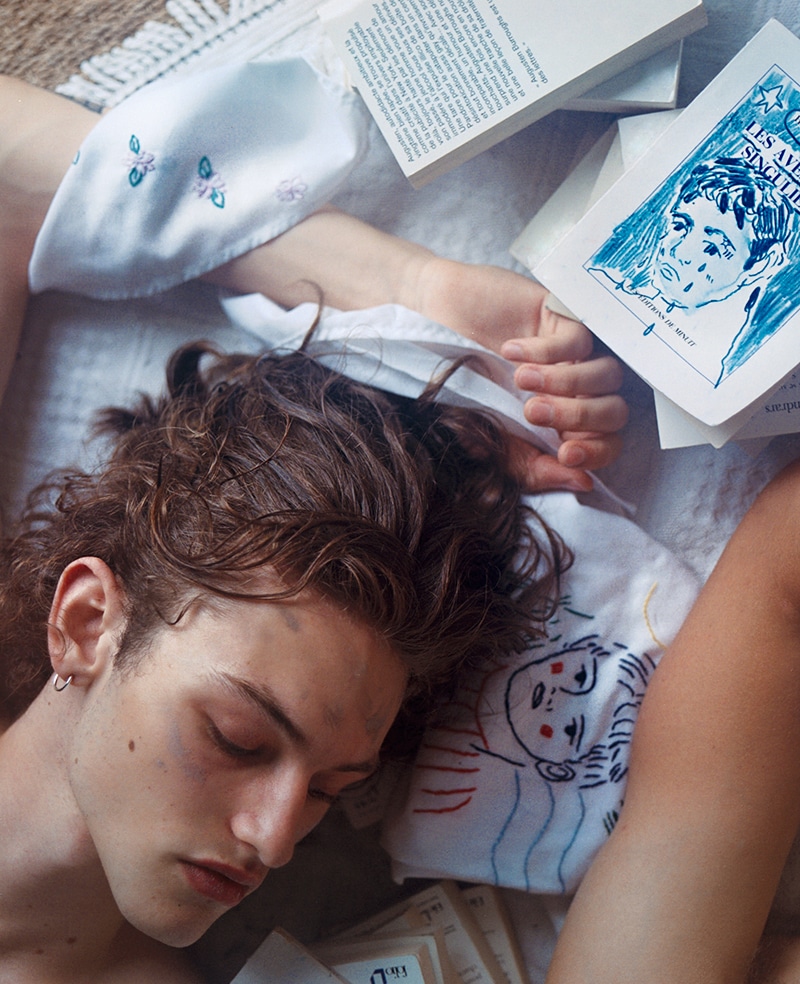 I can see the influence of Cocteau or St-Exupéry in your drawings. Could you tell us more about your inspirations?
Yes, I really like Jean Cocteau, whether for his drawings or his movies. Visually, it's very strong. Beauty and the Beast or The Blood of a Poet, these really impacted me. I don't have great pictorial knowledge but I also find inspiration in movies and music. For example, I can't stop listening to Françoise Hardy. I also love the universe of some video games such as The Legend of Zelda.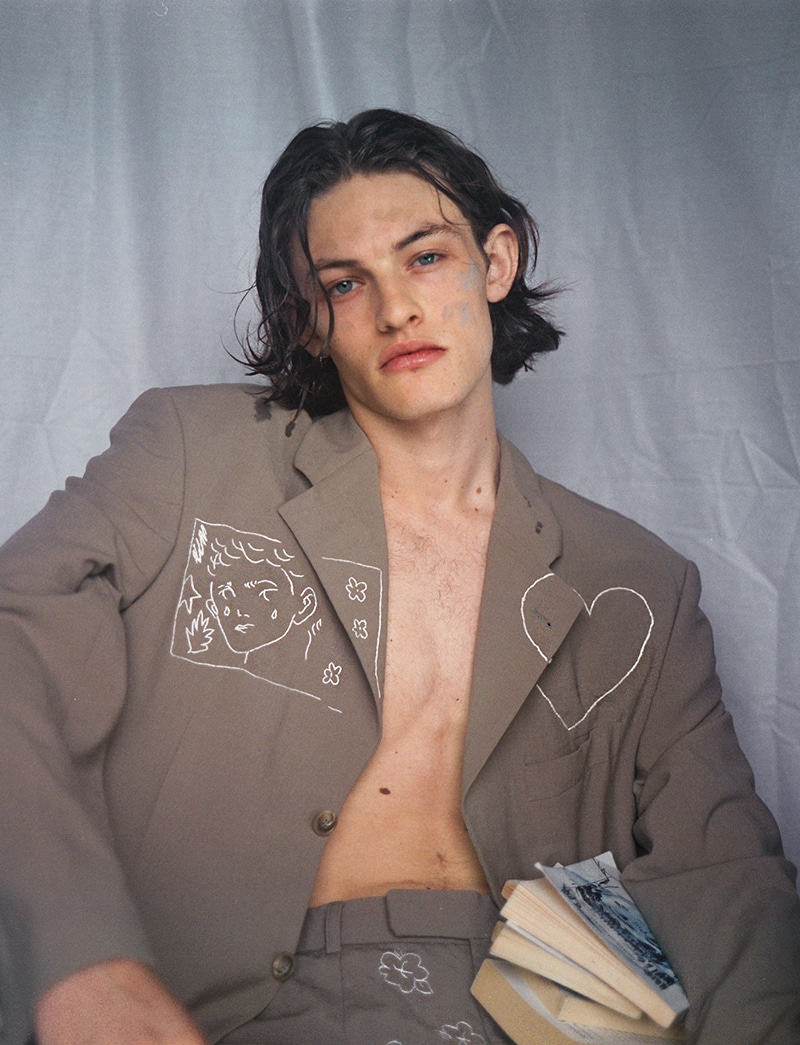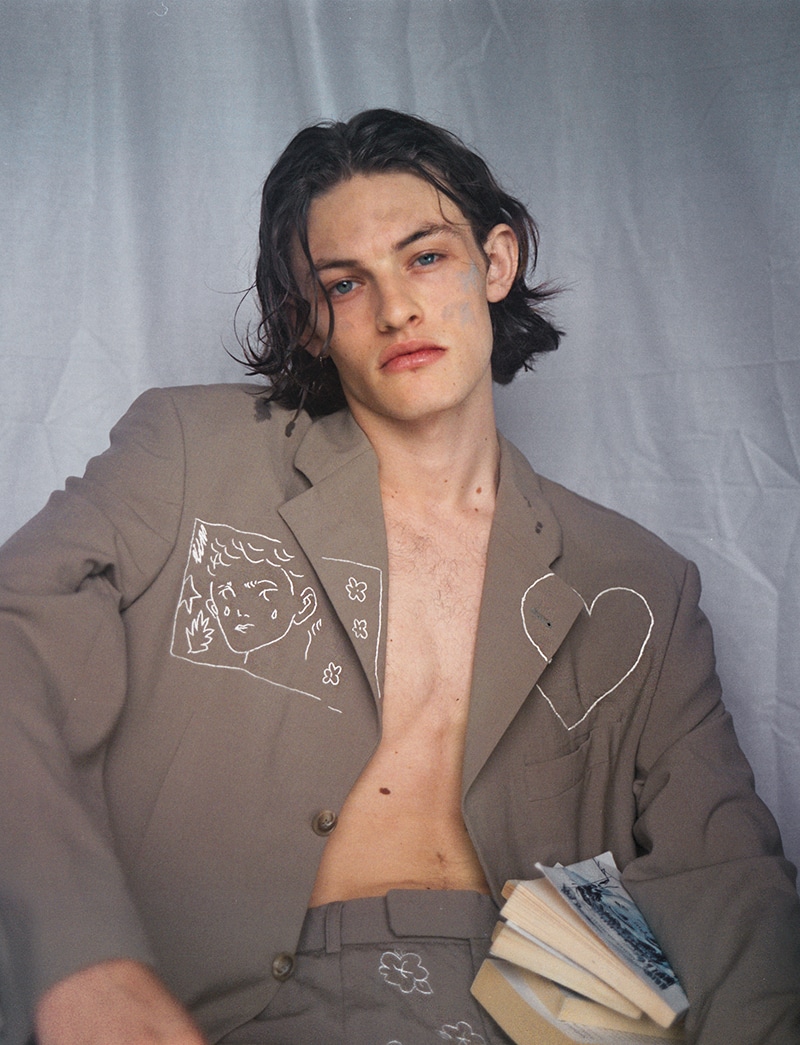 Literature also seems to be very important to you. What are your favorite books?
I used to read quite a lot but not anymore. It comes in waves. But it's beautiful to get away and travel through reading, isn't it? I think the book that really struck me is Fou de Vincent by Hervé Guibert. It's very passionate, fluid writing. I also like to reread passages from A Lover's Discourse: Fragments by Roland Barthes. Through words, literature excerpts, and his own experiences, he talks about being in love.
How do you feel about fashion?
I like the idea of the dandy, the poet, and the muse. Something timeless. I'm not really knowledgeable about fashion, I am more into movies. For example, I love Virgin Suicides because of the very pure, teenage aesthetic. I also love the outfits in Eric Rohmer's Four Adventures of Reinette and Mirabelle.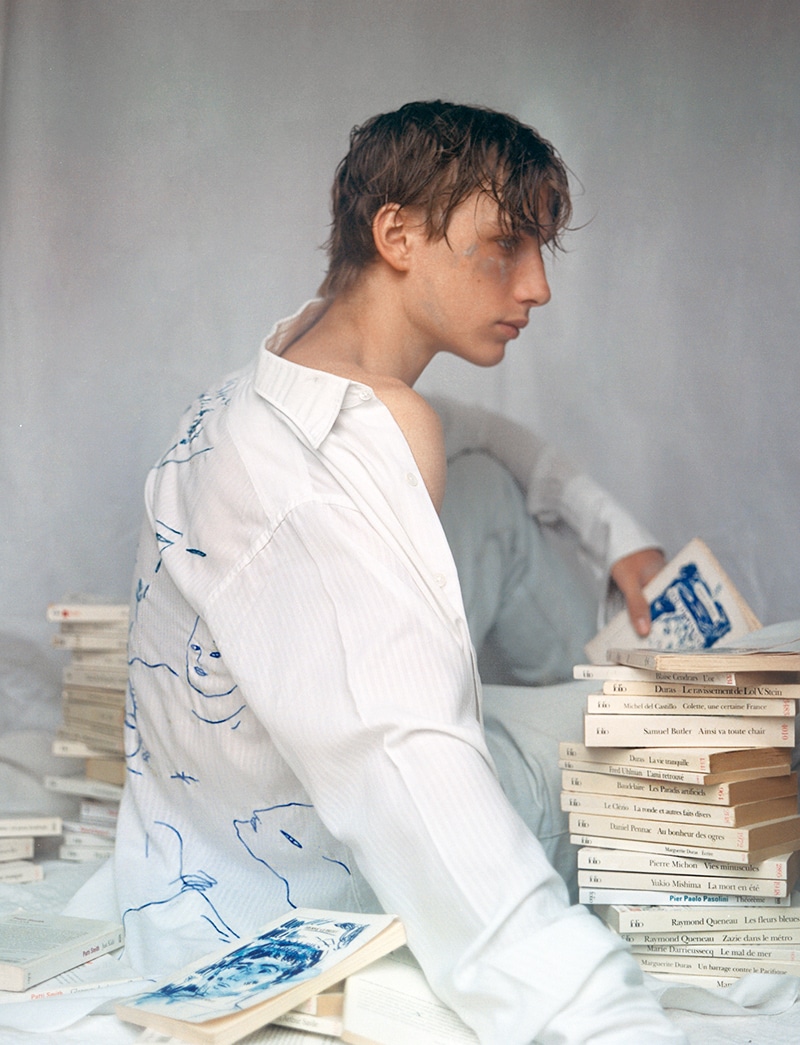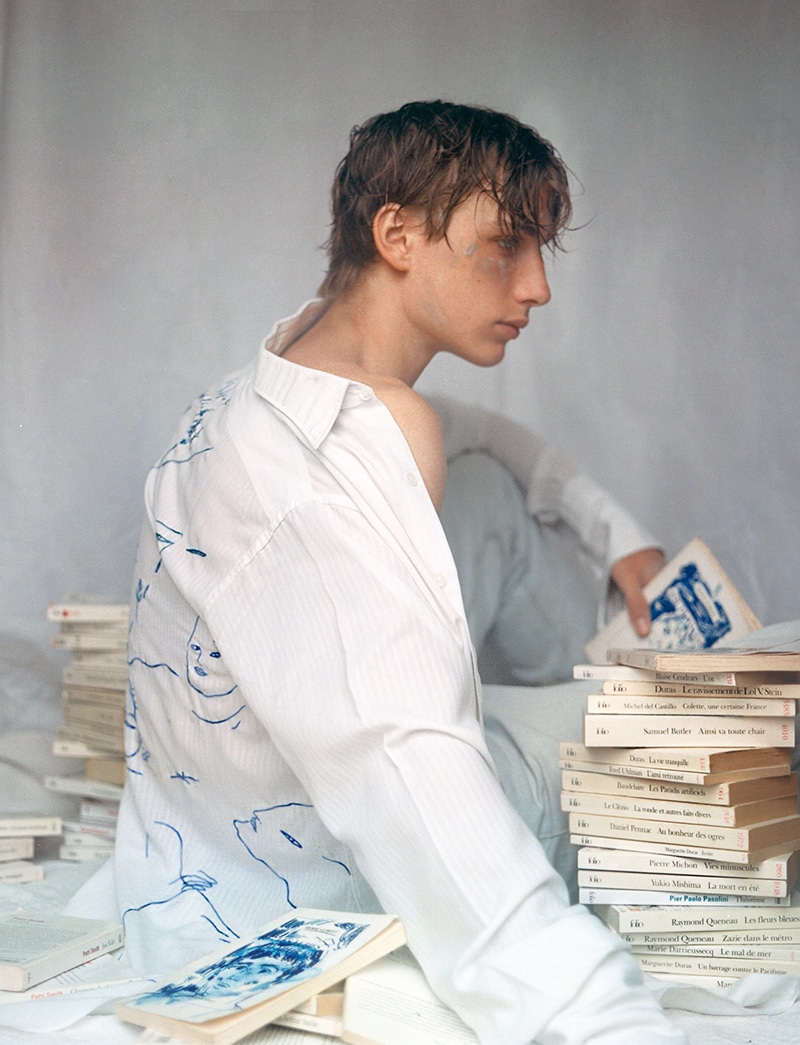 One of your most well-known pieces is a scarf featuring tears. Are those happy or sad tears?
Tears of joy, sadness, contemplation… Crying doesn't necessarily mean you're sad. It's more about unveiling your sensitive side.
You will soon hold exhibitions in Paris and in Hyères. What's most gratifying: seeing your art on the walls of a gallery or seeing people wearing it?
I am very happy to be featured in an exhibition at Villa Noailles, it is a very warm space showcasing fashion designers, artists, interior designers, architects… They are very kind and open. So far, I have never seen that anywhere else. Eventually, I would love to have exhibitions in galleries or in my own space. I could present everything I create: drawings, embroideries… in a nice set-up. But I find the idea of people wearing my drawings beautiful because we live in our clothes. Clothing is real and living, way more so than a gallery.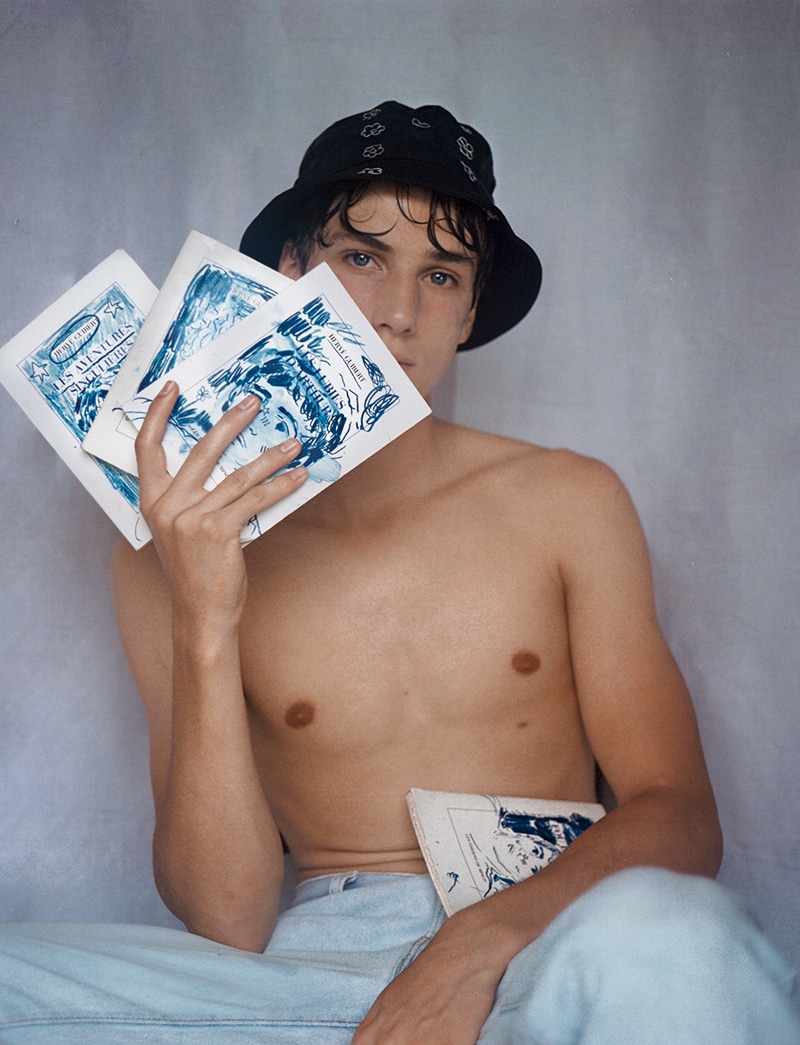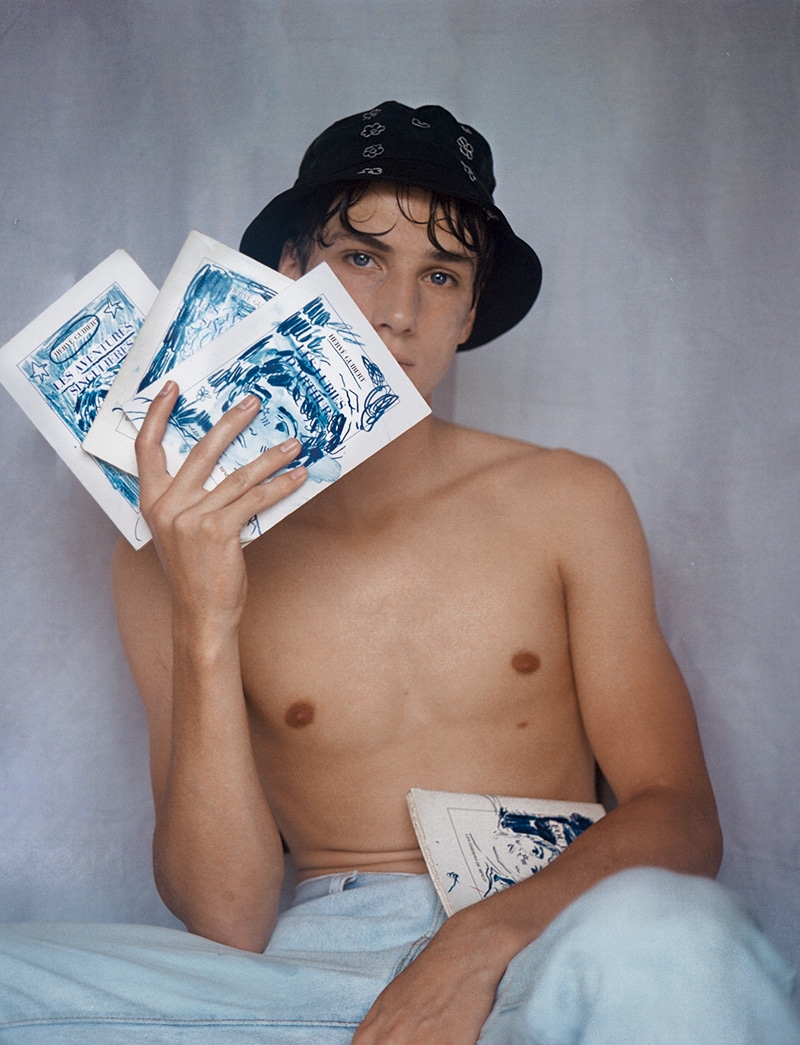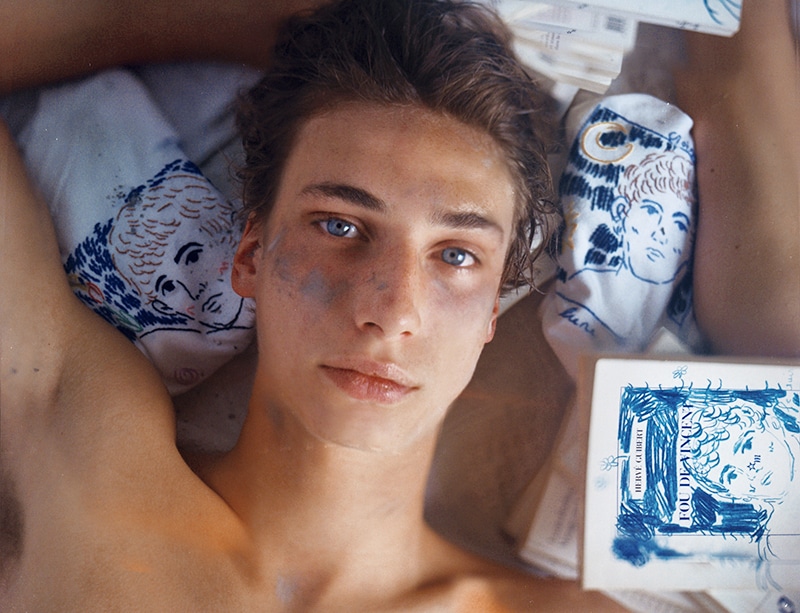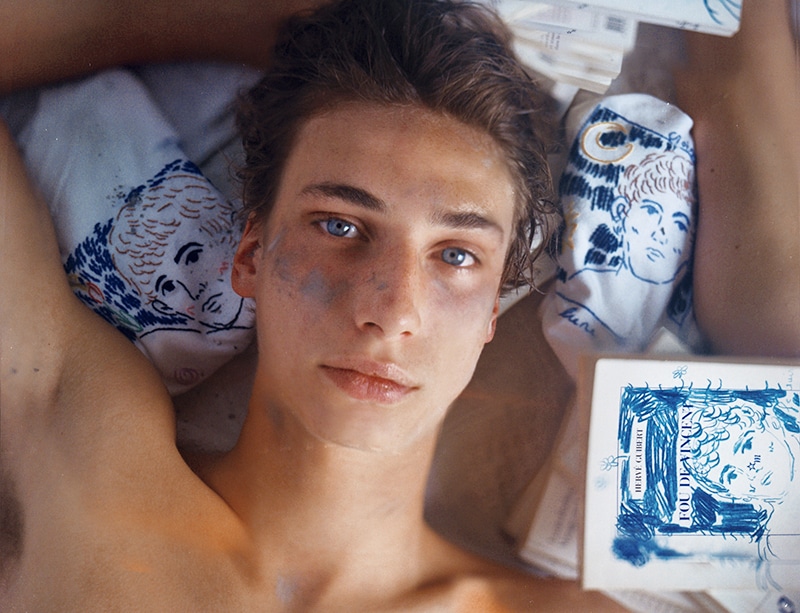 You're based in Paris, the ultimate city of love and artists. What are your favorite places that inspire you on a daily basis?
I got introduced to my favorite places thanks to my friends, my experiences, my day-to-day… nothing crazy. I really like going to garage sales in the morning. Walking around Paris at night is beautiful and with my boyfriend, it's even better! I also like gardens and watering places in Paris. I advise you to go see the Médicis Fountain at the Luxembourg gardens, it is a small, precious casket. Also, take a walk around the Buttes Chaumont.
Your creative universe is really soft and your way of communicating is too. Is it important to be an accessible designer today?
I am a loner, creating my world little by little. I am not really thinking about the way I communicate, I do it my way, and with my own means. I don't want to be too much, I like to keep it simple and personal.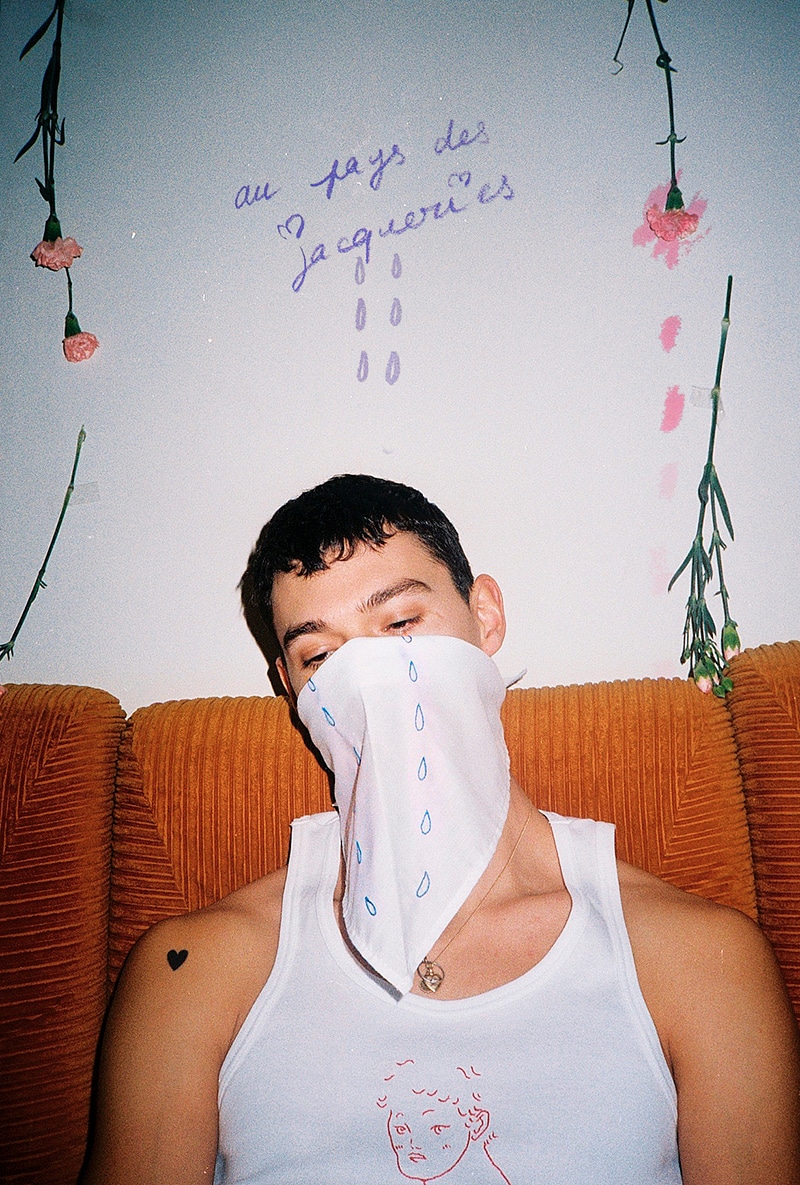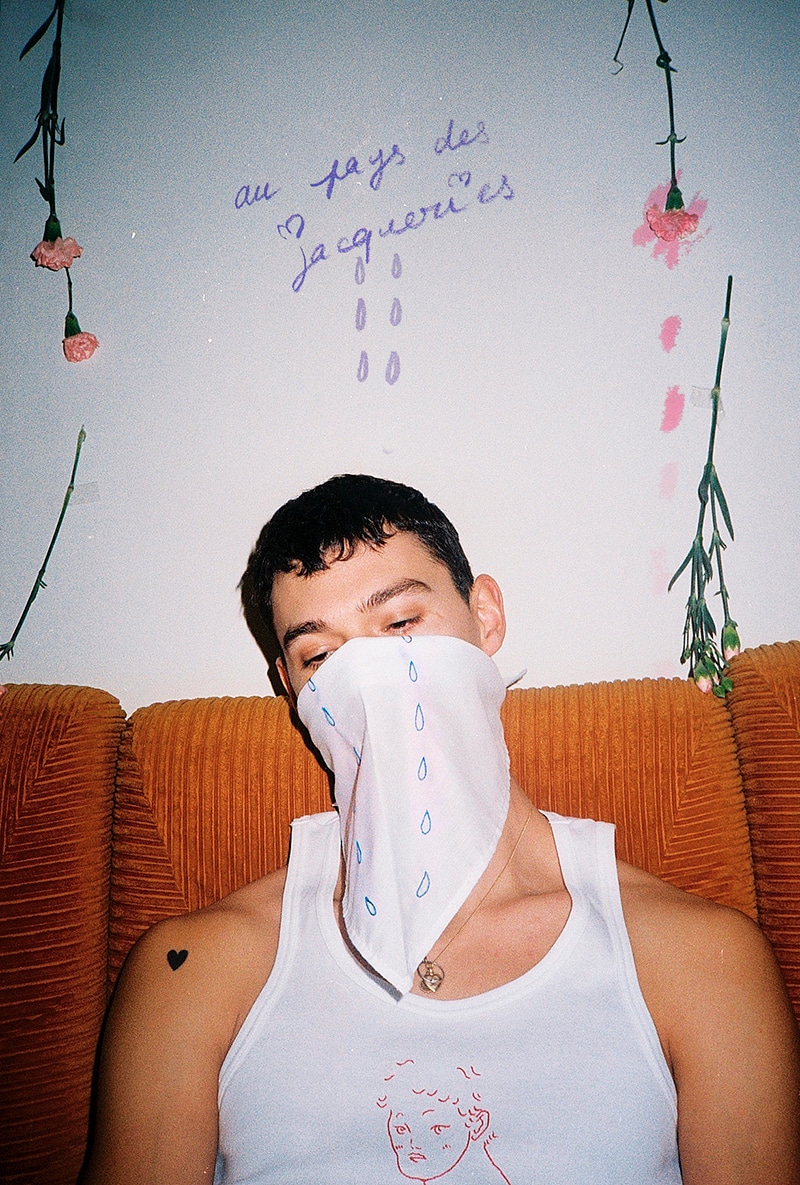 Is it important for you to position yourself as a queer artist? Do you think there is a political aspect to your work, even subconsciously?
Being out as a young gay creative is already political. Creating is political too. It is very important for me to belong to this community and to be proud of it. I hope I can move the LGBTQ community with my work. Being sensitive and loving little daisies has nothing to do with gender. It belongs to everybody and that's something I would like to share.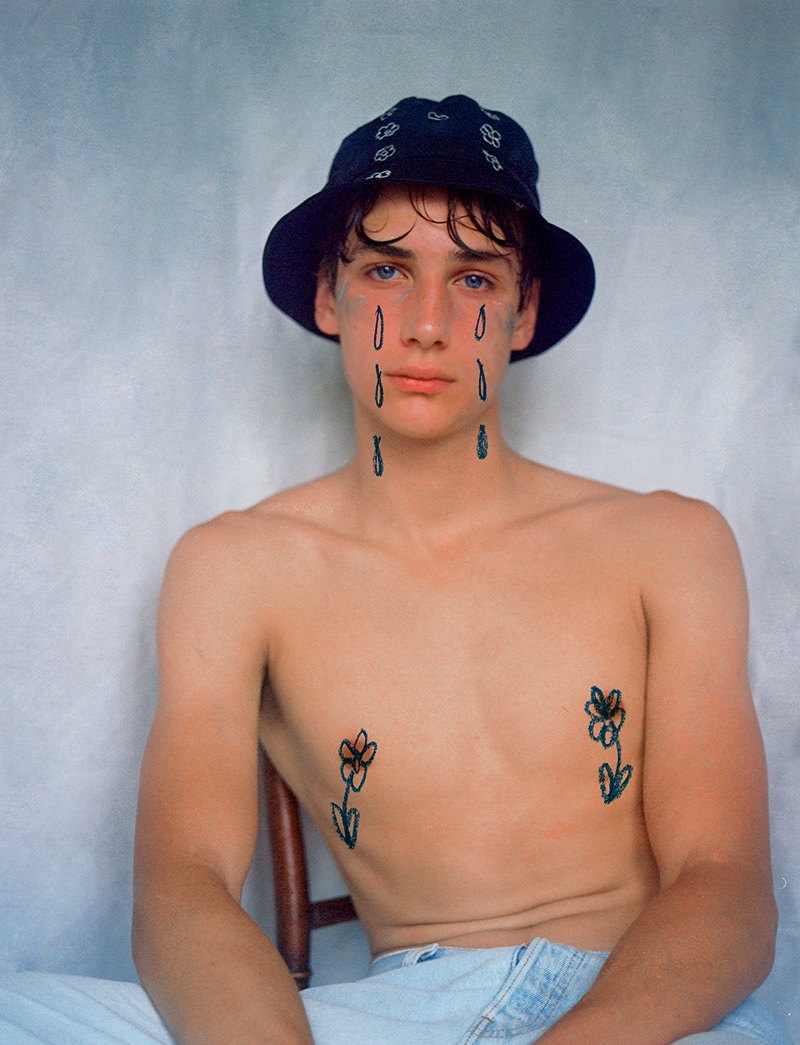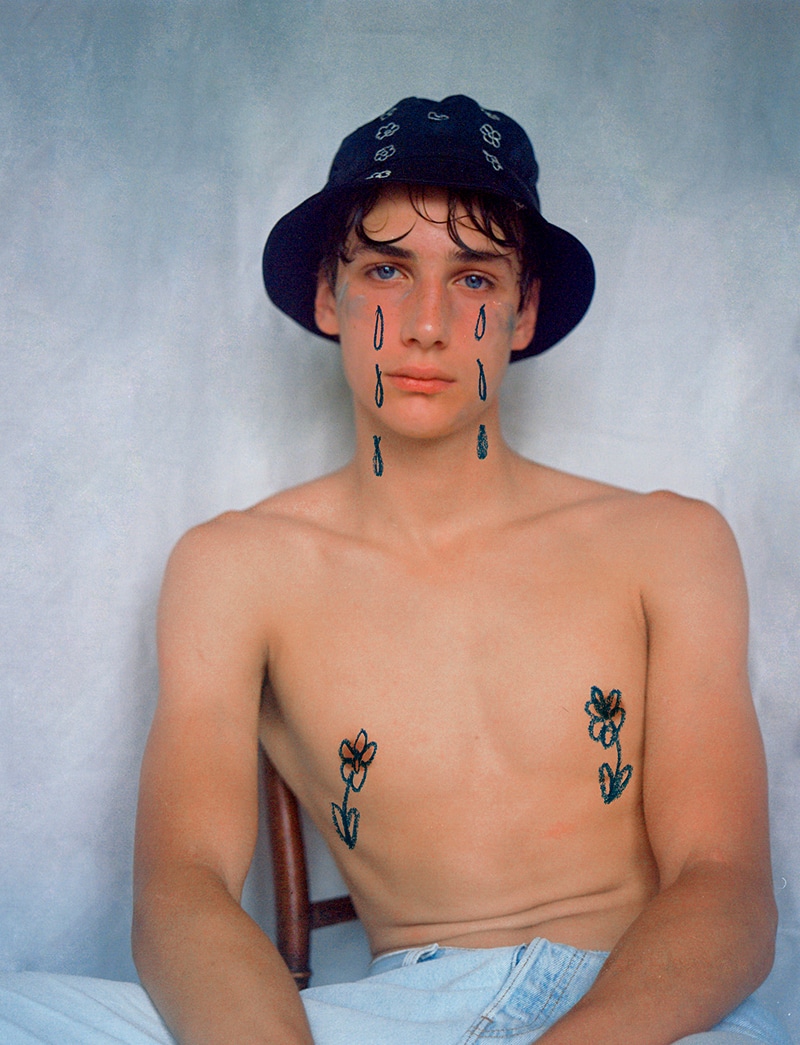 Your concept of embroidering drawings takes up a lot of time. This slow approach in a very fast-paced world and industry… is that a statement?
Yes, it is a slow process, not necessarily profitable. But I can't think of any other way to create. I get to know myself through my production, it's very intimate. So finding out who you are and building yourself up takes a lot of time. We are living in a crazy world where we all have to perform and consume… I would like to get away from that.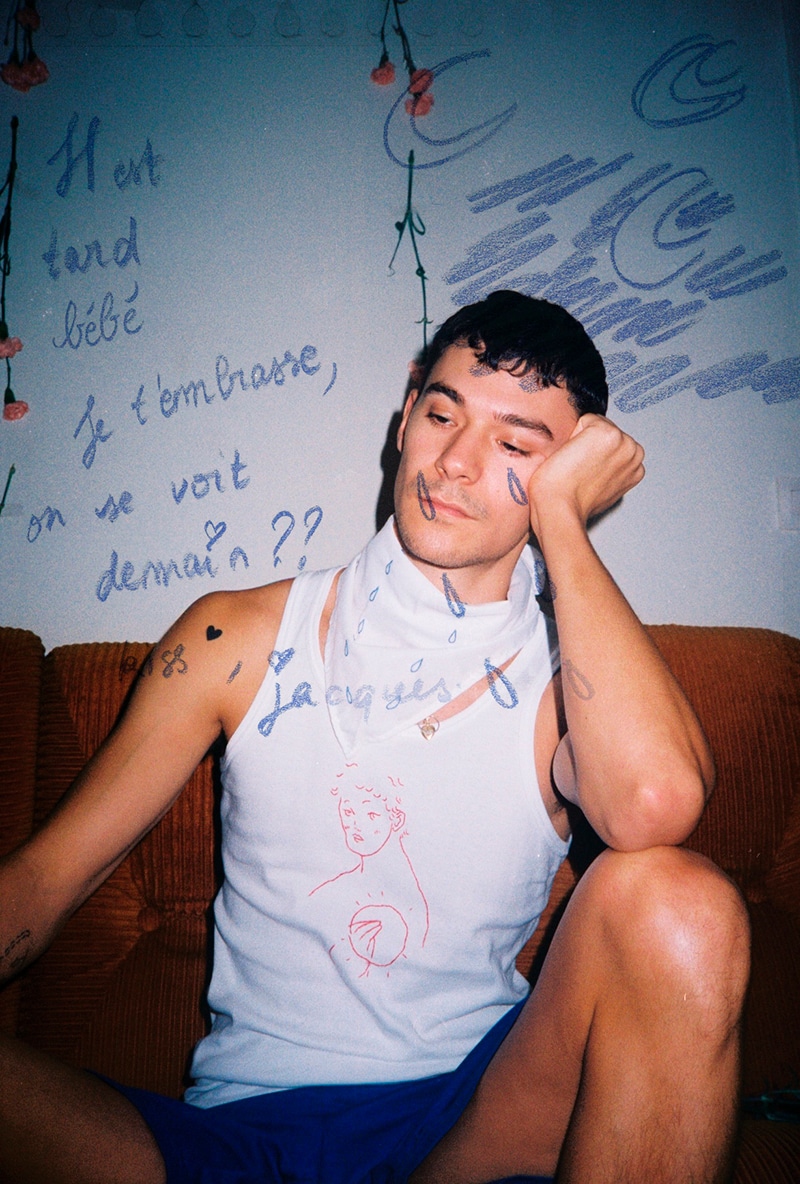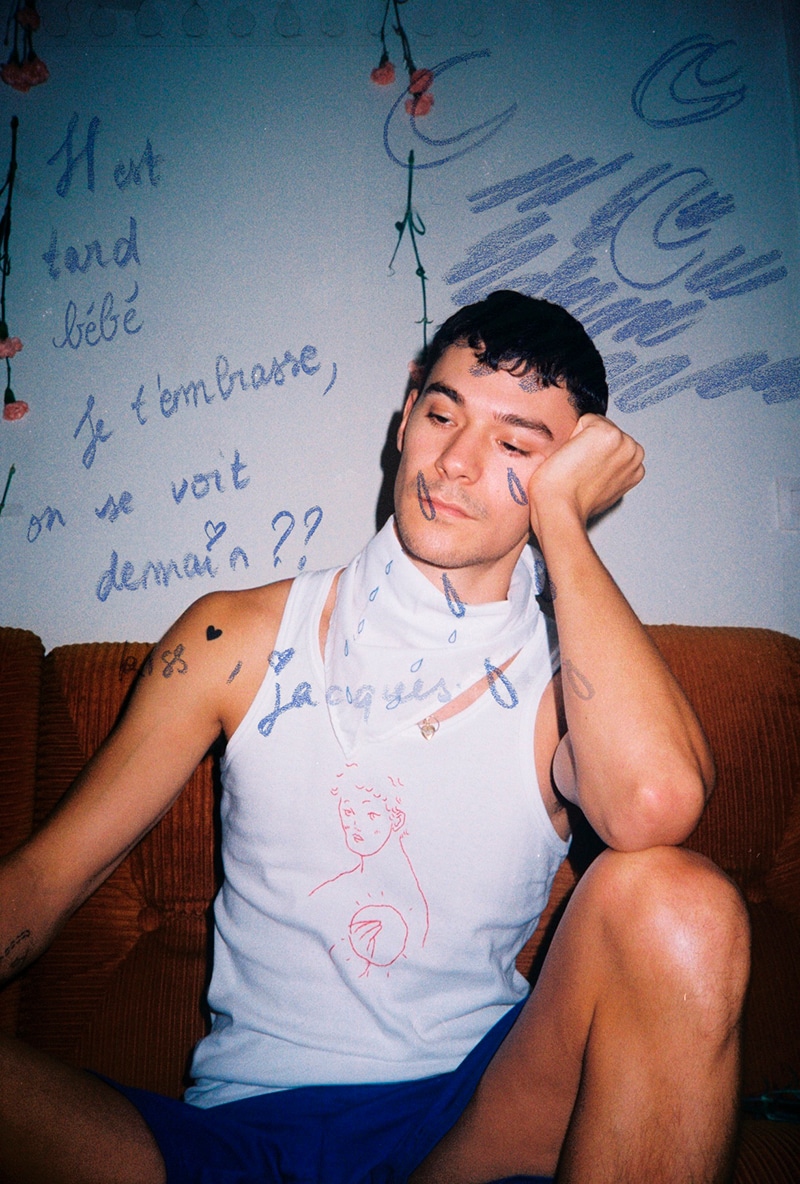 There are a lot of conversations taking place at the moment regarding the "new world", referencing the economic, social, and ecological changes caused by the COVID-19 pandemic. What are your hopes for this next phase of history?
After this pandemic, I would love for us to learn from our mistakes and make a change in our lifestyles. I think we are capable of it. A more united world where we take the time to appreciate good and beautiful things.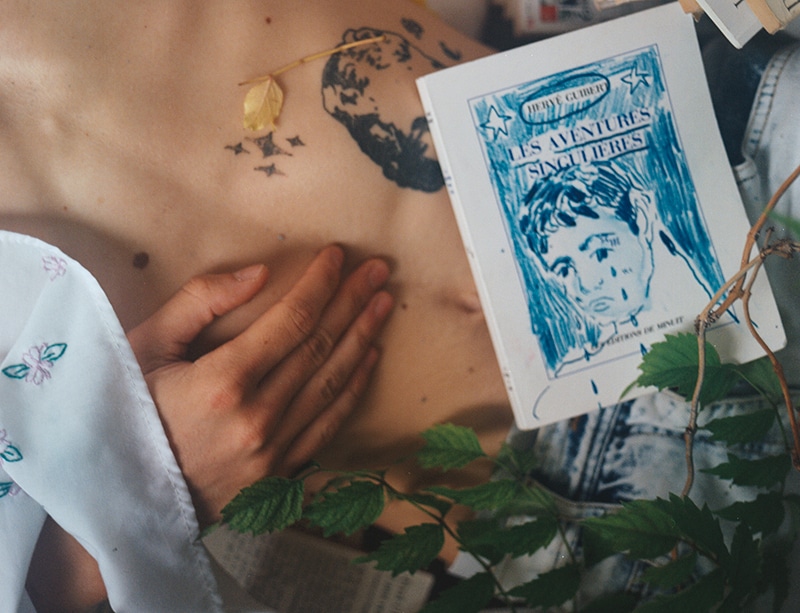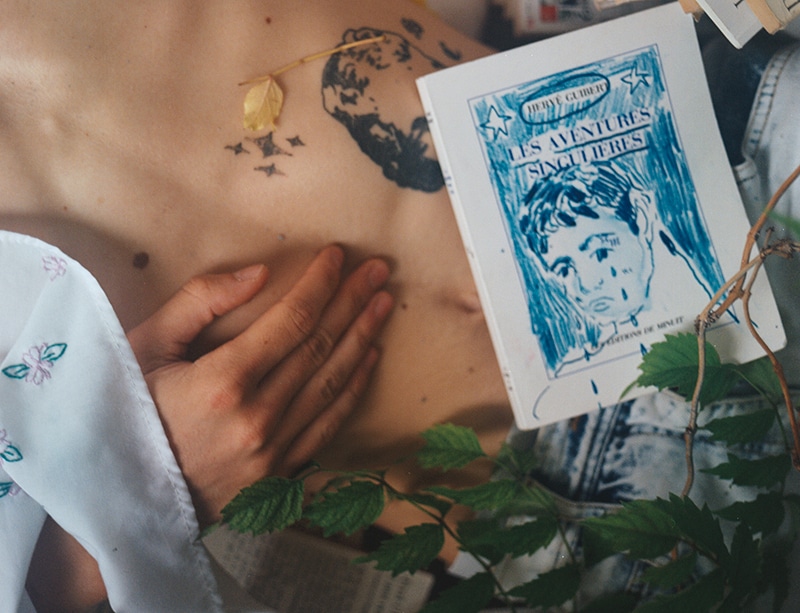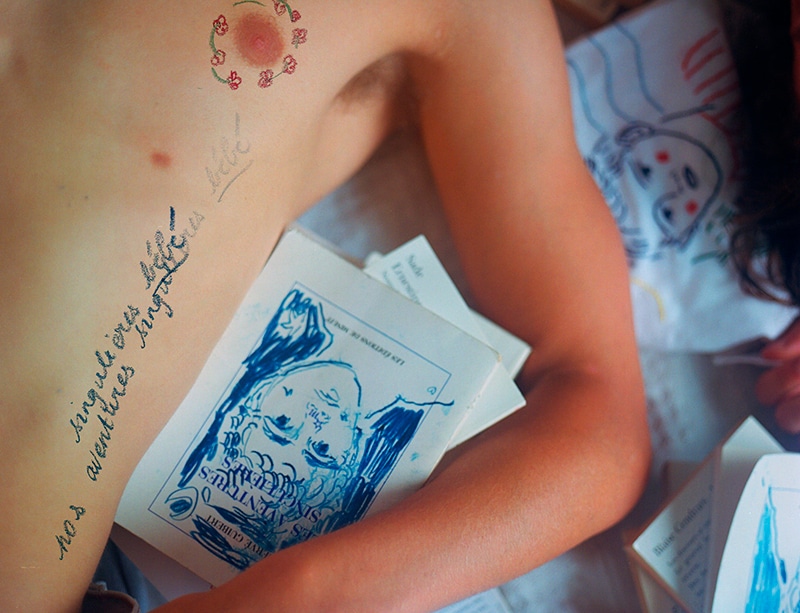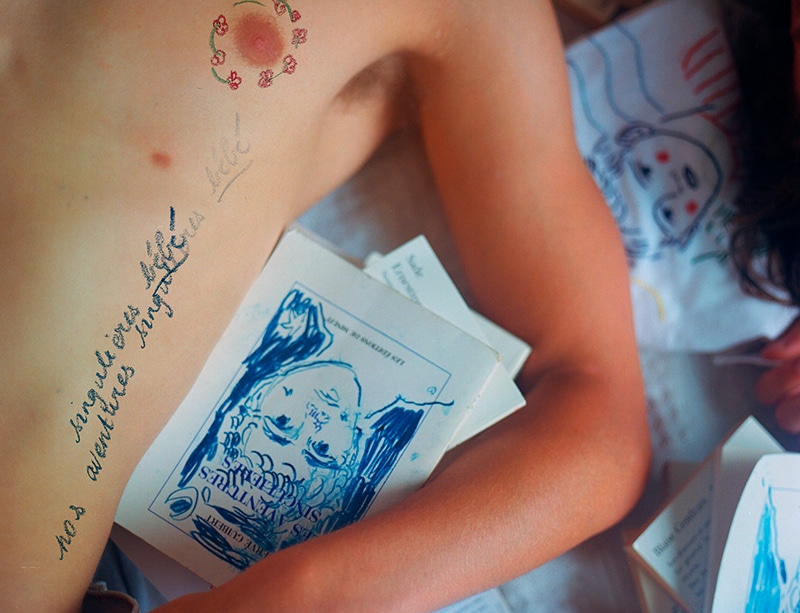 Photos by Romain Le Cam