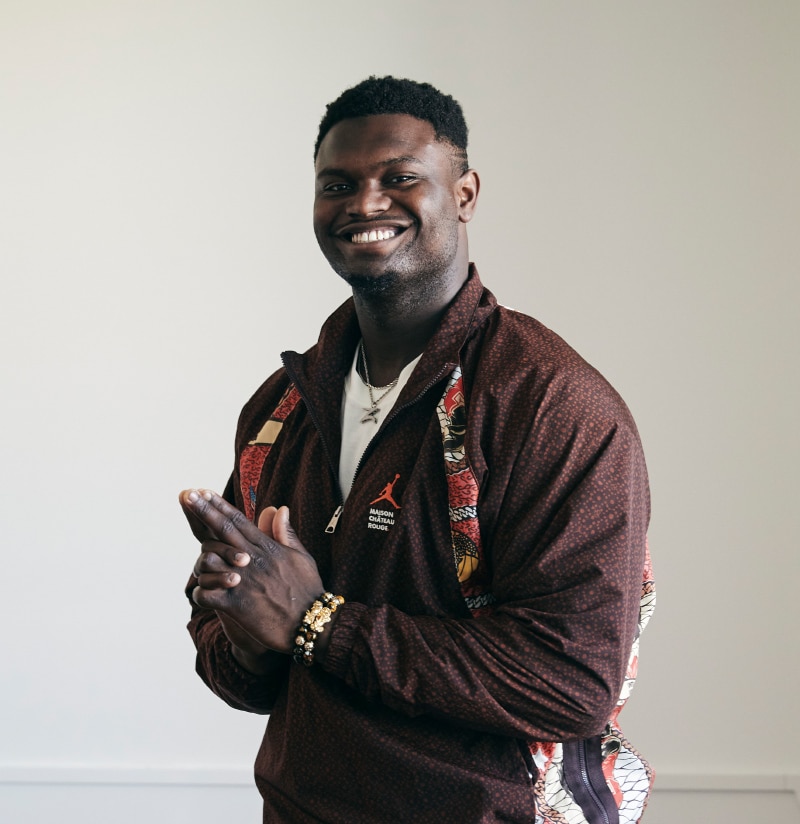 You talk to any basketball fan here in France, even Europe, and they all speak of that pivotal moment in history when Jordan came to Paris in 1985. A cultural shift happened, leaving an ever-lasting legacy. I wasn't around in '85, but during this past Quai54 Tournament, I could witness the enthusiasm of fans, myself included, for Zion Williamson who was in town to catch the tournament and show the energetic public his new Jordan Zion 2.
Since high school, Zion has been reminiscent of a young Shaq, cause he's a beast except he can run with the guards, and shoot 3s, he holds a lot of potential to be the future of the league. While Jordan focuses on the performance of the athlete when making a shoe, we can also add that Zion holds a lot of style which is evident in his colorways. We caught up with him in Paris, where he was also looking fantastic in the new Maison Chateau Rouge collab with Jordan, and chatted casually about his latest drop and first trip to Paris. Young, fresh, and friendly, I wasn't going to tell him that he can add up-and-coming style icon to his list of traits because that would just make him shy, but I'm telling you now that the guy is très chic.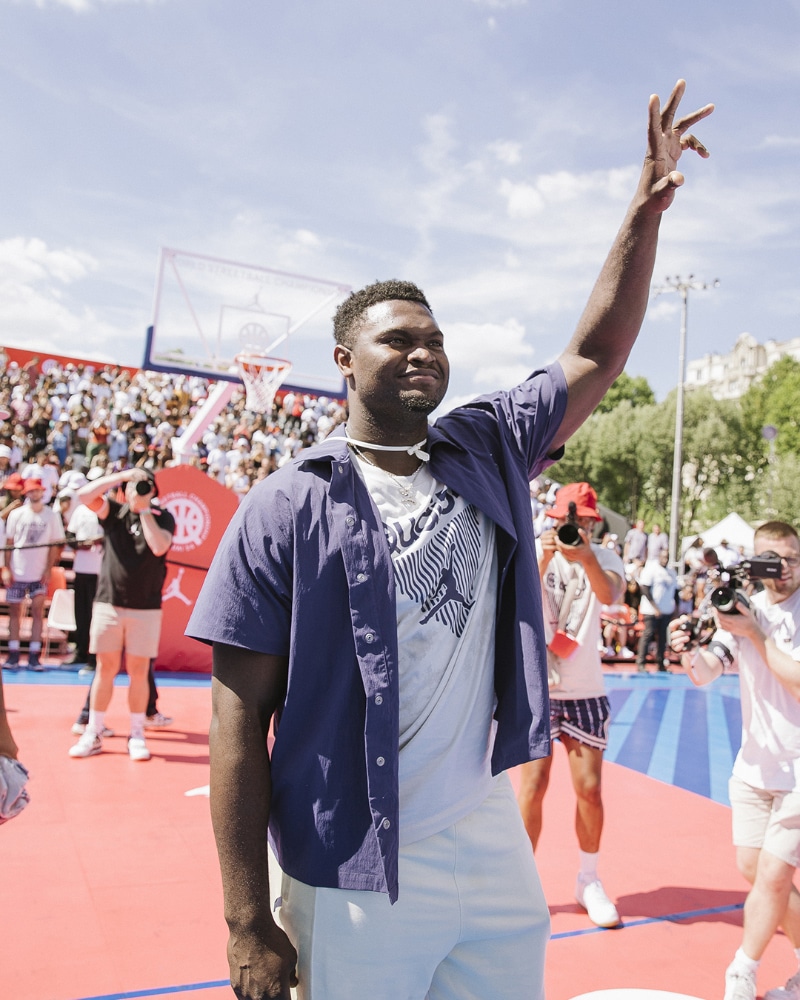 You are part of the Jordan family, and that wider family is the Quai54 community. Here you are, making the 17th edition in Paris catching the high-flying dunk contest. How did you find the tournament and event? Did anything stand out for you?
The dunk contest was a big moment. This is my first time in Paris, so the whole setup with the Quai54 decor under the Eiffel Tower, just there in the background, was a beautiful scenery. The energy was hot, the fans were cool, it was a great day.
Everyone here is so excited to have you in town. How does it feel to resonate with your fans here in France?
It's crazy to me that people here know who I am. It's been a great experience.
Also, your Jordan Zion 2 just dropped with two different Voodoo and Hope Diamond. Yesterday we spoke with Martin Lotti (VP Design/ Jordan) about the art and science behind the shoe. From your perspective what was the most important thing for Jordan to nail?
From the 1 to the 2, the technology is at the next level. I don't know how they did it, but they adjusted it to my game. The 2 is more locked in, also flexible enough for all my movements while still having the strength. I mean, I would sound like a third-grader trying to explain the science behind it.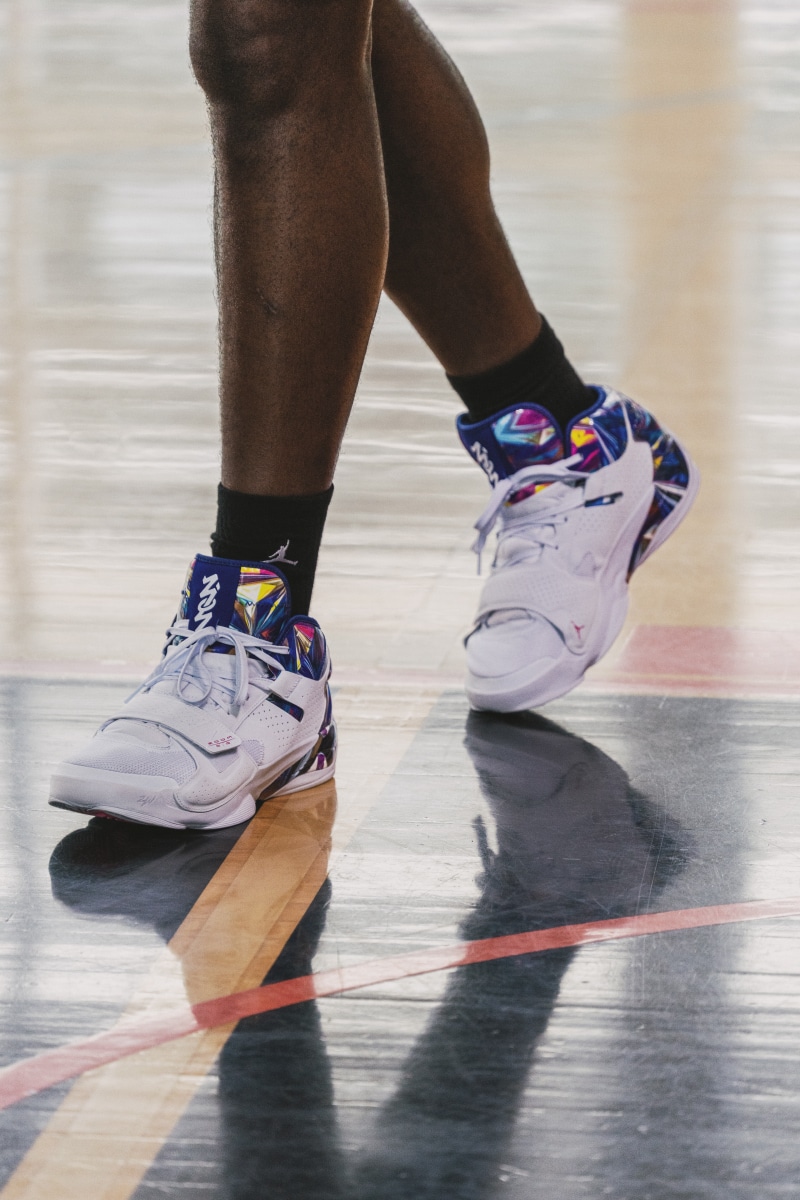 That is why I asked you, hoping that it would be easier for me to understand! Martin was explaining it to us, and honestly, the technology went over my head, but what I loved was the 90s vibe with the footstraps, the classic Zoom Air type, and it was still incredibly lightweight and comfortable.
It is a lot to explain, but they did an amazing job!
I know you are from South Carolina but wanted to pay homage to New Orleans, Louisiana. How was it working with Kesley Amy (Senior color) on the colorways and the creative process?
For me, the creative process was the best part. They asked me questions about what I liked, and what inspired me to start the dialogue and Kelsey was on it. After one conversation, she was taking notes on it, something I wouldn't even think of, and then come back with a colorway that was on fire that I loved. It was a great process!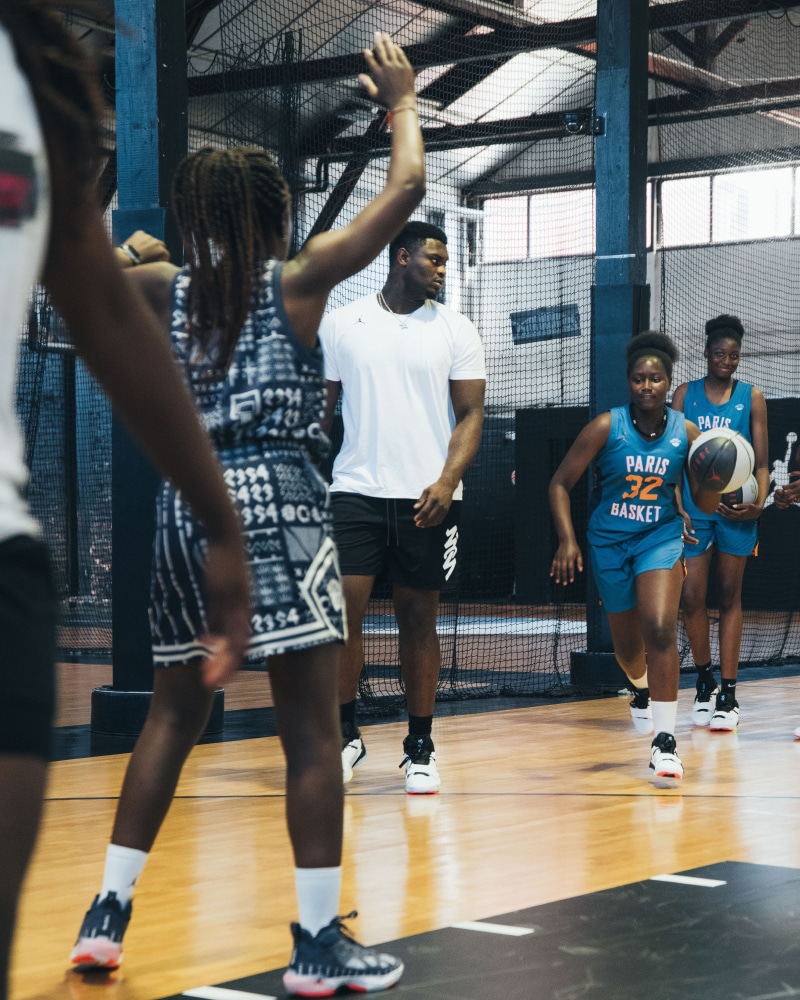 Let's go back to the beginning! Growing up, what was your first pair of Jordans?
First pair?! I want to say Cool Grey 11s….
And today, off-court, what's your favorite?
The 6s!
You just dropped Zion2 Voodoo and Hope Diamond colorways, so we need to talk about your fashion game. We are coming from Quai54, which for us, is literally like an unofficial basketball fashion show taking place between dunk contests and matches. How would you describe your style?
My style is all about being cozy and comfort, but with the Zion 2 collection, I'm going for more upbeat, loud. With my shoe, maybe I'm being biased, but you can wear them with anything! Even with a suit!
The last day of Quai54 coincides with the WNBA All-Star Game in the states. So as a fan, for my last question, I have to ask do you follow any teams or players?
I follow a few players. Biased again, I follow a lot of Jordan brand players. I follow A'Ja Wilson a lot, she's from South Carolina. I don't follow one particular team but the team I watch the most is the Las Vegas Aces.
I'm biased too, was hoping to hear Seattle Storm! Hehehe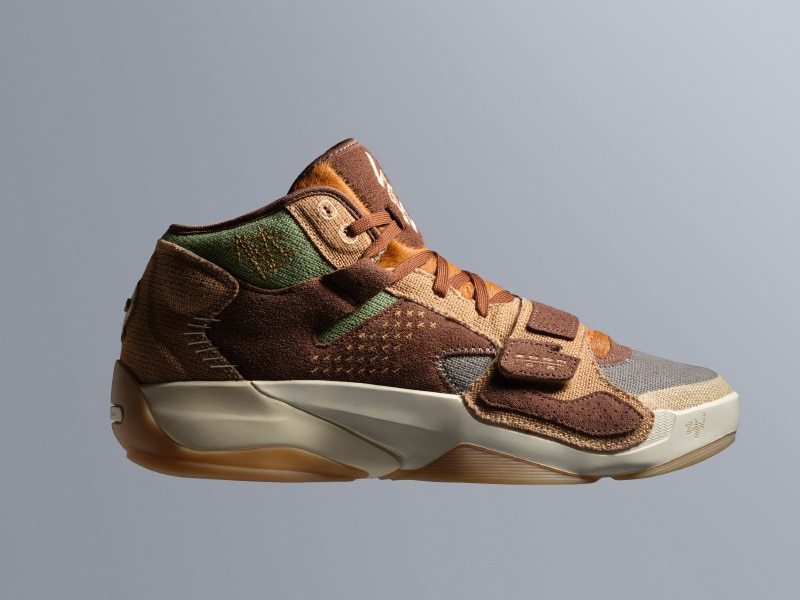 Zion Williamson in Paris captured by Jérémy Josselin
Zion 2 Hope Diamond and Voodoo out now on nike.com