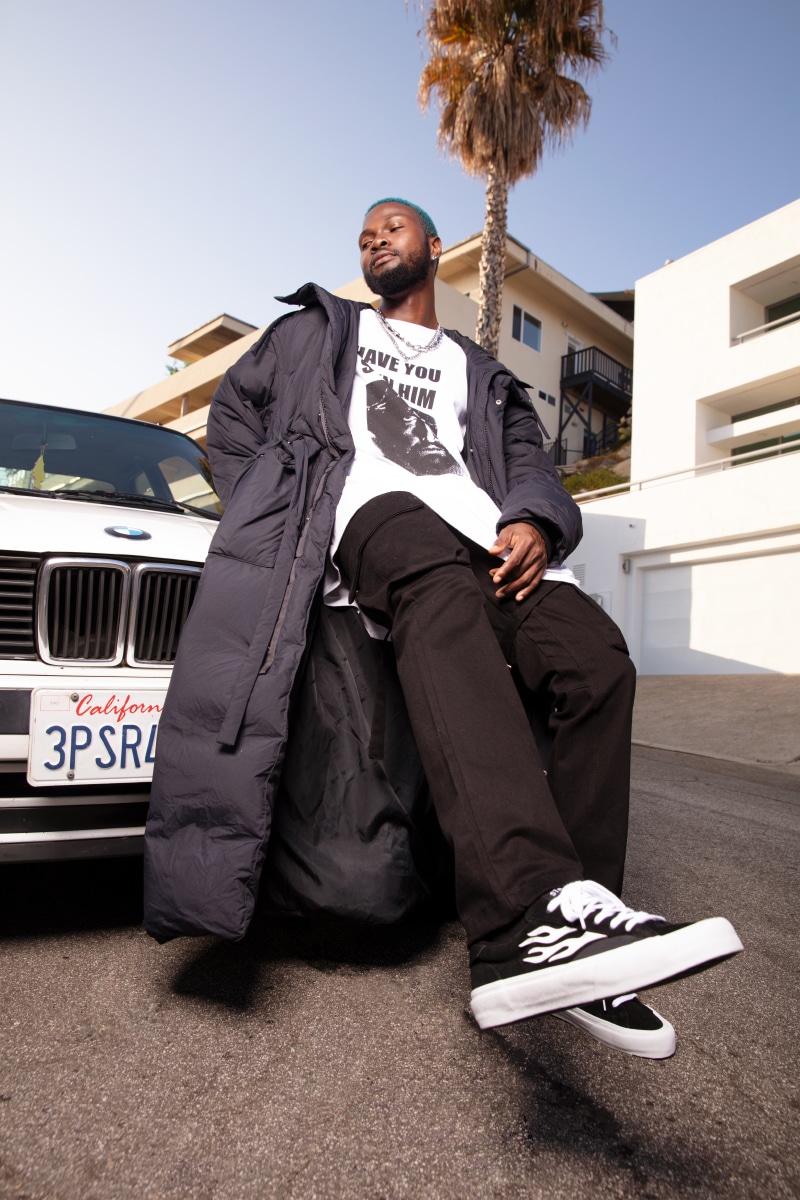 There's been an eruption of West African culture in recent years and along with fashion, Nigeria has been hot on the scene with a new-gen breaking afrobeat out in the overseas market. 
In walks WurLD, he is far from new on the scene as he has written songs for the likes of Chris Brown, BOB, Akon, and more. But his first single "Beyond Our Dreams" in 2012 has been something of a long simmer, keeping him as the best kept afrobeats secret with soul while the genre grows in popularity abroad. In 2019, WurlD dropped the critically acclaimed collaborative project "ILGWT" with award winning Nigerian producer, SARZ.
Like the name of his new single dropping "STAMINA", WurlD has made his mark as a writer and is now coming into his own as an artist. We caught up with him in Los Angeles sporting Vitaly chains with Sid Rane behind the lens and caught up for a  chat leading up to the drop of his latest video for his single "SPUNK". Get ready because WurlD is ready to take on the WORLD.
Before we talk about your upcoming projects, we want a chance to get to know you better! You were born in Lagos and relocated to Atlanta, what lines can you draw between the two cities?
Lagos is raw, intense, beautiful and filled with some of the most ambitious people you'll ever meet in the WurlD. Atlanta is calm, gritty, slow but you'll find black excellence there. I'm an instrument of these two beautiful cities. 
Could you tell us about growing up in Lagos, what memories do you have?
Growing up in Lagos was the best thing that happened to me. Learning my African heritage and culture first before any other culture really shaped me and keeps me grounded till today. I always have childhood flashbacks of my mom carrying me on her back through the Markets of Mushin, Lagos where she traded back then to make ends meet. Priceless ?
What did you listen to in your childhood?
I listened to mostly Afrobeats and Fújì songs my parents played like Shina Peters, King Sunny Ade, Fela Kuti and likes. 
I had to look up Fújì because honestly, I didn't know this genre, so thank you for the great find!
Your fans have been eagerly awaiting your upcoming album, and there will be many people discovering you for the first time. What themes and or stories against soundscapes will you be exploring?
Everything from RnB to HipHop with Afro-Fusion vibrations. This is my best work yet. The conversations in the songs will show how flawed I am just like everyone else. Simply human.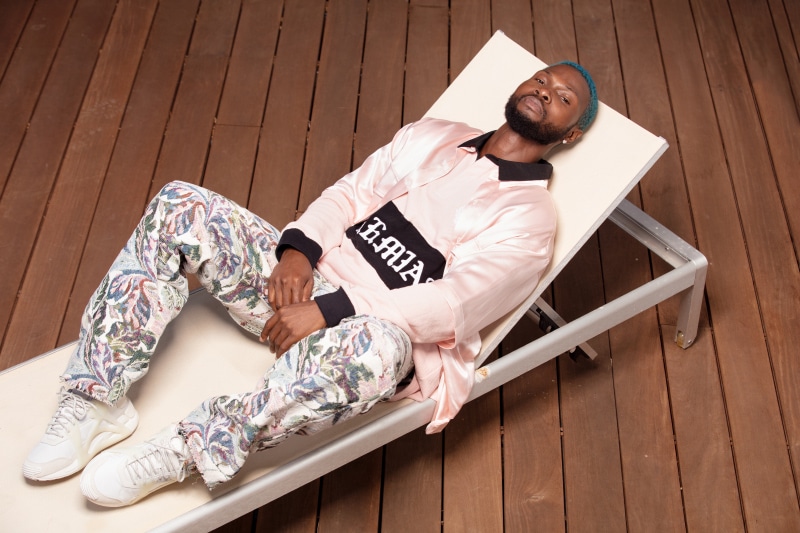 What has been your main inspiration? 
Family, people, places and experiences. 
Was working on new music a form of escapism this past year? 
Music is a form of escape for me every day, to be honest. I'm currently immersed in it as we speak. 
Any particular collaborators we can look forward to with the new album? 
You'll have to wait and see!
If there was one track of yours that you would want to linger for centuries, what would it be?
"Show You Off"
Summer is here and do you have plans to tour, how it is going? 
I'm mostly doing spot dates for now as I finish the album. My Debut WurlD Tour will commence in Spring of 2022.
Many of us are retiring our tracksuits and pajamas that we lived in this past year. Going forward, how would you describe your style and what role does fashion play for you as a musician? 
I describe my style as simple, free and effortless. Fashion is a key part of my everyday life regardless of where I am and/or what I'm doing. 
Any favorite designers?
Prada, Dries Van Noten, Dior, Louis Vuitton, Alexander McQueen, Gucci, Vizuvlgvds, KymTokyo.
What does Fucking Young mean to you, especially now as we have entered this decade? 
It means living only by rules you've created on your own. 
Before we disconnect, what's next?
Stay Alive, better days are NOW!!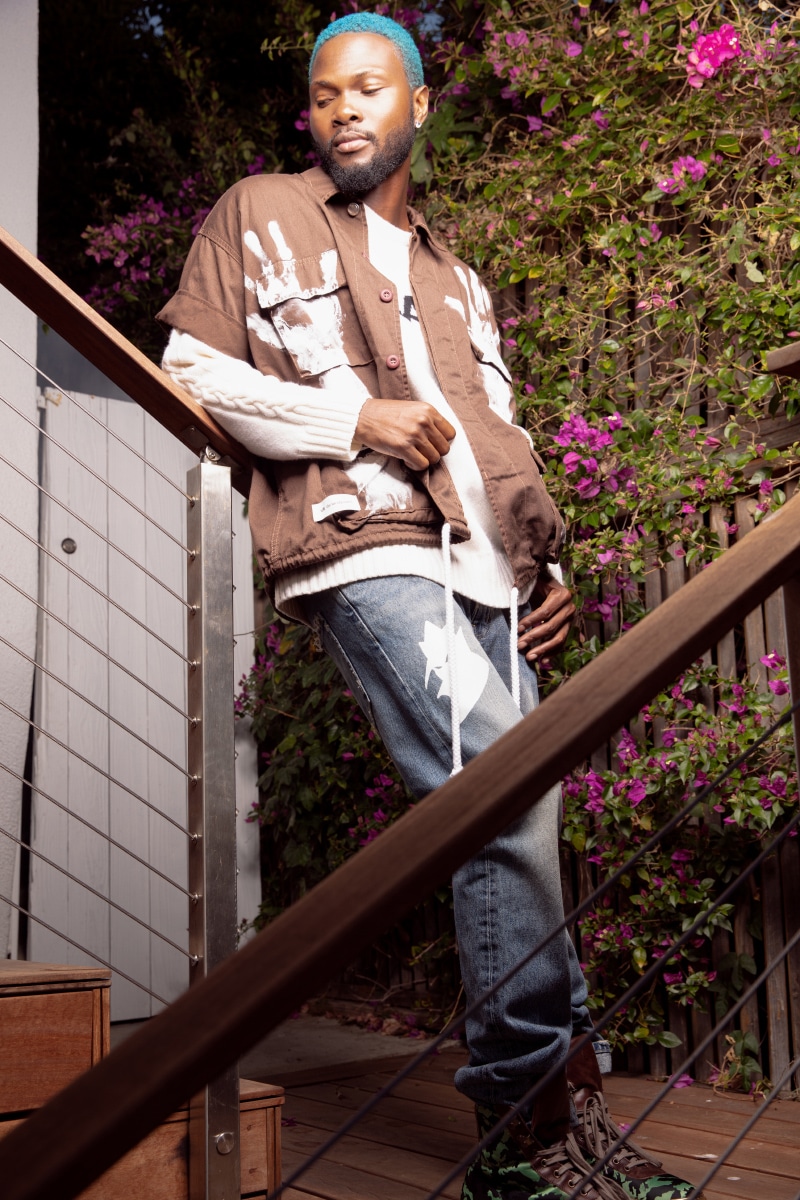 Listen to 2 PACK Single release "MWWU" with "SPUNK" and "STAMNIA"
Photo Credits:
Talent: WurlD @thisiswurld
Photographer: Sid Rane @sidranephoto
Stylist: Ali Mullin @alimullin
Brands: Alexanders by Darius, Basketcase, Braydon Alexander, Diesel, Flaneur Homme, Li-Ning, The Incorporated, The Straye, Vitaly.
Many thanks Quinn Little of Cabine Creative @cabine_creative