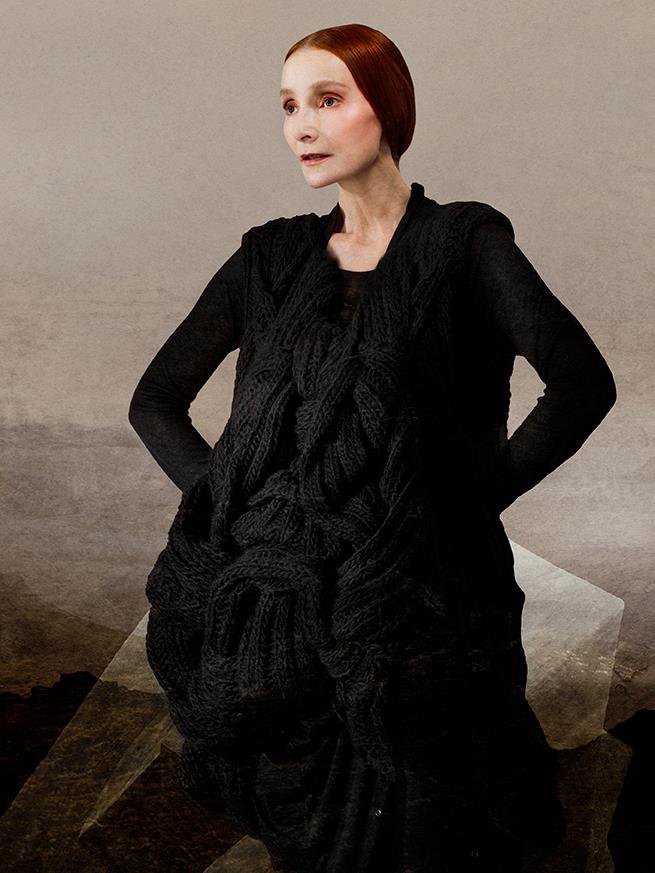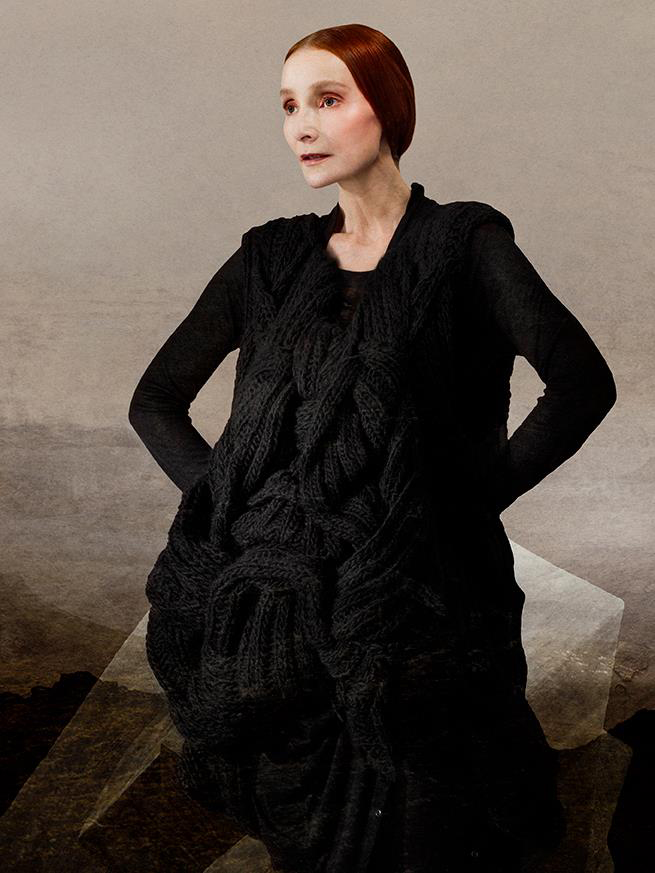 I can't open my eyes. A dazzling light wraps and blinds me. It's warm and glacial together. I feel strangely free. The light is charging a creative power, it's exciting. It speaks with me. It tells me a story of fashion and art, tradition and innovation. A story with a northern European charm… The unusual fairy-tale of a modern Hans Christian Andersen, that of BARBARA I GONGINI.
Born in the enchanting Faroe Islands, Barbara graduated in 1996 from Denmark's School of Design at the Institute of Unica Design. Ever since, she has developed her vision as part of a pensive dialogue between design, form and function. In 2005 she founds the brand of the same name that achieves an immediate success. Her collections present a different take on Nordic garments, derived from a conceptual approach towards fashion design. The specific construction is aimed at crafting garments eloquently suitable for both men and women. Structural forms are challenged and experimental pattern-making shape a solemn backdrop for contemporary tailoring. Her clothes are versatile, irreverent, with geometric cuts. The design process is comprised of artistically responsible exercises with a particular focus on sustainability. Hers is a timeless fashion. Designed for the youth of today and tomorrow. A fashion that looks at that future that is already being.
Fucking Young! – Hello Barbara? How are you? In your website we can read: "BARBARA I GONGINI is a Faroese brand". In fact, you were born in the  fairytale Faroe Islands, suspended in an almost timeless dimension. How did you get into fashion? And what is there of the place where you were born and raised in your collection?
BARBARA I GONGINI – Hi Fucking Young! Wow, how I envy that expression (smiling). I am doing fantastic, thank you. Well, as far as I can remember I have always had a special relationship with design and architecture. My Nordic heritage has indeed influenced my design DNA, which is mostly visible in the multi-functional and layering aspect of the garments – the harsh climate changes in the Northern Atlantic calls for swift dressing up or dressing down and I have put this concept into my garments.
FY! – Your design process is comprised of artistically responsible exercises with a particular focus on sustainability. Today, how important is this aspect in the fashion industry? And how important is it for Barbara?
BIG – Sustainability can be coined from different aspects. There is a need to take action towards global responsiveness and even if our product is not 100% sustainable and probably it will never be for factual reasons, we put a lot of ability and manpower for creating a product rich on longevity and multi-functionality, designs that can be revived for years to come. Personally, this subject is indeed a valid point for me, and a focal point in our design DNA.
FY! – Sustainability and innovation as well. Your collections present a different take on Nordic garments, derived from a conceptual approach towards fashion design. Structural forms are challenged and experimental pattern-making shape a solemn backdrop for contemporary tailoring. What can currently be defined as innovative or avant-garde?
BIG – Avant-garde by definition refers to novelty. Novelty is thus interpretative and subjective. It changes with the beholder. I like to challenge the concept of novelty and push the boundaries into other areas; recycle ideas into new creations as well as allow our customers to have the possibility to choose among our designs, that are timeless. I think such things represent an important and very current matter in today´s global economy.
FY! – Your garments are unisex. What are the advantages of creating collections suitable for both men and women and what the difficulties?
BIG – Unisex was indeed the starting force when the brand was born. It has thus evolved and progressed throughout the years, as a natural element of each organic evolution. I like to make our customers feel comfortable in their choice of our designs – whether being a female or a male garment. Anyway I think it is important to be also able to create an exclusive line catered solely to men or women, for pure functional reasoning. Therefore MAN and WOMAN are two collections, that have developed individually, but can co-exist intelligently.
FY! –  In 1996 you graduate at the prestigious Denmark's School of Design at the Institute of Unica Design, temple of the North European fashion. Your cool fashion, almost street but clean and simple at the same time is also able to conquer the squares of London, Paris and Milan. How did you manage to combine the typically Danish minimal style with that search for originality required by international markets?
BIG – From a commercial driven perspective,  my main priority has always been that of making my ambassadors – as I like to call all of my dear wearers –  satisfied about the final result. It is always a challenge to morph expressive novelty with minimalistic intricacies. Having said that, I am motivated by staying true to my voice and by sending my message through our designs. I believe that my conviction thereof has allowed me to arrive at the today´s position.
FY! – We have just said your garments are cool and contemporary. They embrace Nordic high-end craftsmanship irreverently… But with an adjective, Barbara, How would you define your style?
BIG – Un-compromised.
FY! – Among the models of today, who could best represent the brand BARBARA I GONGINI? And which is the imaginary set where you would like him to be shot?
BIG – I thrive on inter-personal energy. I can imagine a strong masculine character whose wisdom has granted him the freedom of un-compromised life. A man with principles and a subtle devotion for the arts who is poetic, even if his sensitivity should not be perceived as un-daring. The visual arena for the shoot would only serve as a complement to him and as a canvas for the design to interplay with the set mood.
FY! – Let's speak about your F/W 2014-15 Collection introduced in Copenhagen on the occasion of the Fashion Week. As usual, you have included strong geometric cuts and soft ovoid silhouettes, focusing on the versatility of traditional tailoring. Do you want to tell us about? What's the name?
BIG – I do not name my collections. They are a part of a never-ending story, which allows me to turn the chapter that I previously left. It's like that the idea of the numerical order for my collections was born. The numerical concept is also rooted in the fact that our designs are not seasonally or trendy per se. They instead entail the concept of longevity and you may rekindle any of our designs in the years to come– this focus is based on our ward robing concept and this idea I am very passionate about.
FY! – The garment of this collection that you prefer and the one that cannot absolutely miss in your wardrobe?
BIG – We work with a broad wardrobing concept as part of our sustainability principle, which actually allows one to choose any of the possible clothing options to best suit personal preferences. We also focus on a technically composed durability of the garment to be worn years ahead. I would personally vouch for a strong outerwear piece and statement accessory – and you are ready to discover the world.
FY! – We know you are an active participant in the Nordic art discourse, working interdisciplinary in close collaboration with various artists in film, music and photography. How does all this affect your creative process? Is there a painting, a movie or a photo that best tells of your personality?
BIG – Creative exchanges do spin-off neoteric approaches in my orbit. In several instances, such intricate notions of fresh impulses are played out in a Meta sphere, in a subconscious state of mind, that later manifests itself in some shape and character in my tangible creations. We are all complex and multi-faceted beings, so it makes it close to impossible for me to think about a single example of visual production that would best describe my persona.
FY! – If you were not a designer?
BIG – Craftsmanship is such a force of nature to my being, so I find it hard to visualize an alternative motive. But I do have an interest in politics and a strong stance in human equality related matters, thus a space I could dabble my convictions in…(suggestive smile)
FY! – What is really FUCKING YOUNG according to you?
BIG – A bold individual. Relieved from compromise. Not bound by societal order, sex or age oriented worldly pressures.  F.Y! is free spirit.
Thanks a lot!
Photo by 
Cooper & Gorfer
.