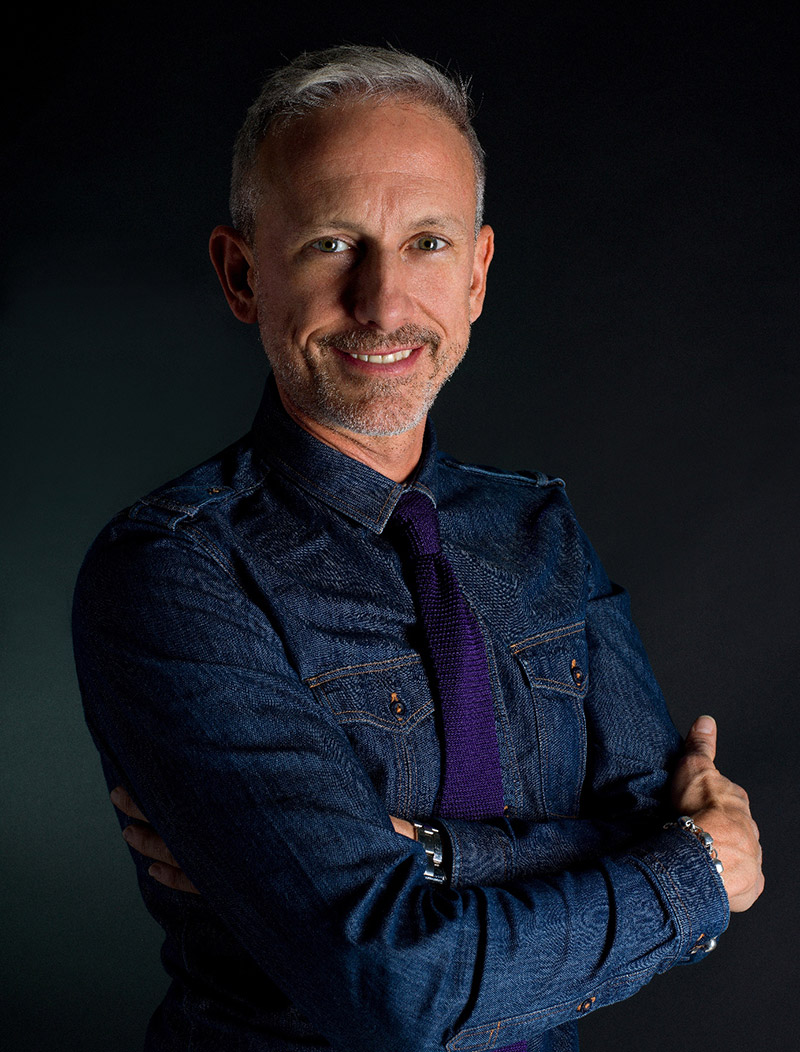 "Tell me what you fear, I'll show you what to do. We don't do sincere, everything taboo",  the unleashed protagonists of Taboo – the musical written and directed by Boy George – sing out loud. To inspire it the nightclub of the same name symbol of the '80s and its eccentric creator, Leigh Bowery. To act up on that dance-floor there were John Galliano, Vivienne Westwood and the star of our interview, Patrick Cox.
Acclaimed designer today, young student then. Patrick leaves Canada at the age of twenty going along with his passion for fashion and footwear. He moves to the British capital whose he appreciates the avant-garde ferment. He enrolled at the Cordwainer's Technical College without giving up parties. It is during one of those crazy Londoners nights that he meets Vivienne and John, at the time emerging designers.
The queen of the punk asked him to design the "Clint Eastwood" shoe for the F/W Collection to be presented in Paris. It is 1993. Instead, he works together with the enfant terrible at the creation of "Fallen Angels" and he is on his side for seven seasons.
Original, accurate, bold… Patrick is ready to take off. He launches his line of shoes, "Wannabe": a success. He wins the coveted British Fashion Awards as Accessory Designer of the Year for two consecutive years. In 2003 he becomes Creative Director of the Maison Charles Jourdan. Two years after he moves on.
Since 2012, Patrick works with GEOX – the Italian brand leader in the lifestyle-casual – to create a capsule collection that season after season is able to gain the attention of both the experts and the public.
For the 2014-15 F/W decides to get inspired by his rainy London, by a man, he himself, with his dogs around the streets of Soho… We'd like to be him!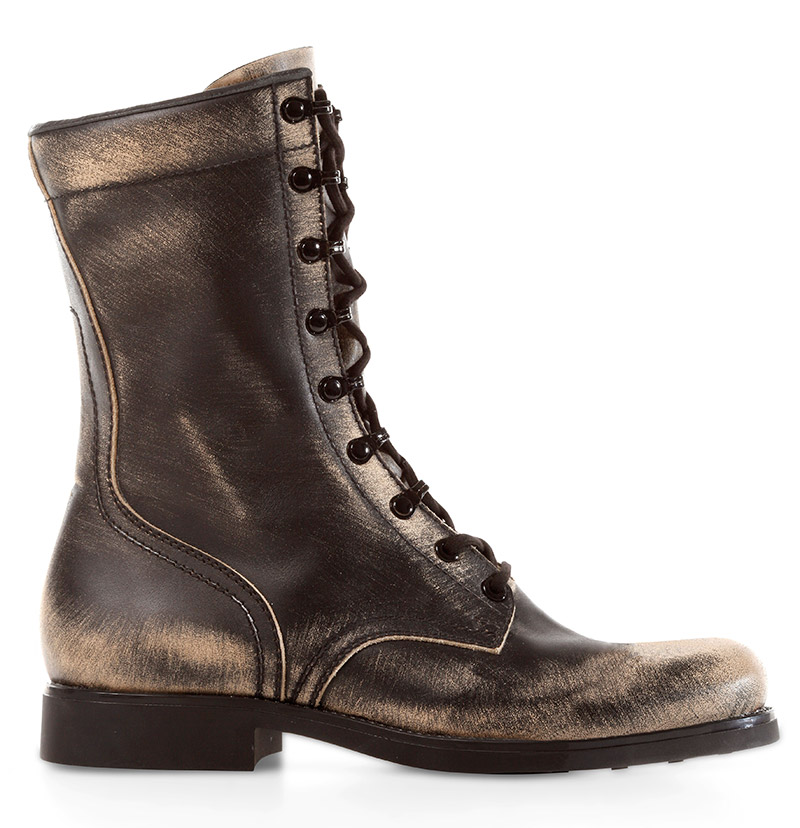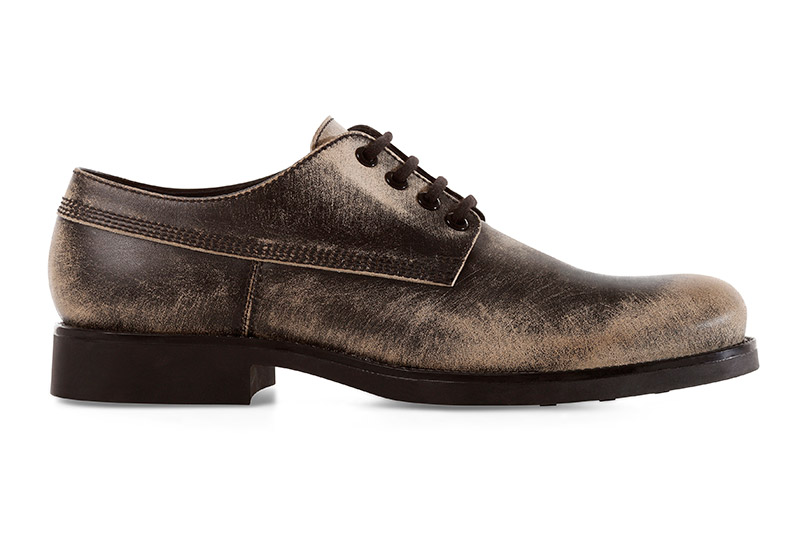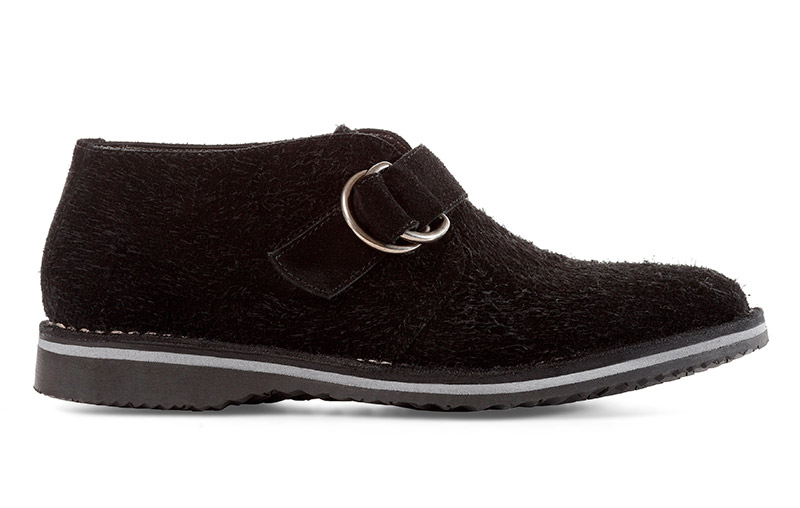 Fucking Young! – Hello Patrick! How are you? When and how was your passion for fashion born?
Patrick Cox – I first became aware of fashion as a teenager in the 1970's while watching tv shows like Charlie's Angels and watching people disco dance on shows like Soul Train and |American Bandstand. I watched A LOT OF tv! Coming from the middle of nowhere in western Canada, it was my link with the bigger badder world.
FY! – Yours is an absolutely unconventional approach…. When can an item be considered in the vanguard? 
PC – I just do what I do. I never set out to do something avant-garde. I follow my own agenda, develop my own tastes and indulge my own obsessions. I think that's the point of being a designer. I am the sample size and all the men's shoes are tried on by me… I am really just dressing myself all day!
FY! – Over the years you have more and more focused on the creation of the "accessories"… Which is the one can't lack  in your wardrobe? 
PC – I am currently having a lot of fun designing sneakers. I have never been a shoe snob and always liked them but now, working with GEOX, I have access to great technology so I now don't only have a sneaker that looks good but one that performs as well. Sneakers are modern, urban and democratic.
FY! – Leather is the fabric that better seems to tell your story… you design, mold, turn it into something original… What does this fabric represent and what has it represented in your career as a designer? 
PC – Shoes and leather are inseparable. Shoes should not only look good, fresh, out of the box but should also age and improve with time and wearing. They mould to your foot and a good leather should improve with age.
FY! –  If I say Vivienne Westwood and John Galliano, what can you tell me? 
PC – Vivienne was my goddess/my inspiration. She was half the reason I moved to London and my first job in London (working in her Worlds End shop). She was my first design job too – way back in spring 1984 – working on the shoes for her March Paris "Clint Eastwood" show of that year. She is amazing and gave me my first break. John represents an amazing part of my youth. I worked with him for 7 seasons starting from F/W 1985. He is so creative and the vibe at his showroom was amazing with 80's London legends like Leigh Bowery popping in. We had a blast clubbing at Taboo and working together.
FY! – Over the years a lot of eventful days followed one another… Certainly staticness is not for you! You create your own brand, win twice the British Fashion Awards as the best Accessory Designer, become Creative Director for Charles Jourdan. What about your best moment? Are you still waiting for it? 
PC – Wow, what was my best moment? That's a tough one. Winning awards is fun but ultimately stressful on the night! I loved every one of my shop openings around the world- travelling and meeting new people feeds me. A super exciting moment was when we sold our millionth pair of Wannabe loafers… that period in the late 90's was just so exciting and adrenaline filled.
FY! – Let's speak about your collaboration with GEOX… When and how did the idea come?
PC – GEOX contacted me two years ago, I had taken a couple of years out from shoe design, but the GEOX project was immediately interesting to me as it offered global reach at democratic prices and was a perfect fit.
FY! – What is the name of the new Capsule Collection? Would you like to tell us about? 
PC – The collection is based on a rainy day in London. Me walking around my hood with my 2 British bulldogs Brutus and Caesar and perhaps venturing into town – Soho or Knightsbrisdge. They are the shoes that I wanna wear for real life in the city. Reinterpreting the essentials in an urban man's wardrobe: the loafer, the sneaker, the running shoe, the desert boot, the military boot.
FY! – Among all, the model that – according to you – best represents Patrick and GEOX as well?
PC – I am thrilled with the worn, lived in looking army boot. These just look so frickin cool and will get BETTER with age. But they are light and comfortable at the same time where a lot of thick robber soled boots can be stiff and heavy. That's the advantage of working with GEOX.
FY! – In an economically "complicated" era as the current one, which is and which should the feature making the average buyer to buy a product?  
PC – The shoes have gotta be cool! Price, fit and quality are important but if the design isn't right, who cares? Nobody NEEDS anything anymore in this crazy fashion world, you have to create desire and seduce the consumer.
FY! – Future projects?
PC – I hope to launch my own eponymous collection again soon. Watch out for news!
Thanks a lot!
www.geox.com
www.patrick-cox.jp