London menswear made its mark again this LC:M with a heady array of high-impact fashion concepts; from scary sea monsters at Alexander McQueen and lurid flower power florals at JW Anderson to Darth Vader masks from Bobby Abley and even baseball jock bum-cracks at Sibling (no joke). For a brief moment we were overwhelmed, but as we got into the swing of things, some real show gems stood out for us among the flurry of fantastical ideas. Here's what caught our attention this time round…
James Long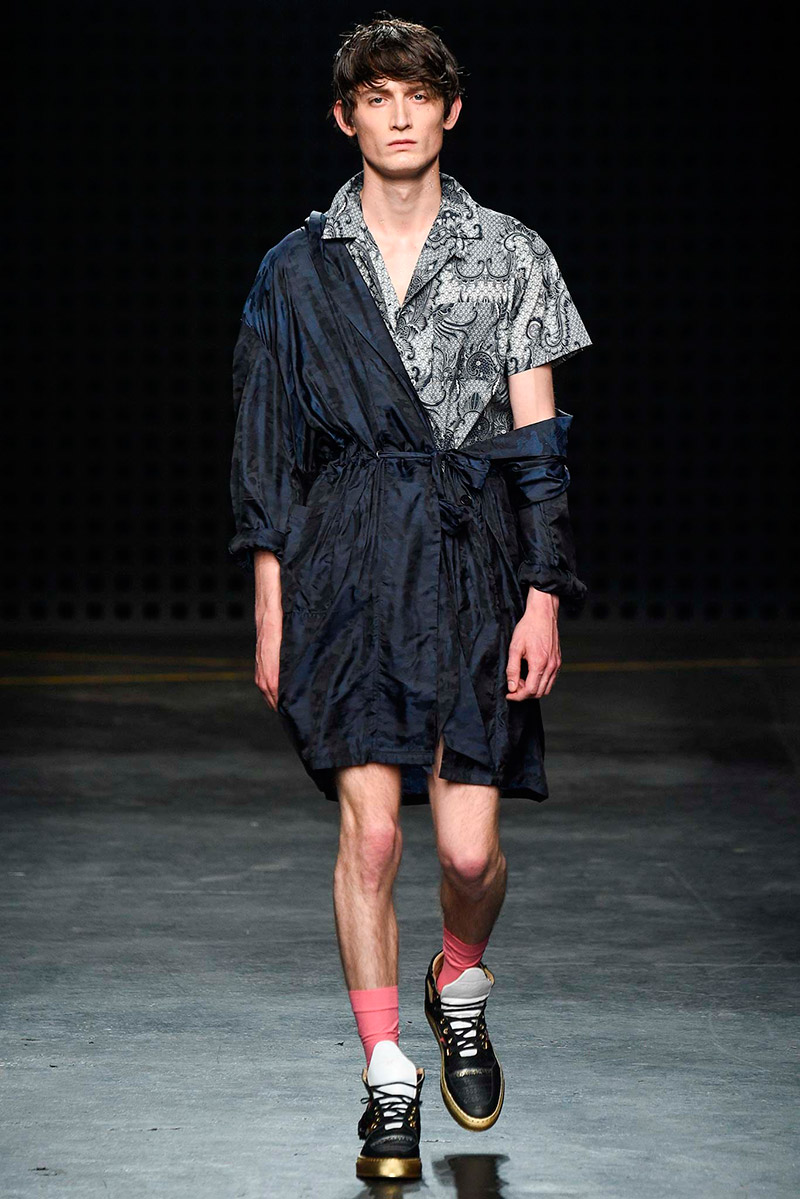 The James Long show took us on a transcendental journey into the heart of hippy hedonism for ss16 with a languid collection of laid-back silhouettes. Baggy bermuda shorts and ripped patchwork jeans were paired with loose-flowing capes, while tie dye shirts and deliberately scruffy knits got us thinking of tripped out, free-spirited travellers lounging in hammocks under the pristine palms of Baga Beach in Goa. Tribal Aztec stripes adorned ethnic-inspired sweaters that were imbued with sun-drenched spice-trail colours, as printed puffer jackets subverted the norm with Mother Nature forest floral motifs. The lounge-around track pants and carefree hoodies of some looks worked to confirm the chilled out vibe that was coming through constantly in Long's consistent use of asymmetric shapes and his defiant use of dishevelled materials. It was as if every piece was nuanced with the type of New Age nonchalance that comes with blasé bohemian backpackers living the simple life among the blissful Keralan backwaters or under a palm tree on a picture-perfect Pondicherry beach. We simply couldn't resist as we fell into a paradise dream that was as spectacular and surreal as the clothing in front of us. It was clear by the end of the show that the hypnotic hippy-trail is definitely relevant again and James Long's beach bums are already walking down it with attitude.
Katie Eary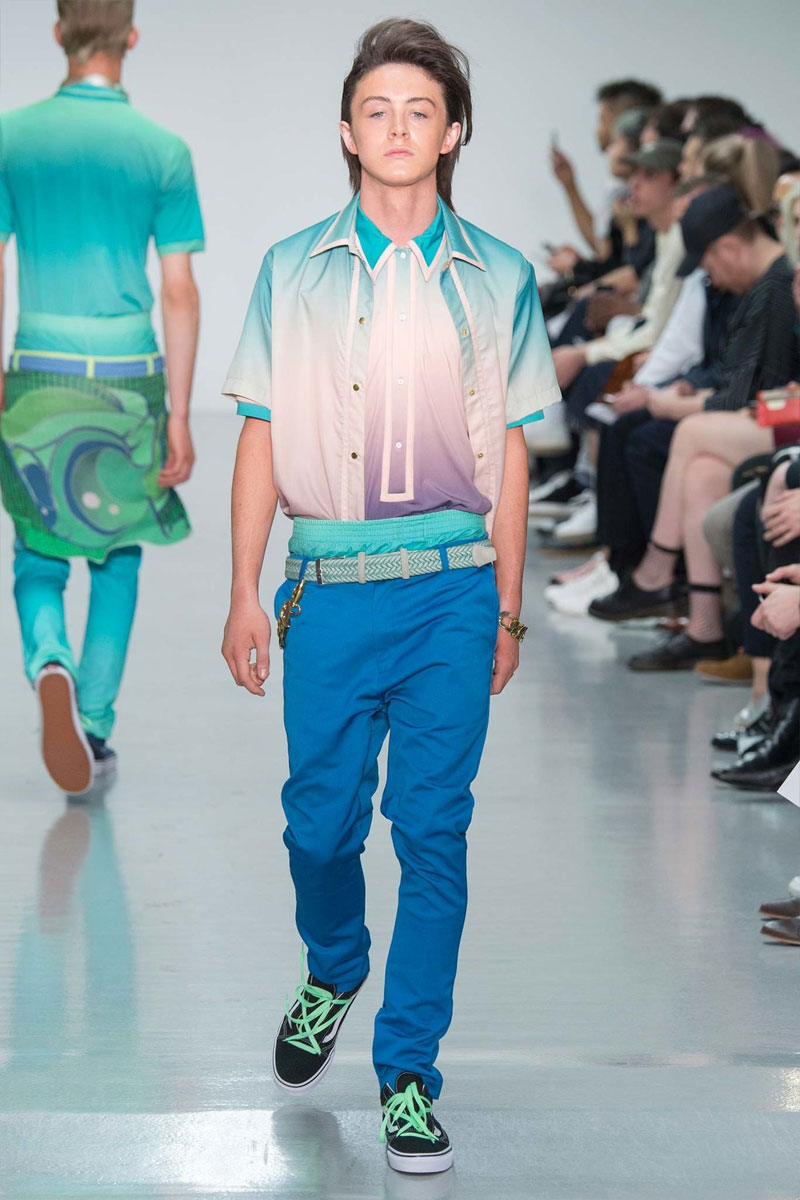 Katie Eary's psychedelic showcase was much more than an attention-grabbing collage of punchy patterns and prints. Beneath the wacky and whimsical visage of candy colourways laid a kaleidoscopic carousel of conflicting concepts which threw fifties preppy panache against seventies disco seduction. Dapper polos shirts were tucked neatly into drainpipe chinos and finished off with retro post-war bomber jackets for a classic fifties feel. But this clean shaven 'Humphrey Bogart' ideal was rapidly flipped on its head as teenage rebel models ravaged the runway in raucous anime patterns amidst glossy satin and silk shirts. These statement pieces were emblazoned with loudly lurid hues that reminded us of the type of tropical tops worn by Elvis Presley in his cinema screen spectacle 'Blue Hawaii.' This vivid tonal shock factor intensified further on closer inspection, as graphic t-shirts were revealed to flaunt cheeky cartoons of My Little Ponies with hugely erect penises! It was clear by this point that the collection was not about the fifties Bogart gentleman at all, but more about the rampant fifties teenager who listened to the rebel rock music of Elvis and disco danced in nauseous 'Night Fever' outfits in order to bag the saucy pin-up girls in their racy little mini-skirts.
Christopher Shannon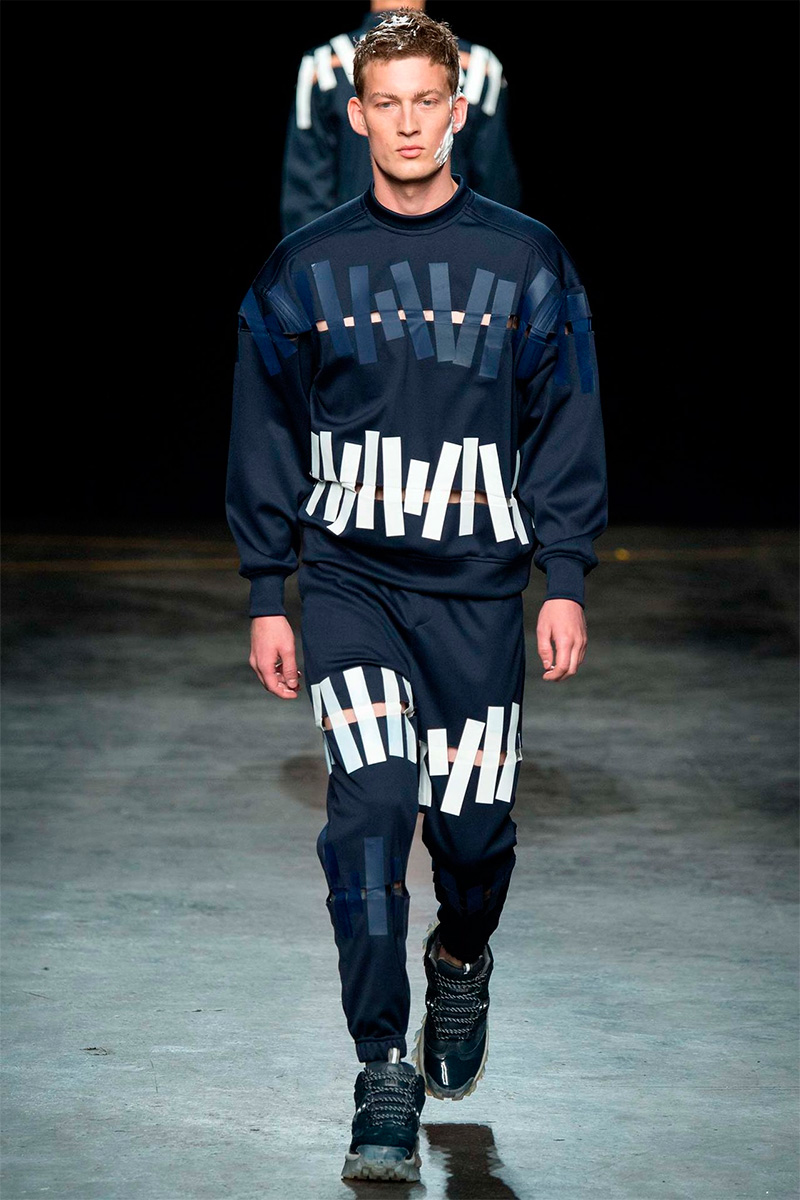 The rebel kids continued their carnage in the Christopher Shannon show as a full-throttle foam party frenzy faced us when rave-wrecked models hit the runway in a trippy mix of trance-ready looks. If was as if the Ibiza club kid crowd had just landed in San Antonio bay ready for a raucous spring break fuelled by sun, sea and sexy girls. Neon nightclub bombers and flashy fluoro tees fused with bubblegum bright striped party shirts to set the manic midnight mood, while trendy trainers, short shorts and sporty foam mesh jackets paved the way for a high-octane, party-hard outlook. This decadent all-night approach translated into sexually charged and provocative clothing which was laden with all the hallmarks of boys behaving badly. Cocky gauge knit tees flashed muscle in a confident and careless way while some models propped up the bar for post-coital cigarettes in suitably graphic Zippo lighter print sweaters. The 'teenage tearaway' undertones were made even more apparent when some of the more rebellious dirty stop-outs were seen leaving the fashion foam party covered in a sweaty foam froth with their conquests' bikini bras wrapped around their chests; for aesthetic effect of course. It was a debauched and drug-fuelled mind-trip with trailblazing stylistic results.
Christopher Raeburn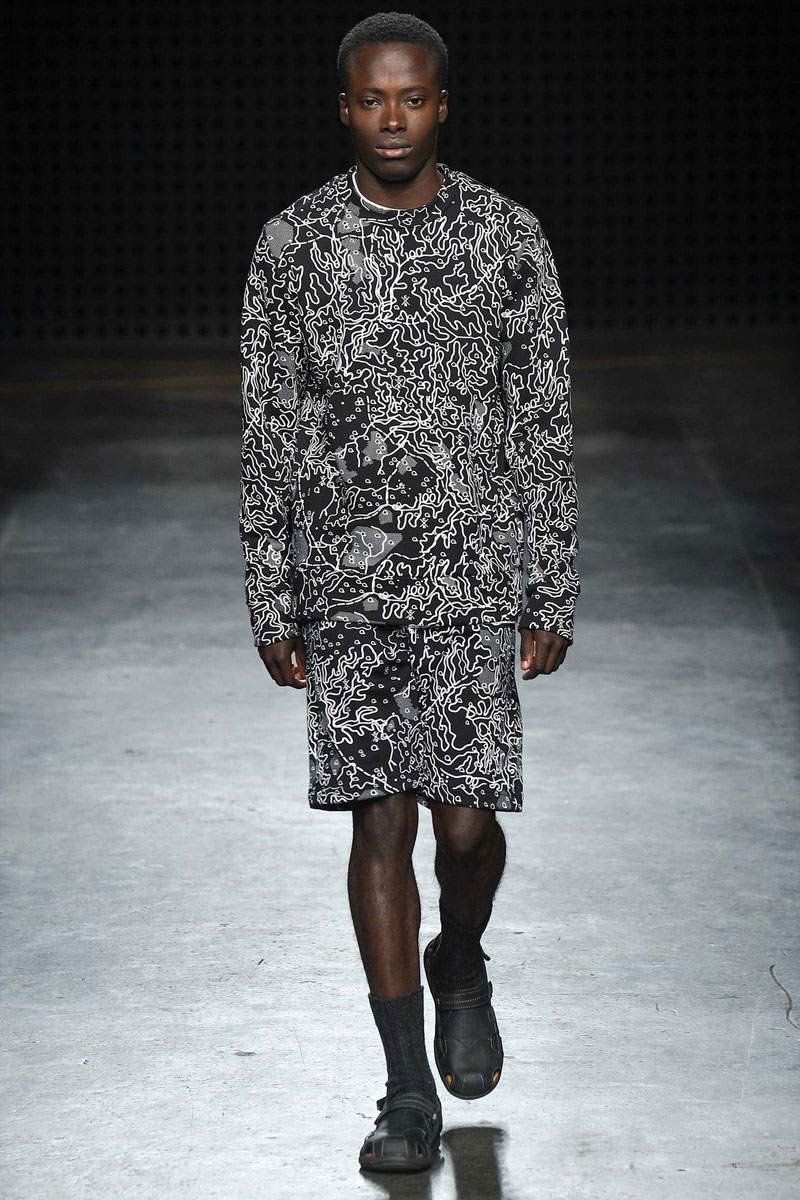 Christopher Raeburn then moved the mood eastwards by embarking on an adventurous expedition into Borneo's rugged rainforests. Equatorial colourways immediately engulfed the exotic collection as palm-tree green shorts and bomber jackets mixed with lychee pink sweat tops and tees for a sultry tropic twist. Then mystic Borneo map prints suddenly appeared in pawpaw orange tones against bright graphic jumpers while some models ventured further into the wilderness with striking woollen sweaters featuring fun prints of playful swinging orangutans. The journey then took a more powerful and provocative passage as high-tech mesh jackets in tree-canopy camouflage prints infused a sense of gritty jungle warfare into some of the more militant looks. Sand-coloured chinos and big travel backpacks added an equally energetic edge to proceedings with a touch of sub- Saharan safari, which was mellowed by a sense of earthly spirituality emanating from the ethnic Amazonian references. Such ideas included the creation of shamanic tribal wrap-skirts, cork pocket vests and the repeated use of earth-friendly recycled materials. It was as if Indiana Jones had ventured into the depths of outback Indonesia for ss16, and we were left totally awe-inspired by this bold new fashion path, which showed a more eclectic side to Raeburn's label.
Xander Zhou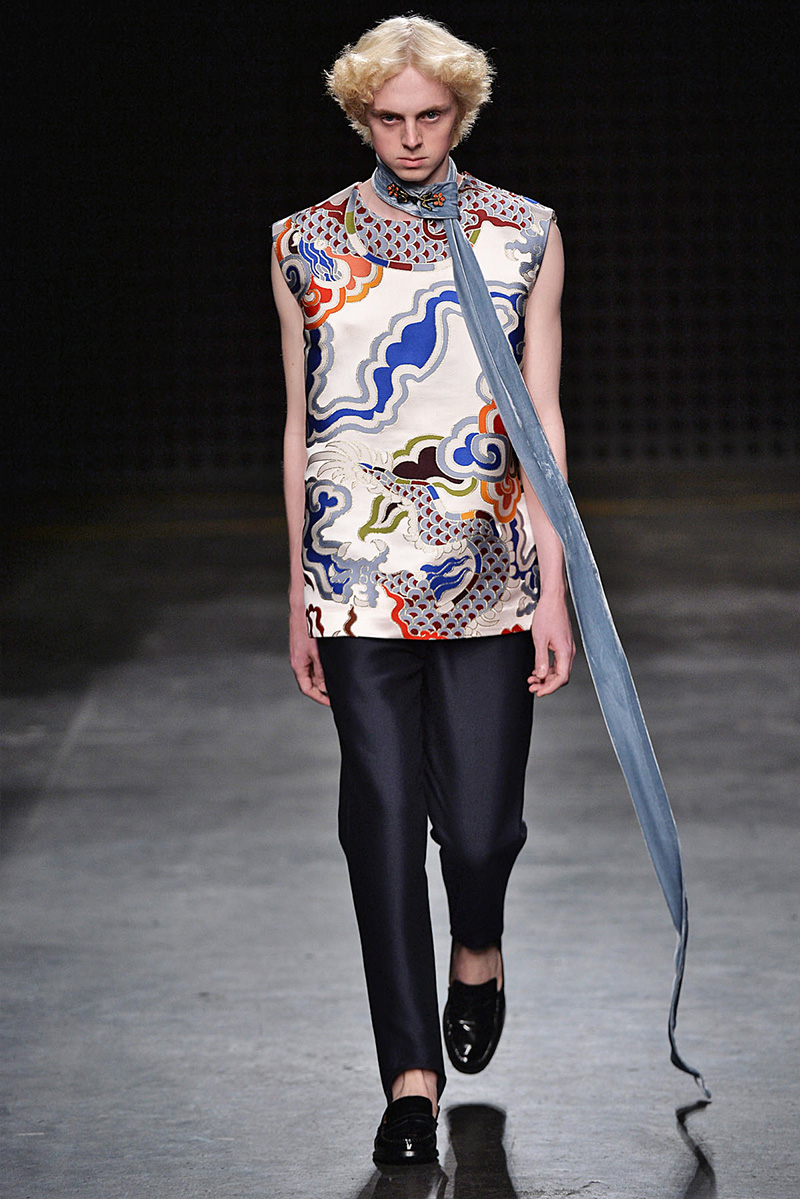 Next up, it was 'Enter the Dragon'; the roaring Chinese dragon to be precise, in all its mystical oriental glory. This was the story at the Xander Zhou show, which threw two opposing worlds together in perfect harmony, like the primeval philosophy of yin versus yang. The essence of the Occident was overt in the abundant references to Americana streetwear and modern British tailoring, which stood as symbols of the modern and the new. Slam-dunk sportswear vests, tech- fabric Ivy League bombers and Texan biker gang leathers captured the soul of USA style while tailored slacks, sharp shirts and classic trenches summed up the alternative sartorial spirit of age-old Savile Row. But the mythology of the East quickly engulfed the collection as Chinese pagoda garden blossoms entangled their way around shirts and jackets as dazzling dragon motifs appeared on shimmering tunics and soft sheen metallic laced trousers. Then Brit deck chair seaside stripes on some of the more relaxed looks were given the Beijing touch too as Cantonese calligraphy symbols wrapped themselves around billowing loose-fit pants. The final looks drove home this native Ming dynasty mood by referring to the loose clothing of Tibetan monks and empire Emperors using sinuous silhouettes and free-flowing floral capes. It was east meets west at its most interesting and arresting.
KTZ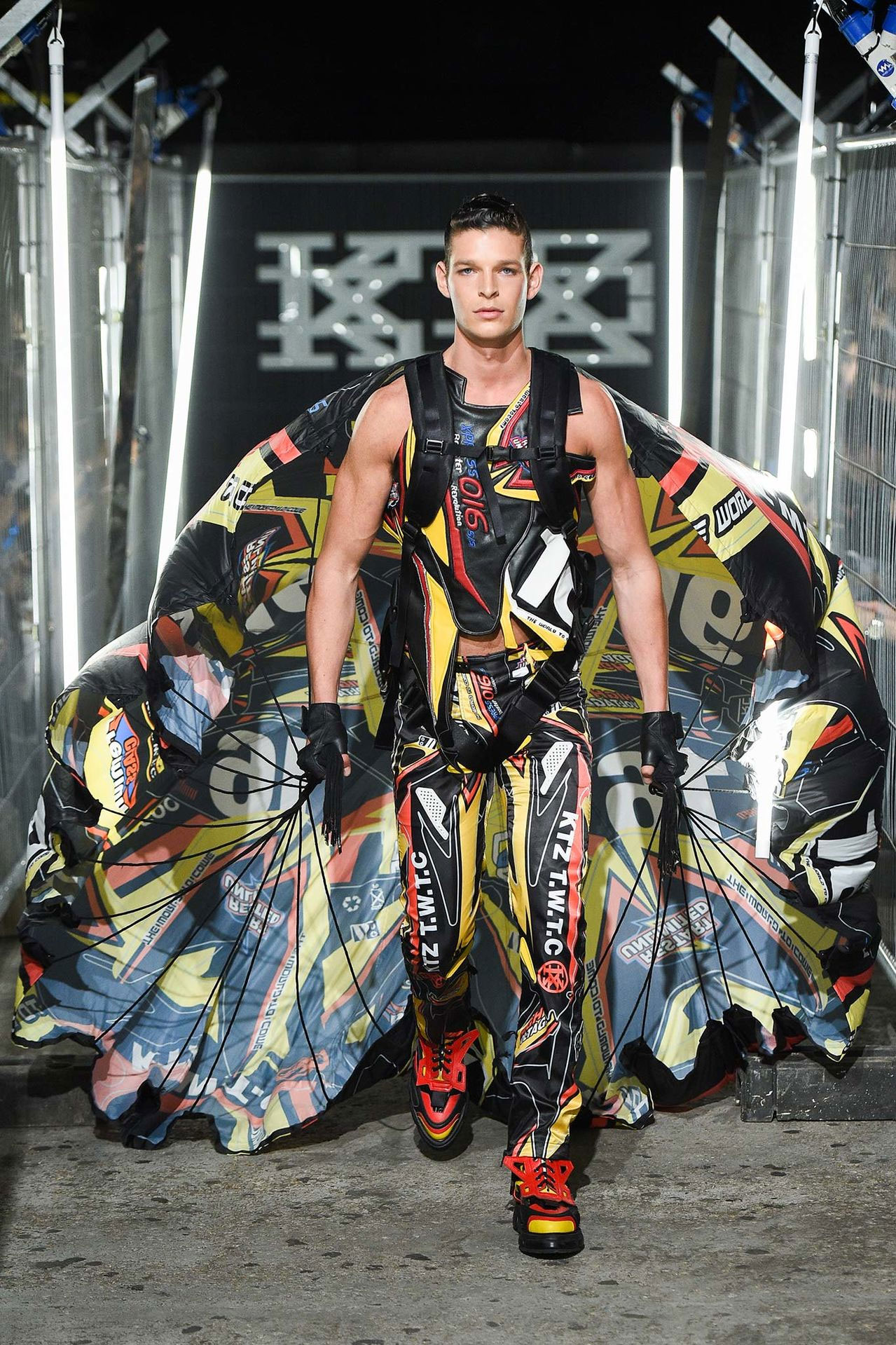 Our final favourite show was from cult brand Kokon to Zai which went back to the future this time round by abandoning the Ancient Greek pottery of ss15 in exchange for bold new fashion frontiers. A futuristic foray of fabrics dominated the space-age ss16 collection which echoed 'Matrix' and 'Fifth Element' influences with translucent plastics, jet black PVCs and starlight metallic materials. Streamlined silhouettes were blocky and angular like the sharp post-modern lines of a Bauhaus building as primary colour blocks and digi-print patterns made looks cutting-edge, advanced and effortlessly modern. Models stormed out onto a runway that was caged-up in metal, giving the show a gritty 'cage-fighter' ambience which was merely compounded by the macho muscle models wearing super short shorts and bicep-busting vests. The masculine mood intensified in the final looks with the motorbike motocross graphics and kaleidoscopic paratrooper capes making a powerful visual impact, just like the modern gladiator styles at the beginning of the show, defined by chunky sandals, leather fight-night gloves and reflective deflective battle gear. Overall, it was a visionary glimpse into a violent future where old fashion rules were being destroyed with defiance in favour of daring and directional new designs.