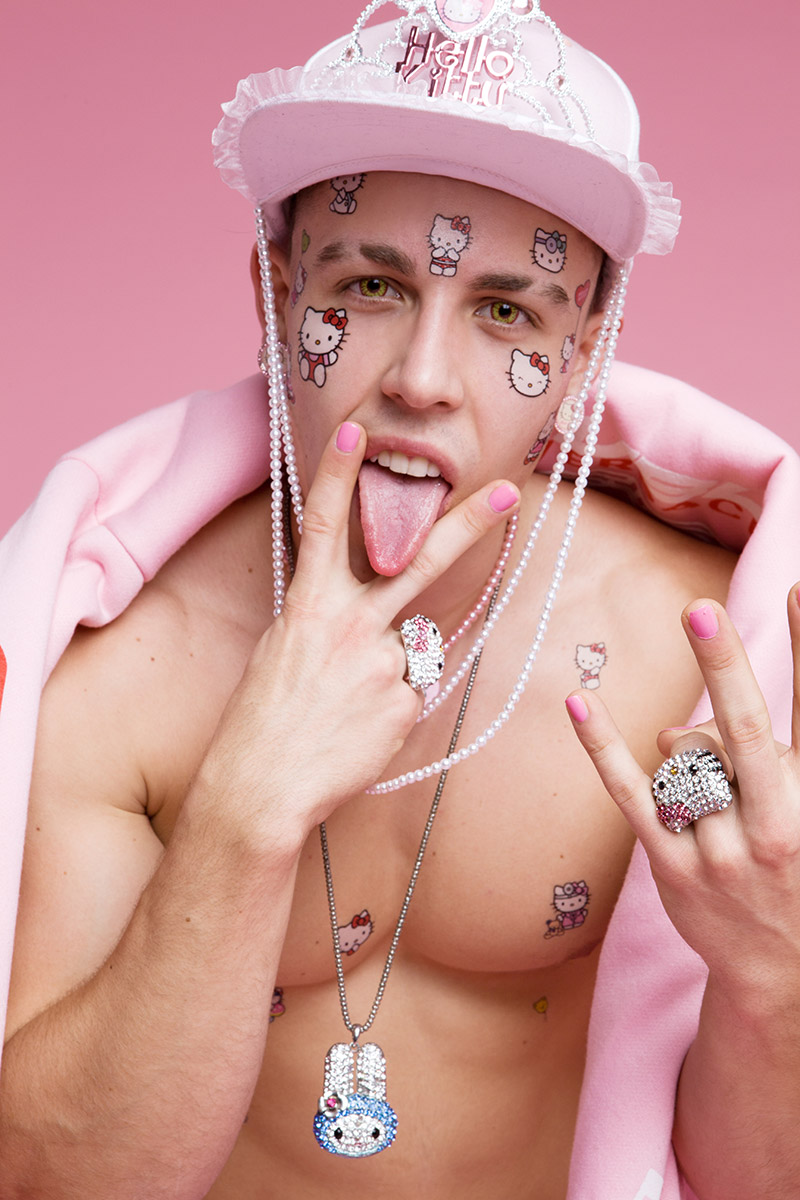 "Not every girl is a Hello Kitty girl. But those who are… are just Happier".
Our guest is certainly not a girl but he's happy, for sure. He's Candy Ken (aka Jakob Kasimir): a 22 years old German rapper and model.
He does not hide his passion for the sugary Japanese kitten. He makes it manifest and moves it on his own skin. He is a big man, all brawn, a Barbies's Ken in his 3.0 version. He has stolen colors and accessories from his "plastic" girlfriend. The teeth are gold, silver, blue… According to his mood.
He is a proud son of the new pop culture, the one exploded all over the East. He becomes a modern manifesto of it: alive, current, provocative.
He's a star with a past as a photographer. A past he leaves because it can't find nothing so interesting to deserve to be captured in one shot. So he chooses to be he himself the ideal subject.
He turns into it for Nicola Formichetti who saves for him the cover of the new Japanese magazine FREE's March issue. Jeremy Scott likes him (couldn't he?) and posts a photo on his Instagram profile. Then it's PAPER's and VMAN's turn.
In parallel his career as a performer hikes. The singles Basic Bitches and RIFF RAFF IS MY DADDY become hits. And while he cherishes the dream to have a duet with his Korean myth Chaelin, he wears a princess crown and makes the scene.
Fucking Young! – Who is Candy Ken and why this name?
Candy Ken – I normally say that Candy Ken is your favorite kind of candy. The name comes from friends from Berlin who called me Ken all the time. I've tried to find the right name for myself and I've found out that Candy Ken was, because it is colorful and about something different from the boring normal candy. It makes you think about something good, candid and virginal.
FY! – You started as a photographer. But, when and why did you decide to be in front of the lens?
CK – I studied photography in Berlin. I've always tried to find a really crazy person like Candy Ken but it was very difficult. There are a lot of people who seem to be pretty but when you meet them you understand they are actually boring. It was last summer, when one day I was looking in the mirror my crazy hair and outfit that I could see the crazy person I was searching for so I decided I should do it myself.
FY! – You're first of all an artist and a performer. So, what is the art for you? How do you think you manage to represent it?
CK – Most of my performances are inspired by the fashion industry and the music one. I can't imagine any music video without fashion. Fashion is a big priority in my musical style and I see music video as a very futuristic form of art.
FY! – Among the modern artists, is there someone that you really appreciate and who inspires you?
CK – At the moment the Korean artists like Chaelin (CL) are inspiring me a lot even because in Korea they are making the craziest music videos. It's really inspiring. In Germany we don't have a lot of creative music videos and the American ones are too commercialized: they are really well-produced and there are really good film-makers but they often propose the same things.
FY! – You're a rapper too. You speak through your music but what is music for you?
CK – I think my music could be even better, I've just started in summer. I've always loved rap and through it I am trying to get my message out, that is that you should believe in yourself and not to be negative to the other people if they are different. You should follow the things that you like and love without caring so much about what the other people think about you. I have chosen rap because I know the singers and I think it's the best way for me to get my message out.
FY! – Your hit Basic Bitches echoes in the radio and disco all over the world. What should a song have to be able to speak to a young audience? What is the secret of your success?
CK – Basic Bitches is about people who tell you: "Don't dress like that!" and think that you look weird. As the ones who bull you at school if you wear pink. It's a little bit aggressive but in a positive way. The message is that you should not care and do whatever you want.
FY! – You show funny Hello Kitty tattoos. She's a contemporary heroin. Why have you chosen her? How much do you love this cat?
CK – I think that Hello Kitty and Candy Ken go very well together. HK is pink and cute and Candy Ken loves the cute things. To combine muscles and HK is perfect because you normally expect it on a girl and I really like to combine things that are not supposed to go together. As for the tattoos, I like to change my style and to be like a chameleon and my tattoos represent my different wants.
FY! – Hello Kitty on your face but golden teeth, colored eyebrows and contact lenses too. You are the incarnation of a new beauty: crazy, unconventional. How would you define your style?
CK – I think it's a crazy combination of things. It's colorful. I would define it as a… Candy Style.
FY! – You are famous in the East, too. For sure, the fact that you look like a manga star has helped you. What do you like about Eastern culture? And what does it mean to be famous both in the West and in the East?
CK – I think East is a step ahead compared with Europe. People there seem really crazy and difference is well-accepted, even in the small communities. People in Asia understand me more and they say: "Wow! A Hello Kitty boy!". They love Hello Kitty boys and they are the only one that really do like that. Moreover, In Asia they love Western people.
FY! – If I tell you Nicola Formichetti, what do you say?
CK – He's a creative genius and one of the most inspiring people who I have worked with so far. I am really happy that he found me. He discovered me on Instagram and called me for the shooting. I was so excited. His photos are the best ones for me. He really understands how I want to look.
FY! – As you told me, he found you and you posed for his FREE Magazine. How is working in fashion and being a model?
CK – It's what I have always wanted to do. To be on a magazine, on a runaway, is my world. Even when I did photography I always did fashion photography. Nothing else, only fashion. Because I love it. I love aesthetics and fashion is the perfect world for Candy Ken.
FY! – Performance, music, fashion: 3 different forms of art. What is your favorite one?
CK – Probably performance: I really like to perform. It's my favorite thing to do: to be at the center of the attention is the most important thing for me.
FY! – What could you never give up in your life?
CK – To believe in myself and in the things I love.
FY! – As usual, our last question. For you, what is really FUCKING YOUNG!?
CK – I thing Candy Ken is really FY!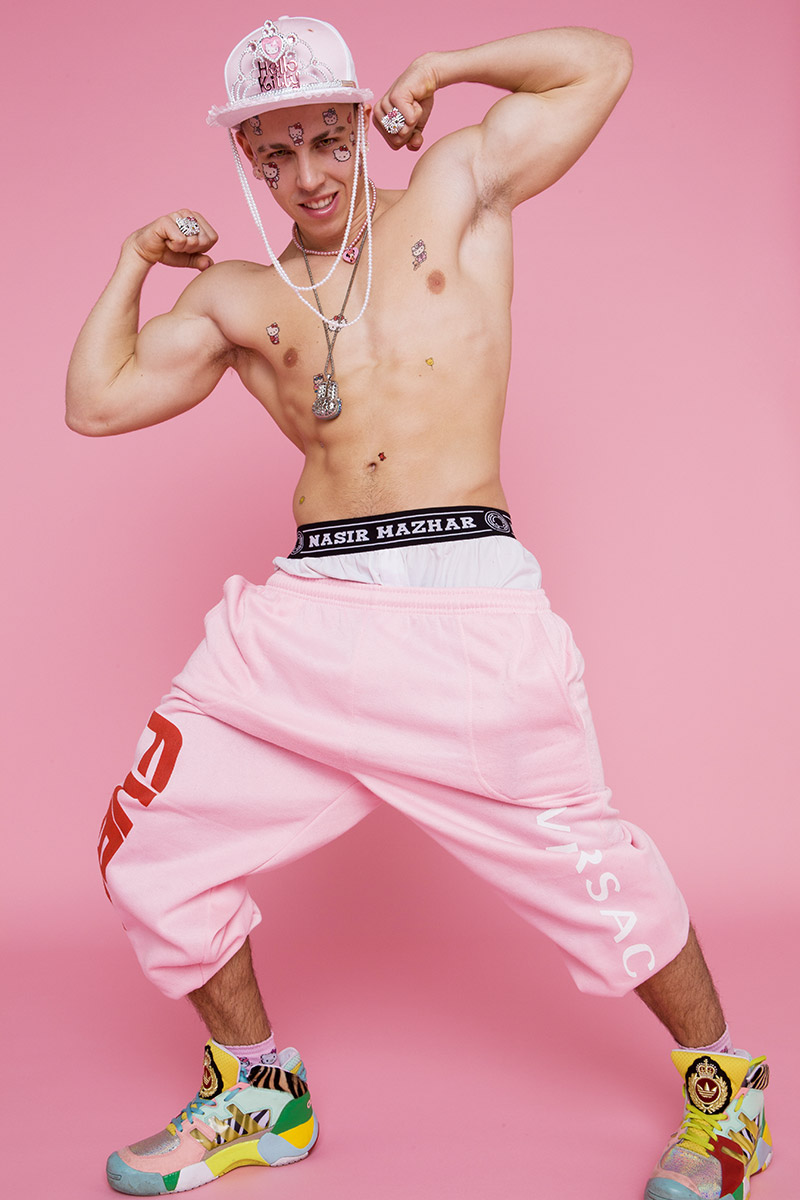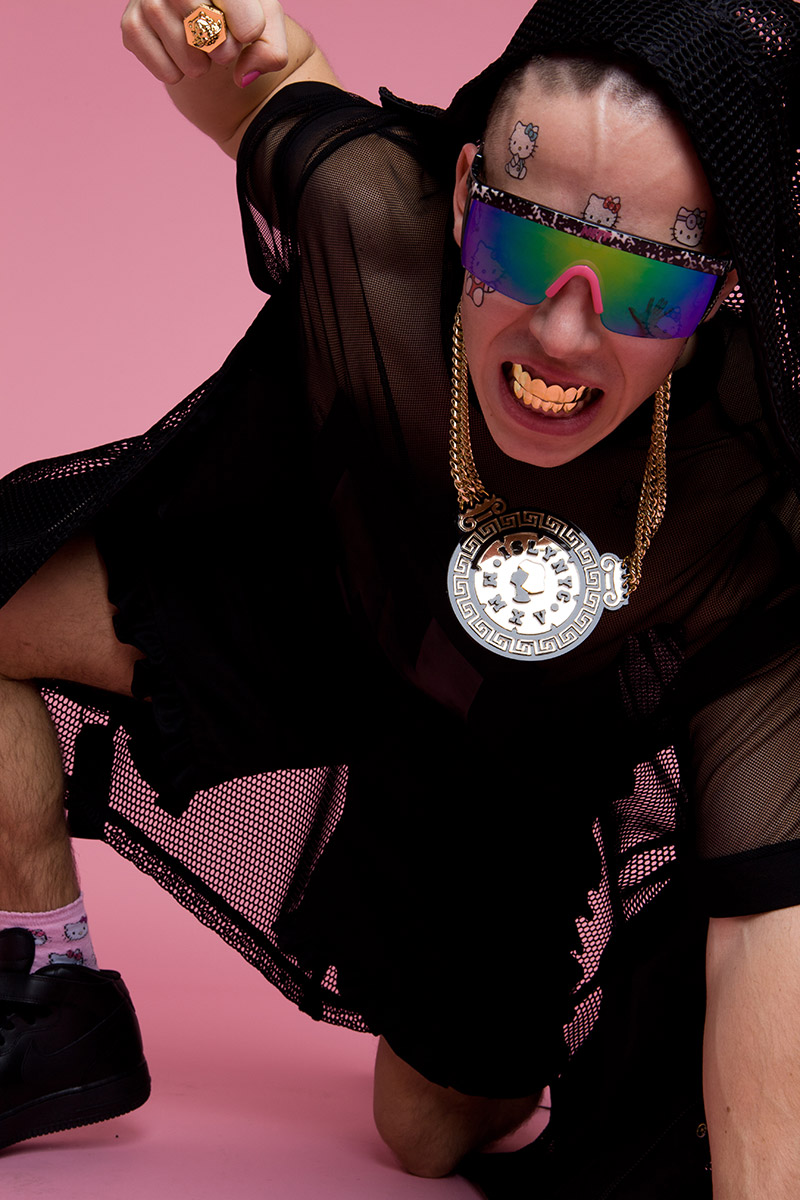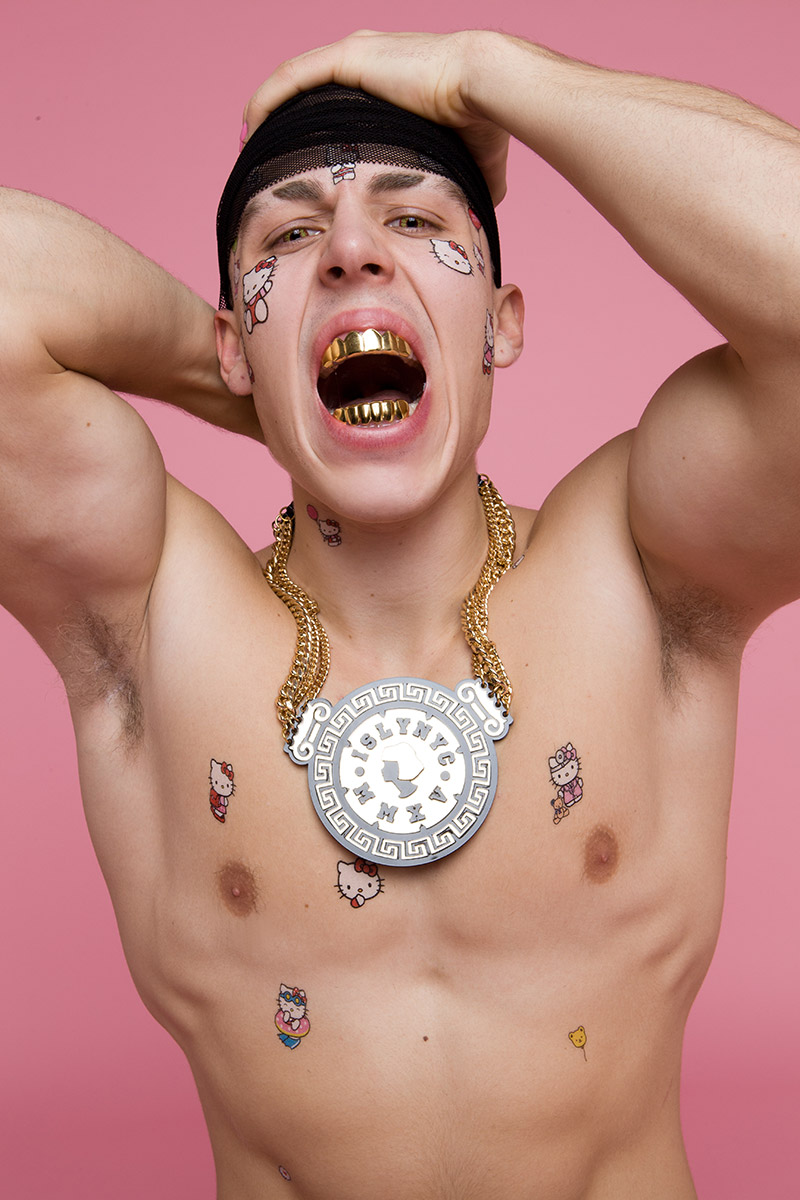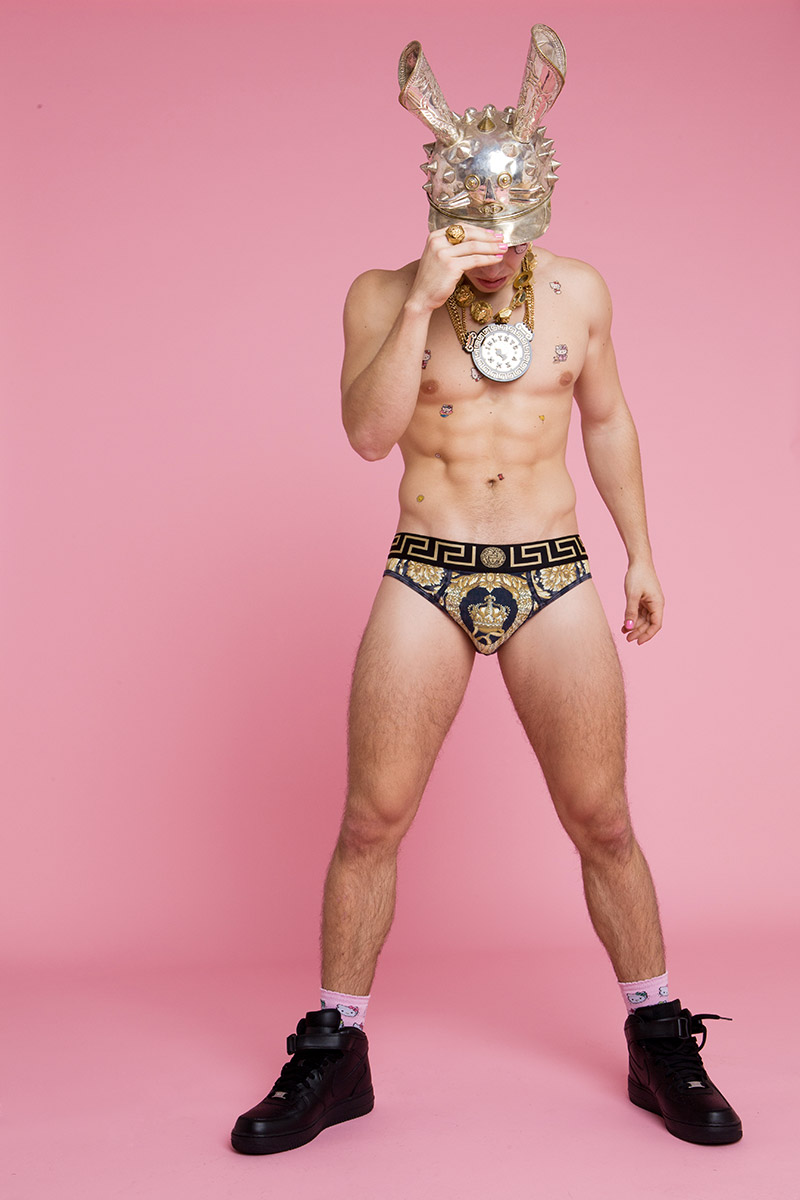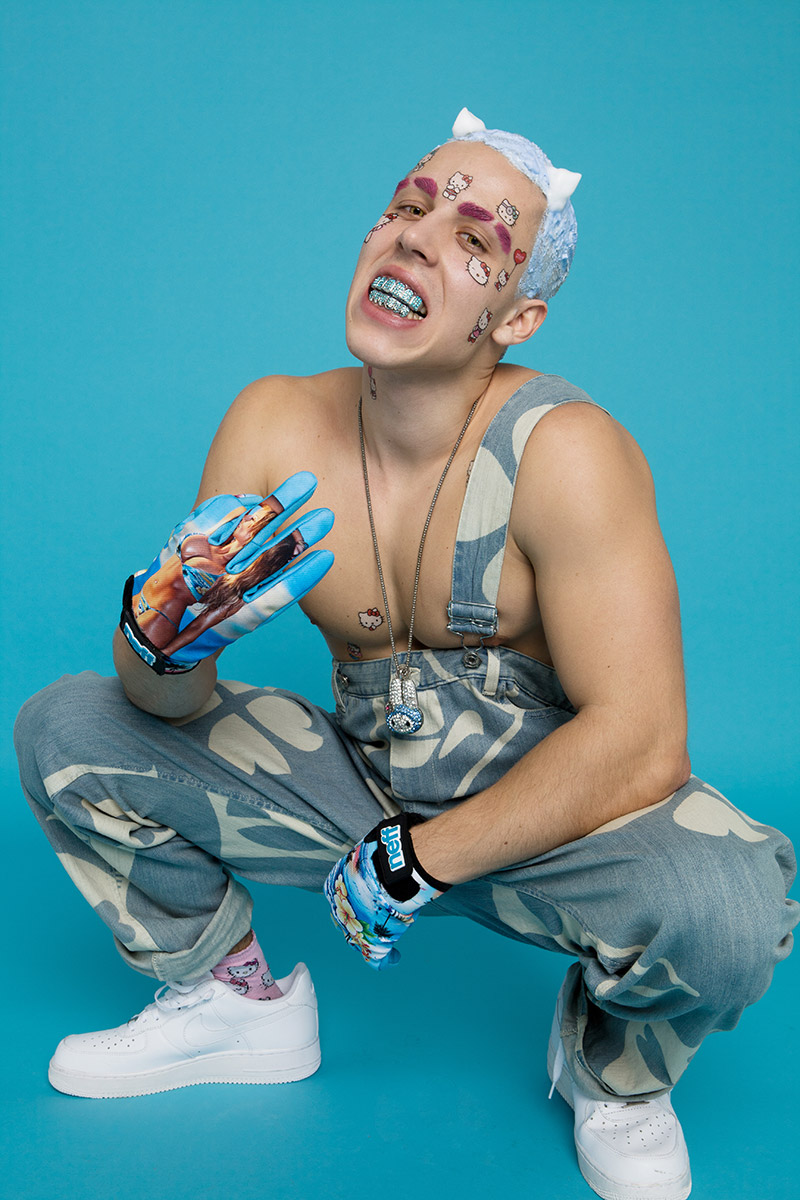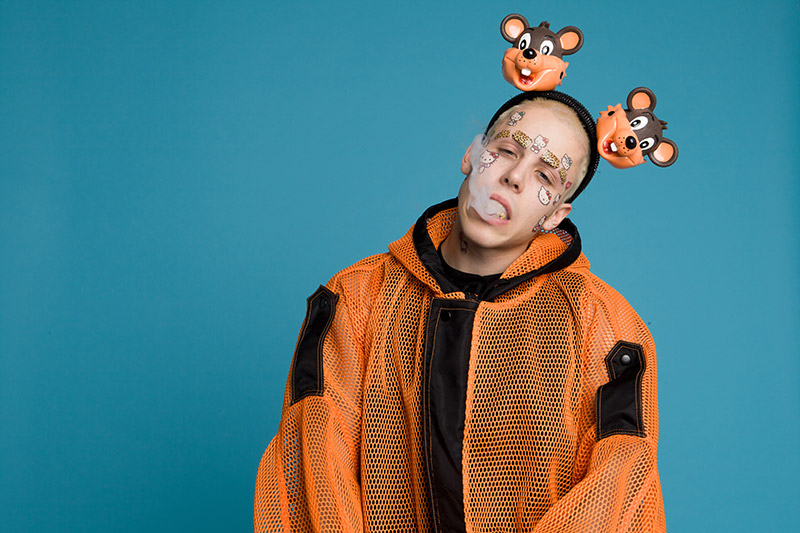 Photos by Omar Macchiavelli in exclusive for Fucking Young!
Stylist: Nicola Formichetti
Hair & Make-up: Gabriele Trezzi