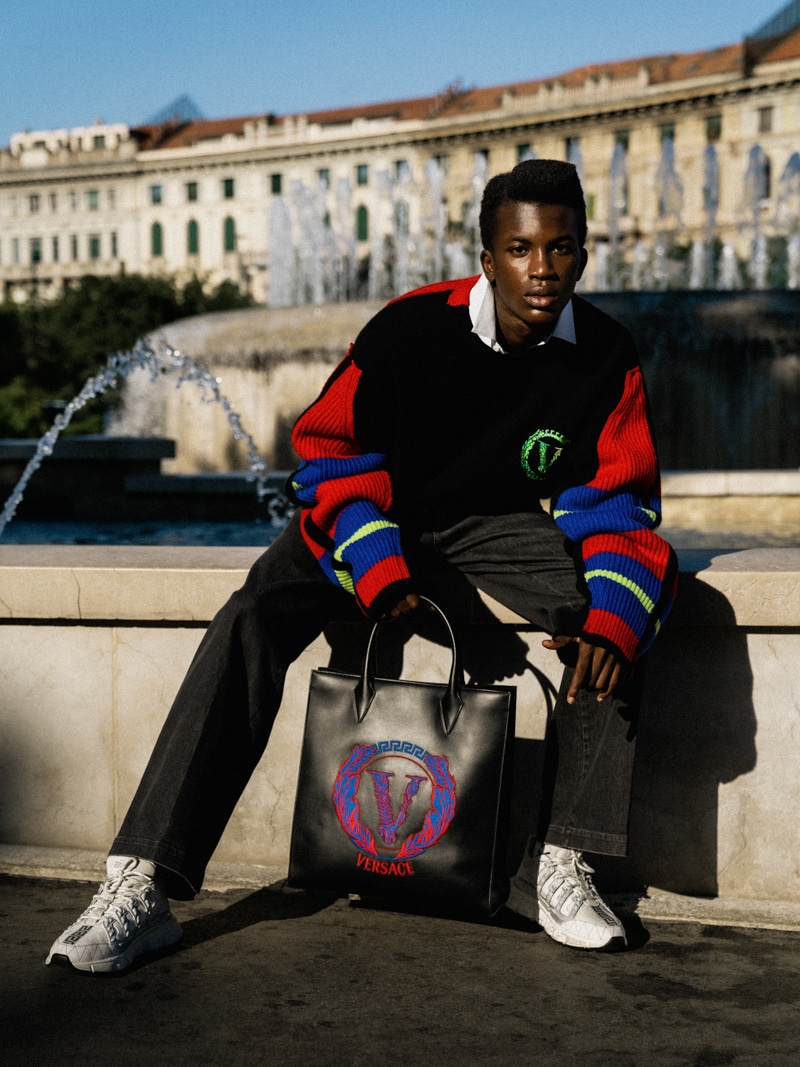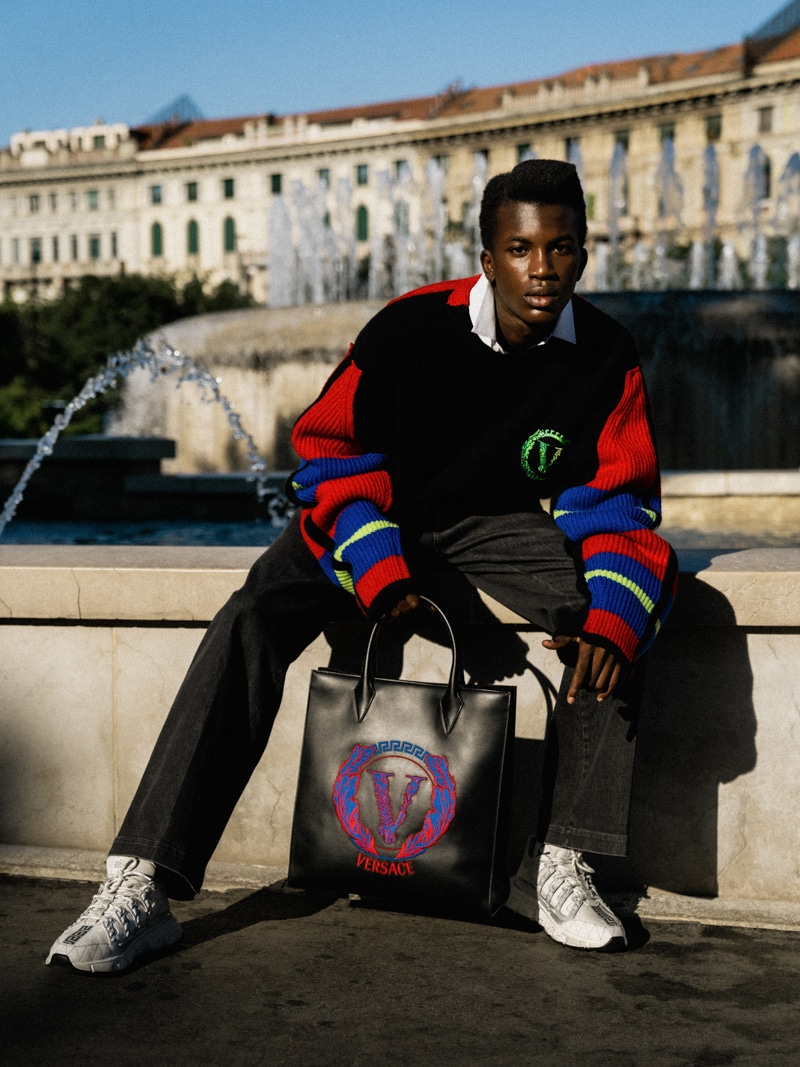 Total look: Versace
"I started to understand that melanin was a friend and that my skin color was a strength from an early age." It's no surprise Rayanne Anet is feeling powerful: the day we hopped on a call, we knew we had to tackle some serious shit, tuning out the negativity: from beginnings to failures, downturns to acts of accomplishment. But despite the bad junk, he's a chap who owns wit, too. "I am a sexy stubborn Capricorn," he enthuses, with uplifting spirit and optimism. Hailing from Ivory Coast and now based in Italy, the newcomer has found the confidence to open up and unpack his newfound stride. A mantra that helped him to stick true to himself right from the get-go. Now, as the world is in turmoil and society is grappling with a global crisis, he speaks to Fucking Young! with unguarded honesty and passion.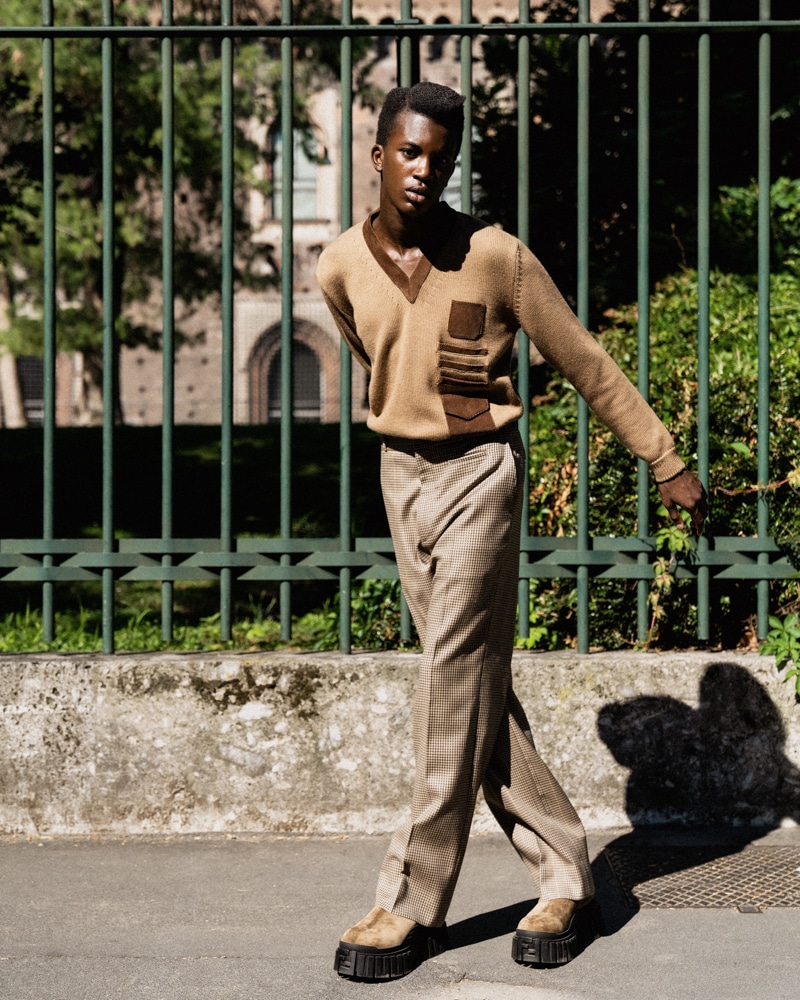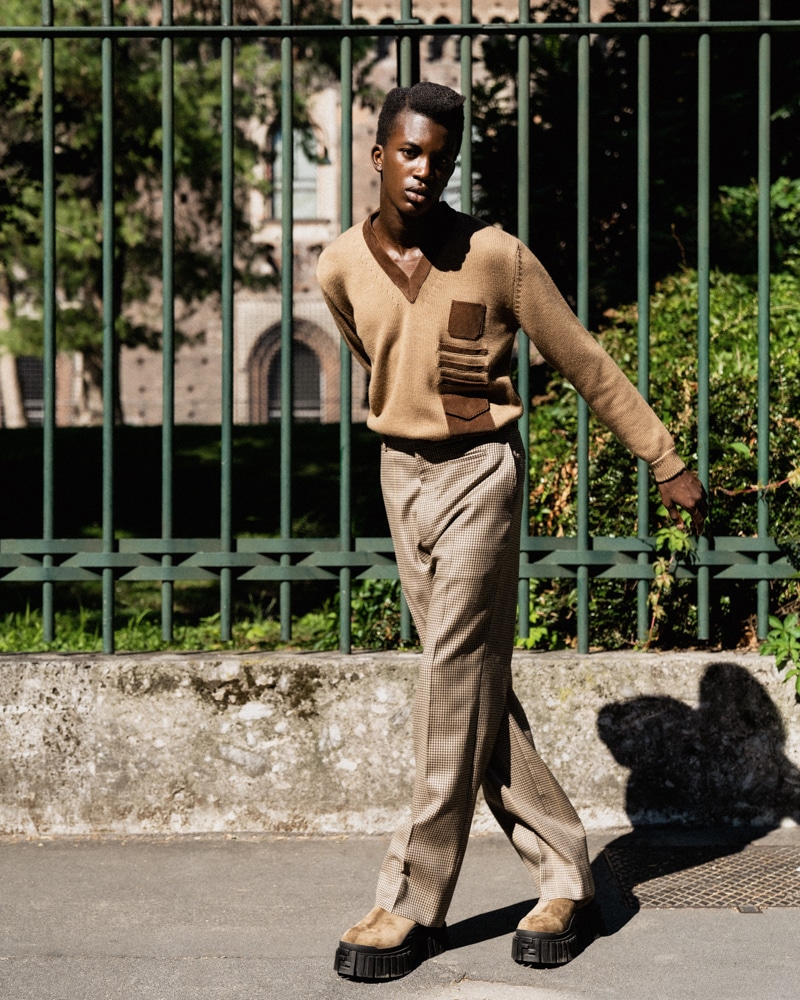 Total look: Fendi
Let's take this from the outset – could you briefly introduce yourself to us?
Hi Fucking Young! I'm Jean Rayanne Bakary Anet or simply Rayanne Anet. I am originally from Abidjan, Ivory Coast. I am a sexy stubborn Capricorn *laughs*. In 2010, after a series of unpleasant events, the loss of my dear mother, and the beginning of a civilian war, I decided to move to Milan to live with my dad, who taught me a lot about Italian culture, food, and general knowledge. I am currently in high school, possibly living one of the best times in my life, where I am surrounded by loads of great friends; we have good laughs all the time, and I'm constantly meeting new people through modeling jobs. I'm very grateful for the opportunities I've been getting.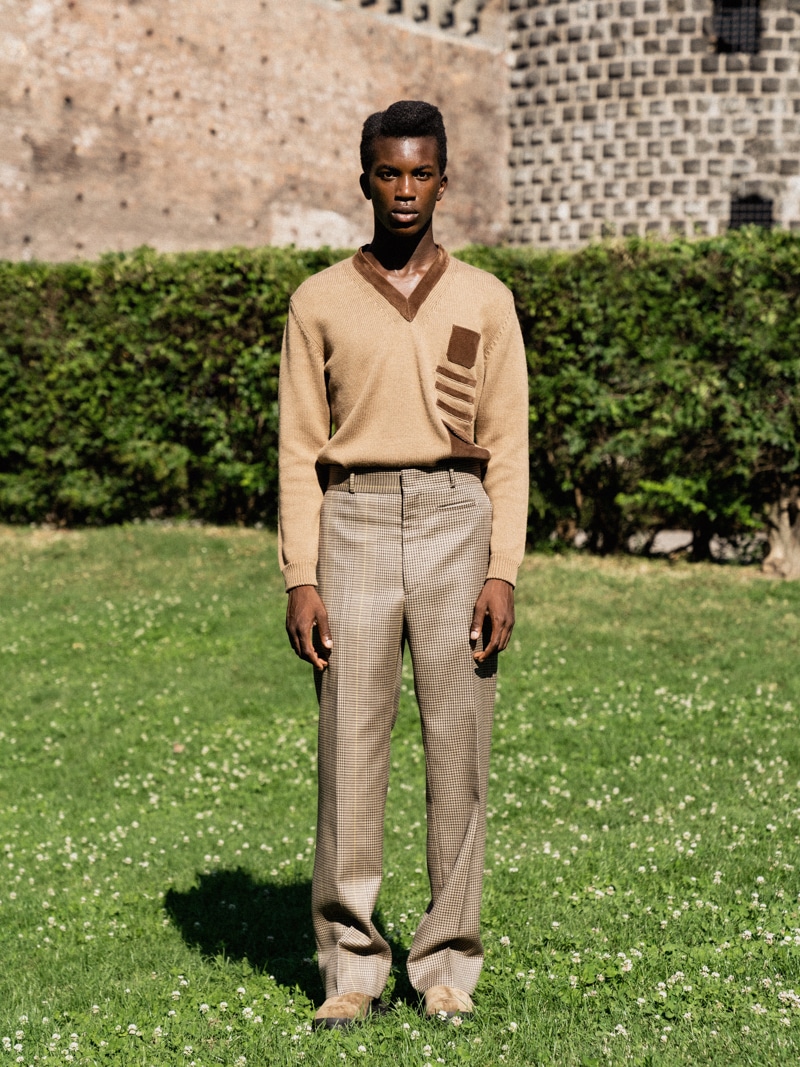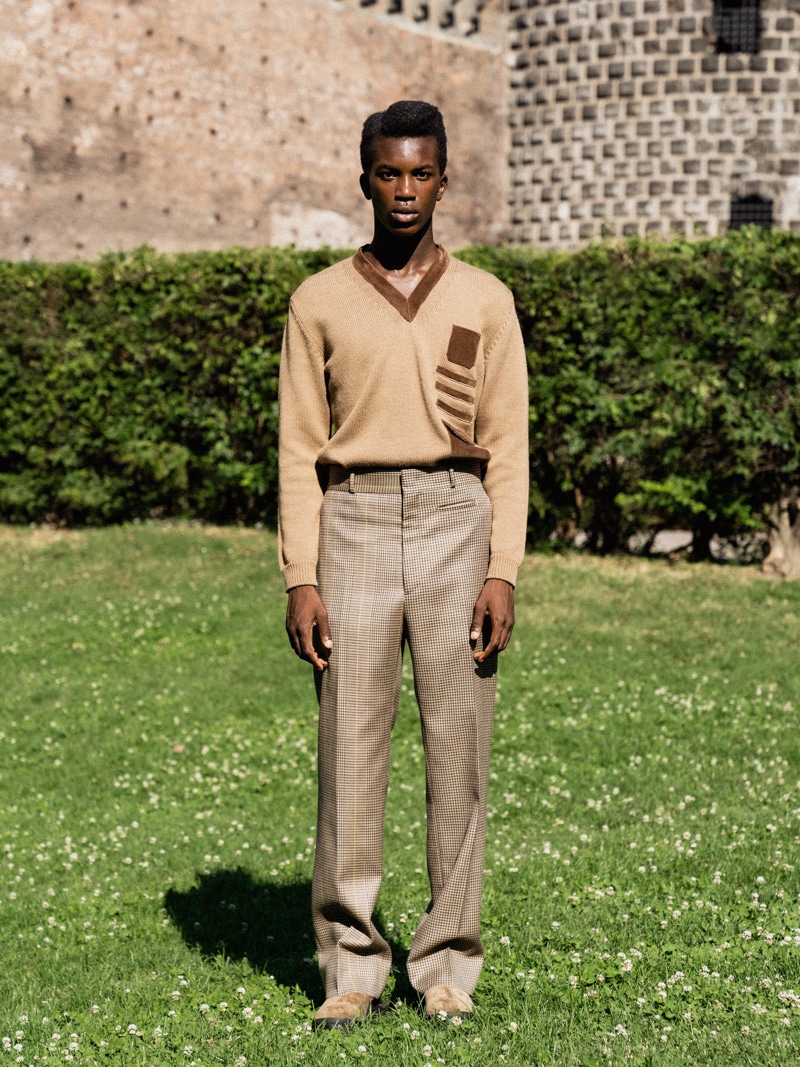 Three words that describe your best self are…
I'd say Afro, ambitious, stubborn, and a 'young legend.'
How were you discovered?
I haven't been modeling for long, however, I always loved fashion so I was going to events, presentations, and fashion parties during Milan fashion week where I met a lot of people and started to increase my content on Instagram. I then began doing some bits of modeling back in 2018 for several fashion magazines, until one day back in 2019 during MFW I was stopped by a casting director on the street she managed to place me with my current agency, D'Management Group.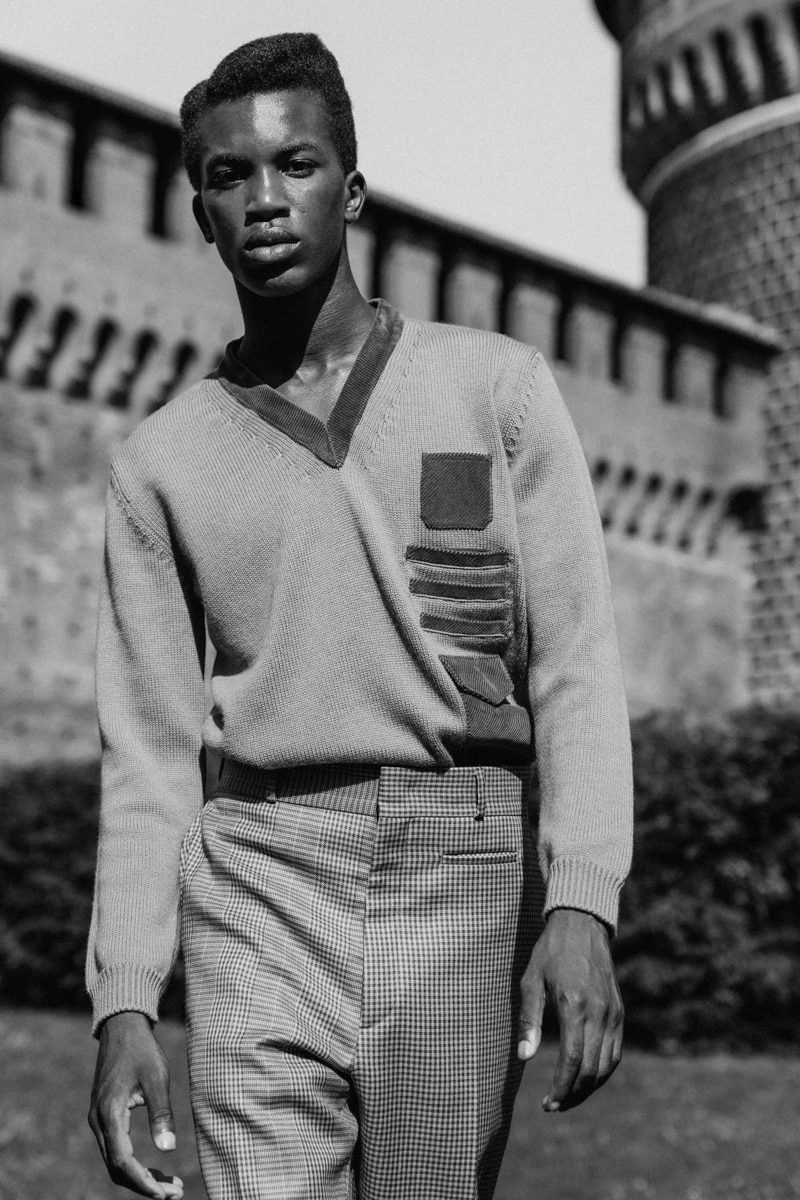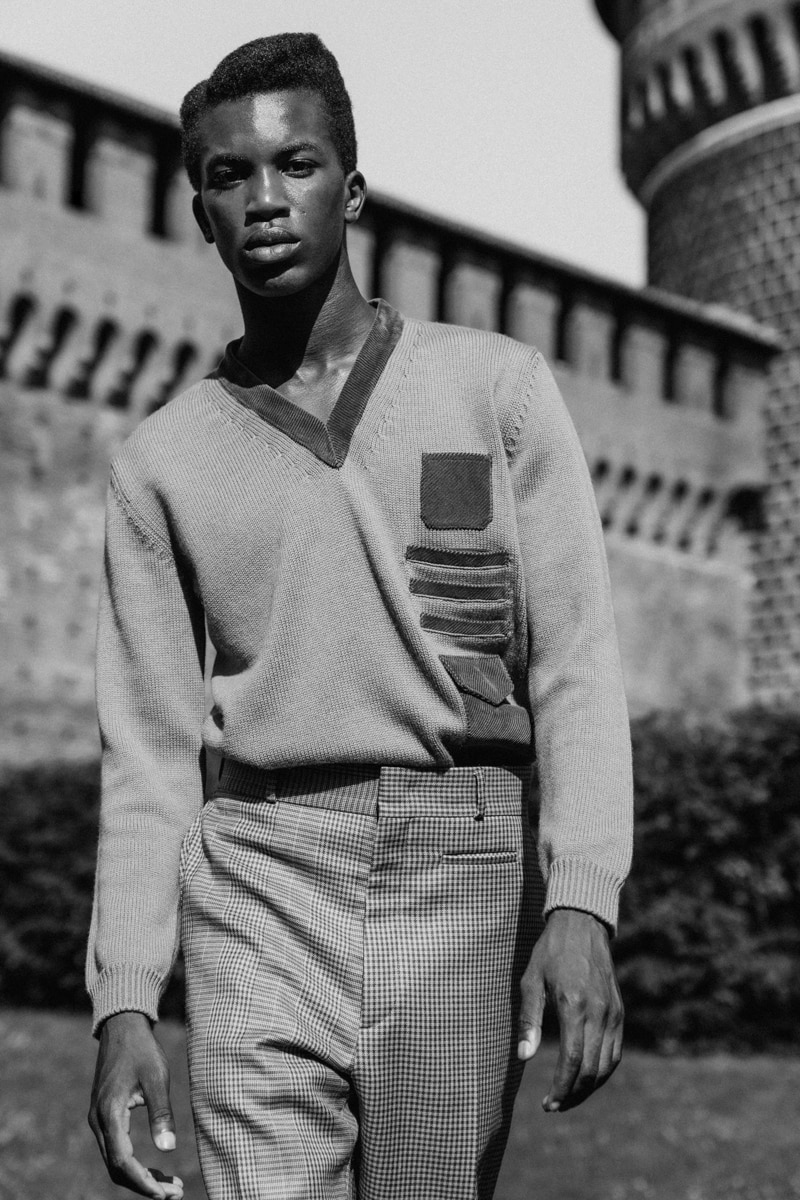 What's your take on the current fashion scene?
I prefer older fashion, everything that's in the '90s or '80s, particularly archive pieces. I adore Jean Paul Gaultier. And I'm also a big fan of Margiela's time as director of Hermès. I really like Hedi Slimane, his first collection for Dior was amazing, he did a great job at Saint Laurent and he still doing great things for Celine which is actually one of my favorite brands. A couple of years ago I used to be so into streetwear, and I still like it if it is done in a good way as Louis Vuitton did in 2018 /2019. Now I prefer elegant clothes and high fashion. I think quality and the concept behind collections are very important,  that's why I love brands like Alyx by Matthew Williams, Celine, Bottega Veneta, Zegna, Chanel or Etro, I find them outstanding and I hope to have the opportunity to work and collaborate with this fashion houses in the future.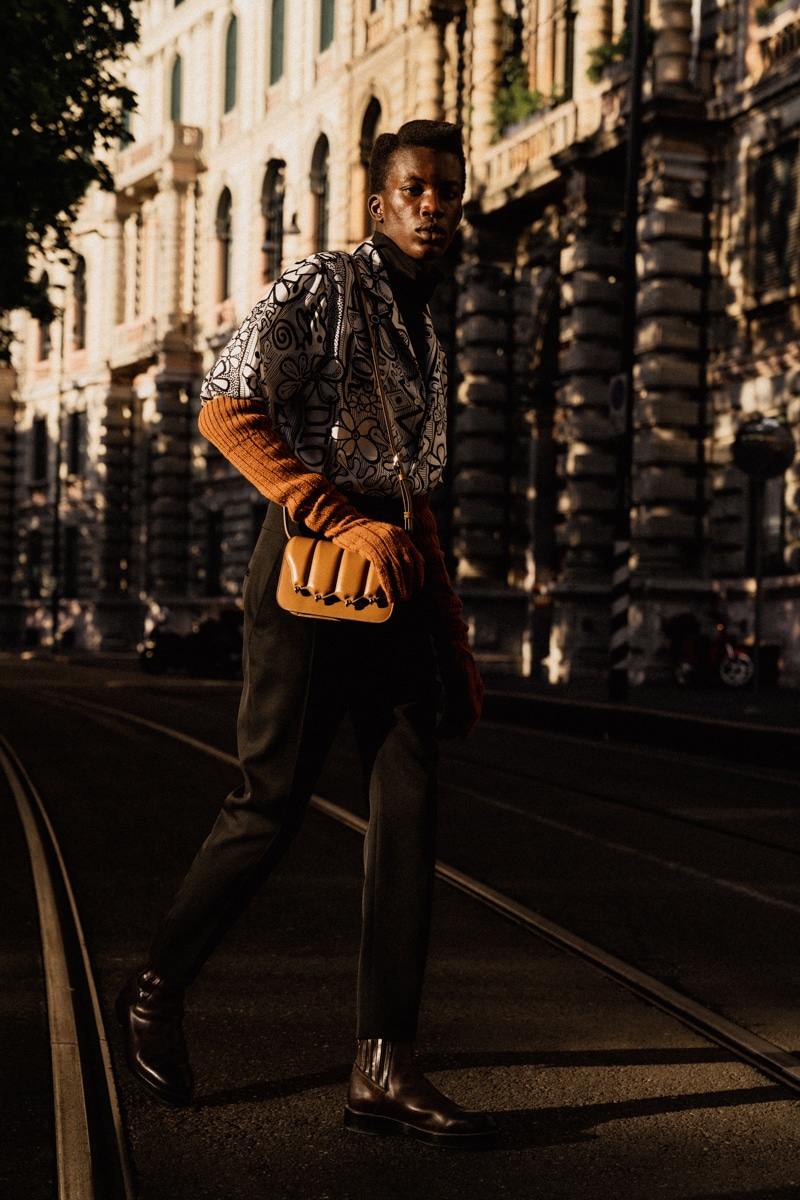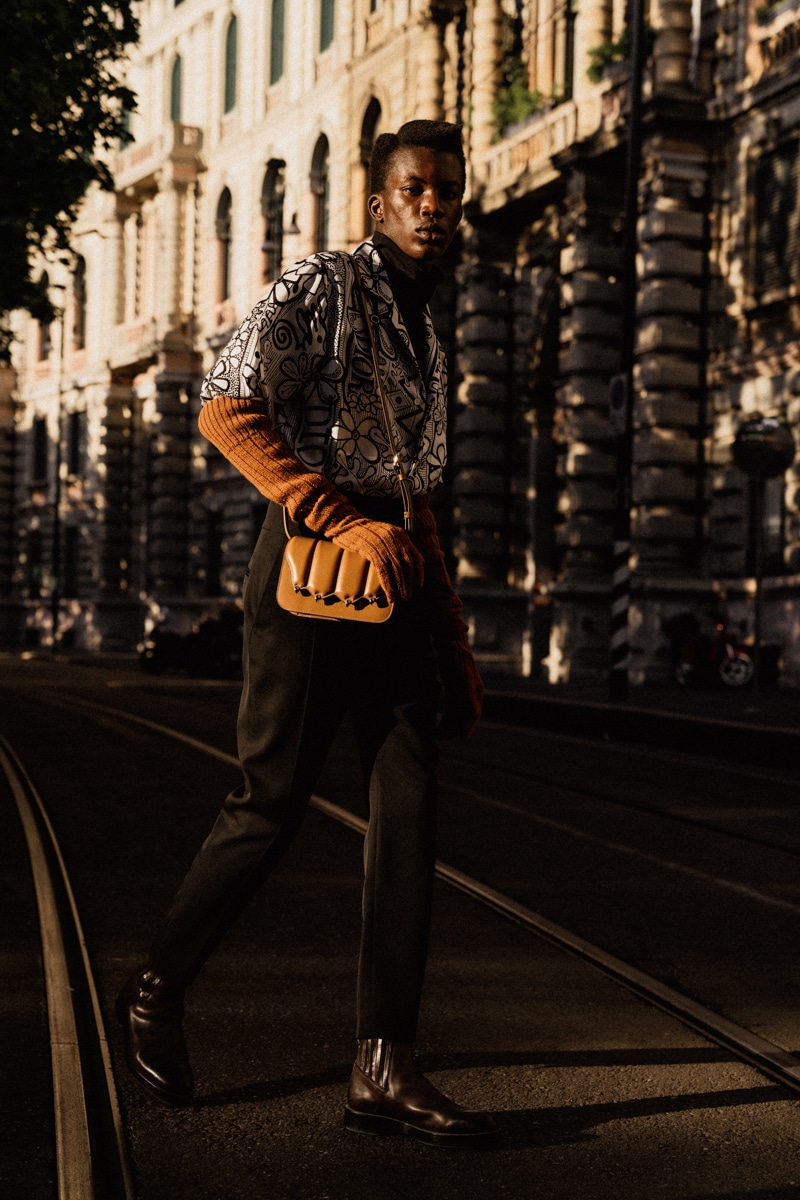 Shirt: Dior • Gloves: Dries Van Noten • Pants: Isabel Marant • Shoes: Ermenegildo Zegna • Bag: Marco De Vincenzo
How about diversity and representation?
Diversity is such an important thing, it makes the world beautiful. The fact that every person has a different perception of what is surrounding them, that we don't think the same and don't look the same is a blessing, Like they say, 'the world is beautiful because it is varied.' Recently, diversity has become more ordinary particularity in creative industries such as the Arts and Fashion, I feel like if you have something particular you'll find your place and be able to work with no limits because with the right people, your diverse self can be appreciated in this industry.
As a black model, what's been the most challenging aspect of your journey thus far?
When I was a kid and sometimes it still happens that you feel like the black one in a white territory, you know what I mean? Like people look at you in a different way, act like you're different, and talk to you in a different way. It's like being black is something wrong or get thing worse, for example, if you're walking around with a white girl, a lot of people will look at you and make you understand that they thinking shit like «what is she doing with that black guy» or «what's wrong with her». As a black person, you have to pay attention to what you do and what you say, purely because in this world an error made by a black person hasn't got the same weight of if done by a white person.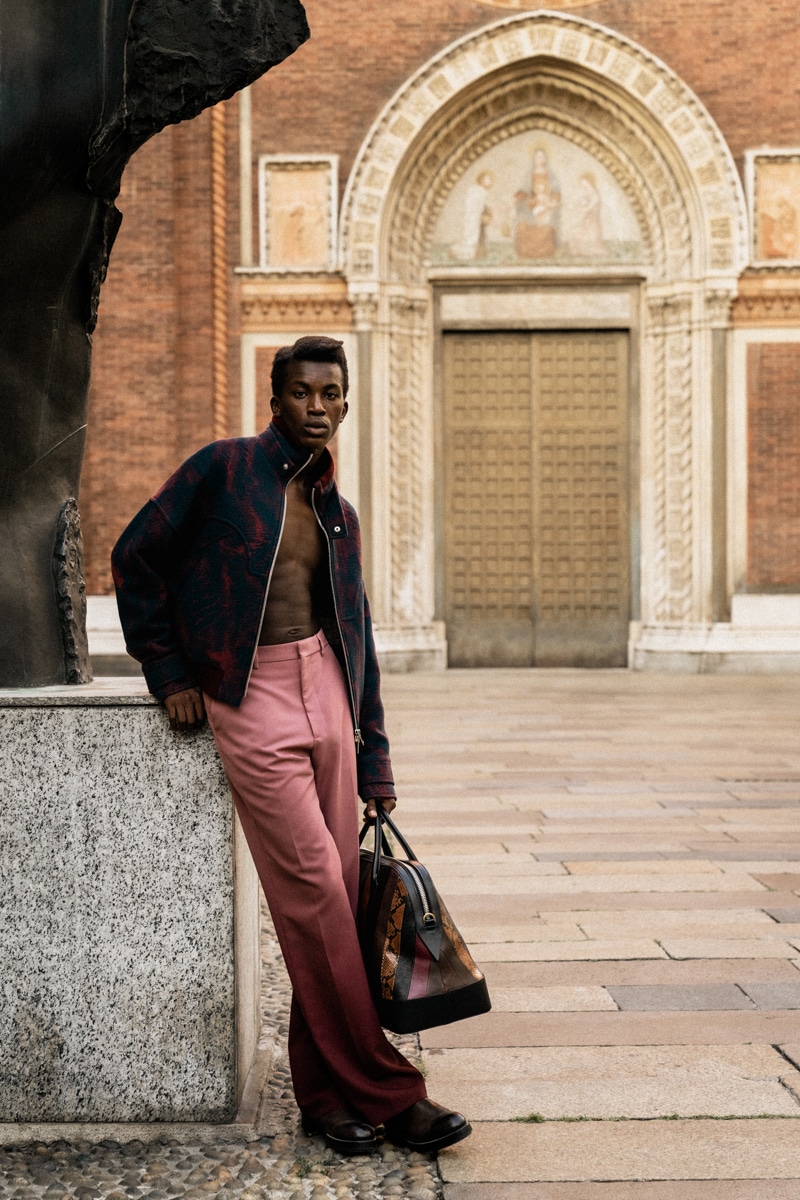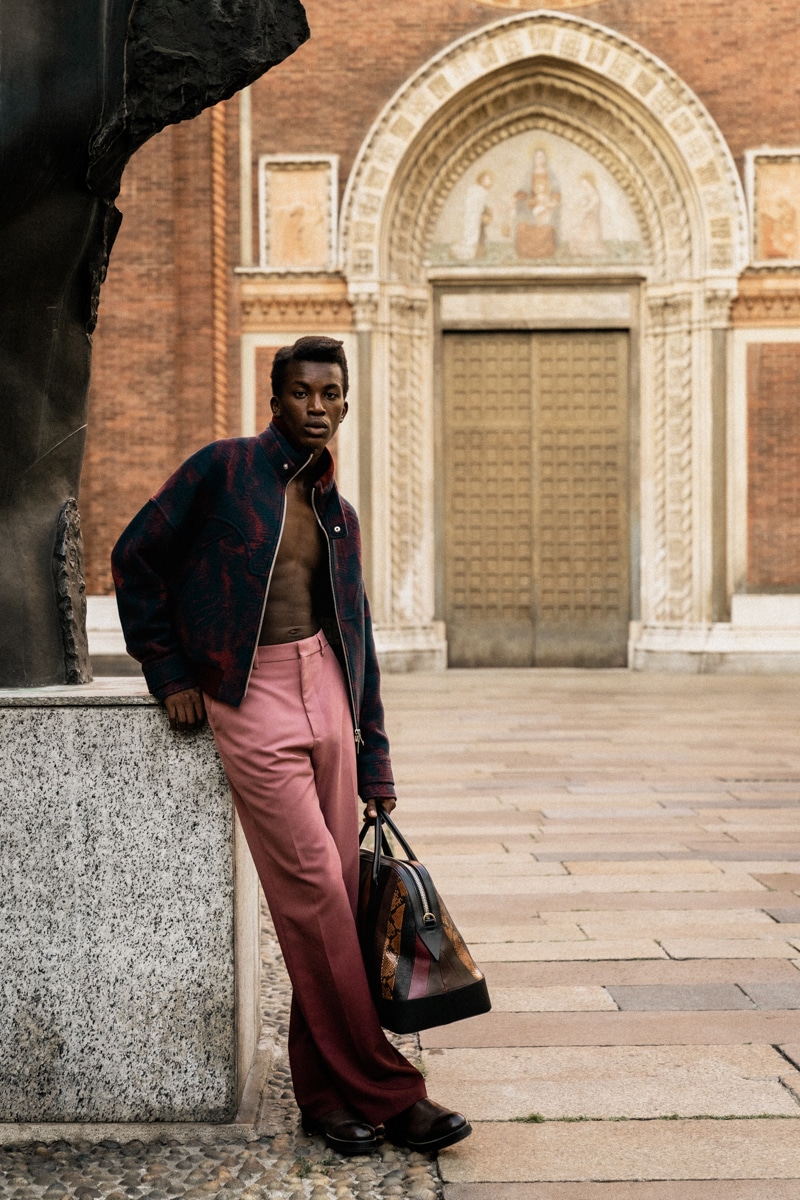 Jacket: Ermenegildo Zegna • Pants: Marco De Vincenzo • Shoes: Ermenegildo Zegna • Bag: Versace
How have you dealt with the racial crisis?
I started to understand that melanin was a friend and that my skin color was strength from an early age. Everybody knows that black people have attitude, so don't limit yourself and don't think that you are less than other people or that you're not appreciated because you're black, it's not like that. Feel good with who you are, despite the ignorance. I never had racial issues since I moved to Europe, I've always been integrated into the society, I never had problems with girls or in having friends particularly in the last years. In a lot of places in the world black people's status has increased thanks to people's awareness and to black personalities (singers, actors, influencers) that people see black people in a different way nowadays. The fact that black lives don't matter in some countries and that people are still getting killed is really sad, and I hope that it will be totally different in the future.
Who do you look up to?
I usually look up to people who started from the bottom and now can do everything they want to do with no limits, no pressure. I love spontaneous people, with no filters and not scared to show how they are and what they think, the kind of people who don't care about what society think of them, and stay focused on their goals until they don't reach what they want.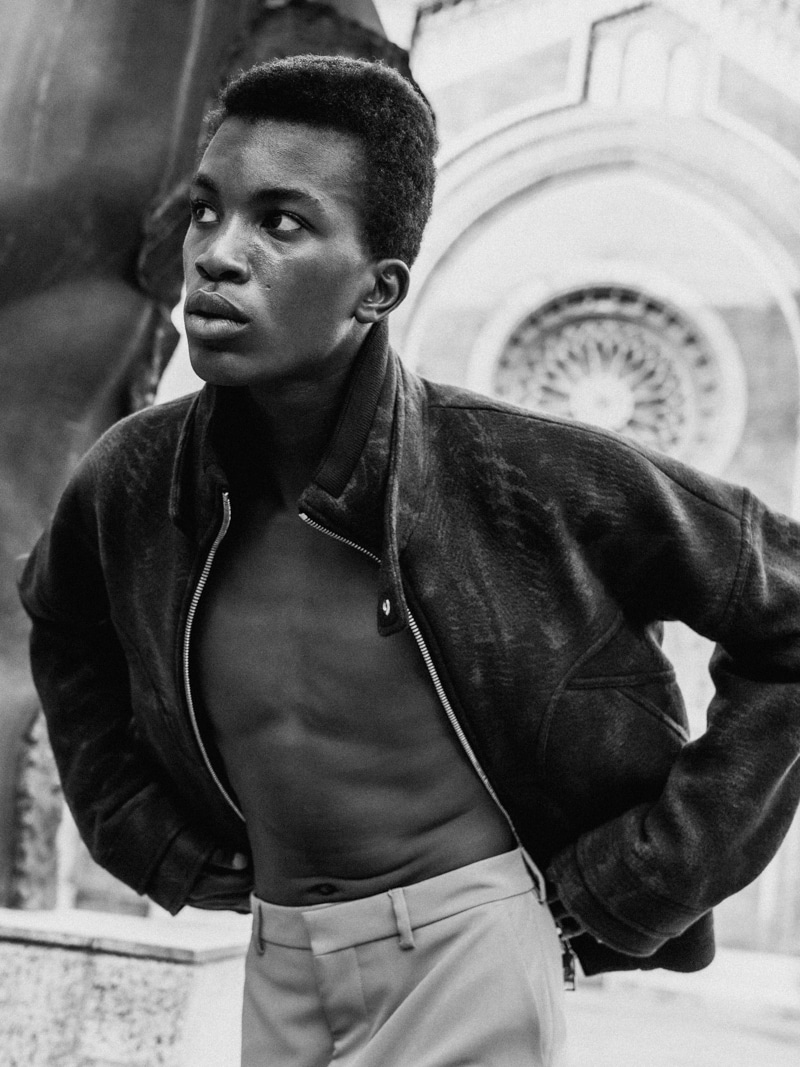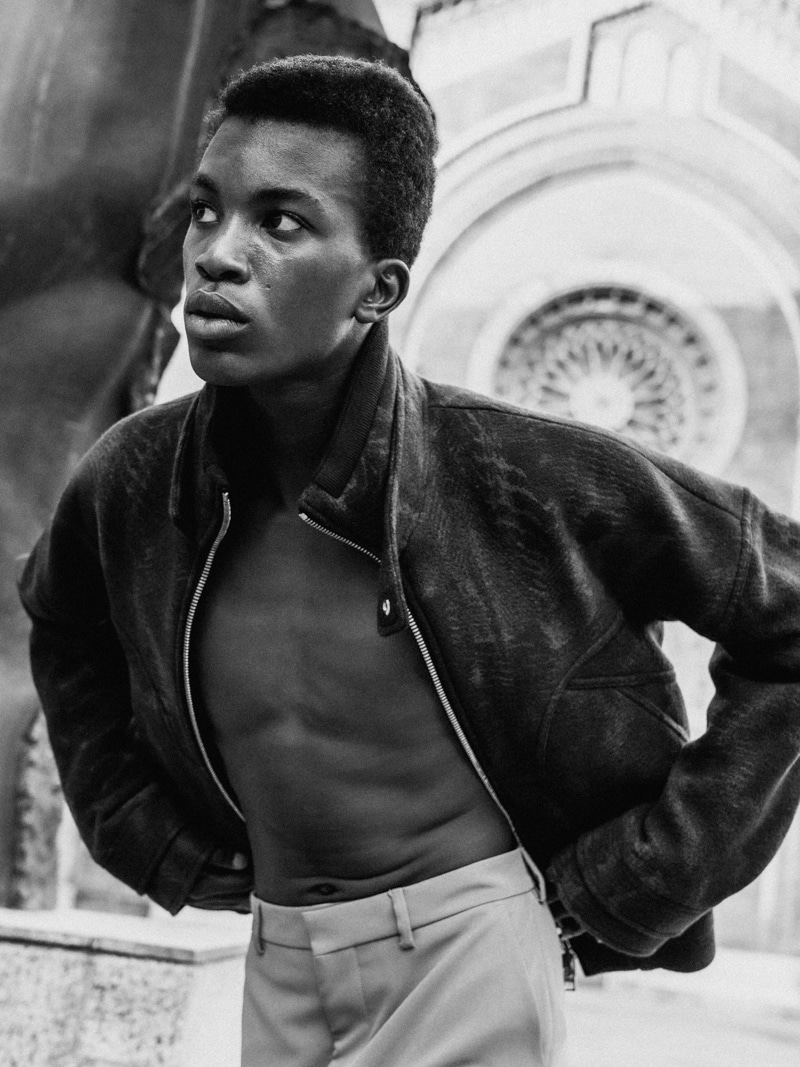 What are your future hopes?
I hope to have a brilliant life full of good things. In the next few months, I'd like to find an agency in Paris and have amazing seasons there and in Milan. Modeling is certainly a good way of meeting people, work on all sorts of projects. It's a long, beautiful journey and I will make sure to enjoy all of it, especially because my Mum was a fashion lover and I'm sure that she would be so proud of what I'm doing. I'd like to be able to invest in Africa one day, it's one of my biggest dreams and I'd really like to contribute to change things there, it's one of the most beautiful countries in the world, the energy, the people, everything that belongs to this place is so unique and it deserves to be modernized and updated in order to break down poverty. I no longer want to see malnourished African kids on TV to start with! I have high expectations in life and I hoping to achieve most of them.
Photography: Carmelo Farini @carmelofarini_
Stylist: Francesco Cuzzi @francesco_cuzzi
Hair: Carlo Ruggiu @carlo.ruggiu
Make Up Artist: Giuseppe Tamburrini @giuseppe_tamburrini
Talent: Rayanne Anet @rayanneanet at D'Management Group @dmanagementgroup
Brands: Fendi, Versace, Isabel Marant, Dior, Dries Van Noten, Ermenegildo Zegna, Marco De Vincenzo.