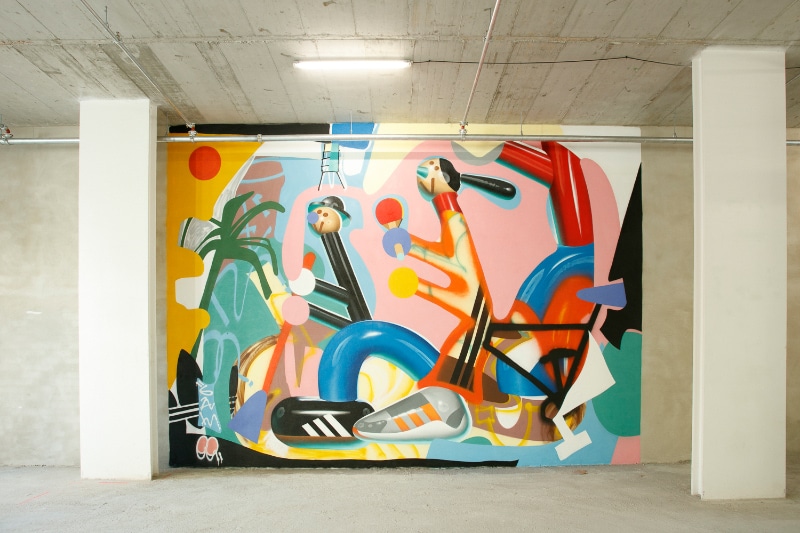 A few days ago, adidas celebrated the opening of its first flagship store in Barcelona through a Gallery Session starring Morad. From today, 13 October, the store will finally be open to the public.
Located at number 2 Passeig de Gràcia, in one of the most emblematic modernist buildings in Barcelona, this new "flagship" is the brand's largest store in Spain. And the fact is that adidas wanted to pay homage to the city of Barcelona in each of the corners and spaces of the store.
In it, you will find continuous nods to Barcelona's architecture, culture and designs. In addition, during the set-up of the store, several emerging illustrators from around the city captured their particular vision of adidas, the brand's influence on sports and inclusion, and its connection to Barcelona "within" the store's walls.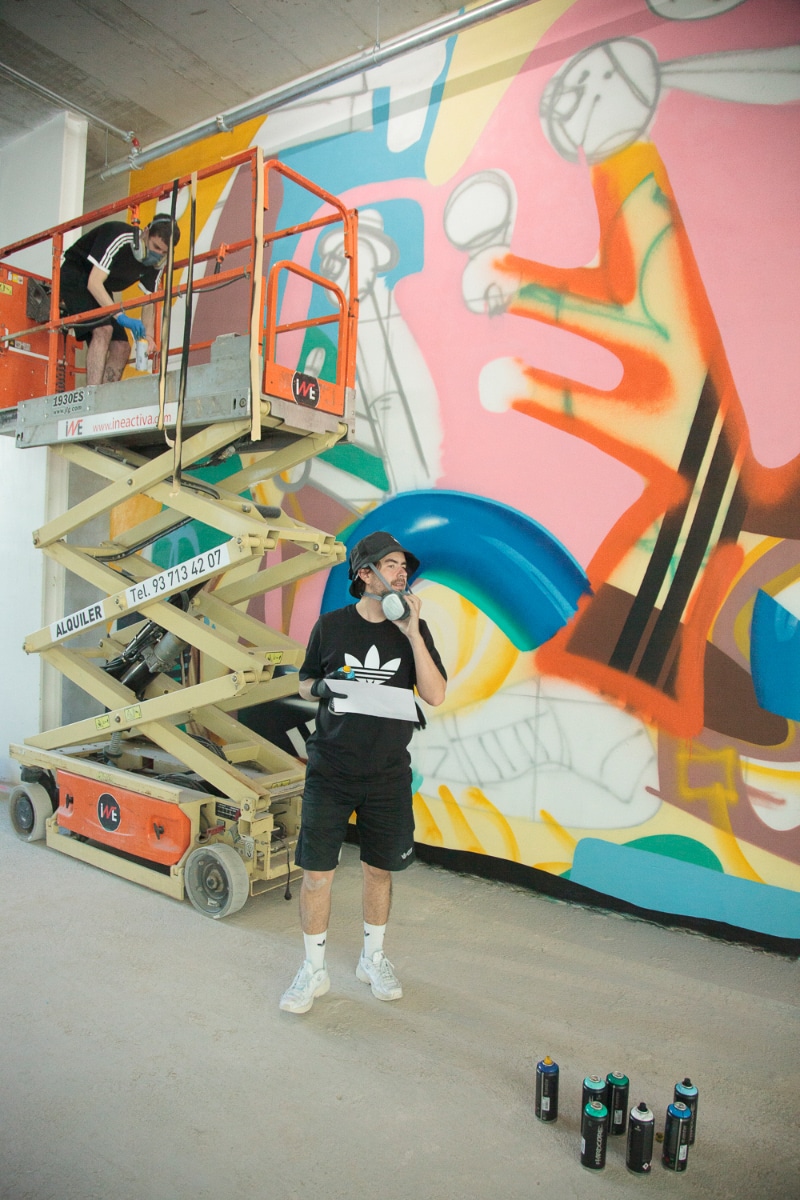 Artists Sawe, Gitana Woman, Octavi Serra and Marina Capdevila created murals in the store while it was being renovated. These works have been subsequently covered up, leaving in their place a QR code that visitors can scan to discover what lies beneath the store's white walls.
We had a small conversation with SAWE and here's what he told us about this collaboration:
Who is Sawe?
In 1986 I was born in this world as Martí, and in 2001 I was born as Sawe in the world of graffiti. At the moment I'm still alive in both 🙂
You have collaborated with adidas in their new "flagship" store in Barcelona in the execution of a mural that aims to honor the city of Barcelona. How was the creation process for the work?
I usually collect everyday fragments that catch my attention, both digitally and physically. A random metadata that helps me to start a dialogue with the work and that is diluted between abstraction, thus achieving a sincere but confused reflection of my contemporaneity. In this mural, I have relaxed that randomness, both in the figurative elements and in the abstract forms, in order to endow the work with some concepts that adidas wanted to convey. Sport, trends, Barcelona city…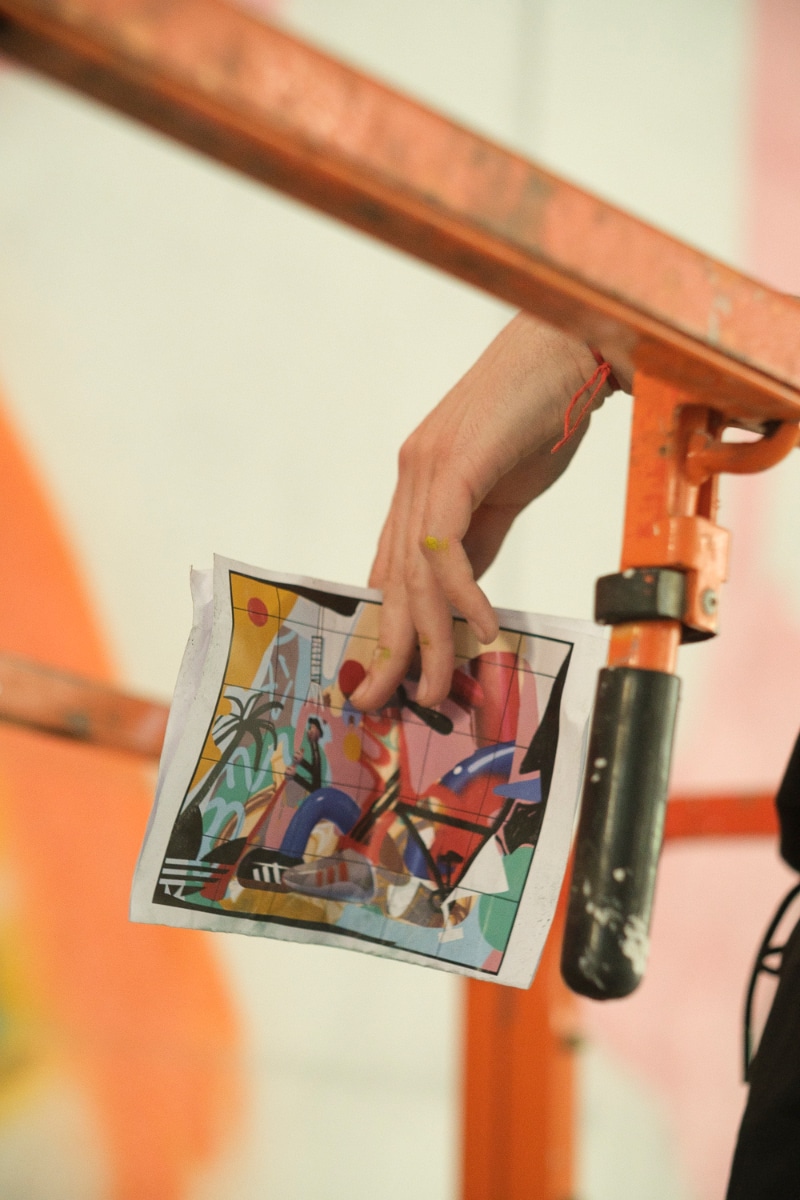 As an artist who uses figurative elements that are broken, deformed and diluted within abstraction, how is Barcelona represented in this work?
I think that the color in my work already has a lot to do with Barcelona, its climate, its character, Miró… I chose two elements that represented the sea (palm tree) and the mountain (Collserola Tower). A bicycle, the ideal transport for this city due to its size, topography and number of bike lanes. A table tennis racket, a sport that freaks me out and is succeeding on the streets of this city, and a paddle surfing paddle, an activity that I don't practice, but that seems funny to watch on the shore. XD.
The mural was created when the store was under construction and was subsequently covered with a layer of white paint. How does it feel to have a "hidden" work visible only through a QR code? Does it influence the creative process to know from the beginning that it was going to be such an ephemeral and, at the same time, eternal work in the digital world?
Actually, those of us who paint in the street are used to the ephemeral. It is part of the game and we learn to deal with it. Abandoned and vacant buildings are areas where we go to paint and when they become active buildings, ciao. But I remember I was there! What has also happened to me a lot and I love is that homeless people have my graffiti on the wall where they have installed their shack. Something that another social class would look for in a gallery and pay good money to have it in their dining room.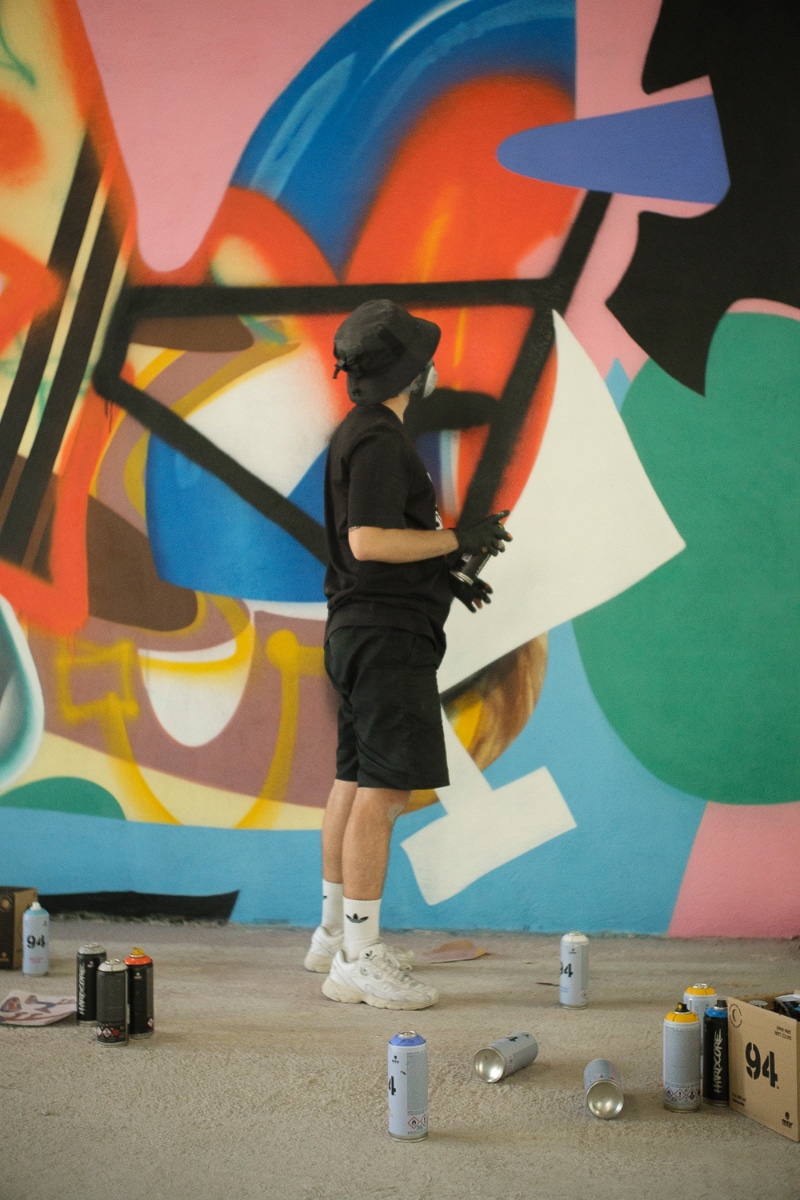 Do you think that the future of urban art goes through the integration of digital media for its visualization?
Instagram is or has been that future, right? I think that depending on the proposal, the integration of digital media in the visualization makes more or less sense. If it is a giant mural of an entire building, digital visualization is not comparable to the impact of seeing the work live on a 1-1 scale. But if it is a proposal where digital contributes something more, it is part of the work, then yes.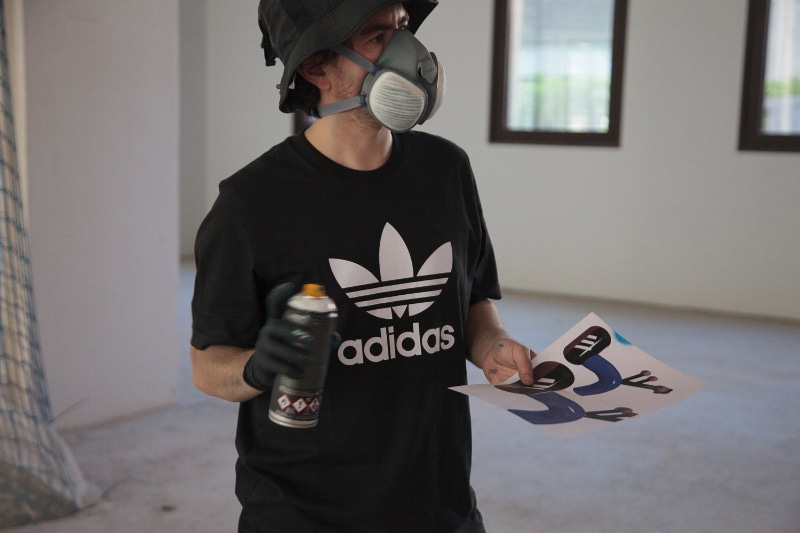 Do you think that the use of QR codes or any other digital media integrated into physical art provides greater longevity to urban art that normally (being exposed to natural elements) has a self-destructive character?
I think that just like photography, it just documents it. It lengthens his memory but not his true existence. Once it is removed from the street, this urban intervention ceases to exist. If the artistic action is already born digital, without setting foot on the street, I am not sure that it can be considered urban. We have photos of the first subways painted in New York but they don't exist. I wish they had kept some.
What model of sneakers have you used while painting this mural?
Astir Cloud White, Originals – women's section.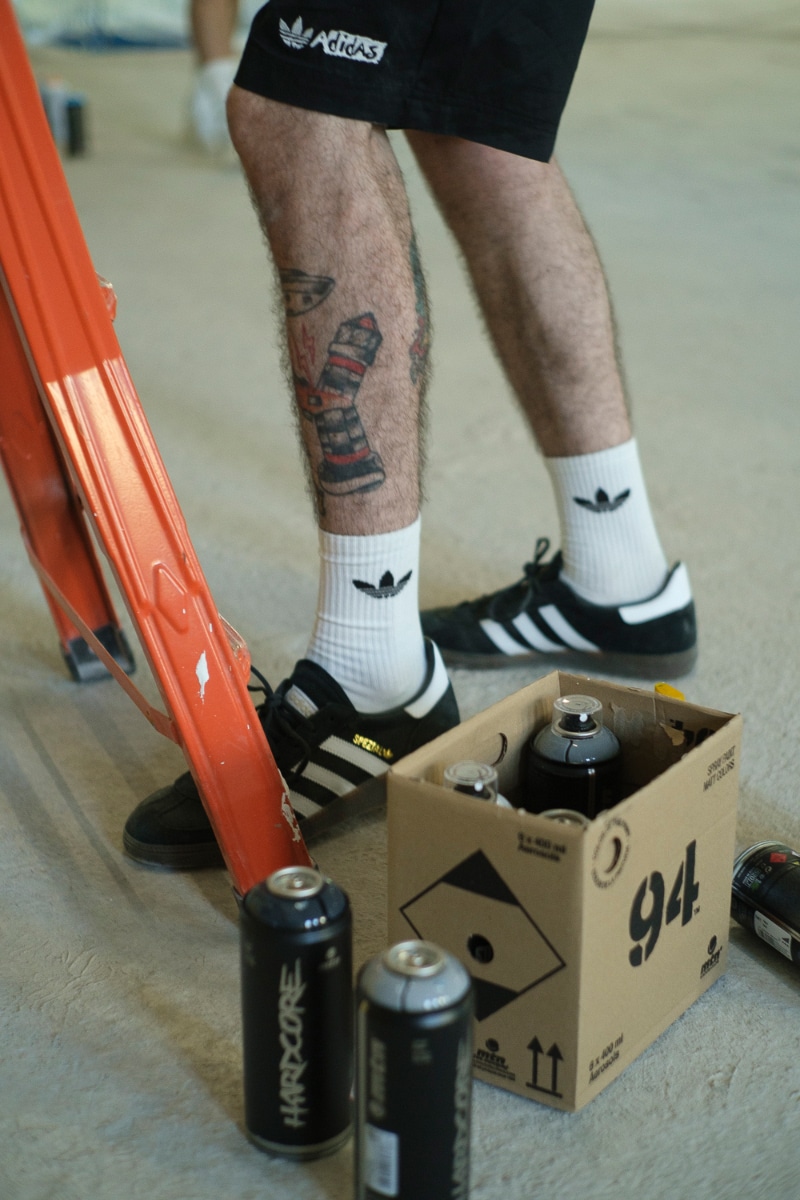 Any future project that you can tell us about?
Yes! I am preparing a co-exhibition with my friend @demsky__ at the @extendgallery_ in Brussels. Looking forward to opening on November 10.
You can visit the new adidas Barcelona store, the largest in all of Spain, from Monday to Saturday from 10:00 a.m. to 9:00 p.m.
Passeig de Gràcia 2. Barcelona