As one of the most famous voices in the UK, radio broadcaster and TV presenter Roman Kemp helps shape British youth culture. With his own show on Capital FM and as the new social media correspondant on X Factor UK, Roman is directly involved with the generation's idols and has the opportunity to act as a mediator between his audience and their favourite artists. The son of two musicians, Martin Kemp and Shirlie Holliman, he has been brought up in a busy, set-life, helping him become comfortable on air and live TV. Here, Roman exposes and discusses his life and how he got where he is now, one of the youngest voices of his generation.
Hello Roman. Could we start with some background information about you?
I was born in LA, always doing some back and forth between LA and London because my whole family is from London. I actually grew up in Muswell Hill and then my family moved out to Hertfordshire. I had a super nice up bringing, private school, that type of thing. I was very fortunate to have that upbringing but I was not academic in the slightest. I was always the person that teachers would write "Roman's good but he distracts other people in class". I didn't like the system, I would question everything. I was great in English and Drama because I could problematize things; one of my favourite subjects was Religious Studies because I could question theories. That was the start of creating a voice for myself. And that's down to the relationship that my parents had with me when I was growing up, it was very much a friendship. It wasn't about being grounded, I've never been grounded in my life. My parent told me off if I did something wrong but in the same way that your friends would tell you off if you did something wrong.
There wasn't a superiority level, there was respect, obviously, a massive respect. The people I respect the most and the people I look up to the most are my parents. I would have adult conversations from 10 years old, so much so that my friends' parents would tell my parents "Do you think it's right that you're letting your kids at the dinner table talking about adult conversations?" They said yeah because we had an input in it. That has only helped the job that I do now, the job that my sister does now, with confidence levels and having a relaxed attitude towards everything. It's very open.
Did you always know you wanted to be a broadcaster?
No, I just like talking! I don't have an embarrassment filter; it's very hard for me to be embarrassed. I don't take myself seriously at all, because it's pointless to take yourself seriously. It's harder nowadays to create a persona, being cool and posting on Instagram. You could make yourself look like the most successful person in the world. I would be working so hard and having a shit week, I'd post 2 pictures that week and my friends would call me up to say "You're nailing it mate!" And I would be "Nah!" Posting a picture with a celebrity would be a decimal point of my entire life. You can't really hide from not being yourself; I am very openly myself with everyone. I think that helps when being a broadcaster. As I said, I don't have an embarrassment level, I don't mind if I fuck up on air, because that's what makes us human. If I was in the pub with my friends having a conversation, the same way I am having a conversation with you now, grammar errors and blanks "err", that's a normal conversation, that's my brain processing what I am trying to say. If I were scripted the whole way through, I would sound like a robot. That's why radio is such a nice thing, you can just have a conversation.
How did you end up here? 
My family's work ethic is unbelievable. My parents come from very poor backgrounds, my mom's one of seven kids only raised by their mom; my dad comes from a family that used to live in a house with 3 other families. They were self-made and insisted on my sister and me being self-made. They didn't have to drill that into us, I think, because we naturally have the respect for our parents that they had done that, we felt like doing anything else would be a failure.
You were inspired by them.
Of course, my parents are the biggest inspiration in my life. My sister started work when she was 15, I started work when I was fifteen, I was getting into music. I ended up getting a deal with Universal Music, working with incredible artists in writing development. I was working with hundreds of different people, playing in different venues.
Do you play any instruments?
I play keys, guitar and bass. That was an amazing opportunity.
Other situations happened and 3 years later, another team comes in and takes your job. Everyone else was a lot older than me; my peers were 30, I was 16. When everyone left they already had their next plan, I didn't have that plan. I broke my relationship with music pretty badly. I left and didn't do anything, and about 3 weeks later – I was a very thin kid – a woman scouted me. Within 2 months I had done campaigns with TopMan, shooting big things, my first ever shoot was with Ellen Von Unwerth. But I didn't enjoy it because I couldn't create anything.
Did you miss the music?
I missed creating. I couldn't create anything; the only thing I could do was change my face a little. The only thing I could be creative with was with how little I could eat. I respect the industry, I understand it, I spent 2 years doing it but the only reason I was there was because I was making money. I didn't have a connection with it. I love clothes and I am very inspired by other people being creative. It's hard to watch people being creative around you, I wanted to work on the set and not just stand around. So I quit that. I started doing some Director of Photography work; I saved up and bought a camera to do music video shoots and product branding. I took up another job to keep it up and ended up cleaning the equipment at a local gym. One day I was shooting something and thought "I could do that better". My mom said "What don't you?" I set up a little camera in my bedroom and started making up content and people liked it. All of a sudden, other people wanted me to make content for them. It kept growing and growing and more people liked me in front of a camera. That lead to TV companies getting involved. Someone emailed my agency asking for me to do some stuff on Capital's breakfast show, outside broadcasting. I did some run-around for 3 weeks then they've asked me to demo for a show. 2 weeks after they offered me a show. I owe a lot to them because they put a lot of trust in me but they knew I was savvy in what I had to do, how hard I had to work.
Plus you talk quite easily.
Yeah, I could talk for days! It was a natural thing; I had never considered radio but I love it. Obviously, TV companies and TV sets are what I know, growing up with my dad being an actor as well, I knew how TV shows work, not radio. What's mad is that I get to do both now without having to put on a persona.
Yes, you've recently started working on the X Factor. How did you get into this?
ITV had been watching my career for a year and a half; they're very aware of everyone on the circus at the time. They were fans and they let that be known for a while. I had meetings with them about X Factor and Extra a year ago. When that didn't happen, I didn't take it to heart, I understood I wasn't ready yet. I got more radio and TV hours until ITV pushed the button and said I was ready. They asked which shows I would like to do and I already knew it would be X Factor. I like X Factor because it's pure entertainment; I don't believe one person sits down to watch X Factor and is not entertained.
Even if you hate it you have to keep on watching.
Yes, you want to hear the judges' comments, you want to see the whole performance.
Is there any particular moment that defined your career?
It's every moment. Whether it was my first live radio show or my first time on live TV, whether it was my first time reading an auto-queue, my first time having an in-ear and someone talking to me while I'm talking to someone else, every moment is learning. You can never stop learning in this industry.
Going back to fashion, do you have any favourite designer?
For me, considering my age and coming from LA, Jerry Lorenzo, Virgil Abloh, these types of blocks. They all come from the Yeezy cloth. It's interesting to see people that worked on the Yeezy project years ago all start coming up and doing their own thing. It's a nice time to be an independent brand. I love the creativity behind it; my thing is "Oh that's an interesting take". I love clothes where it's obvious that someone has been inspired by someone else. It's obvious how much Kanye West was inspired by Vetements; it's obvious how much Jerry Lorenzo with Fear of God was inspired by Rick Owens. It's nice; it's their own take on their creativity. That's how music is; that's why stars in music come in an out.
What do you do when you're not working?
I sleep. Genuinely. I mean it's fast-paced but I recently took 2 days off and on the second day I had to tell myself not to go back to work. You have to be on your toes and be willing to do things, especially at my point in my career right now, if the cool comes in you've got to do it. There's a point where everyone has to work 7 days a week to get where they want to.
As a last question, what is really Fucking Young!?
It's a hard question because it's already a statement in itself.
My views on young and old are very warped because I've worked with people a lot older than me since I was 15. People I conceive as young are my age, I don't see myself as my age.
On a mentality level, I think it's the good thing with my job, I can act fucking young everyday.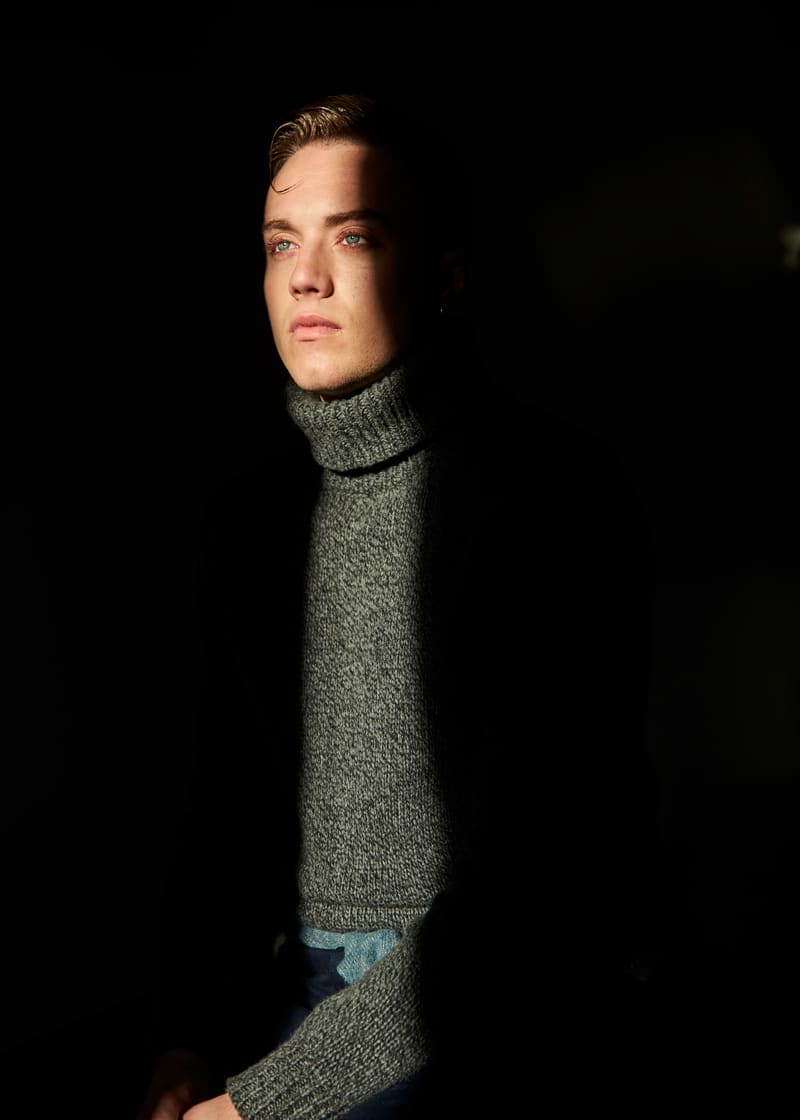 Roman Kemp was photographed by Joseph Sinclair and styled by Lindsay Hillenbrand, in exclusive for Fucking Young! Online.
Make-up: Lauren Griffin using MAC.
Hair: Smith & Martin @ Smiths
Catch Roman on Xtra Factor, Saturday and Sunday evenings on ITV2, and also on his Capital FM show, Monday to Thursday 7pm-10pm and Sunday 9am-12pm.