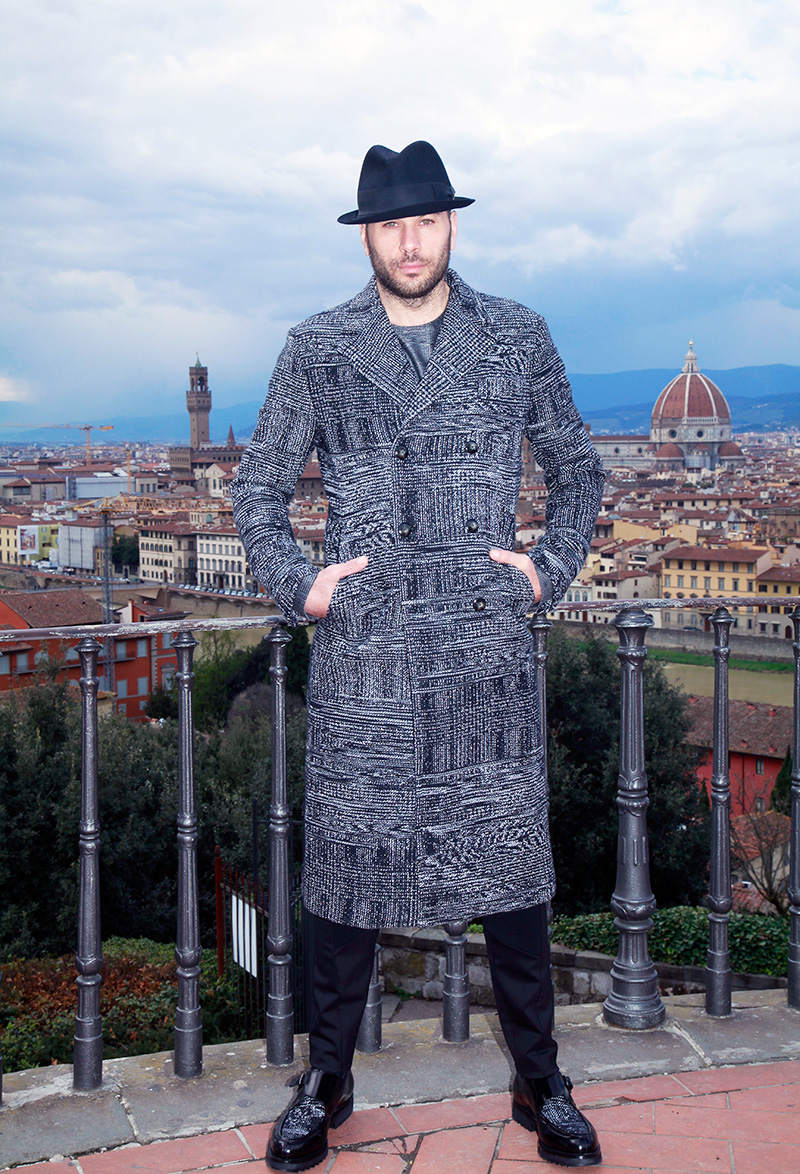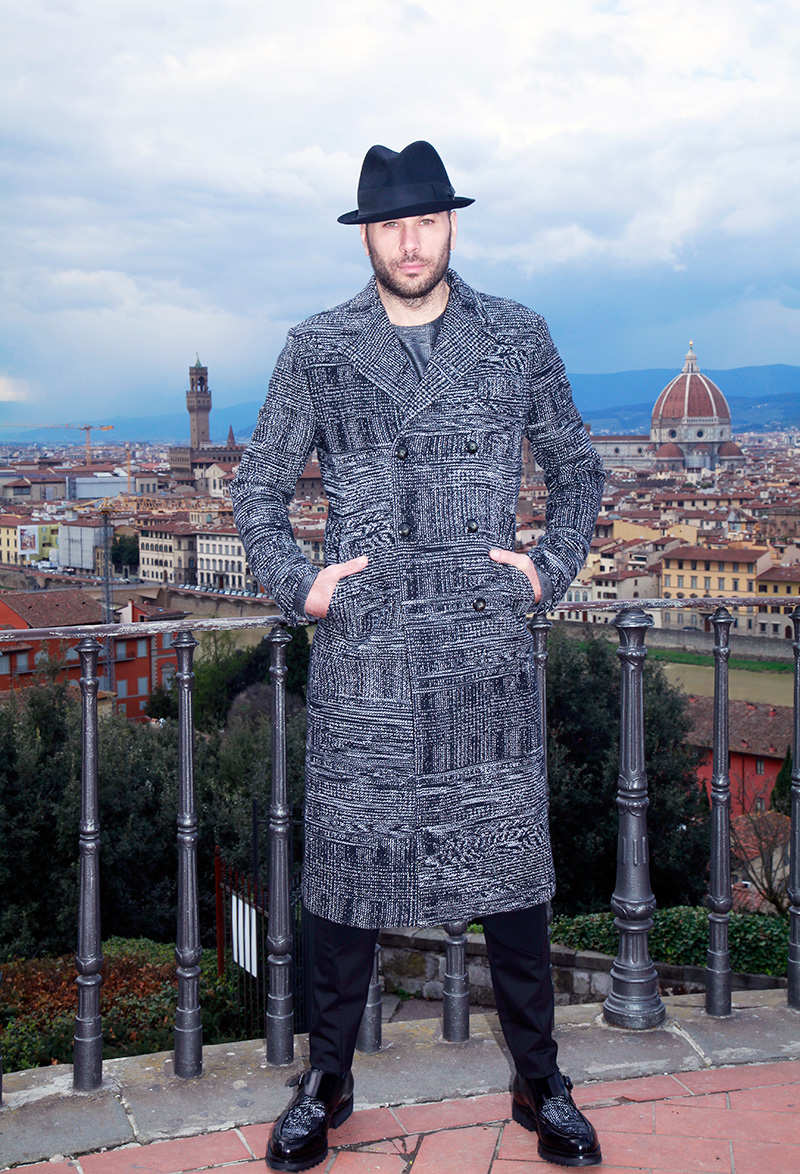 Close your eyes for a moment. Imagine Florence, the Renaissance splendor, the Tuscan countryside. Imagine New York, the skyscrapers in Manhattan, the American dream. Imagine Milan, the Castello Sforzesco, the Italian fashion. Mix all that vigorously and in front of your eyes you'll see the ineffable face of the hero of our interview: Federico Curradi.
Creative director of the brand Iceberg since 2013, Federico is the sum of all his countless, sometimes daring, experiences. Very soon, he starts his apprenticeship in one of his Florence's ancient tailor's shop, where – as he himself admits – learns about the "profession". Italy, however, is too small for him, doesn't suit his restless spirit, and so he decides to fly to the United States. In New York he launches a line of pants that achieves an immediate success. It's not enough… Back to his Homeland, the repeal of the birthplace is too strong. He collaborates with Ermanno Scervino first and then with Roberto Cavalli  since 2005. Years pass, two to be exact. The guy is talented and he does not flee from the alert eye of the giant Gilmar, which welcomes him in its large family. Here, together with Paolo Gerani, he plans and promotes the relaunch of the historic signing of the flag. The goal is quickly reached and earns him the sought-after job, never held by anyone else before.
For the F/W 2014-15 he chooses to combine his idea of man, modern and pragmatic, with that cartoon world so dear to Iceberg. He creates his Bruce Wayne: revolutionary, revolutionized, so powerful. A superhero, classic and futuristic together. A man loving the urban chaos and the country life seraphic peace. One that in weekends leaves the glittering world of fashion to devote himself, body and soul, to the passion of a life… Horses.
Fucking Young! –  Hello Federico! I hope you are fine… Let's start from far away, from your beginnings. Very young, you start your adventure in the fashion world as an apprentice at an ancient Florentine tailor's shop, one of those which have written the Italian fashion's history. How do you remember about that experience? What the greatest teaching you've received?
Federico Curradi – It has been a great formative experience in a time when everything seemed to be possible. I treasure a wonderful memory, it was the moment when, in one way or another, I have chosen to work in this sector.
FY! – In part, you've already answered… Have you always known  fashion would have been your future? When was this passion born?
FC – I attended the artistic high school that has helped me to express my creativity but at the time I didn't have any idea it was just a prelude to that career as a designer that has brought me to be the today's creative director of a brand. It has been a string of experiences that has made me fall in love with this work, day after day. The passion, the real one was born  when I started to produce my line a little bit for fun and for testing me. As I said, it was a time when you could still afford to create and go to the shops – which had the so-called research budget – to submit your work. I had the opportunity have my items sold in the most beautiful stores in Florence. I still have to thank Guya, Gerard, Raspini and many others in Italy and New York. I took a new direction, I enjoyed being able to earn money through my creativity. And this is what caused my decision to be taken: being able to live thanks to my own ideas, there is nothing so beautiful.
FY! – In your early twenties you move to New York and launch, maybe for fun, a line of pants for men that achieves a resounding success. What do you think your trump card was? What the secret of these pants?
FC – Actually, there are no secrets. It was funny because I was a kind of "vu cumprà" in the Big Apple. I had with me the pants you've mentioned and that I still have. I got inspired by the classic Thai model reinterpreted in a hyper-sport key. I had opted for a '90s concept,  in some way linked to the world of Helmut Lang and Prada Sport, and I did a study on symmetries trying to combine sportswear, exactly, with ethnic… It was nothing more than the result of my recent trip to Thailand. I can still remember it emotionally, I managed to sell two hundred eighty pants to Atrium and Scoop – that by the way were partners in the business. In a week they were all sold, it was a success. It must be said that it was a New York different from today. It was before September 11. At the time for New Yorkers weekend was synonymous with shopping.
FY! – After the experience in New York you come back to Italy, Florence somehow craves you … You start to collaborate with the brand Ermanno Scervino that wants you to lead the man style office. How was your  returning home? And how was working with Scervino?
FC – Scervino wanted me with him to draw the man's Collection 0. Then I dealt in part with the woman's sportswear too. I had the good fortune to witness the brand's explosion. I joined the company when there were fifteen employees and I left when it was an established brand. We moved from the presentations to the man on the runway. It has been a very positive experience. I can say that Mr. Ermanno has taught me everything: how to organize a show, how to create a collection, etc… Scervino was also among the first Italian brands to combine the concept of sportswear with that of luxury, I am beholden to him.
FY! – In 2005, you arrive at Roberto Cavalli as the man's collection manager. Just the same question as before for Scervino… How was it working with Cavalli?
FC – That with Roberto Cavalli was a different kind of experience. I arrived at a more established Maison while  approaching the world of glam and having to compare myself with great designers. At the time, I was working with Peter Dundas, it was amazing. The purpose was to create an "image", the object of desire, something absolutely unique. You did not think about the price then. The same was at Scervino's. It was the most interesting aspect of both brands: the search for beauty. Moreover, they both are Florentine and the beautiful, as you know, is strongly felt in this city. The care, the pursuit of perfection and luxury is part of the Florence's DNA. Anyway, I got on very well with them.
FY! – As you've already pointed out … The two brands, linked together because of both their origins and their attention to quality, are absolutely different in mood. What did and do you appreciate most of the one and the other?
FC – At Mr. Ermanno Scervino's certainly the search for the craftsmanship, spasmodic and charming. The authentic handmade conveyed in the smallest things. A sort of throwback to create amazing items. At Cavalli's which already had its referential know-how I managed to enjoy that will, intention to create desire, to look for confirmation of and in the brand collection after collection and to convey the concept of luxury…
FY! – Since 2007 you has finally come to be part of the great Gilmar family. Paolo Gerani asks you to be the new creative consultant for the Iceberg menswear line. Together you have reinvented what the rules of the traditional knitwear were. Which your goal?
FC – To reposition Iceberg, an historical Italian brand known at an economic level especially for its link to the cartoons world. Therefore, our work was to extend the range of the brand Iceberg by projecting it toward the total-wear. To make both buyers and experts discover that the Gilmar company is able to produce not only beautiful sweater but just as a nice sportswear as well. The goal was precisely to deliver this message on the runway and from the runway to the final customer.
FY! – With the 2014 S/S Collection you have become the creative director. How did you hear the news and how much of Federico Curradi is there in the new Iceberg man whose DNA you seem to have respected?
FC – Holding by the DNA of the company is crucial. You need to convey to clients and experts the respect for the traditional knitting, always present in our collections, and find some more modern ways to make the brand more appealing and even cooler. In the collections there is so much of me. In any case, when I draw the line I let my idea of ​​the man and of what I personally would wear become visible.  I am very happy I have been chosen for this role. It is not easy, there are responsibilities which I had not dealt with directly before. Now the difficulty lies in making the company glad on a business level and helping the brand to go towards a more contemporary placement as well.
FY! – Today, who is the man, the model that best embodies the spirit of the Maison?
FC – I do not name any famous people because I do not watch TV so much. I do not have a referential person, I have no male icons like Brad Pitt I'd like to dress up. My idea is that of a street man, an ordinary one who differs from the others in his intellectual capacity. A capacity that is externalized, that expresses itself in the look with which he plays. I believe that today anything representing a commercial boom functions very, very well. The difficulty lies in being able to create an authentic style.
FY! – As mentioned, Iceberg is famous for  the cartoon characters. Through the 2014-15 A/W Collection you have instead wanted to honor Bruce Wayne. The technical fabrics make the iconic Batman's armor while natural fibers are more appropriate for the  younger and carefree Wayne's suits. The focus remains high on the concept of new sportswear. Can you talk about?
FC – It was a way to interpret the cartoon in a softer way. We worked the classic fabrics in a 3D version. I got helped by a talented photographer, Daniel Sandoval, and with Tom, who works with me, we have thought the idea of ​​this Bruce Wayne in a classic / i-tech key, trying to extrapolate the two souls of the masked hero.
FY! – Which is the item that best represents the whole collection? And the one you just cannot miss in your wardrobe?
FC – In my opinion, there are two aspects which are really representative for the collection. The concept of the fabrics (from jacquard to Prince of Wales) with the colour scratching to mark the transition from classical to modern and the handmade neoprene hoodie where the Prince of Wales design became a kind of 3D artwork.  Instead, the garment that can't miss in my closet… I am a sweater-lover. In winter, I can't give up a nice cashmere sweater.
FY! – Who will be your 2015 S/S superhero?
FC – There won't be any superhero but an observer of nature… The inspiration is a suggestion I got by the nature.
FY! – Art has always influenced the Brand you are guiding. Instead, to what extent does it affect your life, given that you were born in the city of art par excellence?
FC – I cannot say I am a fanatic, it would be an exaggeration. The art is certainly a great driving force for me in everything I do, everything. I mean art in its broadest sense because for me art is not just to visit a museum. It is a lifestyle. Sometimes you need to have the sensitivity, the openness to the inner changes, the tendency to see things in a different way… I think this is a bit the meaning of my life, for better or for worse.
FY! – Florence, New York and Milan are therefore the cities which your life revolved and revolves around. Among these, which one do you feel closest to? And how did and do they influence your work?
FC – Florence certainly  represents the starting point. New York is the place where I go to "store" information that then I rework and that helps me in the creative process. Today Milan represents the work. I live in the countryside, I need to live at the same time in chaos and tranquility. I love opposites, I could not stay in the country for more than three months and I could not live in a metropolis for more than six months. I need both.
FY! – The Italian men's fashion future according to  Federico Curradi…
FC – In Italy we should value more what we are able to do, I mean the made in Italy. Italy has a great fortune which for some reasons is not supported but mostly I think we should ensure that customers come back to understand and appreciate its true value.
Thanks a lot!
Photo by 
Kristinn Kis
.