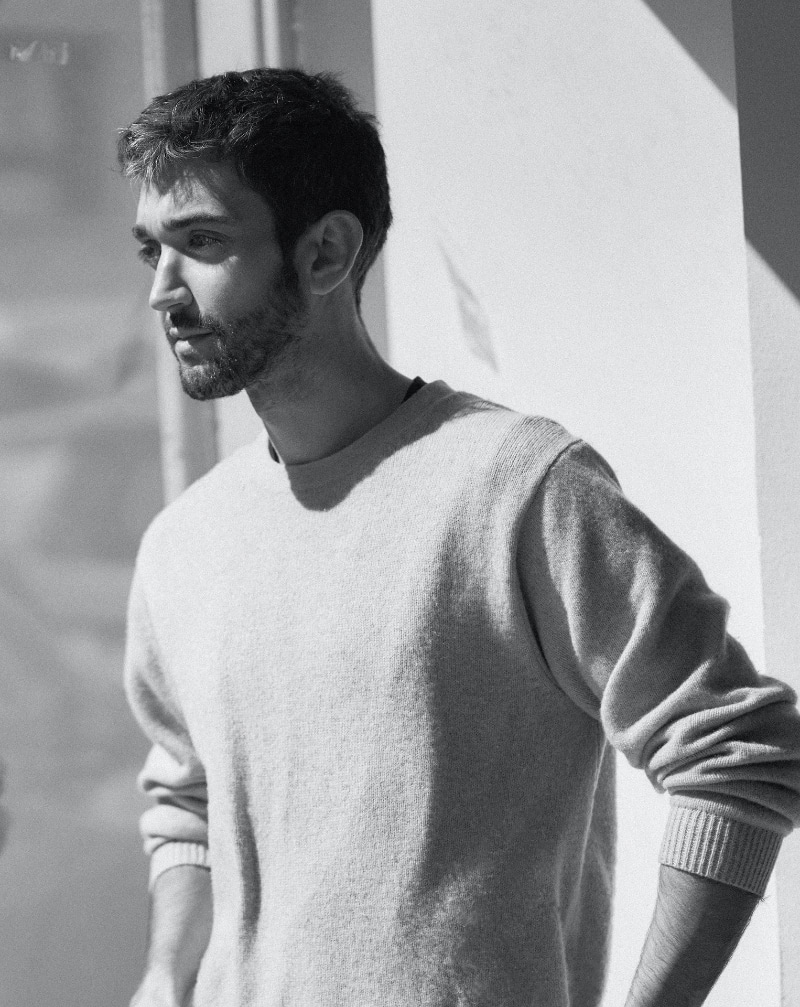 Under the concept – SEASONLESS, INDIVIDUALISTIC AND GENDERLESS QUALITY CLOTHING MADE IN SPAIN FOR MULTITASKING CITIZENS OF THE WORLD – Pablo Erroz' collections are born interpreting the fusion of the most street style together with an easy and sophisticated luxury, updated to the new times.
"2015: 2021" is a capsule collection created to celebrate 10 editions of 080 Barcelona, in an unprecedented and digital way. Formed by a series of ready-to-wear garments that highlight the brand's DNA, the collection is made up of a series of renewed and colorful classics designed to last.
We talked with Pablo before his presentation and here's what he told us:
Hi, Pablo! It can be said that you are one of the Spanish designers with a fairly defined career and images despite your young age. Is there an added pressure from this? What do you do to keep the level?
The only "pressure" in this case is the one we put on ourselves, trying to improve every day and doing better. It would not make much sense not to evolve, so I always try to maintain my own style, a DNA, but in constant palpable evolution. Both I and all the people who work with me are restless people, we question every day what we do in order to continue adding emotion to our work and continue to grow. We like to say that we are multidisciplinary. That, together with investigating different paths and disciplines, is what makes the brand continue to evolve and our work seems fascinating to us.
You have many national and international awards. How have these awards helped you?
In spite of everything, I believe little in the prizes. They don't make you better or worse. They are specific recognitions, for which I am super grateful, but they have never made us lose focus or get out of the way of constant work. They help at the level of visibility, but you must never lose sight of the fact that you cannot always be at the top of the wave, in fact, you have to normalize it more. On the other hand, I think it is in the "downs" when more potential growth appears, because that is where you question yourself and try to do better.
Tell us a little about the collection you are presenting at 080 Barcelona Fashion.
We wanted to add some capsule pieces, as a continuation of our Non-Seasonal 2022 collection that we previously presented at MBFWM. A more colorful and fresh point, trying to make pieces that give off optimism through color.
How does it feel to present your collection in such an iconic place as Gaudi's La Pedrera?
The luck we have had with 080 is that we have always been able to work in privileged places, in fact, it is one of the many magical things that Barcelona has: a thousand places out of the ordinary. However, La Pedrera is probably an icon and as such arouses a very special interest. Personally, as a lover of Barcelona and modernism, I can't think of a better place.
What is the importance of Seasonless for you?
Doing things forever. Without giving them an expiration date and always thinking in the long term. It is also an evolution of our business model, where the concept of seasons has become obsolete.
How is sustainability present in your collections?
Practically in all processes. The fact of eliminating the seasons and the genres in the garments, basically, is nothing more than a firm commitment to contribute to a more friendly and respectful consumption with the environment. On the other hand and taking into account that resources are limited, we have decided not to produce any fabrics for our collections. We buy stocks and thus also promote another type of business and real circular economy. In the event that we need to create fabrics, we always try to do so through processes that include fibers/yarns from previously recycled garments.
Also, as part of the evolution and desire to investigate these processes, this year we have aligned ourselves with BlueBite, and thanks to its technology, we have been able to add the NFC (garment passport) system to the garments thanks to which, with something so simple as a smartphone, you can scan the garments and always know the traceability of the items, as well as their environmental impact. A great little gesture on how to bring the consumer closer to what you do and a commitment to transparency.
How do you see the future of fashion with so many social and environmental changes?
I think it must be constantly evolving, like everything. At the moment, I think it happens due to the fact that many brands stop to think about what they are doing and if they really need to produce that much. We believe in less, but better. Investigate other ways that help build tangible brand universes, and in our case, creating fashion with more discipline and introducing ourselves into new areas such as product design, interiors, or even the wine sector.
And how do you see yourself in the future? What plans do you have?
Well, more of the same, both to me and to the people I work with, I see us, luckily, in constant evolution and trying to find new paths every day that make our work more interesting. And synergies are a good part of it. In the short term, we are focused on an ambitious online store project, materializing this last month (which has been titanic) in an optimal way and some interesting projects that are about to close.
Take a look at Pablo Erroz new collection below: