"Nostalgia is a very human trait"  – Stephanie Coontz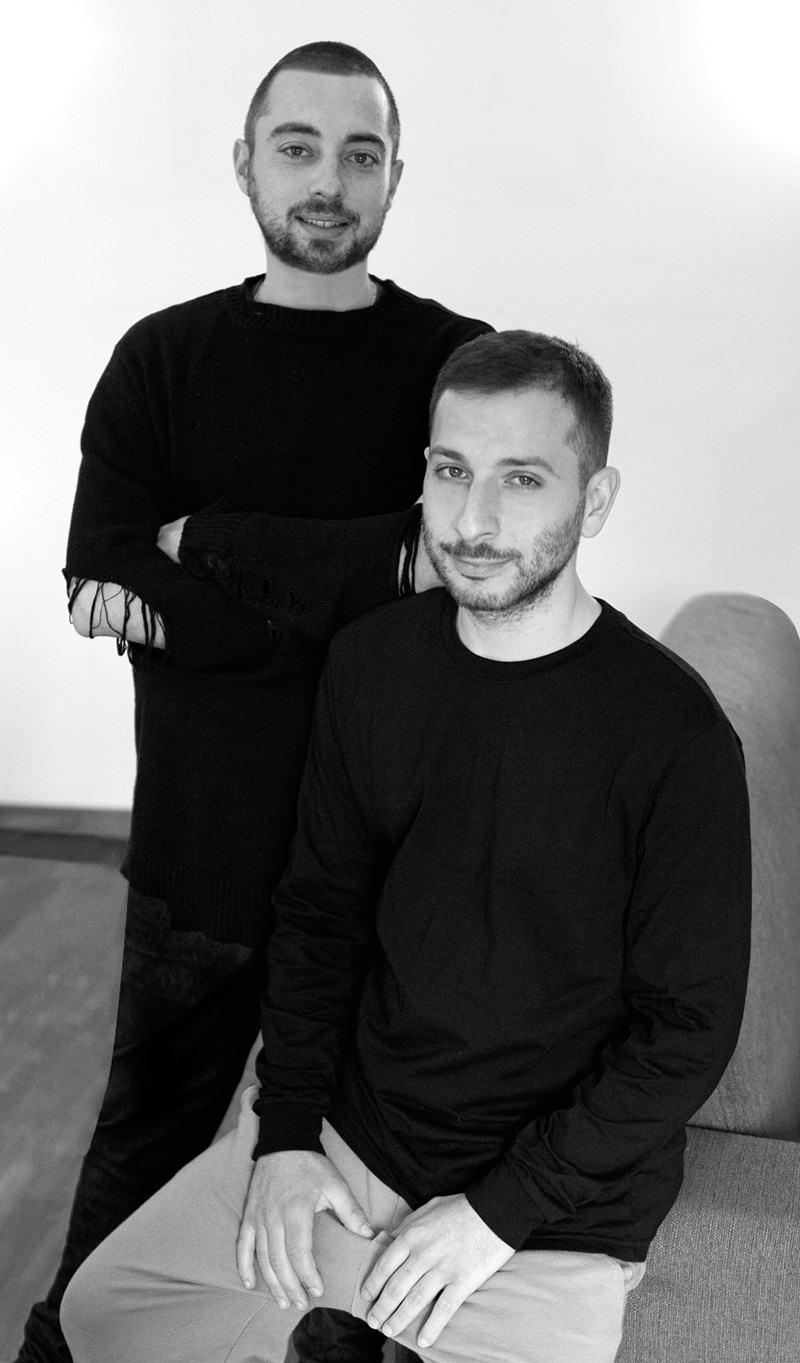 Nostalgia is a state of mind, a feeling, an atavistic intimate instinct. Nostalgia is the starting point of the made in Naples NTMB brand that the two creative founders Davide de Vivo and Matteo Paoloni shape, transform and adapt to a fashion idea poised between past and future: modern.
The concept of NTMB is to celebrate urban and pop culture in all its forms and to dissect vintage clothing and older statement pieces – to reuse and to recycle them – in order to breathe new life into a multitude of fabrics and materials and to reshape them into brand-new statement pieces.
In this context, Davide and Matteo work often with timeless materials such as recycled denim – an iconic fabric that has played a decisive role throughout fashion history and pop culture. Designs by NTMB are customized with styles and inscriptions inspired by nature, urban culture, video games, manga and psychedelic culture, as well as calligraphy, murals, and church frescoes.
We met both the Guys some weeks ago and that's what they told us.
Hello Guys! When and how did your interest in fashion start?
The interest in fashion started when we were only children. Davide developed his interest in fashion through his mother who worked for Ferragamo for many years as a manufacturer of shoes, the love for fashion very much stemmed from nostalgic familial roots. Matteo's interest in fashion was always an evolving journey, studying fashion and graphic design in school, he was exposed to the fashion world in Milan and Paris.
What is NTMB? How did it was born?
The acronym NTMB, NEVER TOO MUCH BASIC, has been chosen for the principle that clothes should have recognizable features, breaking the usual way and the monotony of the mechanism of the usual fashion system not only for our vision of garments but also for our deep interest for the preservation of our planet natural sources. For this reason, we give great relevance to the vintage and their transformation.
The concept of NTMB is to celebrate urban and pop culture in all its forms and to dissect vintage clothing and older statement pieces – to reuse and to recycle them – in order to breathe new life into a multitude of fabrics and materials and to reshape them into brand-new statement pieces. Tell us something more about your philosophy. 
Our philosophy comes from the awareness that our planet is dying, like a flower without water under the summer sun, and by the awareness, fashion production is one of the major features for the decadence of our Planet, we see it as a duty to create fashionable pieces with respect of the Earth in mind. In only 100 years, the fashion industry produced millions of garments that can be reused without continuing to produce new ones. Reusing them, giving them a new life, means that you can contribute to efforts to stop the waste of water and materials. It's possible to implement a production process that helps our environment. We believe this and strive to do this every day.
Today, what is the winning compromise between fashion and business? 
In our modest and honest opinion, a compromise would be the slowing down fashion, but I can see that isn't possible because our industry has an innate need to continually produce and deliver new things as soon as possible. Slow fashion means displaying better quality of products with a more thought out process behind the creation of these products.
How do you define Throwback style? Who is its top customer? 
Throwback style is a nostalgic tribute to our past, without forgetting a little space for the future. The past is an evolution of the future but without it, there isn't a future.
The ideal customer of the "throwback style" is someone who knows the story of something. Someone who can really feel the real value of objects, from their composition to their shape. Someone that understands the storied past as to why a particular garment was popular at its time, in our eyes, that would be the top customer that understands the throwback style.
If I tell you sustainability what do you reply to me? 
An absolute necessity.
Street, pop, vintage: how do you combine these three elements in your items? 
Giving space to our nostalgic feelings but with a strong awareness of the present and future time. If you analyze some of our pieces you can find a reference of our past, or past feelings, not only about sensorial feelings but also about a right time in the past – for example, a smell of something, a sound, a shape or the name of someone. It's really about sincere research inside us, it's like a long conversation with ourselves. Nostalgia is one of the most powerful gifts that human beings are given. Nostalgia makes us HUMAN.
Paying tribute to both urban culture and sustainability, NTMB's capsule collection for Faith Connexion contains rough elements and strong colors – a true celebration of all things creative. Tell us something more about this collection/partnership. 
Faith Connexion is maybe one of the few brands that really can manage multi-brain in one idea. To be clear it has the attitude to merge together spirits and ambitions that at first glance seem unfitting, but Faith Connexion always manages to do this seamlessly. It really isn't that easy, although Faith Connexion makes it seem easy whilst constantly driving trends and creating new paths. We love being part of the Faith family, our designs never lose the identity that we so strongly try to implement. Sustainability has always been an element of our collaboration, and this season's collaboration with Faith will boost sustainability and the importance of upcycling.
What is the future of fashion? 
The right question is how much time does fashion have left?
As always, our last question… According to you, what is really FUCKING YOUNG!? 
A peaceful anarchy!