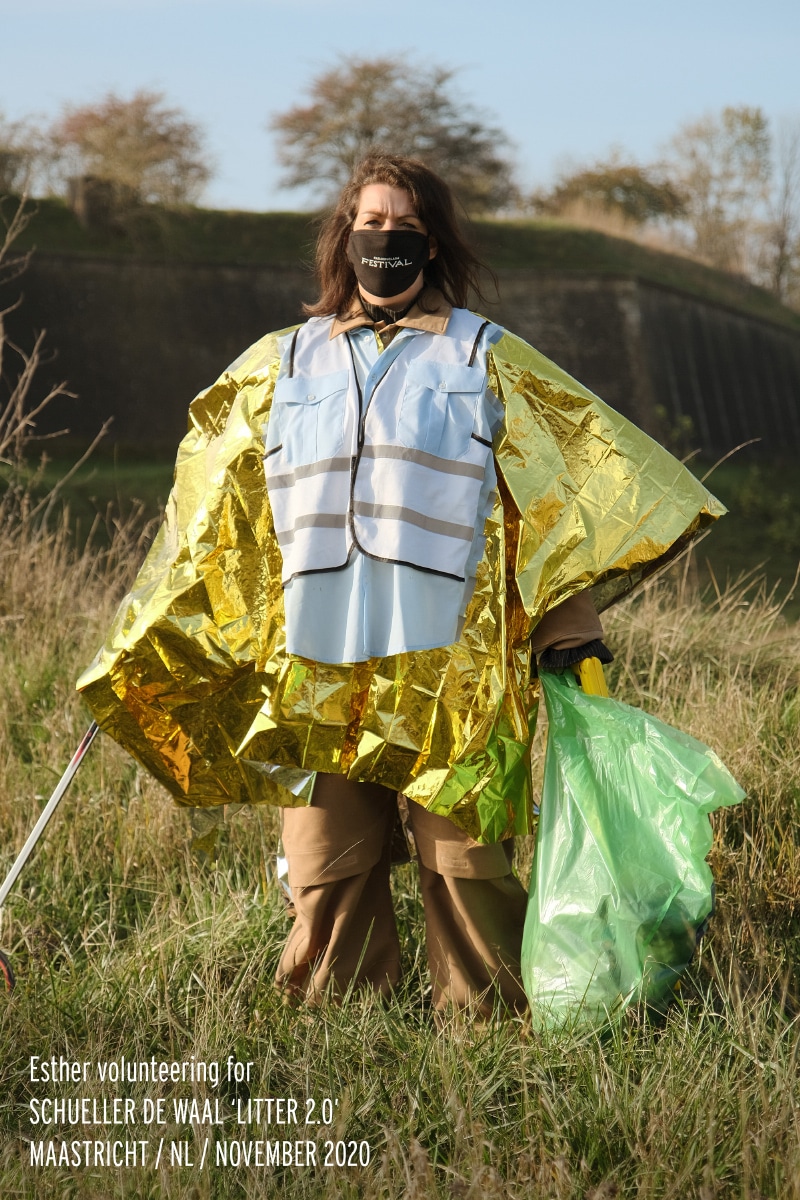 SCHUELLER DE WAAL made up of fashion design duo Philipp Schueller and Rens de Waal, creates fashion statements and capsule collections in which they express their belief in Fashion as Therapy. With their work and collaborations, Philipp and Rens aspire to develop different perspectives on fashion which allow for a refreshed optimism in creation and that catalyze change. 
SDW presented 'Litter 2.0' for the 'Living Exhibition' and virtual festival of Maastricht-based FASHIONCLASH, in collaboration with CNME Maastricht en regio.  For this second iteration of the project SDW teamed up with both local volunteers in Maastricht and volunteers at other NL locations. They dressed this diverse group in an eclectic range of cleaning uniforms made from the studio's leftover fabrics, deadstock of the fashion industry and re-worked interpretations of CNME's cleaning gear. In Covid19 proof small groups, the volunteers headed out into their direct environment to pick up litter. 
Next will be 'Litter 3.0' on show at the window exhibition of Bellamy Kabinet in Amsterdam. We caught up with the design duo to learn more about their vision of how fashion and action can work together.
Up-cycling, deadstock, and repurposing are now part of the fashion vocabulary, but you have been exploring these techniques for several years now. How has your journey been so far and how did you process change during the lockdowns last year?
Indeed 'deadstock design' has become quite a given in the industry. We are pleased to see also big companies starting to re-purpose already existing resources. It also seems like the arising need of 'deadstock designers' brings new possibilities for collaboration on the table, which makes us hopeful as independent creatives. We have been working with deadstock since our beginnings. It has always been our ambition to keep our brand small, to enable us to also work with low quantity leftovers and find our own system and timing of launching product for sale. Of course, this requires creative commissions aside our own practice in order to survive. There have been tough moments during lock-down but due to our multi-disciplinary way of working the situation has also brought commissions on our path which were specifically engaging with the current crisis. This helped us a lot to remain focused and believing in what we do.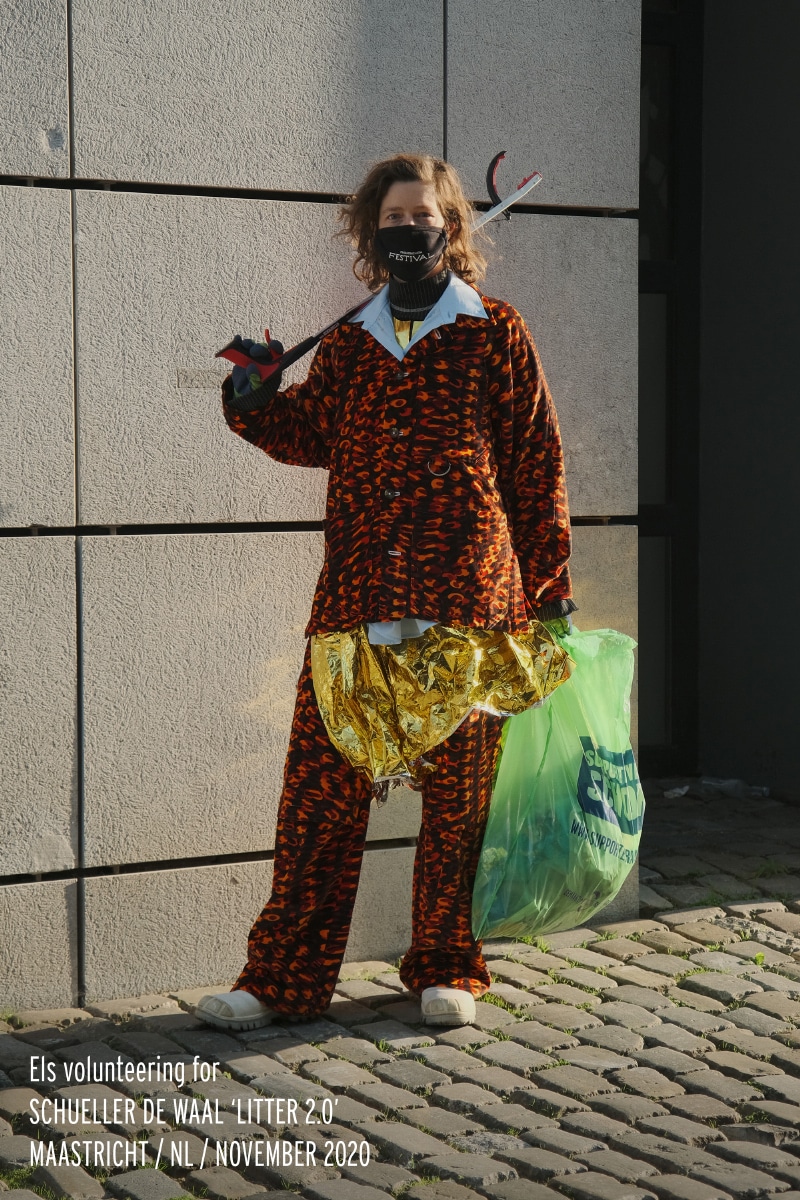 How would you describe your technique or approach? 
Over the years we have developed a series of signature archetype designs, which we realize from deadstock fabric. We also re-shape existing garments towards this design language. We always depart from the idea of creating an own interpretation of a uniform, designed for our diverse fashion statements about 'fashion therapy'. Last year we also launched a digital collection of the SDW Fashion Therapy Uniform. Virtual Prototyping is enabling us to offer made-to-order designs even from very small fabric quantities we want to work with.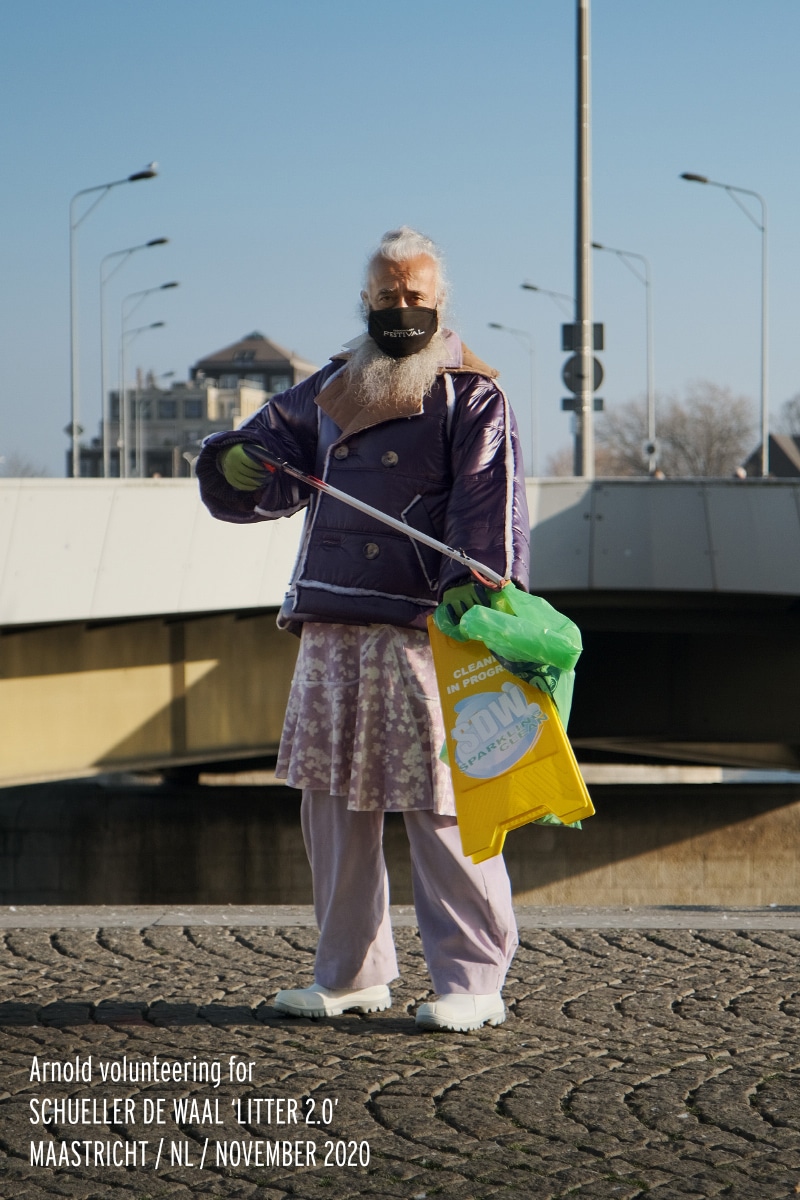 You have presented in both Paris during Haute Couture Week in the past and most recently at FASHIONCLASH Festival in Maastricht. How was the general reception of the public? Did it differ between the two cities?
The nice thing about our Collaborative Cleaning Initiative 'Litter' is that it happens in public space. So it is open for people to see or even join. The difference between presenting it as an intervention during Haute Couture in Paris and as part of FASHIONCLASH festival was the length of the performance. The short presentation in Paris functioned more like a 'campaign' for local NGO's and the act of cleaning itself. During FASHIONCLASH we had to follow COVID19 restrictions, which on the one hand were limiting us in the volume of volunteers cleaning at once. On the other it made us decide to dress small groups of volunteers and really take the time to go out to pick litter. This was really effective in the sense that we managed to collect and dispose of a lot of garbage actually. The reactions of people during both presentations were really heartwarming. Since March 2021 we are also presenting the project in a street gallery in Amsterdam. For this exhibition, we went out to pick litter ourselves. So many people started talking to us and encouraging us. Extremely sweet.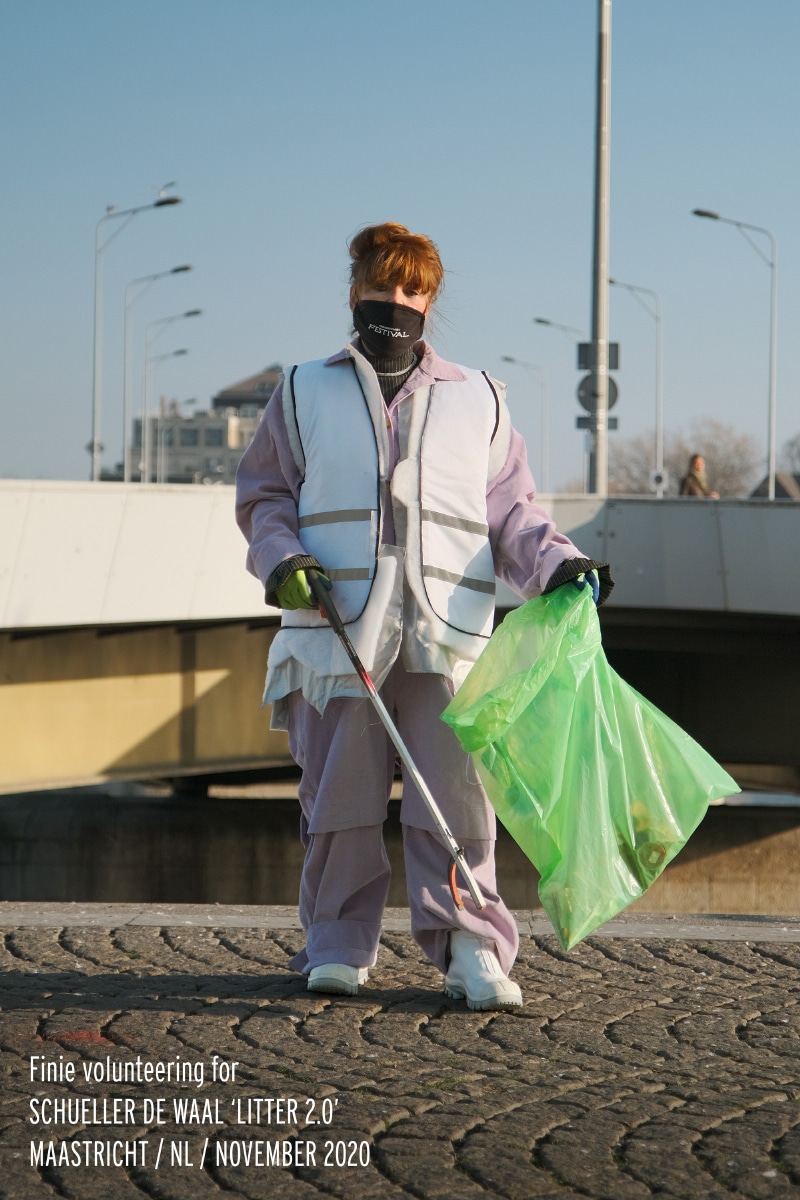 What did you learn about yourself this past year?.
Hear your own voice, always listen to your guts and talk to each other.
Could we elaborate on the measures that fashion could enact in order to thrive for a much better environment? 
We really believe in fashion being a powerful communication tool, which has the potential to address the problematic patterns of consumption culture and eventually change them. It's just that the bigger players in the industry also have to start utilizing their power in that sense.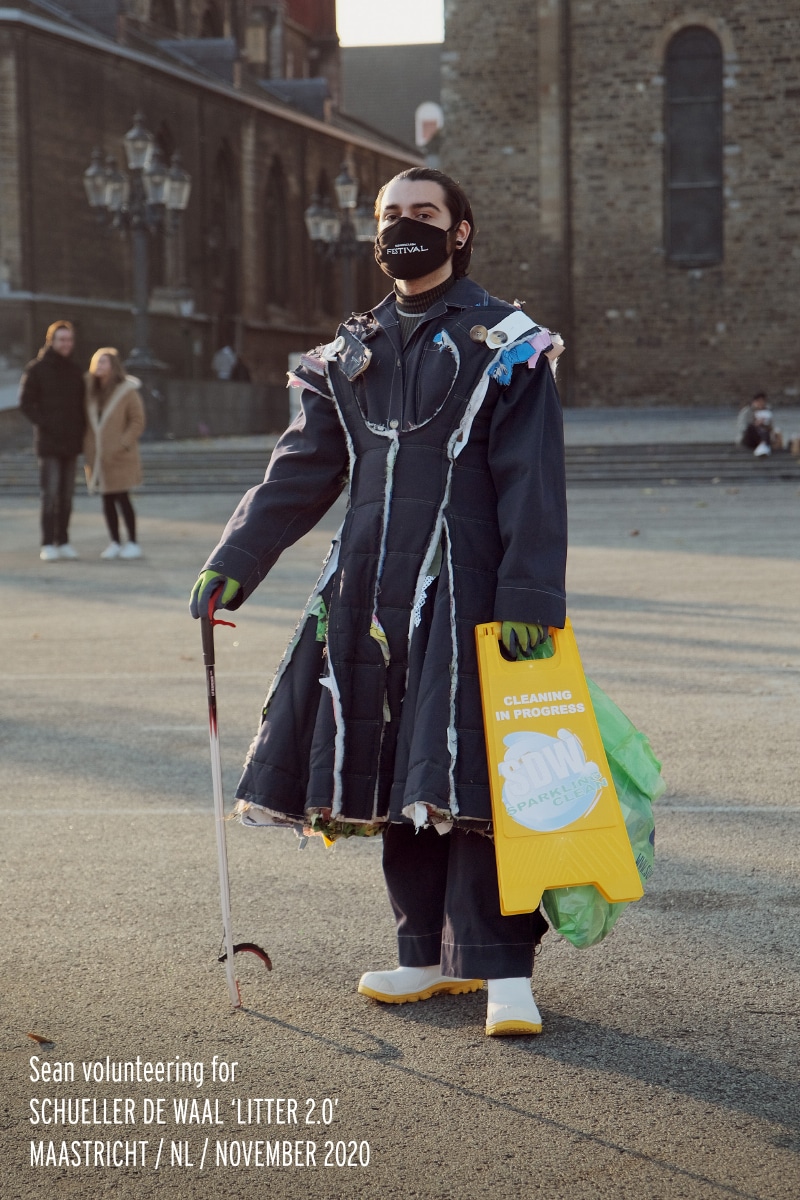 Do you think you need to take risks to be successful in fashion?
Isn't choosing the path of becoming a fashion designer a risk in itself ;P? So fearlessness in taking brave decisions is eminent.
What's the biggest risk you have taken so far?
Quitting our full-time job as designers and starting out for ourselves.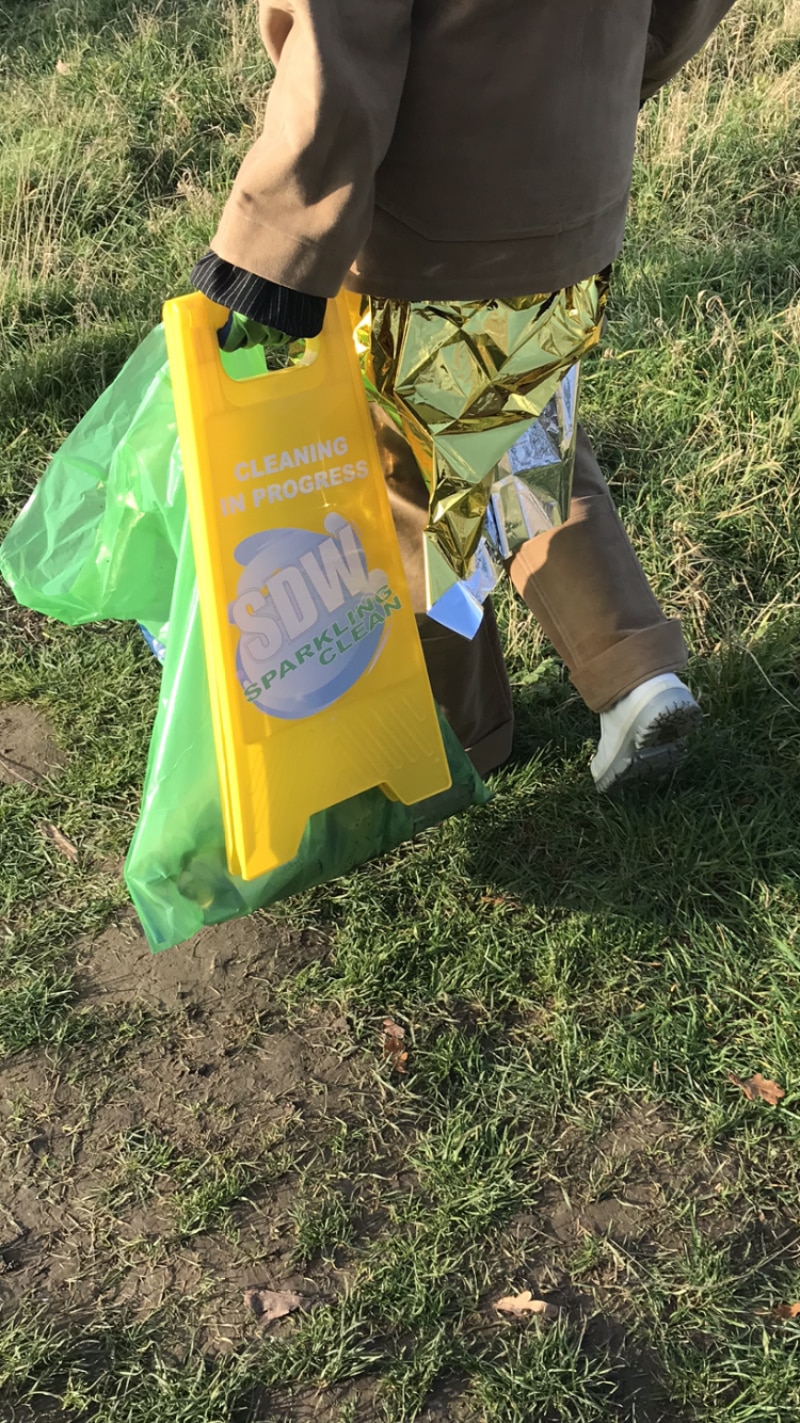 How do you envision the future of fashion, trends, and the whole creative avenues?
Re-envisioning fashion is crucial in the current situation of the world, and parts of it are currently undergoing this metamorphosis. We really believe that the boundaries between disciplines will fade and that the profession of being a fashion designer will reach out into so far unknown territory.
And finally, what are you looking forward to this year?
Using the space and time Covid19 forced on us to investigate questions we have and things we want to experiment with individually and how that will positively change the dynamic of our collaboration.