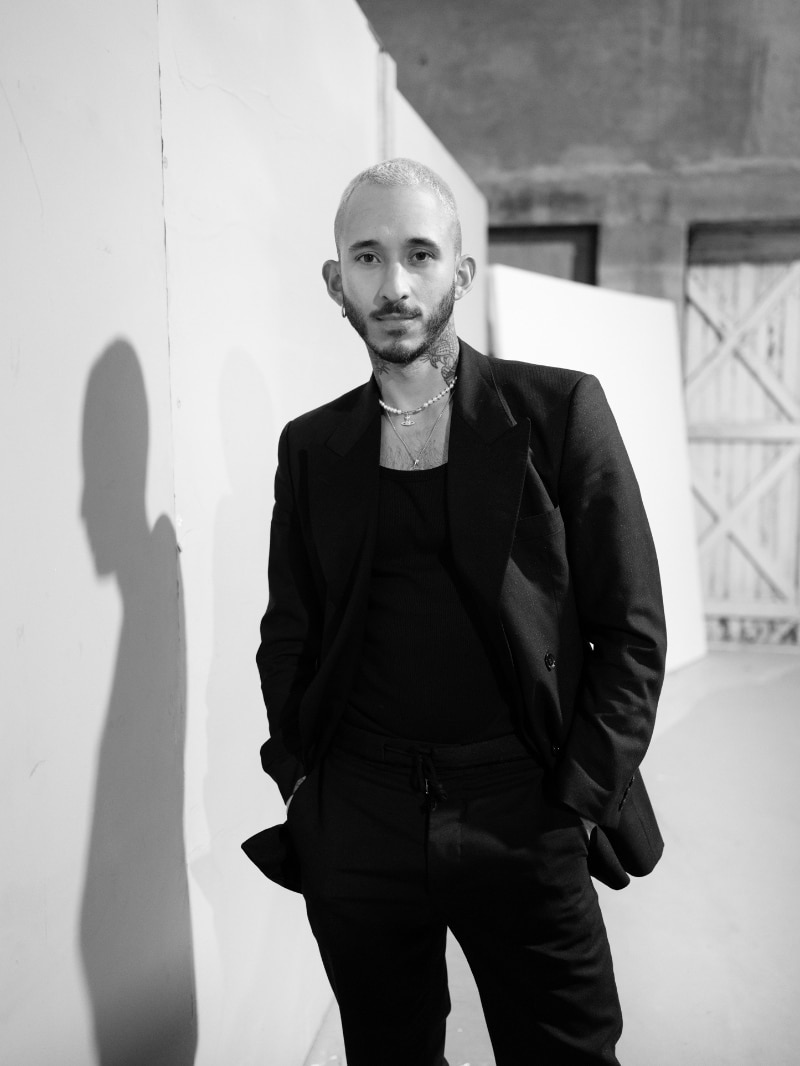 We recently got to see designer Mateo Velasquez present at Hyères where he was one of ten finalists and the first Colombian designer to reach the final of the competition. What caught our eye wasn't just the immaculate technique to explore and construct with recycled materials, but the conversation the collection sparked about masculinity as a whole. If anything, the topic of toxic masculinity has been an ongoing and a real threat in recent years. One scholar even noted, "Masculinity becomes toxic when men do not express themselves emotionally or creatively, in fear of being labeled feminine."
Just like the use of reclaimed leather, there is an element of reclaiming masculinity in Mateo's collection, one that isn't toxic and that celebrates expression. Men are changing, and not all fashion brands are catching up. While it's easy for some brands to adapt and jump on the bandwagon, it doesn't always come from the most authentic, sincere place.
We caught up with the emerging designer following the festival to find out more.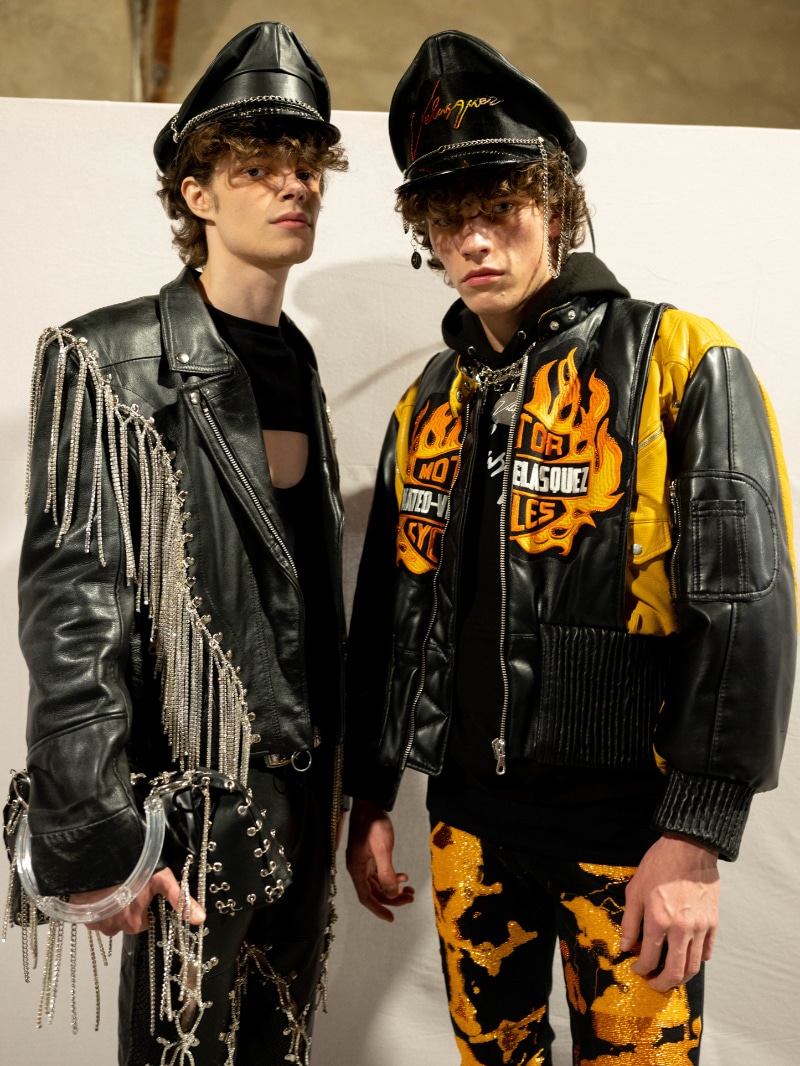 You are from Colombia and graduated from Central Saint Martins in 2017. To make such a big move, I imagine that you always wanted to be a designer.
My move to Europe from Colombia wasn't a choice as such, as many other Latinos, my parents moved to Europe hoping for a better future for their offspring. I moved to London at 17 on my own, not necessarily for fashion but trying to find a space where I could fit, my interest on garments was an innate response to find and create clothing I could identify myself with, and with that, came a designer to become a designer.
We think of fashion these days and we think of destruction and the harms done to the planet and human rights, but your work has a very positive message of empowerment. Do you think fashion is still relevant and how do you coincide in a world that already has enough clothes?
My mission is to prove that we can keep creating, we can continue to express ourselves creatively but doing so responsibly. The main aim of my collection 'Leather Boys' was to show what can be done with recycled materials. Fashion will forever be relevant, we crave and need that kind of self-expression in our culture and society but we need to shift the way we consume and produce.
What do you think most people get wrong about fashion?
The fashion system is too outdated. We need to stop following the rules that were set before us, end unpaid internships, give more opportunities to new designers, dedicate more time to thoughtful design, consume and produce less but better, create transparency rather than sustainable marketing strategies, and the list goes on.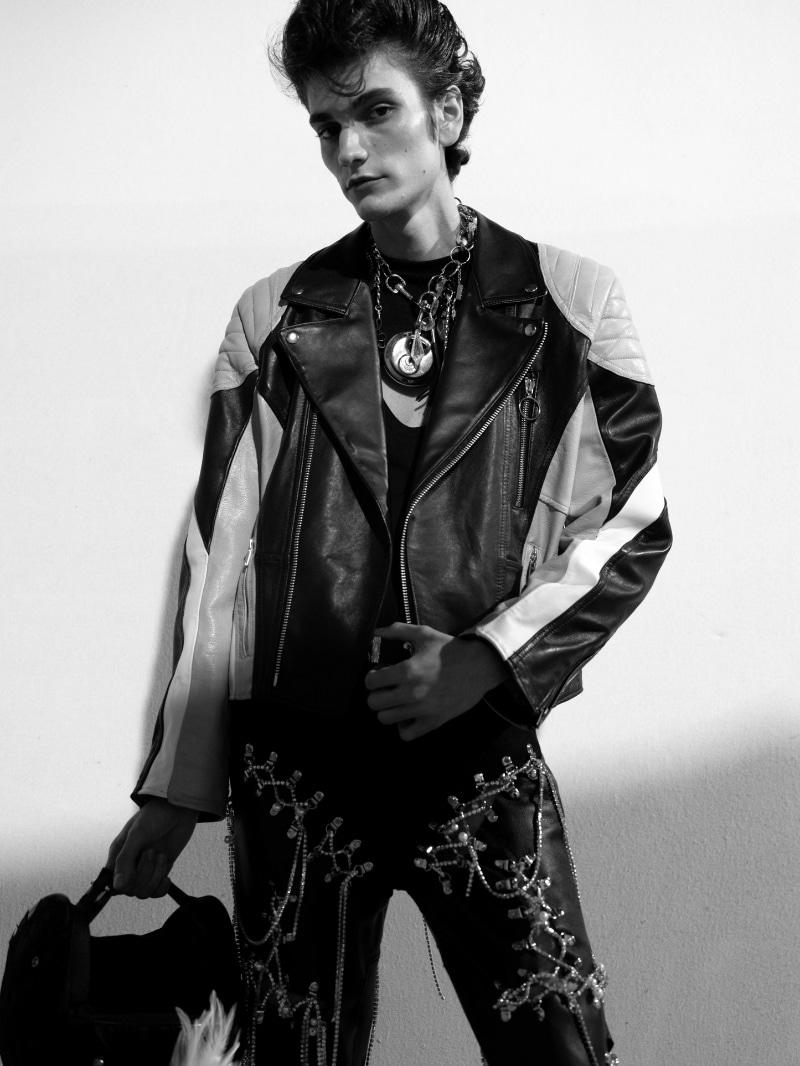 It's a big step to launch your own label. What did you do before?
I graduated from Saint Martin's and studied a Master at the University of Westminster, in between that I've worked as a fashion designer, print designer, pattern cutter, design consultancy and I've had a million hustle side jobs. Starting my label was the best way for self-expression in my case, it was about having open conversations reflecting our society and inspiring others to do things differently.
Tell us about the collection you recently showed at Hyères?
The collection takes as a starting point the hegemonic hyper-masculinity outlawry of biker clubs which became part of the socio-sexual identity of some queer communities throughout the 70s. 'Leather Boys' aims to challenge that leather archetype of hyper-masculine by bringing it back into the spotlight with a contemporary take.
The main aim of the collection was to give leather a whole new look, in the literal sense by giving new life to unwanted garments, but also in a social and cultural sense by relaying in its capabilities as an outlet for socialization and to bring communities closer together and bond.
This is reflected in the treatment given to all the upcycled leather, secondhand garments have been unpicked and cut in different ways to adjust new patterns and some then joined by rhinestones chains and pearls, with a color palette of predominates reds and mustard which plays both with the modern and the vintage aspect of it but which came out organically from the sourcing of garments.
What are your plans for the brand going forward?
I like to believe, and am proud of my brand for being an inspirational outlet for like-minded people, I now want to reach greater heights, I want to embark on a journey of educating others and sharing a positive social and environmental message for change.
I would like to lead and pave the way for others coming after me, to teach and learn myself ways of making it work, to keep on inspiring, and to find answers to all the logistical and technical questions that will come up so that it will be easier for others and for my brand to be an example to follow.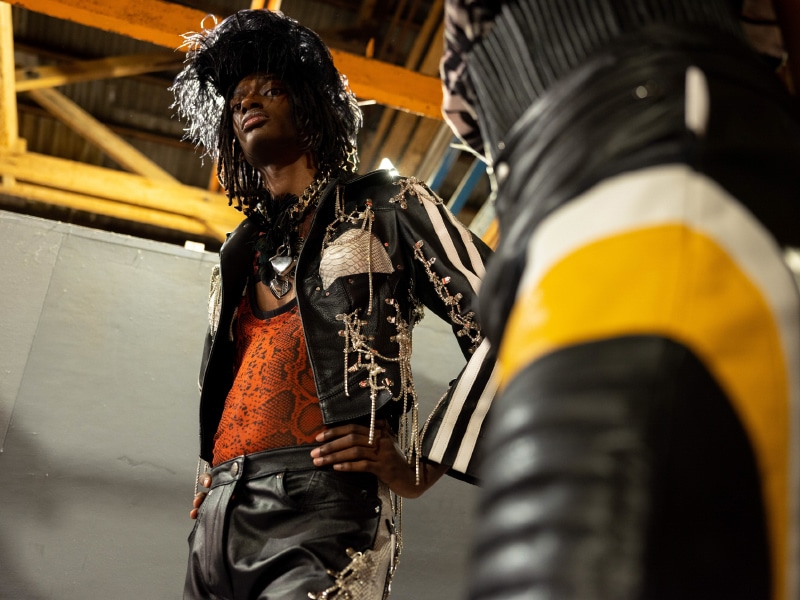 Photos by @marcmedina for Fucking Young!