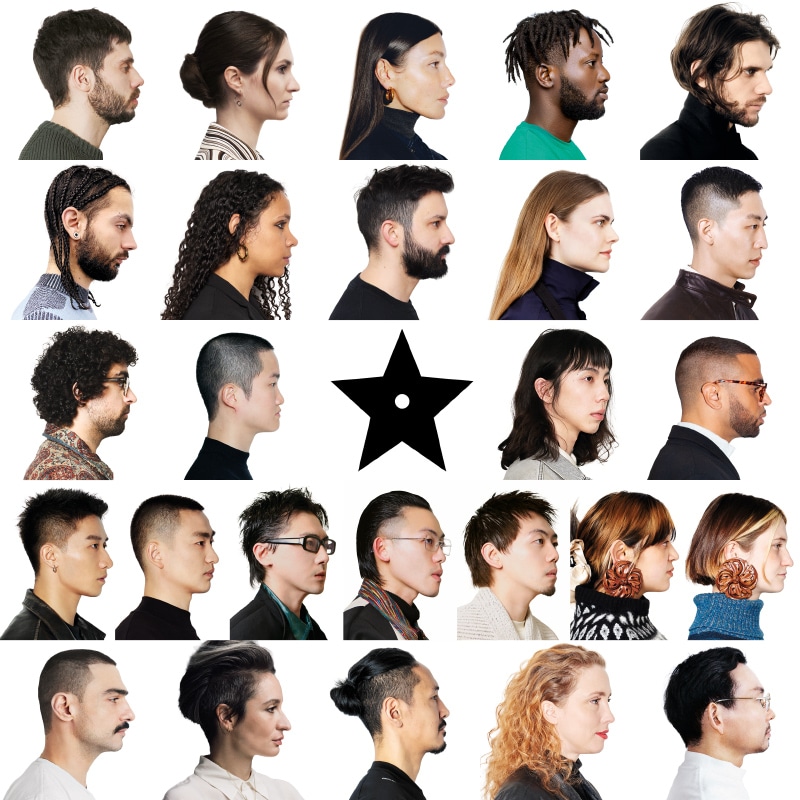 The prestigious LVMH Prize for Young Fashion Designers is the one to watch for up-and-coming talent. Over the ten years, the prize has shortlisted some of the biggest names in fashion today while previous winners, including the Karl Lagerfeld Prize, exploring menswear have included S.S. Daley, ERL, KidSuper, Ahluwalia, Casablanca, Hed Mayner, Doublet, Marine Serre, Grace Wales Bonner, Jacquemus, and Hood by Air among others.
"I am very pleased to welcome these talented young designers and I am extremely grateful to the candidates from all over the world who took part in this edition. The 22 semi-finalists are all driven by a very innovative vision and also show great creative maturity. Many of them place the culture and craftsmanship of their native country at the heart of their design approach. Eco-responsibility is also a major stake for them as they use innovative or recycled materials, and embrace a more local and ethical production system. The fluidity between menswear and womenswear is another key feature this year, since no fewer than nine designers create genderless collections. Values of inclusivity and diversity showcased in the selection also echo the turn taken by the fashion and luxury industries. I would like to warmly thank all of our Experts who contribute each year to making the LVMH Prize a benchmark for young designers. The 2023 edition promises to be exceptional." Delcared Delphine Arnault.
Over 2,400 candidates applied for the 2023 edition, a record number of entries from all over the world. The 22 semi-finalists will present their collections and their creative world on the occasion of a showroom in Paris on March 2nd and 3rd, 2023. This year, the LVMH Prize will once again be held digitally on the dedicated website lvmhprize.com and will involve the general public: from March 1st to 5th, the public will be able to discover the designers and vote for their favorite candidate. This vote will be added to the experts' vote in the selection of the eight semi-finalists.
Joining the experts this season are Piergiorgio Del Moro, Tiffany Godoy, Gabriella Karefa-Johnson, Lina Kutsovskaya, Harry Lambert, and Law Roach.
The winner of the LVMH Prize for Young Fashion Designers receives a 300,000-euro endowment and enjoys a year-long mentorship by a dedicated LVMH team. The Karl Lagerfeld Prize also rewards a young designer with a 150,000-euro allocation and allows him or her to benefit from a year of mentoring.
LIST OF THE BRANDS SELECTED FOR THE SEMI-FINAL OF THE LVMH PRIZE
Ver esta publicación en Instagram
AARON ESH by Aaron Esh, United Kingdom, menswear
ANNE ISABELLA by Anne Isabella, France, womenswear
BETTTER by Julie Pelipas, Ukraine, womenswear
Ver esta publicación en Instagram
BLOKE by Faith Oluwajimi, Nigeria, genderless collections
BURC AKYOL by Burc Akyol, France, womenswear, menswear and genderless collections
Ver esta publicación en Instagram
CHARLIE CONSTANTINOU by Charlie Constantinou, United Kingdom, menswear and genderless collections
DIOTIMA by Rachel Scott, Jamaica, womenswear
JOAO MARASCHIN by Joao Maraschin, Brazil, womenswear and menswear
JOHANNA PARV by Johanna Parv, Estonia, womenswear
Ver esta publicación en Instagram
JUNTAE KIM by Juntae Kim, South Korea, genderless collections
KARU RESEARCH by Kartik Kumra, India, menswear
KUSIKOHC by Giseok Cho, South Korea, genderless collections
LOUIS SHENGTAO CHEN by Louis Shengtao Chen, China, womenswear
LUAR by Raul Lopez, United States, womenswear, menswear and genderless collections
MAGLIANO by Luca Magliano, Italy, menswear
MARRKNULL by Wei Wang and Tian Shi, China, genderless collections
Ver esta publicación en Instagram
NAMESAKE by Michael, Richard and Steve Hsieh, Taiwan, menswear and genderless collections
PAOLINA RUSSO by Paolina Russo, Canada, and Lucile Guilmard, France, womenswear
QUIRA by Veronica Leoni, Italy, womenswear
SETCHU by Satoshi Kuwata, Japan, genderless collections
STINARAND by Stina Randestad, Sweden, genderless collections
Ver esta publicación en Instagram

WATARU TOMINAGA by Wataru Tominaga, Japan, genderless collections