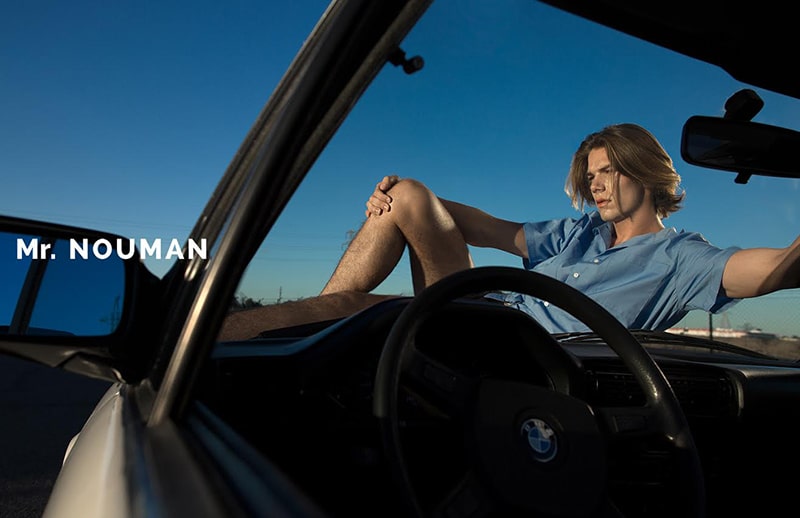 NOUMAN is a clothing brand born in Madrid in 2016, with Víctor Nouman and Eugenio Fernández leading the boat. Combining architecture and fashion as their main working areas, they share the tasks at Nouman with Teratoma Productions, their architecture and design studio; the collision in between both worlds can be spotted at their sometimes geometrical, well shaped clothes.
After showing three seasonal collections –Nouman's Land, Act.II and Culture is Over- they are now presenting Mr.Nouman, a permanent collection in addition to the others. Having cinema as their main inspiration, boy culture meets pop culture meets the world we live in in their work. They have recently opened a space in Madrid and we talk to them about it all.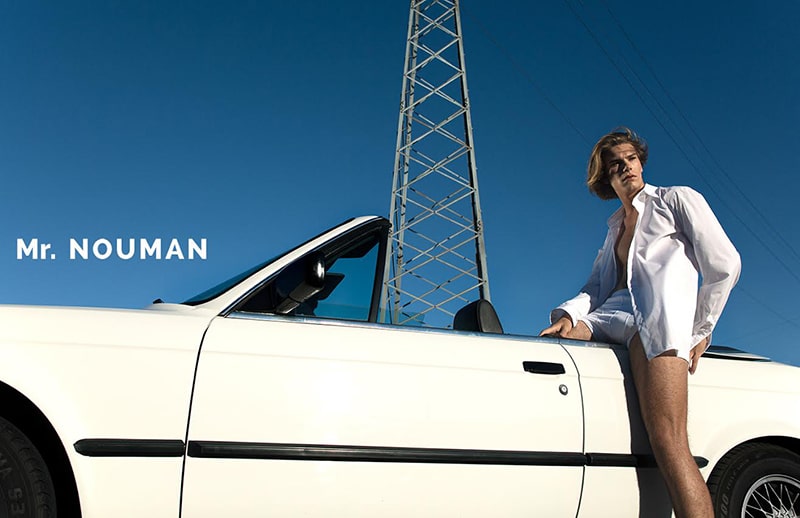 You are now introducing Mr.Nouman, an independent and permanent collection working alien to the fashion cycles. What was the idea and the intention behind this project?
In fact, more than a collection on itself, Mr.Nouman is a platform through which we will be launching clothing, accessories and objects unrelated to fashion calendars. To us the main collections are a space of massive creativity, where we have the time to develop more complex topics. While Mr.Nouman is working in a more direct and quick way, giving a solution to daily needs. These are two projects that move at the same in different rhythms yet they complement each other. The idea behind Mr.Nouman is clear: to offer products to a whole community of boys who are looking for expressing a contemporary lifestyle through fashion -on a daily basis. Our idea is to be able to add objects, furniture and books as well, and to have a space where we can collaborate with other creative minds and develop little capsule collections.
-Somehow Mr.Nouman would be your prêt-à-porter, a more flexible process.
We live in a world where the immediate is the only time, where everything is reachable and what we want we want it now. This is something on which we have to work and that is what Mr.Nouman is.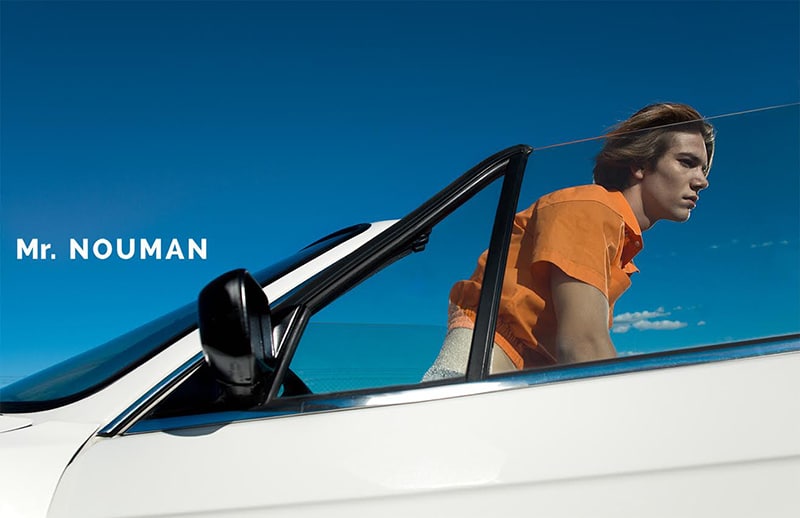 –The campaign –shot by Kito Muñoz- shows feeling free guys, delicate in a way, with a particular masculinity.
We wanted to revisit some campaigns from the 90' and 00', but with a modern approach. These are images we have grown with and feel familiar to us: the convertible car, the handsome type… We like working with Kito because he knows how to understand what you have in mind and transform it into catchy images.
-Is there any intention on revisiting or redefining stereotypes?
Our brand is set on exploring the masculine culture through a very contemporary vision of genre, but to us it is very clear that the clothes we make are for anyone who wants to wear them –and enjoy them. Redefining stereotypes doesn't necessarily need to be exchanging or transforming genres in a die-hard way, because in the end it becomes another stereotype. There is a whole community of boys who want to explore their masculinity through the masculine, and that we find very interesting.
-Nouman works through narrative and story telling, and also getting concrete inspiration from movies. Mr.Nouman campaign has something from Thelma & Louise's Brad Pitt or My Own Private Idaho's River Phoenix. Have you as well been inspired by any concrete moment this time?
I don't think there's a concrete moment, but without doubt cinema has always been one of our main inspirations. We are very interested by Gus Van Sant's vision of masculinity, and also Fassbinder's, with sexy characters but with a very complex inner world, where everyday conflicts become real – about love, identity or sex. That is Nouman.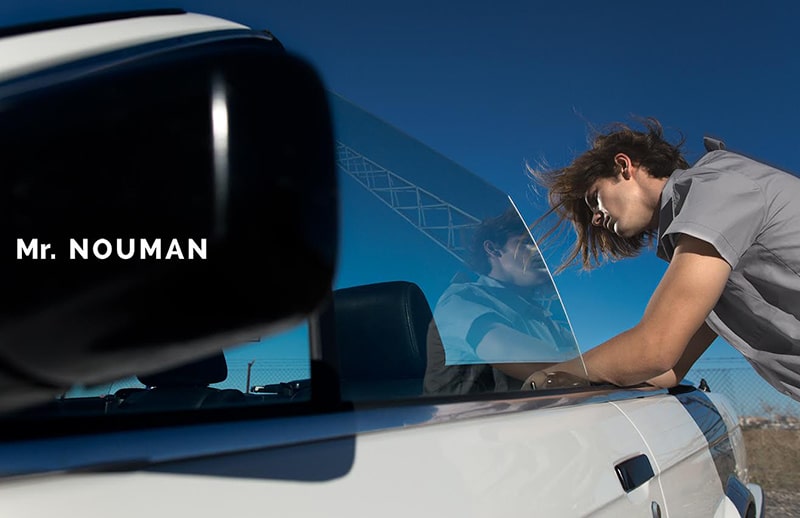 -You just open a space/shop in Madrid, designed by yourself though Teratoma Productions and dedicated to the 'Boy Culture'. What is it about the place? Will that be only a shop or also a place to exhibit and talk about Nouman and its world?
Yes, the space has been designed by us and it is integrated by three kind of independent parts that collide every day, creating such a creative atmosphere: Nouman's shop, our architecture and design studio Teratoma Productions and the photography studio Sunset Estudio.
It is a very dynamic space, where interesting people is coming pretty often and where the click happens -no help needed. As we stated previously, Nouman is focused on exploring the masculine culture and that is also the idea for the space. We are open to any type of collaboration.
-What is it that you understand ad 'Boy Culture'?
To us 'Boy Culture' is a contemporary way of living, a way to understand the world through freedom, desire, art, music, cinema, fashion or politics.
-And as for Nouman, are you planning on moving to any particular direction? What are your short term and long term plans?
First we will keep developing Mr.Nouman with new launches and collaborations. Also with Nouman we have a collection ready to be presented now in Brussels; and the next one will come in Paris on January. Then we would like to introduce ourselves in Asia as we think we can work on lots of topics we are interested in over there.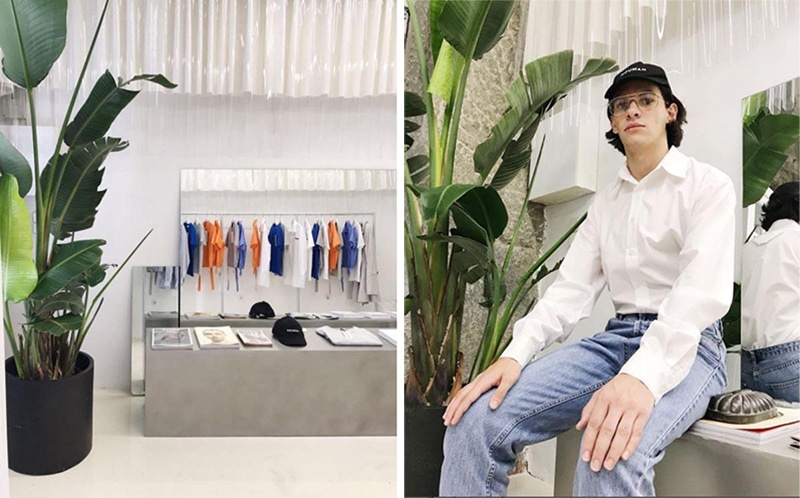 Nouman new Store. C/ Valverde 35 – Madrid
Discover more about Mr. Nouman at www.nouman.es