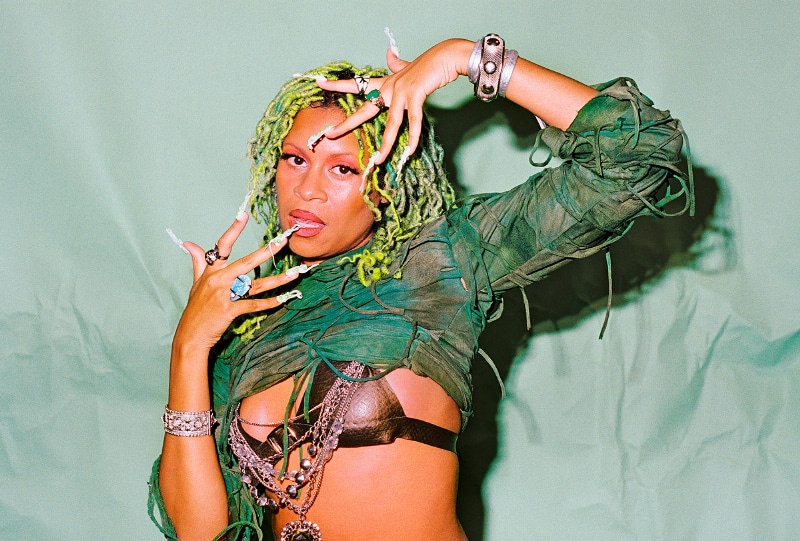 Mainly known for her successful debut with her band AlunaGeorges, Aluna Francis decided after two albums to escape from this redundant music industry to explore her inner self and became a mum. This hiatus was a need to focus on what would be her sound, now defending her name in solo and creating a safe place by collaborating with BIPOC and LGBTQ communities. Her second album since "Renaissance" in 2020 is called "MYCELiUM" and is out now! A project where she was highly inspired by sound from the 90s and where she proudly invited a huge list of collaborators coming from all over the world and from different communities. MNEK, Jayda G, Pabllo Vittar, as well as TSHA, are the prestigious guests on this album. An album with new perspectives and exploring the facts that music can be the perfect political statement in this current music business. Read our conversation with Aluna below:
Hi Aluna, how are you, now that your second solo album MYCELiUM is finally out?
Having the album out is amazing, you think you know your own music until you put it out in the world and discover all these new perspectives. It's very nice to feel like people are included in this world I've created now.
We met in 2016 and I remembered how being on tour and traveling were parts of making you more confident. Now that you're alone with your solo project, do you think you became the accomplished woman and mum you wanted to be?
I have a really great perspective on this because I don't try to be the most/best/perfect woman or mother- I focus more on making sure I feel good and happy as much as possible and making decisions based on that because when I'm happy my daughter is happy and my fans are happy. That's not to say it's not a huge challenge being an artist and mother, but I'm really happy I have both a career and a family.
Even if it was you who was mainly promoting AlunaGeorge at the time, was doing a solo career a normal transition?
Going solo was definitely not easy- on a personal level I was much more vulnerable and exposed and from a business perspective I lost a lot of the industry impact that I had built over years of touring. It was all worth it because it pushed me to do things I really cared about personally and that I could only do as a solo artist like explore my heritage which is very unique.
When you released your first album RENAISSANCE, it sounds like it was an ambition to create a safe space for an Afro community getting invisible due to the music industry. MYCELiUM seems to be the following step and you did collaborate with a lot of LGBTQ and BIPOC artists. How was the process of making this album?
The process of making this album had this beautiful duality because, on the one hand, I was doing my usual thing of trying to make amazing music, but on the other hand, it was a reclamation of culture and space in dance music by creating a network or family of people who really believe in the divine and diverse future of the industry by implementing radical change. I made a point of not working with anyone who I believed was neutral or unconcerned with being an active ally of BIPOC and LGBTQ communities.
It's funny how, two years later, Beyoncé released an album also called RENAISSANCE and she dedicated it to the Afro-queer – LGBTQIA+ communities. According to you, how would you best define the word 'Renaissance'?
For me, it speaks of rebellion against the status quo in that euphoria of new beginnings. There's a lot of experimentation because, with those new beginnings, there are no rules, just CHANGE! That's why I chose that title.
How important for you is to work and to create a project surrounded by minorities? I guess it's like the way you felt when in the past you were the only black female in a studio or in an electronic festival.
For a long time I didn't feel like I mattered and so how I felt didn't matter to me as long as I was making good music. In 2019 when I decided to care about how I experience the music business it became essential to find or create a network of my people to work with so that I can just enjoy my job.
90s house music is a huge inspiration in your new album. Are there some specific tracks you were listening to on repeat which were part of the ambition of making MYCELiUM?
No, actually we were using our imagination to tap into the circumstances in which house and techno were pioneered in Detroit and Chicago- picturing their process with analog gear during the death of disco and mixing that with my digital process and seeing what came out.
You've been traveling a lot to create and promote this record, do you think that some major social topics like the Black Lives Matters changed the point of view of people in this industry and how the press handles your words?
My experience with the press has completely changed now. Now every interviewer is interested in me as a black woman and what I do to create change in the industry- not just talking about bangers and my favorite color. I love interviews now. As for the industry, the only changes I've seen are the ones I have personally demanded within my own business and how I interact with companies. For example, I will demand to know how many BIPOC women work for a company that is interested in working with me and inform them that is an important factor as to whether I will consider working with them. You would be surprised how many companies have zero black women employed and they think I'm going to be excited to be the only black woman in the room.
And I guess now, music has become a political way of expression, essentially when you are a non-white artist. How do you feel when you play a set and have so many people from different backgrounds and social aspects enjoying your music?
In the electronic dance space that is an extremely rare experience, so I am very excited whenever that happens. I have started putting on my own events to tackle this issue
What is the best track from your album to open a set and which one to close it?
Open: Future and close: Playin wit Ya.
You collaborated with plenty of talents from all around the world, from REMA, Kaytranada, TSHA to Princess Nokia. There's someone you really want to work with? Someone you think could be an organic collaboration.
I'd really love to work with Skin on Skin.