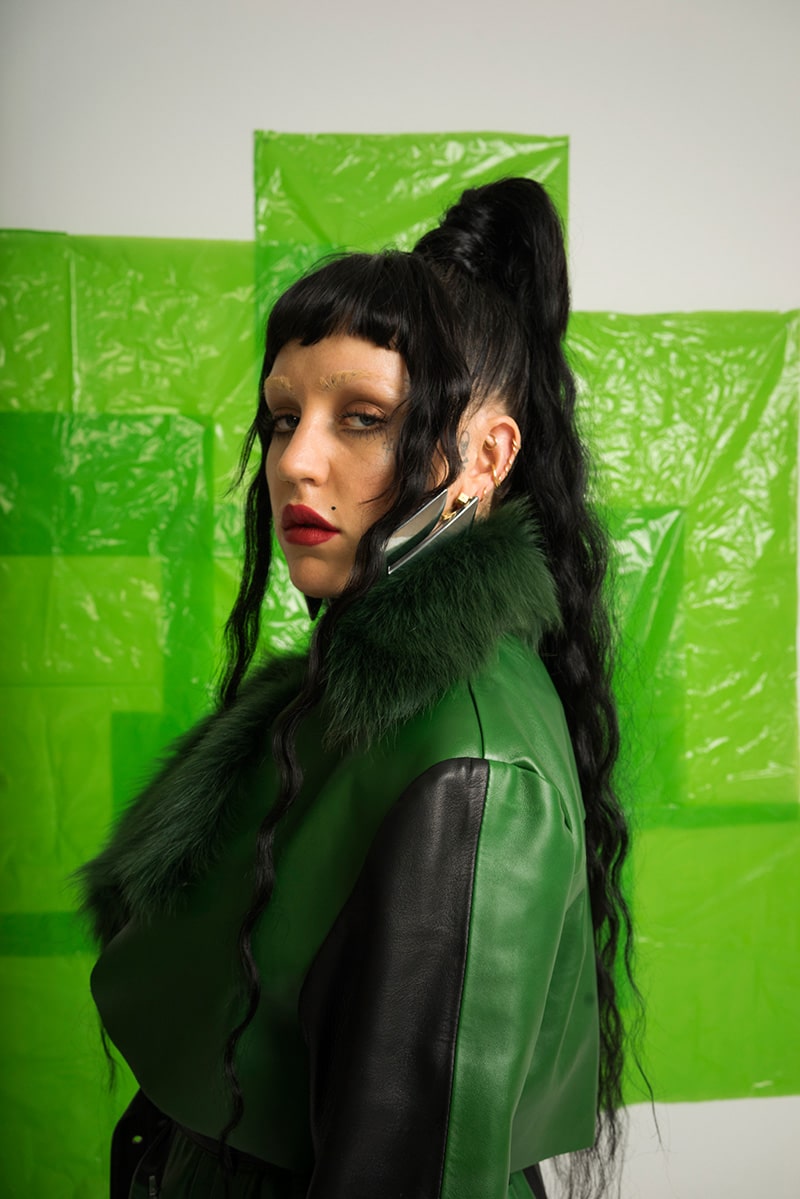 Oh boy, a conversation with Brooke Candy is definitely a great way to kick off 2019! We sat down with the American rapper, singer, songwriter and art-porn director to discuss her favorite fashion brands, artists and the current state of Rock'n'Roll. Read it below:
What is your relationship with fashion, what are your favorite brands right now?
Ashley Williams is the only clothing brand I wear. I swear she designs for my brain….other than that I like what Dior just did in Japan with Hajime Sorayama. He's one of my favorite illustrators and the show was inspired by him. I'm trying to think hmmm…oh I love Western Affair she makes me the coolest shoes and hats all one of a kind…and she's the cutest. I also love Wesley Harriot. I wear this one suit he gave me every time I need to feel like a boss bitch. Lado Bokuchava is NEXT LEVEL….we used her clothes on a shoot for notion mag and they're really special.
I remember watching you walking for Dilara Findikoglu a couple seasons ago, the soundtrack to that show was pretty wicked, a mix between black metal classics and some industrial tunes. Is black metal something you like?
Of course. I love metal and punk and hardcore. It's what I was raised on….I'd say now I'm more of a patsy cline, church hymn lol, light-hearted listener but I'm also obsessed with hip hop right now…I thought I hated it and it was devolving but then had an awakening and realized its the most fun.
Who are the artists you're looking at in terms of inspiration? Perhaps it's only me, but feeling Matthew Barney vibes quite frequently while watching your videos.
Matthew Barney, Bruce La Bruce, Wendy O Williams, Cindy Sherman.
In terms of music do you remember which artist caused an impact on you and possibly inspired you to become an artist yourself?
Lil Kim caused the greatest impact on me because of her domination of her own sexuality, her flawless aesthetic, and her music….I wanted to be just like her.
What are the latest 5 albums you added on iTunes?
Suicidal Tendencies "Prime Cuts", Patsy Clines "Greatest Hits", The XX "Coexist", CupcakKe "Ephorize", SAINt JHN "Collection One".
When your debut album is coming? What can your fans expect?
I have no clue….maybe in a couple month or maybe never….I'm finding that I'm falling in love with so many other forms of art that its hard to focus on music…im making music with this amazing new artist Ashnikko next month so more music is definitely coming but a full album is a lot of dedication and I'm trying to make documentaries and porn films and produce content for other artists…its A LOT!!!!
Your last track "Nuts" has a really cool guitar riff, and personally, it makes me happy that Brooke Candy, Poppy and Grimes are bringing back killer guitar riffs. Rock is not dead?
Rock-n-roll as we understand it is absolutely dead within mainstream culture. There are 2 genres left really pop and hip hop but I agree it's cool that other artists are trying to bring back some nostalgia to their sound and art. Grimes is dope I love her man!
Check out Brooke's latest video "Oomph" featuring ojivolta below:
Image credits:
Photography by Berta Pfirsich
Styled by Rebeca Sueiro
Make-up and hair by Rubén Marmol (kasteel Management) Bumble&Bumble & Mac