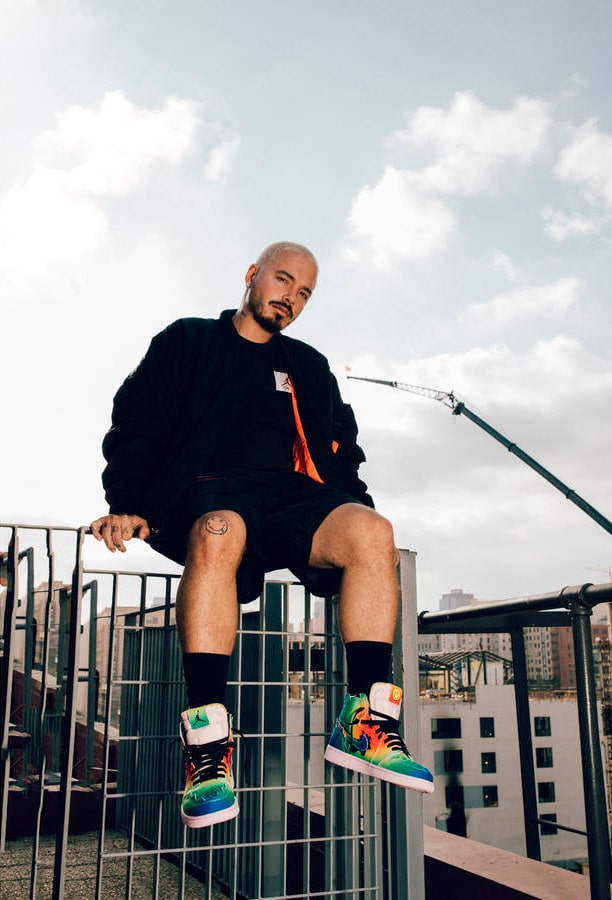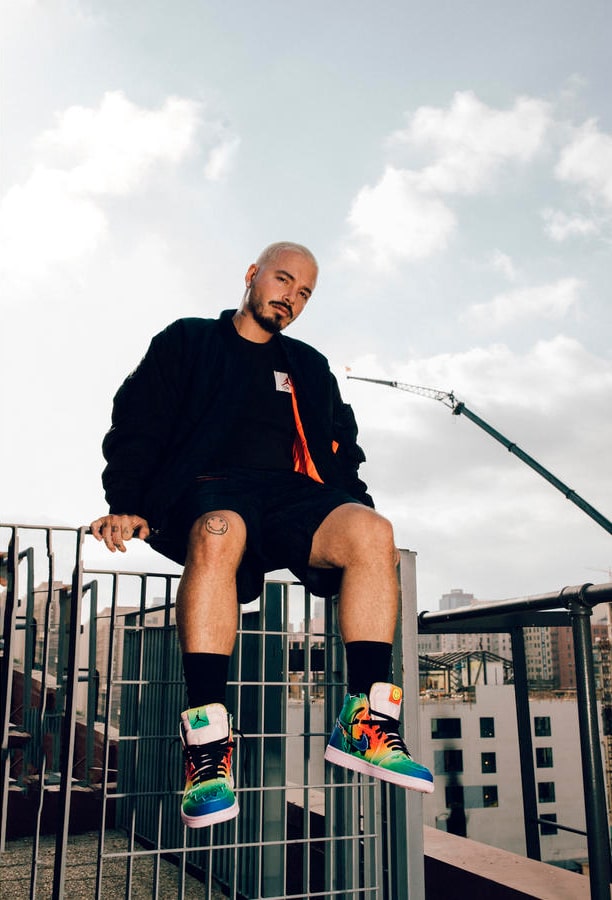 Breaking barriers through music and self-expression, Colombian J Balvin delivers a special iteration of the Air Jordan I that's direct from Medellín and meant for the whole world. In design, he brings intense "colores" and "vibras" (Spanish for "colors" and "vibes" — and the names of Balvin's acclaimed 2020 and 2018 albums) to his Air Jordan I x J Balvin.
"I was thinking about how I could have a disruptive Air Jordan I," says Balvin, the first Latino artist to collaborate with Jordan Brand. "I wanted to be the person who really dared to change the shapes and go all out. No one has touched the Air Jordan I like this before."
The Air Jordan I x J Balvin's bold rainbow canvas upper has jagged-edge trimming and rounded-color wings that are meant to represent a cloud-like explosion — symbolizing Balvin's source of energy. The artist's smiley-face logo replaces the Jumpman logo on the left foot tongue tag, while pink, white and black laces and interchangeable patches (think a smiley face, a Jumpman, a basketball, and lightning bolt) enable wearers to customize the shoe based on their mood and creative expression.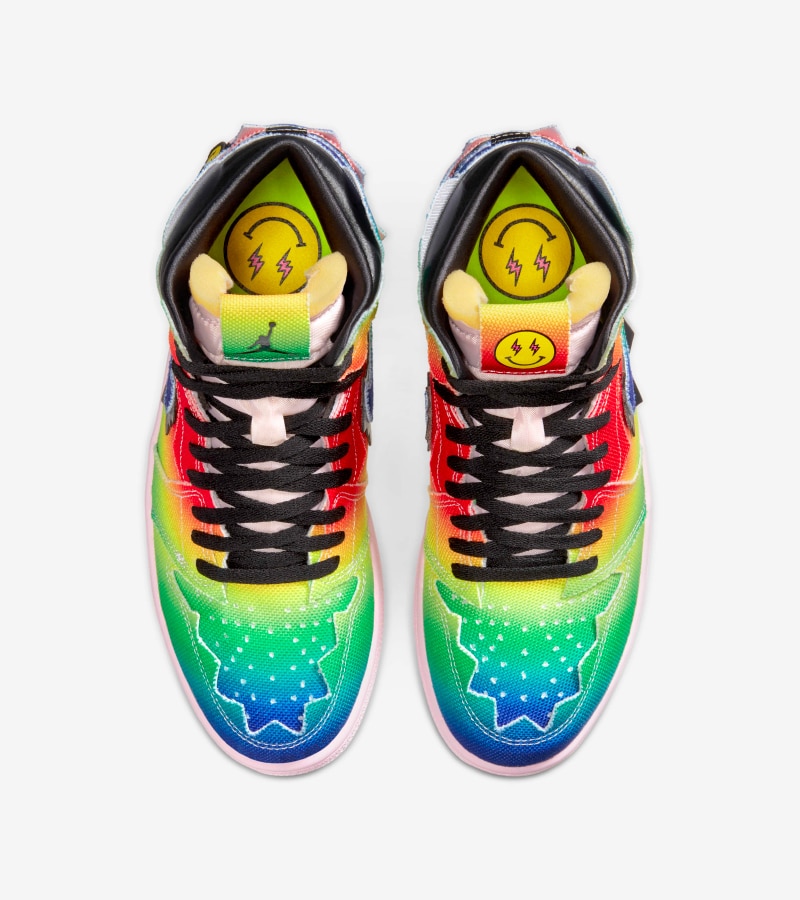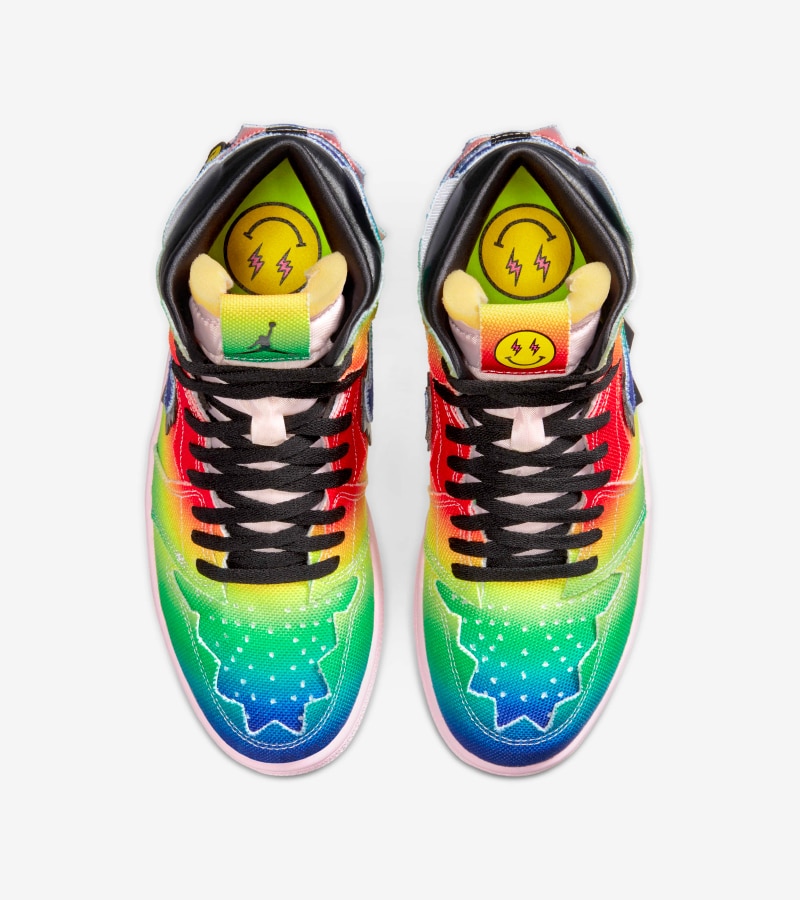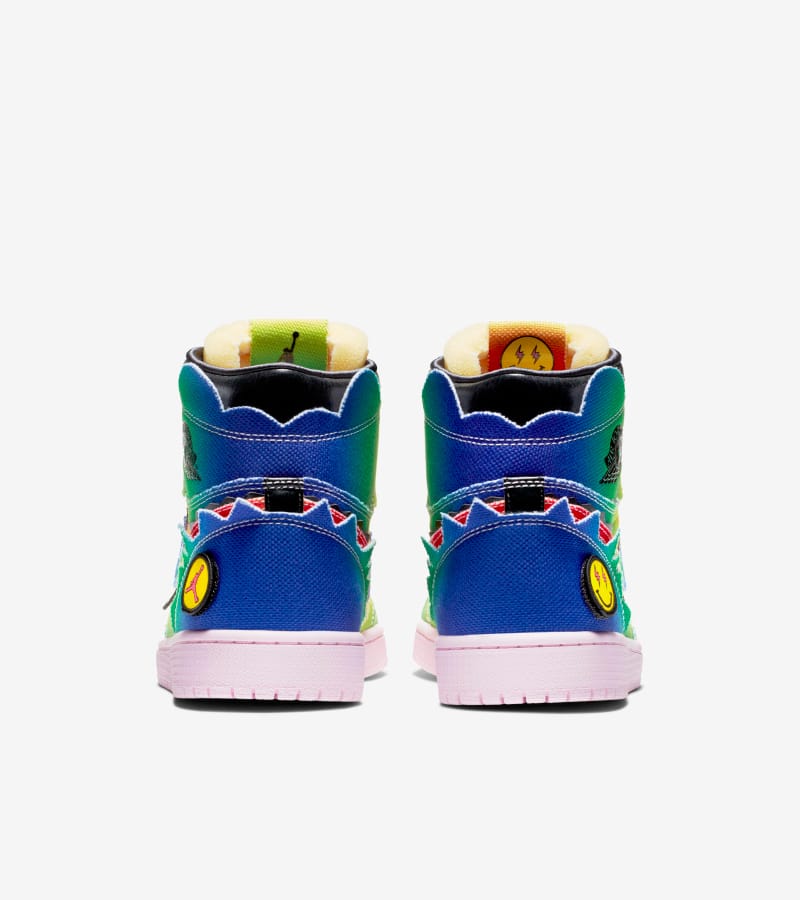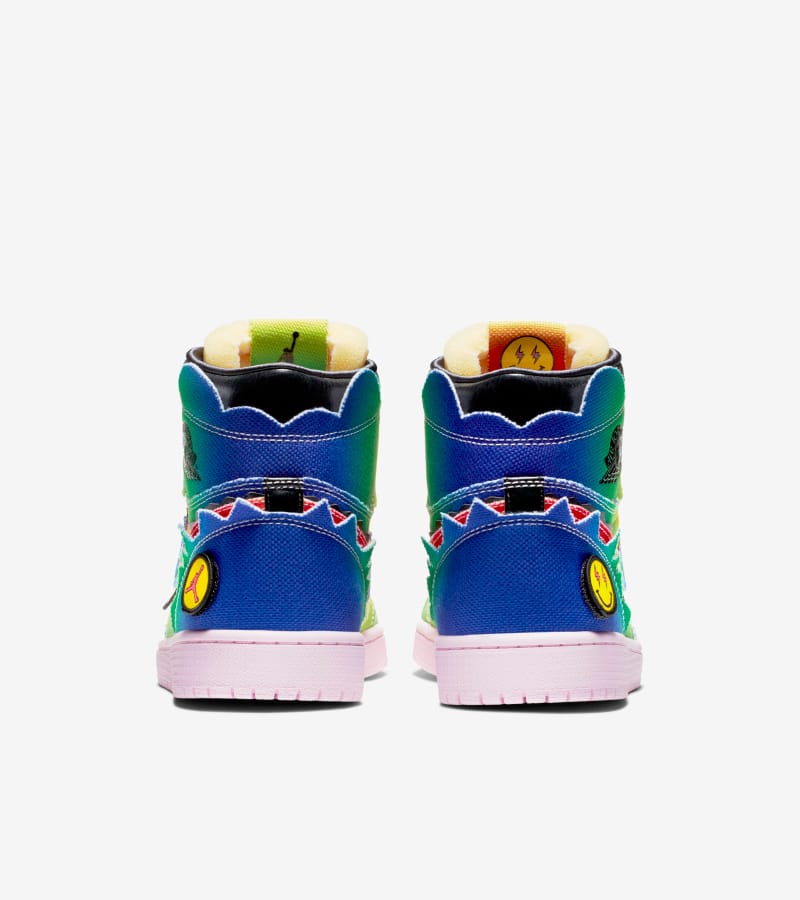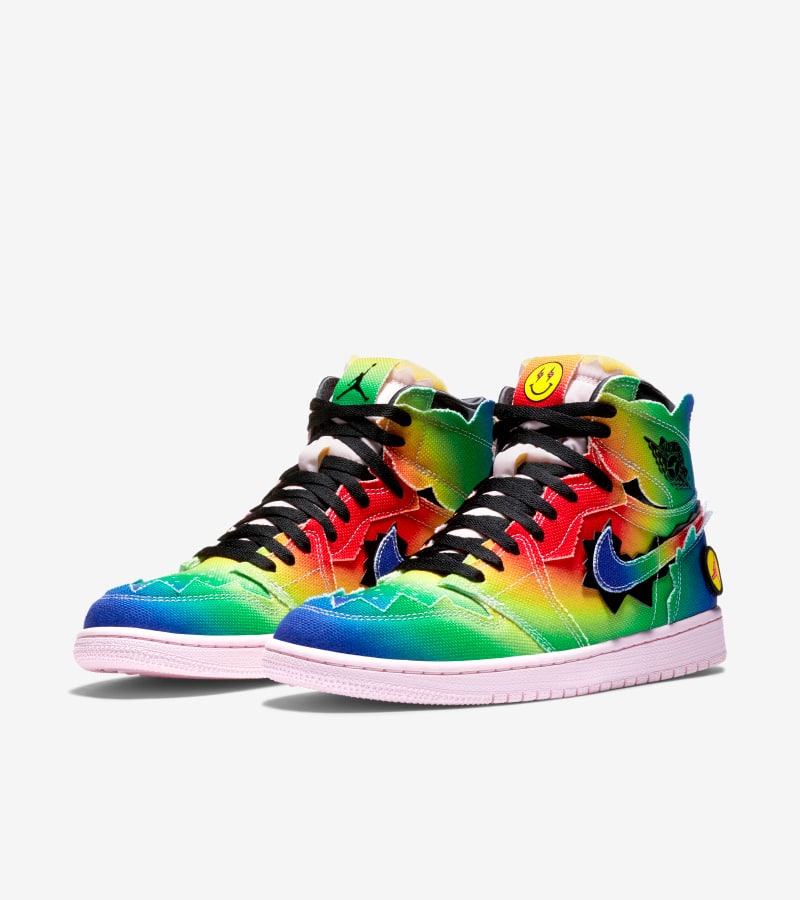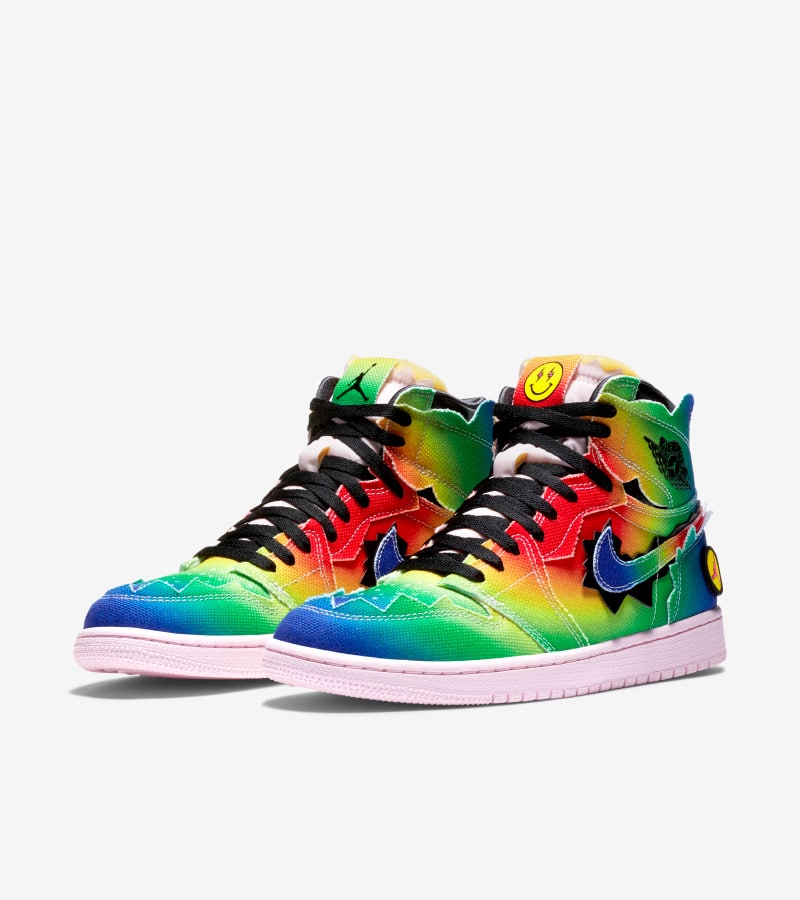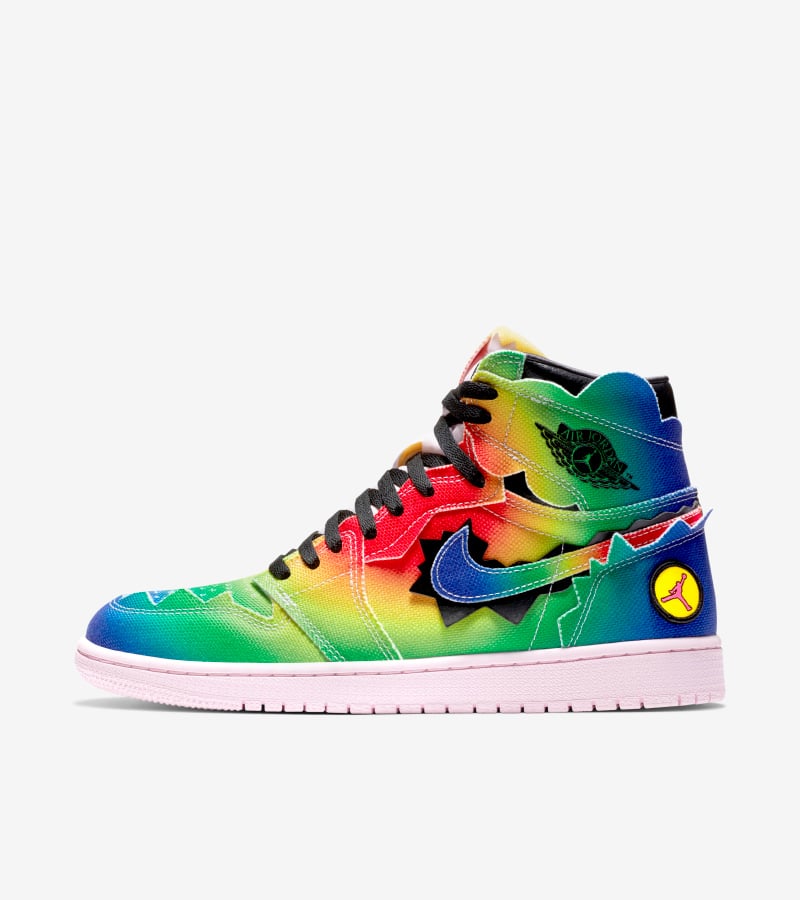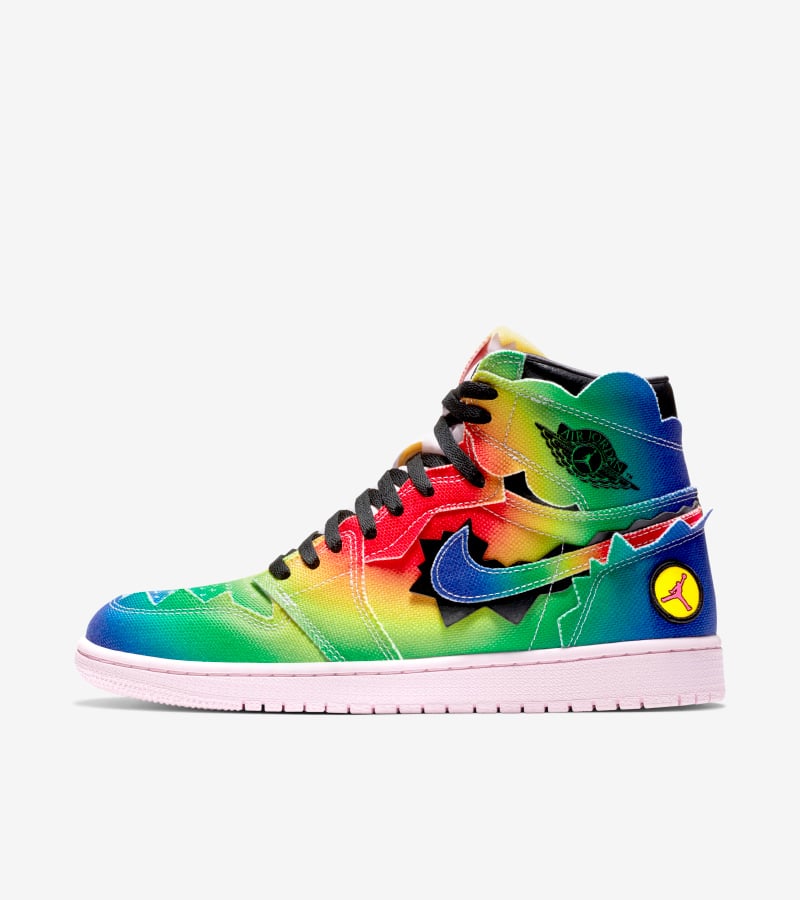 The Air Jordan I x J Balvin releases globally on December 8 on SNKRS and at the below retailers:
NORTH AMERICA RETAILERS
A Ma Maniere; Bait Inc; Bodega; Bows and Arrows; Concepts; Corporate; Crème; Extra Butter; Feature LLC; Foot Locker; Kith; Lapstone & Hammer; Notre; Oneness; Politics; RSVP LLC; Shoe Gallery; Social Status; Sole Fly; St Alfreds; SVRN; The Dark Side Initiative LLC; Trophy Room; UBIQ; Undefeated INC; Wish; XHIBITION
EUROPE RETAILERS
Amongst Few; Bastille; Bottega Back Door; BSTN; Concepts; Doverstreet Market; End Clothing; Foot District; Foot Patrol; Kickz; Kith; Offspring Selfridges; One Block Down; Opium; Oquim; Overkill; Patta; Pigalle; Shinzo; Si Vas Descalzo; Slam Jam; Sneakerhead; Sneakers N Stuff; Solebox; Titolo; Wunder
GREATER CHINA NIKE AND JORDAN STORES
House of Innovation Shanghai; Jordan Qingdao
GREATER CHINA RETAILERS
1 East Changan; 1 Hongxing; 108 Zhongshanxi; 120 Bayiqi; 128 Zhongjie; 139 Nandong; 188 Jiefangxi; 188 Minzu; 2 Zhongshannan; 218 Tianhe; 5 Xinghuo; 5 Yanan; 6 Nanmenwai; 688 Jiefang; 77 Songhu; 9 Guanghua; 9668 Shennan; 99 Hubindong; Colour TJ; Fruition; HER; HK 8 Wellington; Juice HK; Phantaci TPE; PS7; SKP-S BJ; Soulgoods SH; TPE 16 Songgao; WZK BJ; WZK SH; X158; XH55
ASIA PACIFIC AND LATIN AMERICA NIKE AND JORDAN STORES
Jordan Korea; Jordan Philippines; Tokyo23
ASIA PACIFIC AND LATIN AMERICA RETAILERS
99 Problems; Atmos Pinnacle; Innvictus Madero; Kith; Latin Partners TTL; Lust; Supply; Titan
Ver esta publicación en Instagram