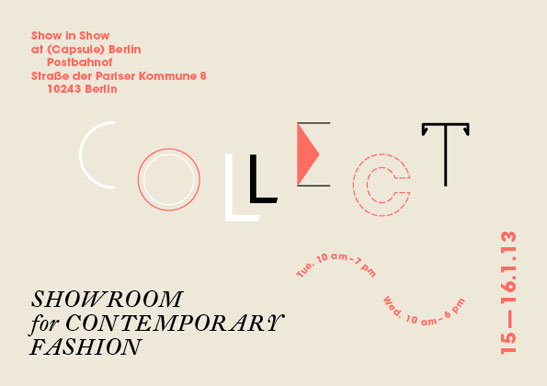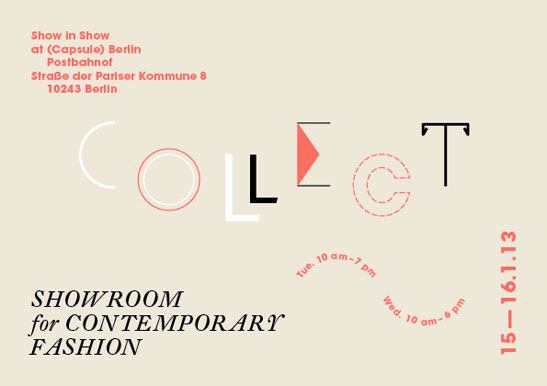 The new year kicks off with Berlin Fashion Week and we are very excited to announce the sixth COLLECT Showroom!
Continuing with the time-tested and successful 'Show in Show' concept in collaboration with the fashion and lifestyle fair (capsule) Berlin, Arne Eberle press+sales once again presents you with a selection of A/W 13/14 collections created by seventeen designers.
COLLECT's portfolio provides the opportunity for a special overview of the German fashion scene with its wide variety of emerging and internationally-established designers.
With a strong focus on quality, innovation and individuality, COLLECT critically examined many collections to bring you a refined portfolio of designers.
The designers, with their unique design language, create a strong and coherent concept aligned with the vision of COLLECT Showroom.
For the sixth edition of COLLECT Showroom we are happy to present:
August
Blaenk
Concis
Franzius
Hien Le
Julian Zigerli
Lunettes Kollektion
Mads Dinesen
Maiami
Malaika Raiss
Marius Petrus
Sissi Goetze
Sloe
Starystyling
Studio Laend Phuengkit
Tiedeken
Très Bonjour
COLLECT will take place on the 15th January from 10am to 7pm and on the 16th January 2013 from 10am to 6pm at Postbahnhof, Straße der Pariser Kommune 8, 10243 Berlin as the 'Show in Show' at (capsule) Berlin.