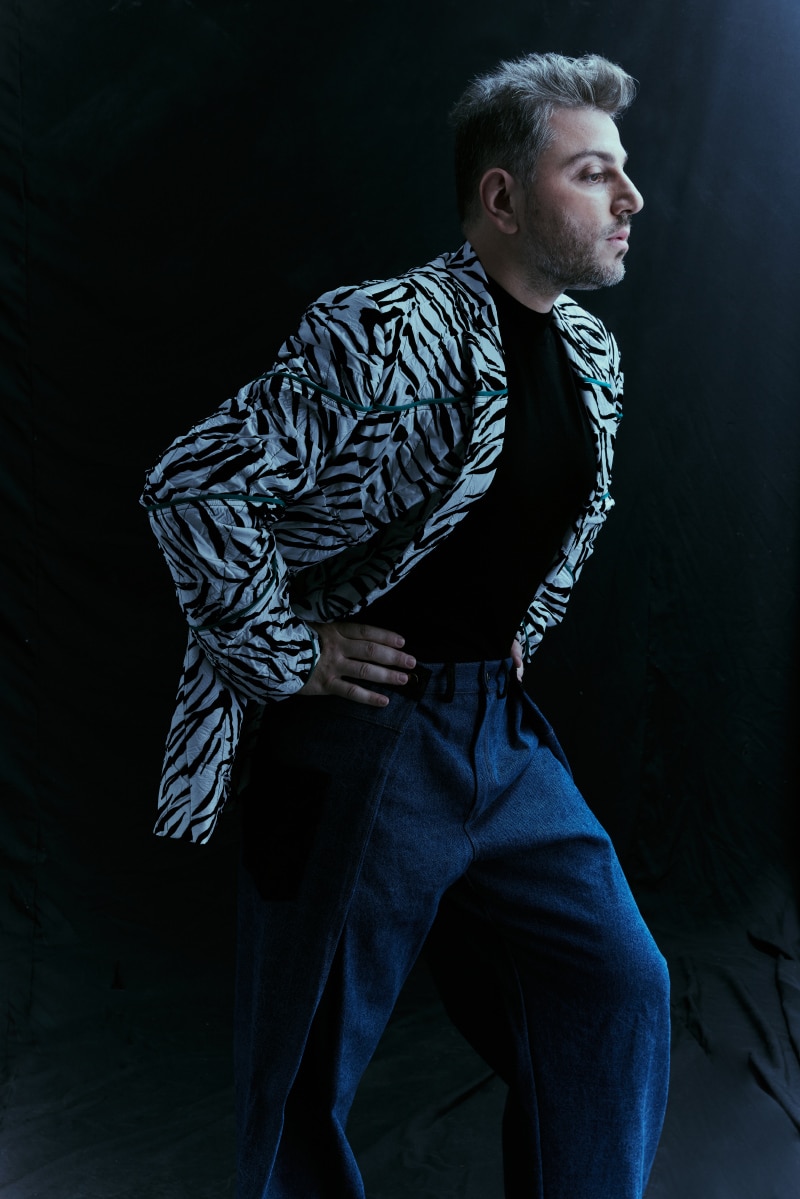 At the beginning of the month, we had the chance to witness the first edition of Yerevan Fashion Week. Being there for the first time allows us to discover, not only the beautiful city of Yerevan, but also new fashion designers. One of them was Missak HajiAvedikian. We sat down with him to explore his creative process and the inspirations behind his fashion label, VOLTA.
Join us as we delve into Missak's approach to incorporating cultural themes into his designs and the personal significance these themes hold for him. We discussed his recent collection, which deviates from his previous work, focusing on genderless garments and refined tailoring with a modern vision. We also talked about the role fashion can play in breaking down societal boundaries and challenging traditional notions of gender. Looking ahead, Missak shares his aspirations for the impact his designs can have on societal perceptions and attitudes toward queerness and gender norms, and the changes he would like to see in the fashion industry. Check it out below:
Your engagement with your Armenian heritage is evident in collections like "Vana Lij" and "Shamiram." How do you approach incorporating cultural themes into your designs, and what significance do these themes hold for you personally?
I cannot branch my inspiration from a single source, but I can unquestionably mention that what fascinates and shake my creative box are Renaissance art and Shakespearean poetry in all its European facades, my preserved memoirs full of sentiment and unforgettable momentums, my valuable Armenian DNA and heritage with all its rich culture and fairytales that are imprinted in my veins, the muses, historical figures and icons that they themselves bestowed their life and stories for eternity, and my valuable experiences that I gained while I worked on my old label and being abroad.
Using a consistent mixture of true historical eras and my own fantastical touch, I reflect my inspirations in Volta's collections as splendidly female and modernly fashionable designs all absorbed in British bespoke tailoring.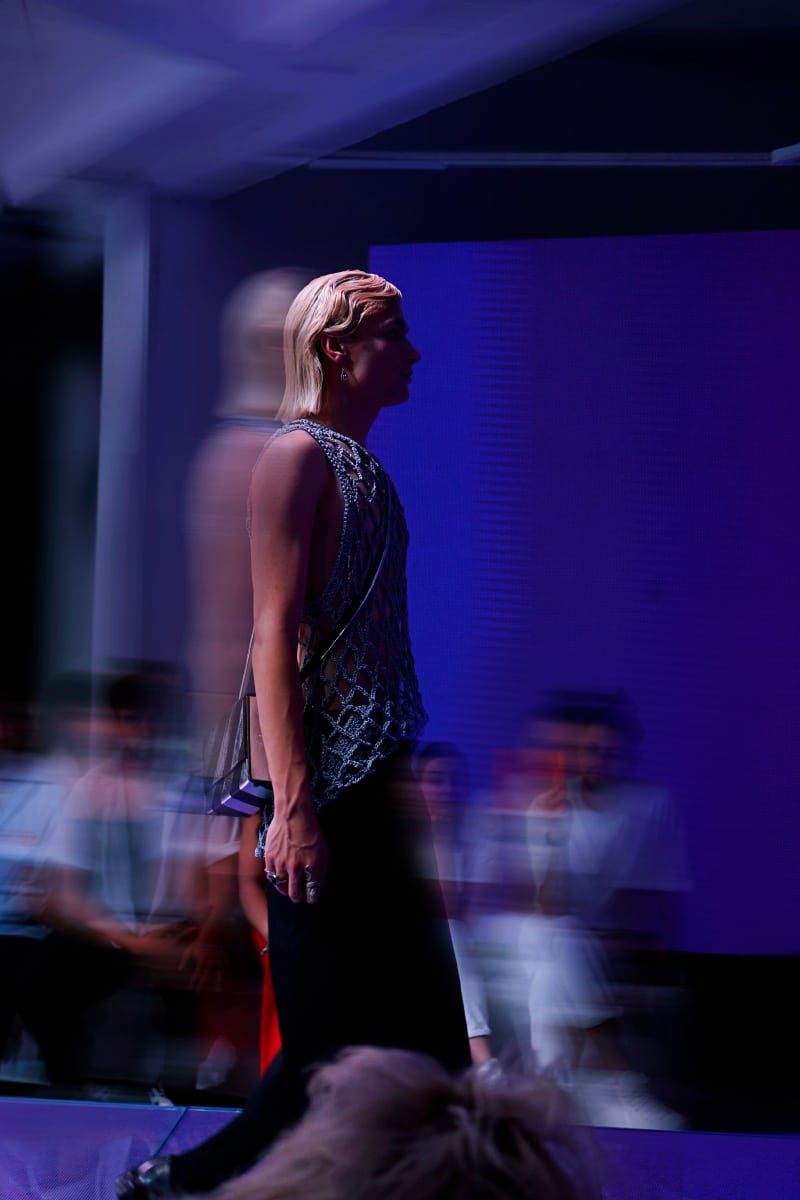 Your latest collection presented at Yerevan Fashion Week seems to be a departure from your previous work, focusing on genderless garments and refined tailoring with a modern vision. What motivated this change of direction, and how did you infuse theatrical elements into this collection?
When I started Volta, my focus was to create something new for myself and the Lebanese and Arab markets, which was the only menswear collection from a high-end tailoring street style viewpoint. Yet when I dove deeper, I was driven by my inseparable love for womenswear. A long journey that originated with women, for women, to dress them in the most tailored couture gowns, my close relationship with their bodies, with my clientele, and with all the designers, whom I worked for as a fashion consultant, were womenswear driven and based.
I unconsciously added womenswear designs, but in a trendier persecution, then that vision twisted more and evolved until I arrived at my current stage where my collection comprised of unisex pieces, oversized and more comfortable and adaptable to the youngest generations and older generations since fashion and gender have become nowadays integrated in an unattachable manner.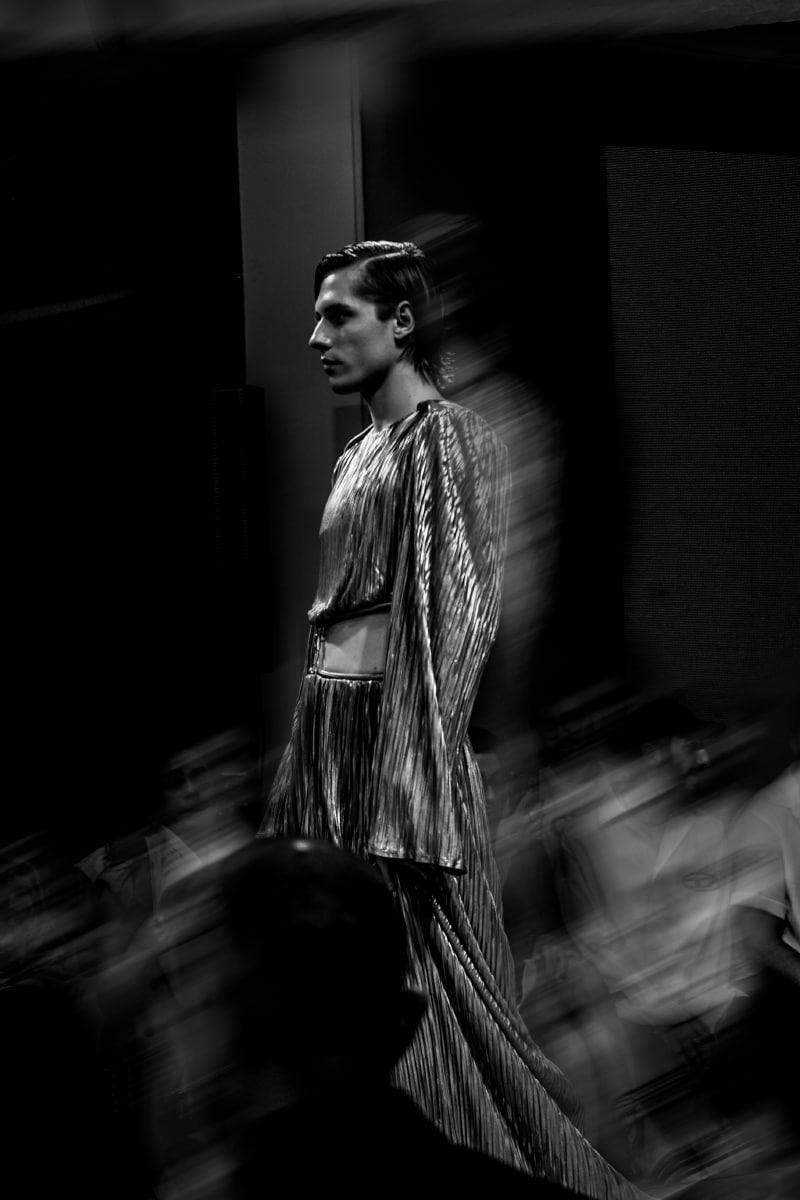 How do you believe fashion can play a role in breaking down societal boundaries and challenging traditional notions of gender? In what ways does your collection aim to create a more inclusive and fluid understanding of fashion and identity?
Fashion can do and did miracles in breaking a lot of taboos and not only gender issues. As I mentioned before it was unintentionally dressing men in dresses at my show in Yerevan Fashion Week. I had some issues with sizes and quantity of models and I have cancelled 2 looks previously, and these 2 dresses were a great part of the collection. I just took them with me and if I was lucky to find a curvy tall girl ill dress her. On another note, I was thinking of dressing them to the cool ladies "the press from the middle east". But this male model called Max approached me and wanted to walk for me. So, my answer was I don't have anything left for men if you would like I have dresses. And he was so cool and he really wanted to walk for Volta he said yes and he insisted on wearing the heels and rehearsing all the time in backstage. So, like that, my brand wasn't intentionally directed to be a queer label. But as I said Volta is for everyone who feels like VOLTA and wants to dress like VOLTA.
Plus for me, fashion should be for everyone, when I go shopping I check both sections, and I do buy a lot of items from the womenswear section and no one would even know and they ask me how nice is this piece or that piece that you are wearing. And I insist on making a statement and telling them it is from the women's section from x brand. Plus being an academic for a long time and creating looks with my students makes me more attached to all the garments and we all try them out if they were men or women. And nowadays we are all aiming to create looks that fit all tastes, all gender, and all sizes.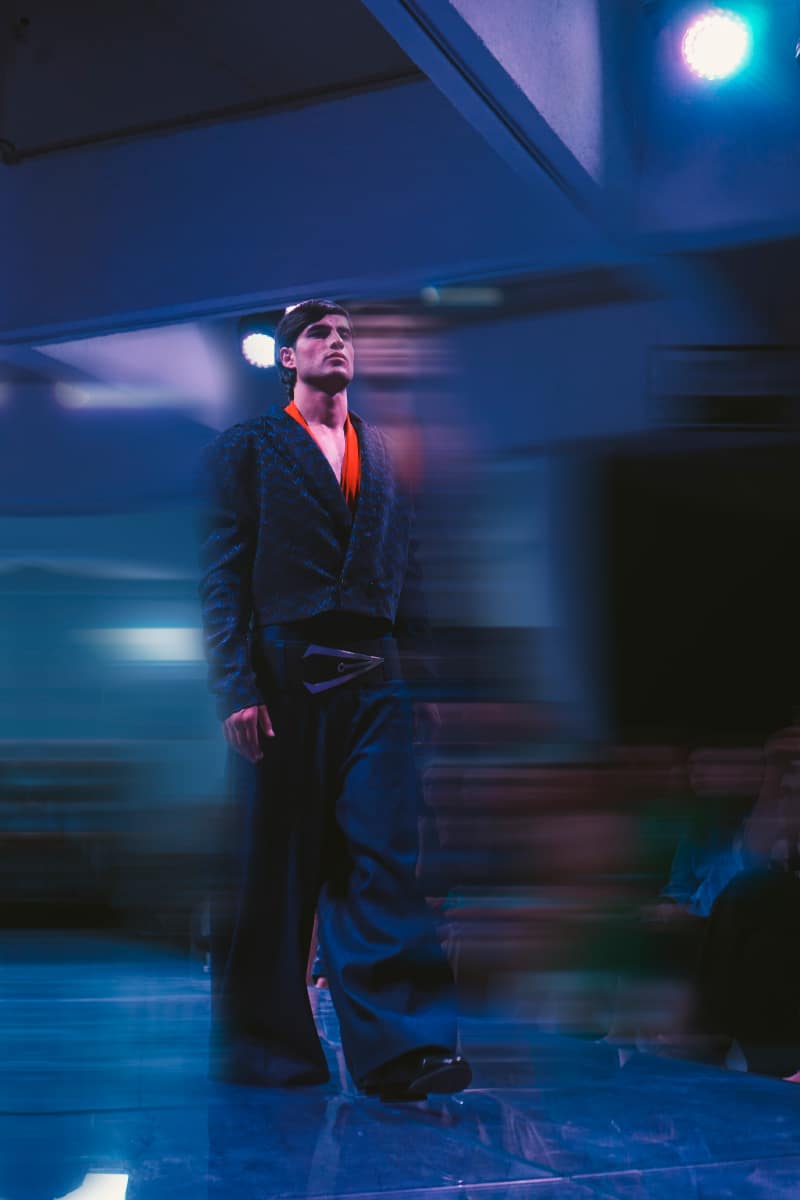 Have you faced any resistance or criticism regarding your exploration of queerness and the use of feminine shapes in menswear, particularly in a country with established gender norms and a more conservative mindset?
As I say I don't really give a shit, if they don't like they have million other boring brands they can look out to and buy. I do creations to bring out what Missak Is. And not what Missak wants to be or tries to be to satisfy the society. Being based in Lebanon with a huge queer community is different from being in Armenia. I will think about sales I will definitely have to amend a bit. But this is Me when I design I don't think about anyone, I just think of having a great fit and cut, great proportions, using good fabric.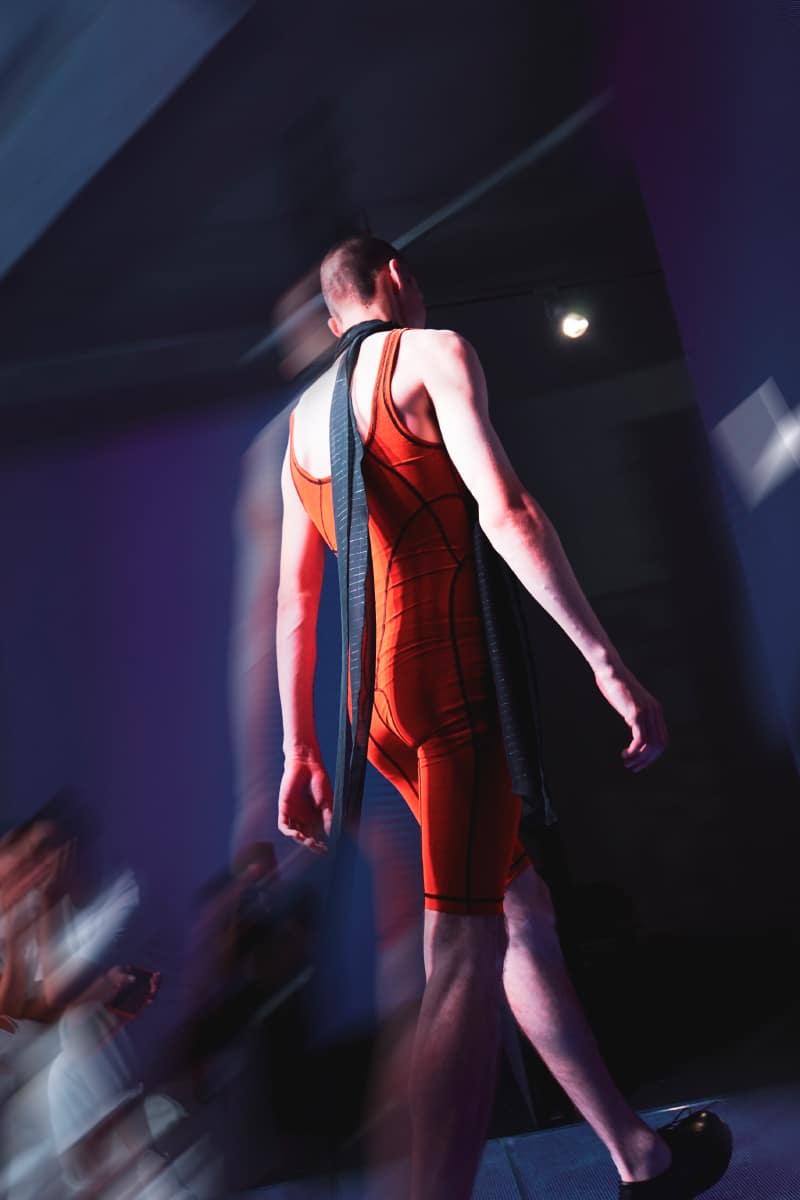 Could you walk us through the creative process of VOLTA? How did your childhood, Renaissance art, and Shakespearian poetry influence this new collection, and how did you bring those influences to life through your designs?
Even though Volta is an expression of pure sentiment, dance and melody, the music world is only one of the many facets I get inspired from. Art has and will always inspire me as a creative director for Volta, as a fashion consultant, and as a fashion tutor. Whether it's music, architecture, paintings, poems, theatre, movies, historical figures, icons, my American heritage, or my childhood, my sources of inspiration are limitless.
In addition, being in fashion academics for more than 13 years and working with the young aspiring students and fresh minds of today, I receive new tastes and fresh feels to my collections and to my brand, their cool and young generation with their street-styled vibes keep refreshing my fashion perception and the vision of my label.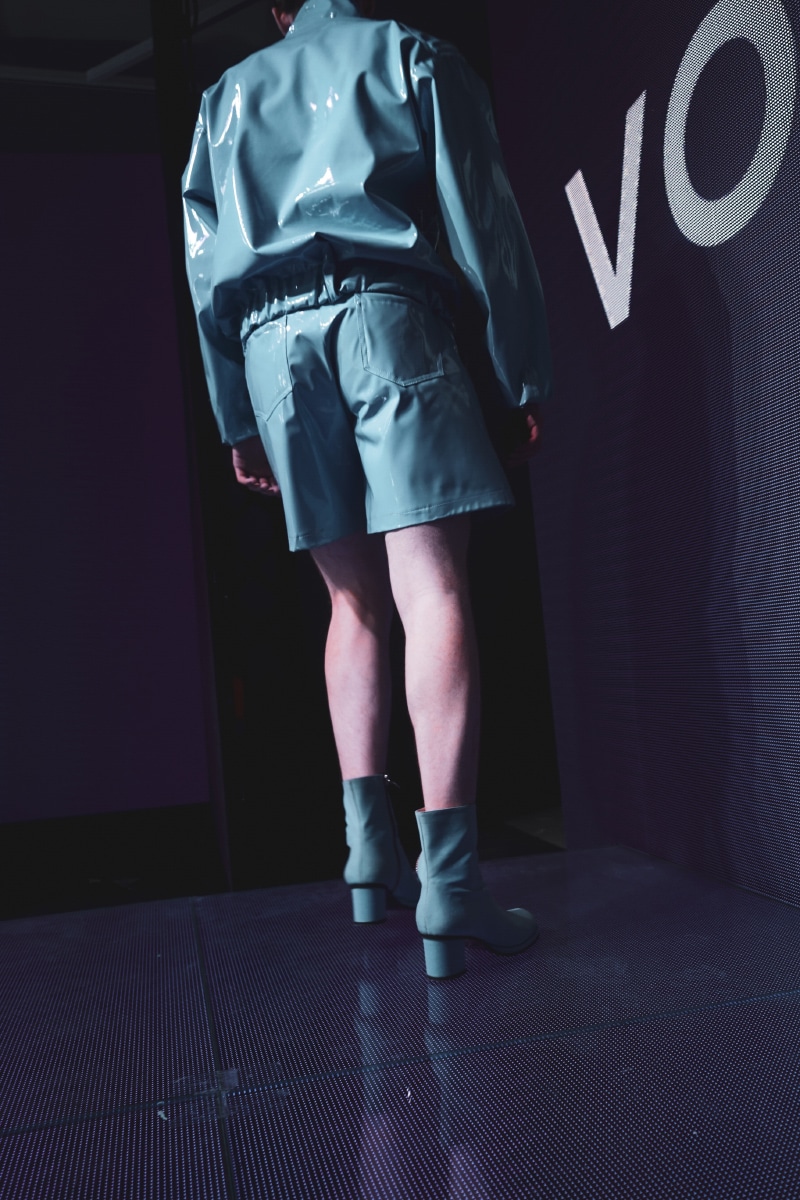 The fashion industry is constantly evolving. How do you stay innovative and ensure your designs remain relevant in a rapidly changing industry?
Yes, the world and fashion are evolving, I don't like technology at all and try to run away from it. When I need something, I have my students. I always get all the fashion news and technology-based things from them. I do evolve in the sense of amending my creations with the trend, I try to bring in the trend that I think can fit my work. And try to keep it undercover and not put it there in bold. As my inspirations are all from the past but that doesn't mean that I do not integrate trends or new methods. And talking about trends in the end fashion repeats itself. But technology I do hate, I was introduced to the AI and not really understood the real meaning of it. Being a creative pattern cutter tutor for the last 13 years, and now seeing patterns done by (Clo) or whatever, ahhhhh "kill me". I did take the chance and tried to work with it but at the end, it will never replace manually done patterns. As well nowadays everyone is trying to create sustainable fashion and they don't really get the true meaning of sustainability. The one thing I did with Volta as well not intentionally is being exclusive. 70% of my materials are deadstock old branded fabrics, that's why a lot of the pieces are limited by 1 or max 3 pieces. And I really want to keep that, as I don't like mass production. For me is not about making a lot of garments and dressing a mess but more exclusive. This is why when I want to buy something for myself I want to get unique pieces.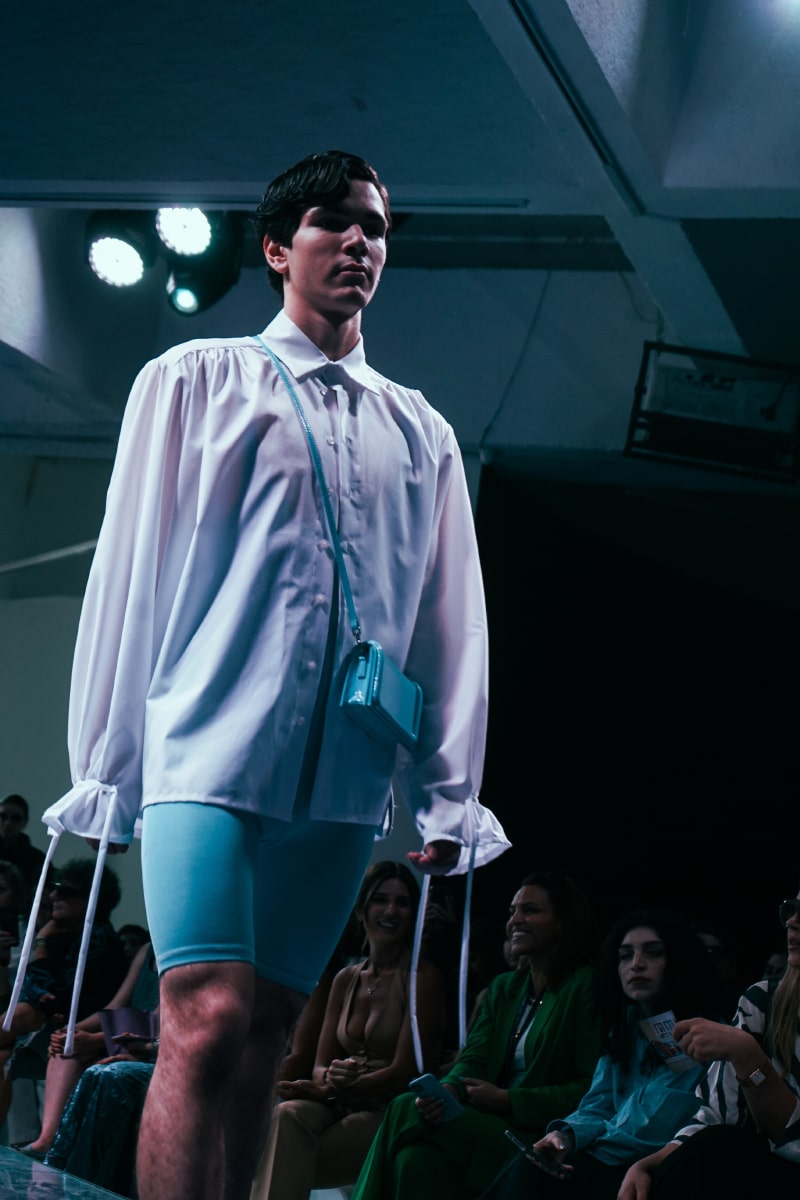 As a Pattern Cutter, what do you hope to achieve with your fashion label, and what message or emotion do you want your collections to evoke in the people who wear them?
I would like to dress people the right way. Considering their body, their shape, and their proportions. When I design the first thing I think about is the body and how well the cuts should be. How good should my material be. I want people to buy pieces that would be worn with no issues in them, with great finishing, with nice proportions, and above all with quality fabrics. Yes, I did use some basics like denim but I always want the best materials. Missak has always been about the fit, cuts and fabrics. Maybe that's why when I first started I had a high-end line and I used to do customized gowns. Clients would approach me for that. I used to do endless fittings just to reach the perfect outcome. I have never lied to clients and get them cheap materials. I used to take them with me shopping for the right fabric and showing them how exclusive and expansive a good material can be.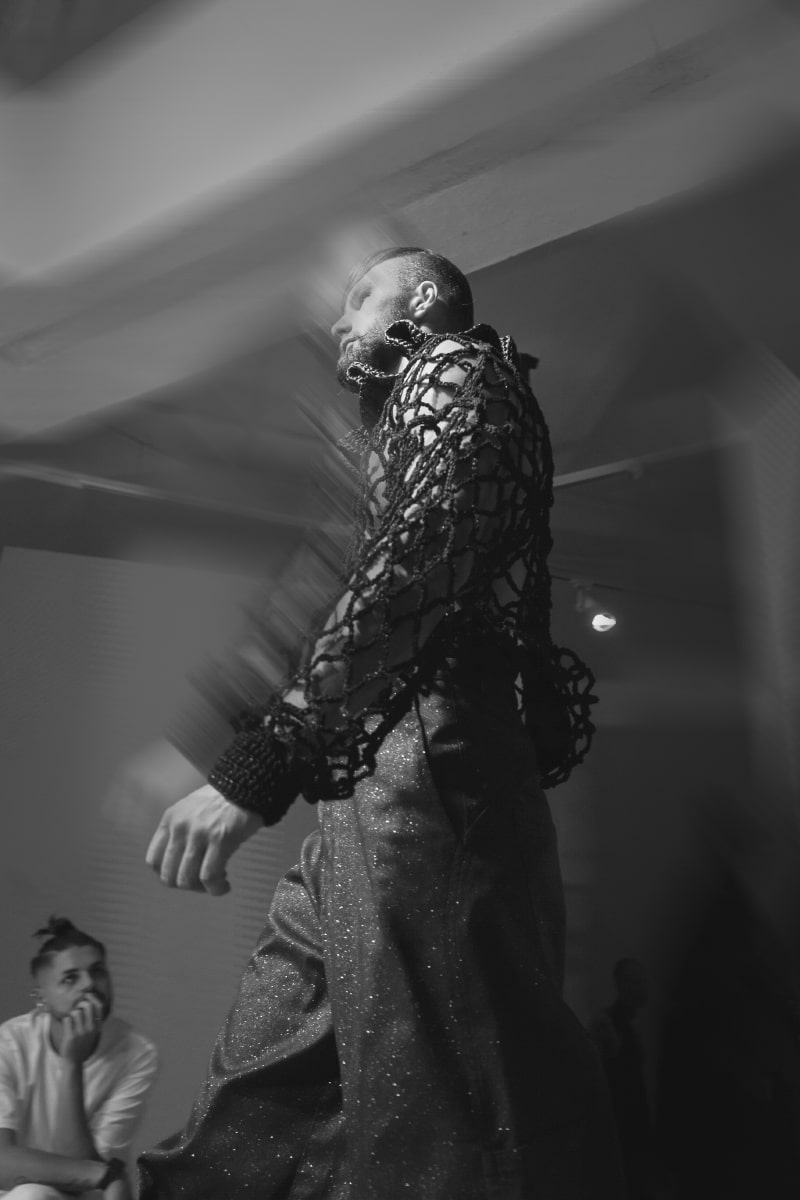 Lastly, what can we expect from you in the future? Are there any upcoming projects or collaborations that you are excited about?
Okay so lastly, I would like to continue with my newly launched brand. It's been almost 10 years not having one. And this is the comeback. I would love to work on it more and give time to it, with my busy schedule. I do teach at several universities and institutions here and abroad. But this time I will try my best to make Volta exist. But definitely, I'm taking it slow and step by step. With how much I can do financially and time-wise. As I do everything by myself. I do not have pattern cutters or tailors working for me. I had to shut down my workplace after the Beirut blast some years ago. I do get some tailor help from time to time by me overviewing the work. I'm not mentioning this to make myself a god. But I do like to follow my work, I have trust issues and I'm super picky. I don't even trust myself sometimes. With this collection that was done in 3 weeks, I had the support and help of my students and my friends. It would have not been done without the help of a friend Aline Kaljian who supported me financially and we made all the pleating work after her busy schedule, and the help of my protégé and my first-year student at "Creative Space Beirut" Nour Chamseddine, who really tolerated my mood and those overnights. For Creative Space Beirut who gave me the space to work during the nights and weekends. And all the people who were the backbone of my career and those who supported me from far and as well my mom who always had her touch on my work, with all her pain she did all those beautiful crochets. And when I say trust, for 10 years when I had my couture line, it was me and my mom only at the workplace. So, imagine all the work we used to do by ourselves.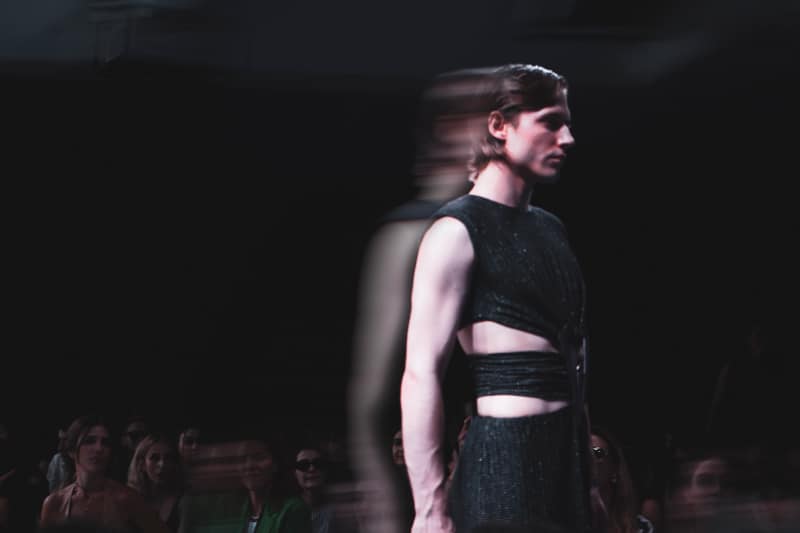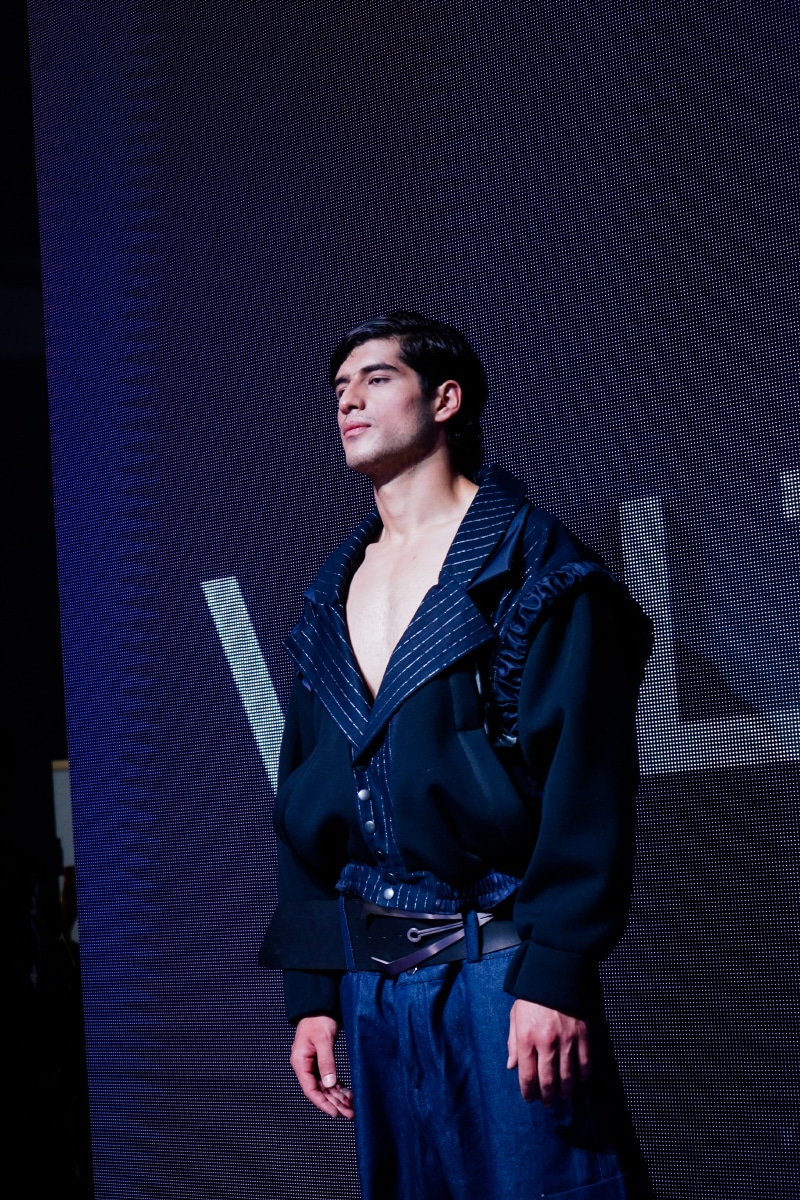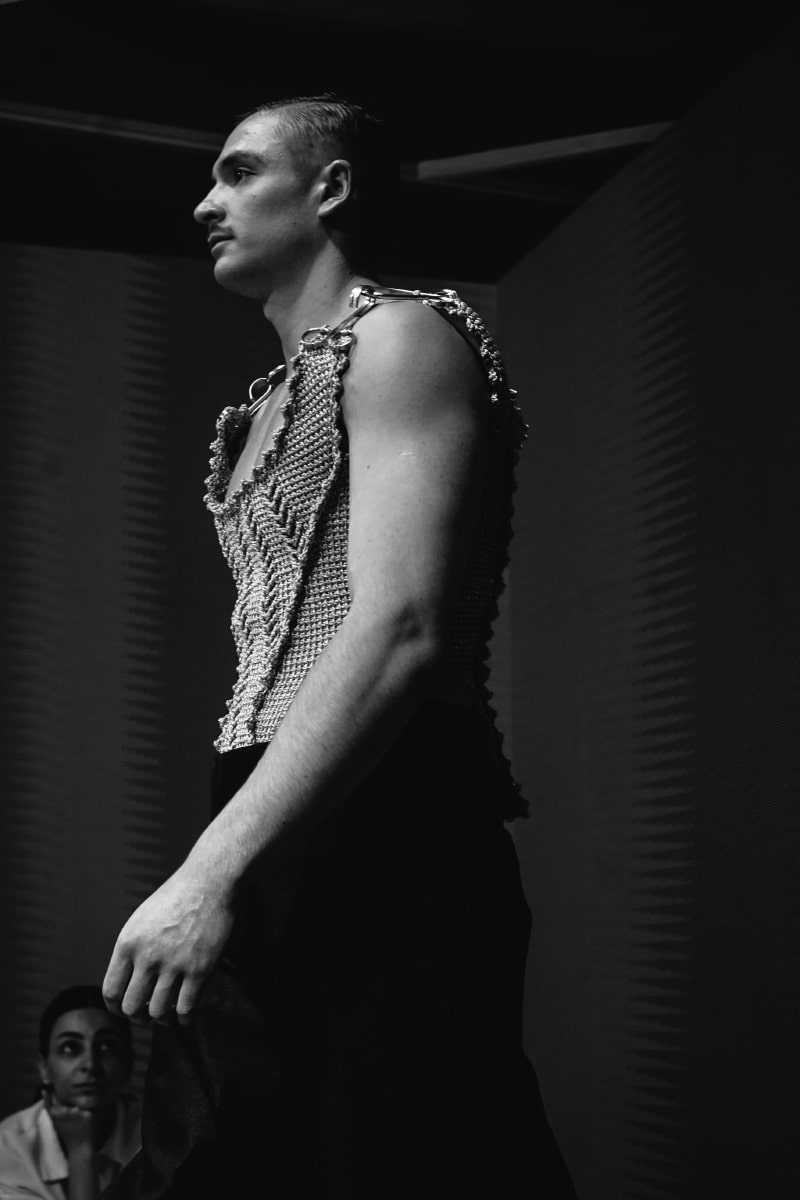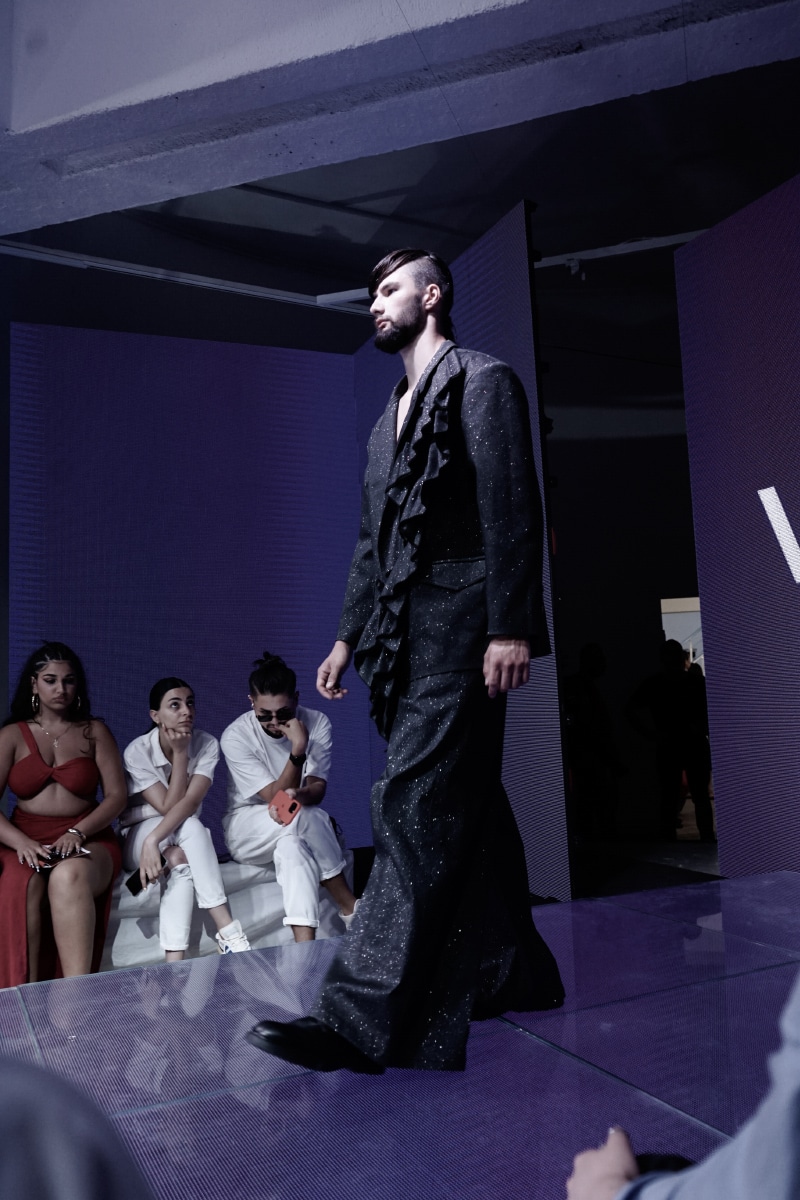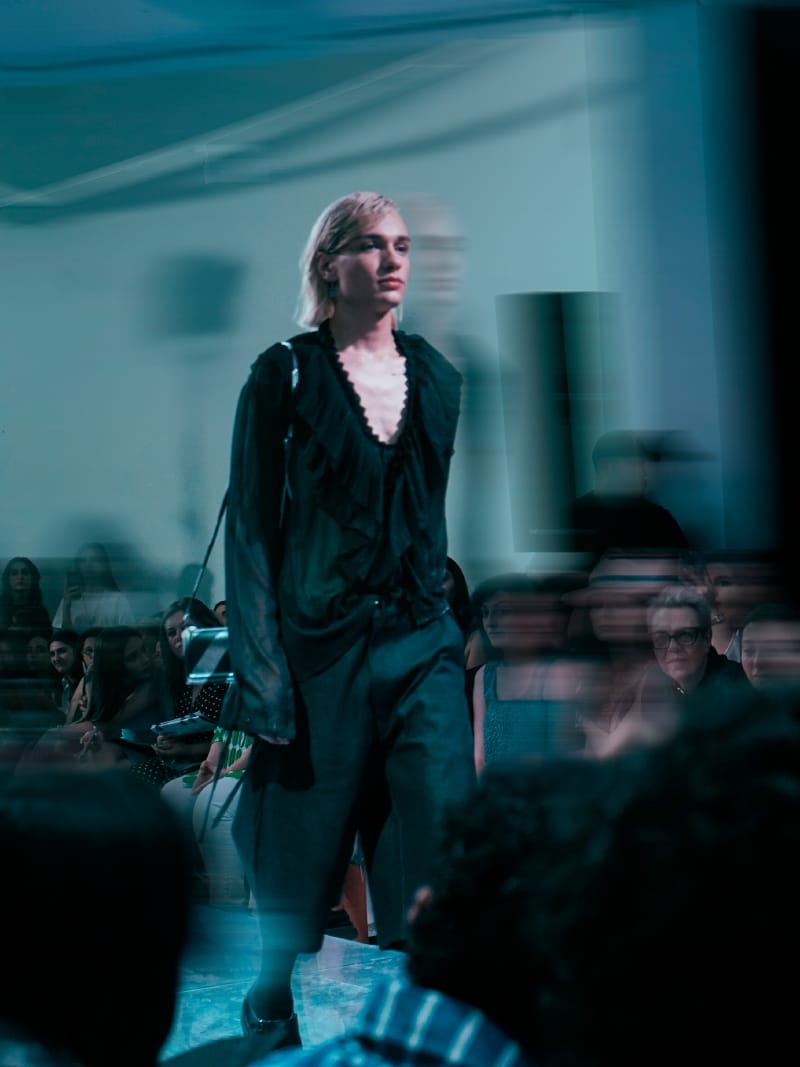 Photos at Yerevan Fashion Week by Ghostly Andrew @iamghostly.