We caught up with young and upcoming designer Christian Stone during Paris Fashion Week. Hailing from Hong Kong, he was selected by Fashion Farm Foundation to show his Spring Summer 2020 collection here. FFF is a non-profit organization aiming to align the synergy of the fashion industry in Hong Kong with the larger global energy. Stone caught our attention with his future-forward attitude and aesthetic.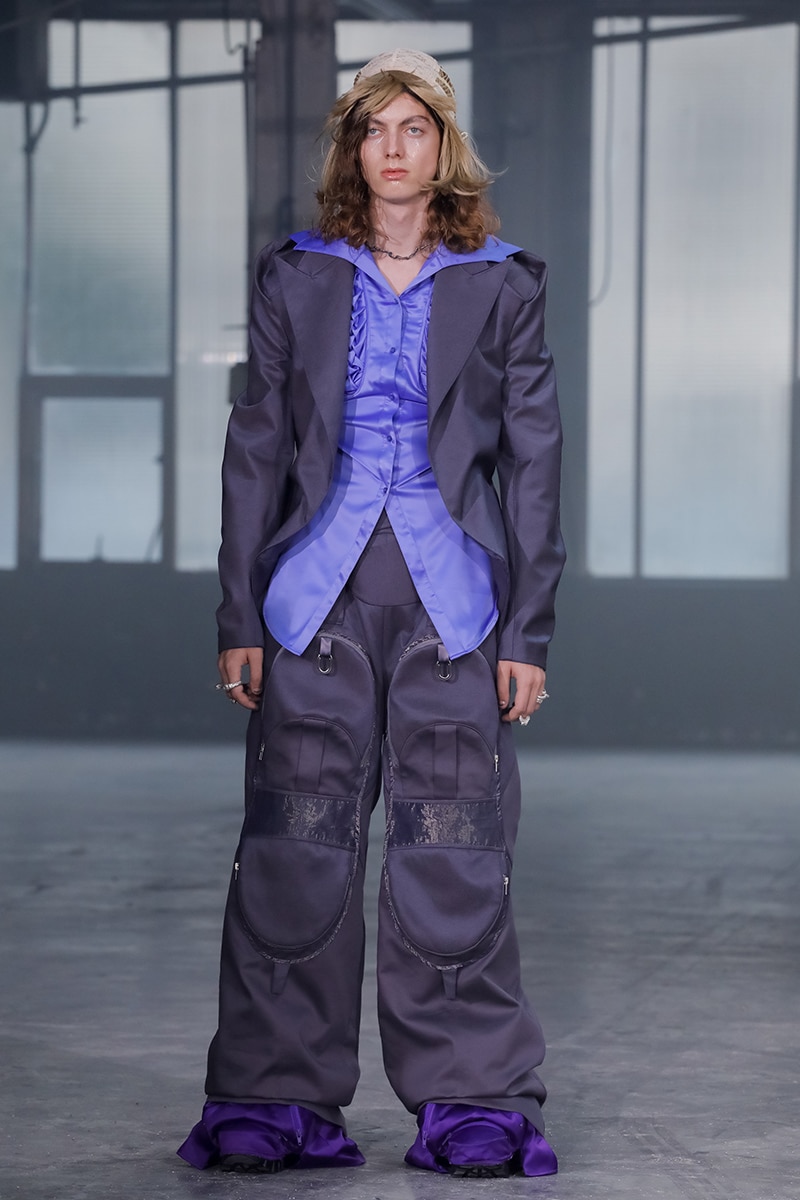 Since graduating from Central Saint Martins in 2017, you have garnered attention for your hand-made daring designs and took home the VFILES Runway 9 Designer Award. This week you are presenting your SS20 collection at Paris Fashion Week. Please tell us a bit about your journey these past two years, navigating in this industry post-student!
These two years have been a series of ups and downs although it literally flew by, and indeed the first year after post-grad has been the most confusing time. In the beginning, it didn't even feel like I was fully intentional to launch a brand. It wasn't like I got a starter kit for 'how to start a label'.  Instead, it felt like a slow build-up of incoming projects and getting my mental state to slowly realize that project by project I have done has actually been actions to build up my brand profile.
Right after V-Files, I realized I might be able to carve out my own space in this industry because of the amazing feedback, and on top of that, I have always clearly known what I aim to design and what I want to communicate. But because I couldn't afford to live and run a business in London, I moved back to Hong Kong. I had very little support financially but luckily H Lorenzo purchased pieces from my debut collection so I used that money to rent a share of a cheap industrial flat as my studio. Despite the limited resources, that was where my signature backpack shoes were born, for which the first-ever pair of prototype was hand made by me. Thankfully and surprisingly, the image of it became very popular. Then I got an order again from H Lorenzo, which resulted in some income to make more pairs properly with a shoe factory.
After that, I have been doing private custom orders since and used the hype and all projects I have done to apply for government funding for young designers. Now I am funded for every aspect of my business, including the organization of this SS20 show. Currently, I am planning to refocus my brand on clothing while keeping the footwear as my signature, and I just got a huge order from Browns which will keep me busy for the rest of the year.
I think the way I have been navigating this journey, either in the past two years or in the future, is to keep treating any projects as valuable learning experiences and stepping stones. Most of the time, one thing just naturally leads to another and I learn from the process. Although sometimes, some opportunities do take an extra hustle to get, and this industry is driven by people's connections more so than my work itself, knowing that I have tried my best every time to work things out, for the rest I just let things pan out themselves, and keep being grateful to those who have helped me out, pushed me and given me advice.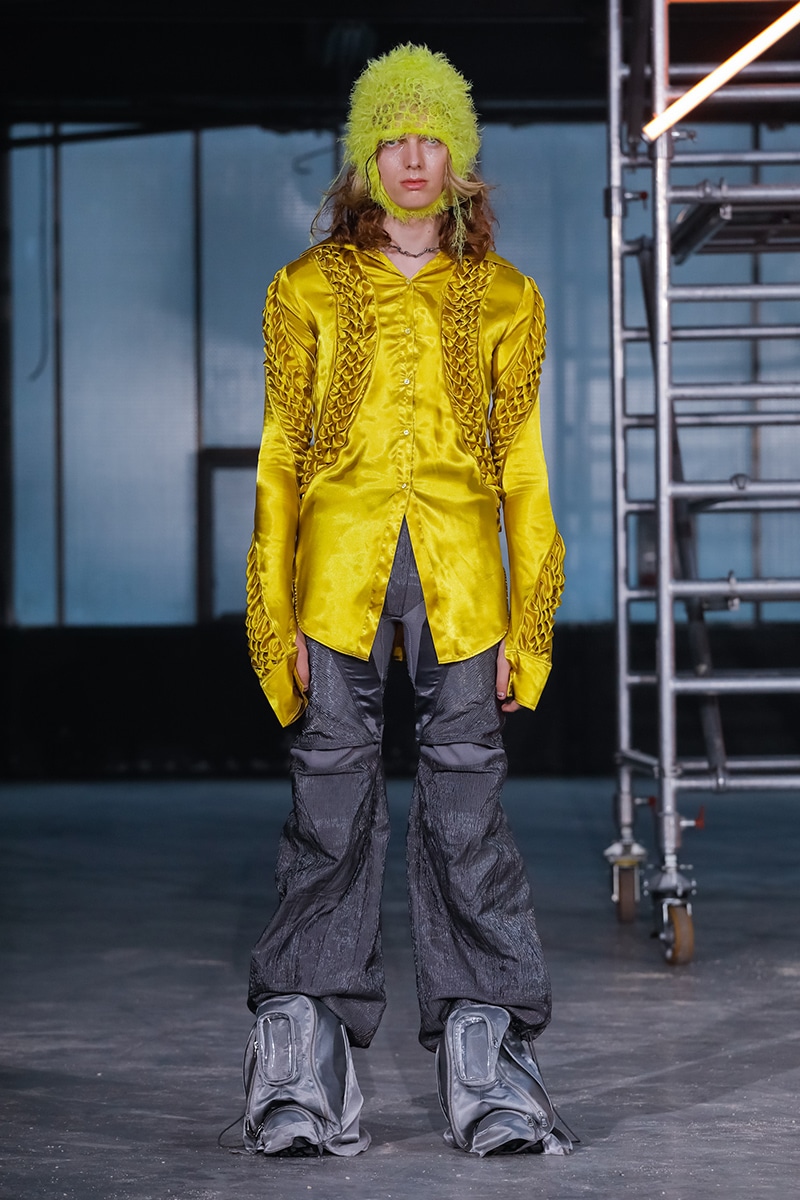 You previously worked as a design assistant at Christian Dior couture in Paris and designer at Hood By Air in New York. Both brands have different DNA. Why is it important for you to have your own label verses designing for someone else?
To me, working for any brand is like learning to speak the brand's language and to serve the overall message or existing image of the brand. But setting up a brand is like creating a new language that nobody has heard before (or at least I strive to do so). It is much more challenging and significant because new meaningful voices should constantly be discovered and heard. If you think about it, mega big brands are always referencing what young designers are doing. And fashion only evolves when new brands start to exist and when they start to have an influence on those industry-leading brands, to cause greater changes for better or worse.
The major reason why I chose to set up my own brand is that I have got a new image of aesthetic to express through a vision that is lacking in the fashion market. I believe my label can be inspiring to the rest of the industry and to consumers, so I have decided to be a leader instead of a follower. Also by running my own brand, I don't necessarily have to follow the norm of how a label traditionally works, but I can seek out new and diverse ways to reinvent the process in which for example, how garments are designed which might be more cutting edge, how production can be carried out which might be more collaborative or more environmentally friendly, how casting can be more diverse.
Basically, being my own boss just allows much more freedom and flexibility, and although some of the groundbreaking ways of problem-solving and business planning are often attributed to limited financial resources (at least for me because I come from a rather humble background), they might inspire the rest of this industry and cause positive changes. And creating good influence is exactly why I am setting up my own brand, apart from making really good clothes obviously!
If you hadn't founded your own label, who would you like to design for?
At the moment I would love to design for Rick Owens.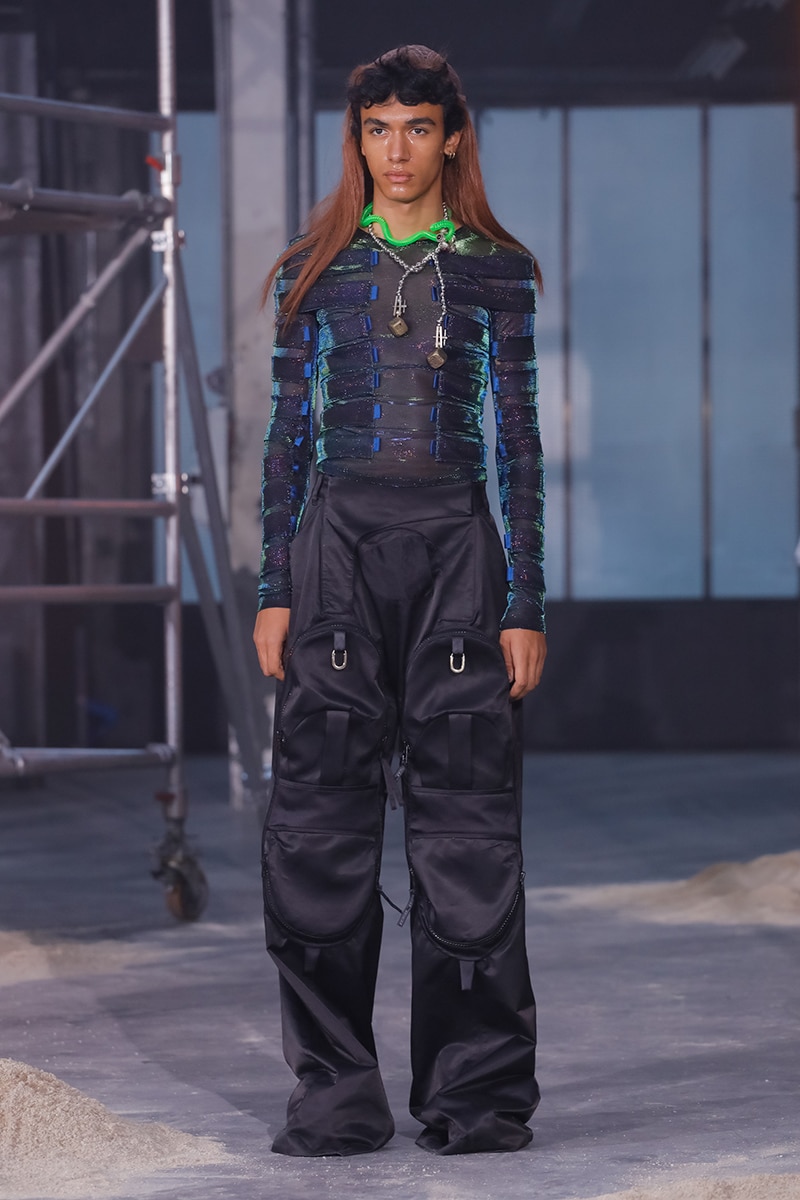 Your work has amassed a significant celebrity following from artists such as Asap Rocky, Rico Nasty, Serpent with Feet, Hins Cheung, Brooke Candy, and SZA. Who do you imagine wearing your clothes from a non-celebrity aspect and who would you love to dress?
I always want Jared Leto to wear my things because I think he is super hot. Ezra Miller is another one, and then Lady Gaga if I am not being too basic.
Your SS20 collection "You Can't Stop Progress" is inspired by 1990 cult movie Hardware. Can you please tell us a bit about it?
The set for the show is a literal reference from a 90's cult sci-fi movie called Hardware, in which a war killer robot was discarded in a sea of orange dessert. It was then picked by an artist and up-cycled into an installation, but then it assembled its broken pieces on its own, came back to 'life' and went into full terminator mode.
Based on the movie, we tried to create a set with an industrial desert vibe with scaffoldings and neon lights. The brilliant Lydia Chan designed the whole set and handcrafted the two giants robots standing between the scaffoldings.
The collection itself is inspired by another movie 'Death Becomes Her', just like the film itself, it encapsulates a mixture of glamor but mixed with elements and a feeling of technical wear. It continues to explore the notion of bringing dead objects or beings back to immortal life and has parts of garments features such as bags and pockets genetically reformed into totally new shapes, proportions and functionalities. So, in the show, there is paintball combat trousers (and also turned into culottes) that are made super vibrant, even in glittery fabrics, but they also merge into shoes and bags from the knee down to the toes. To me, to have that complexity and layering in a way that's unseen before feels way more glamorous than a red carpet dress and a ball gown.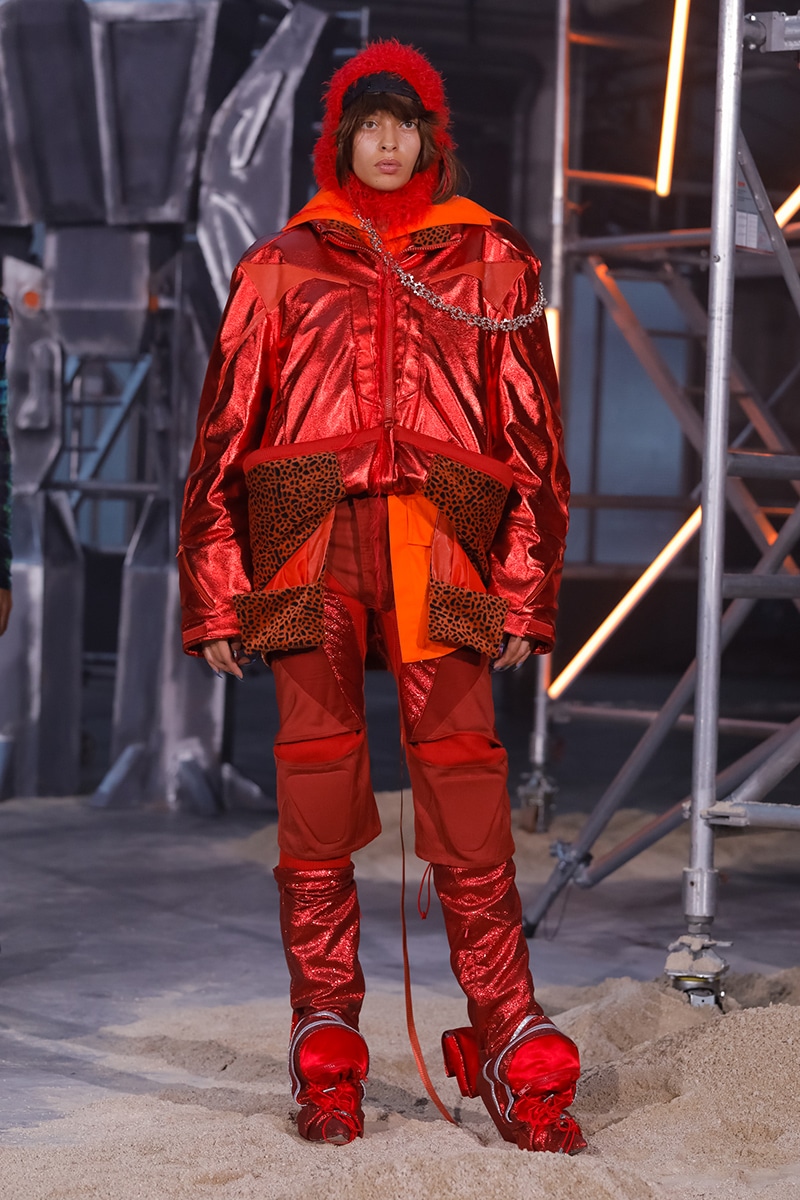 Does music play an influential role in your work? What were you listening too while designing Spring Summer 2020 collection?
I actually got into podcasts recently. While I am working, I have been listening to a lot of conversations about conspiracy theories, especially with Area 51, Bob Lazar and aliens because of the recent Area 51 raid. I particularly like Joe Rogan's podcasts which are just bro-vibe and chill, and another podcast I would recommend is the Wisecrack podcast. It is often a discussion between two to three people breaking down the philosophical meanings of everything from selected movies, recent social phenomenons and controversial topics trending in pop culture.
I just find comfort in listening to people speak and learning from these discussions rather than listening to music, and there are not that many great new music anyways. But I do dig Joey LaBeija's music recently, there is just much more to appreciate when you know a person who mixes his own music that feels raw, genuine and treats it as a craft. He also made my runway music this time.
Did you have a favorite sci-fi book or movie growing up?
I grew up with the Final Destination franchise, both the movies and the books I was obsessed with it just from gut instinct. Actually, I am just now realizing maybe it has influenced me to have a life/death-related theme for my collection.
What are you reading at the moment?
I have been reading off and on Sharp Objects by Gillian Flynn. And I want to go watch the series after I finish the book.
What scares you the most about the future?
What scares me the most is global warming, even more so than the potential thread brought upon by rapid technology development. Global warming seems unstoppable and each summer is literally getting hotter. It is a 100% pressing issue, it needs a solution and what scares me, even more, is that some people don't believe in it.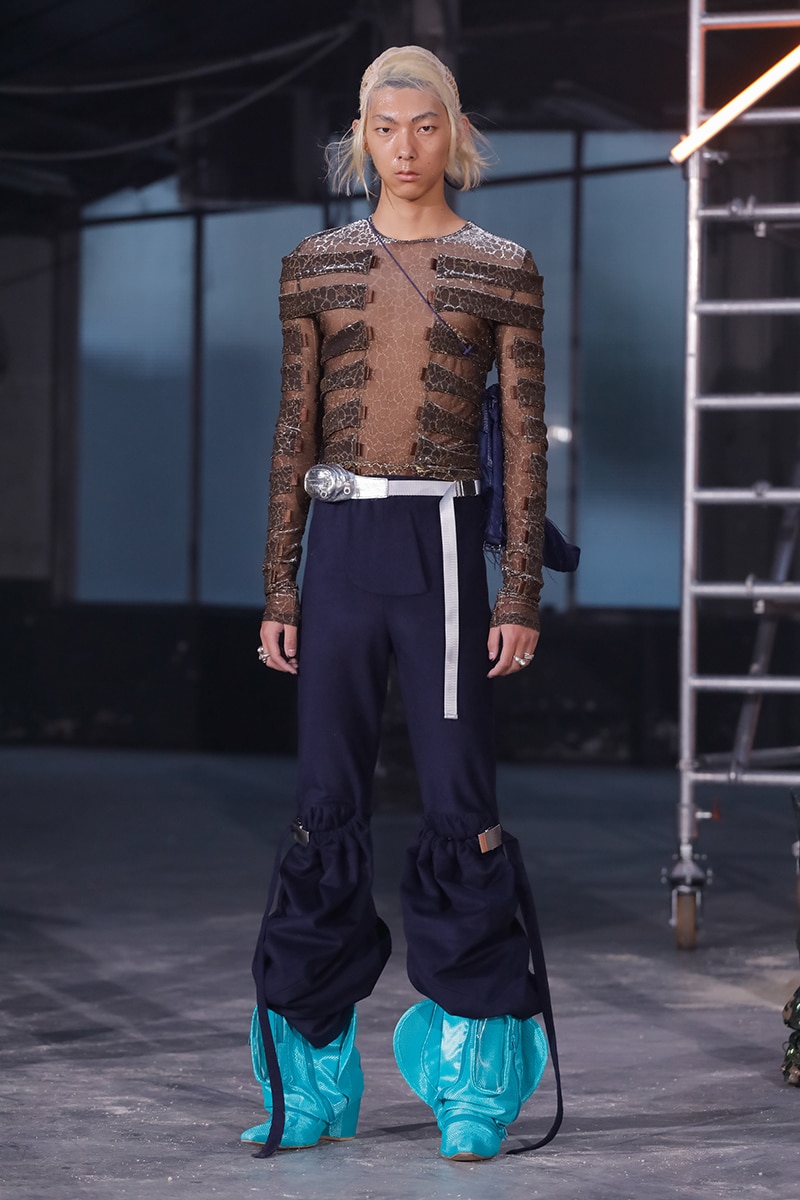 And finally, how do you see technology in the future?
If World War Three hasn't broken out yet and the world still exists, this is how I paint the picture.
Although I honestly don't think there would be flying cars yet in 40 years, I think in first world countries, cities would be dominated with self-driving cars, a lot more commute systems apart from flights to get between countries, offering cheaper traveling options but possibly with similar travel speed.
Based on existing technology connected to a human's nervous system, I think the world's technology would rely much more on connecting devices and human consciousness. People won't be looking down on their phone as much, as phones could already be eliminated and become obsolete. Instead, visual interactive information will be planted into our brain as a microchip to activate a digital vision. So let's say a virtual Netflix menu will appear in front of your eyes, and brain wave movement would indicate the selection of movies without having to do any finger tapping.
Countless manual labor jobs will be taken over and replaced by AI, many jobs will become obsolete. People would be legally forced to either have a very good education to prevent themselves from becoming jobless or learn a skillset or craft that machines could never master.
More crimes would be caused by technology abuse, and more accidents that cause injury or death would be a result of tech malfunctions. New universal laws will put in place to control the abuse or these accidents. However, expect huge controversies and protests on passing these legislations because they always have to do with taking away some people's interests.
It would be much more difficult to protect anyone's privacy, as of today, it is not an easy task either with the internet using a cookie to track what you have viewed online and Facebook collecting people's personal information.
Flying drones would be everywhere, and service robots would be in people's homes, serving as pets or maids.
In third world countries, knock offs of new technologies would be produced quicker and quicker, providing a copy of what's new out there at a much cheaper cost, but they'd be much more hazardous to use as in counterfeit devices might potentially be explosive.
Poverty areas would be much more polluted compared to today because cost-wise, they wouldn't afford to have the infrastructures in place to solve pollution problems, especially when a lot of these areas in which the factories are responsible to produce a lot of things, like clothing and electronics for the rest of the world.