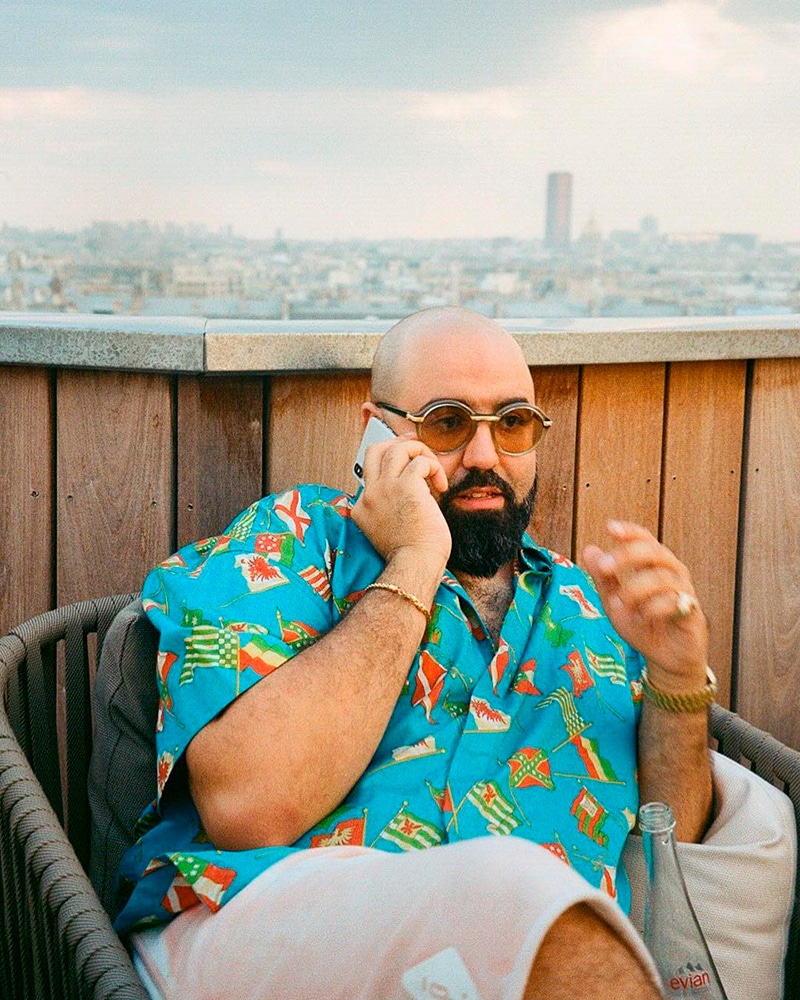 Charaf Tajer
Beautiful shades of green, warm oranges. Printed jackets and shirts. A feeling of ease and effortlessness. Designer Charaf Tajer loves to mix architecture and fashion, borrowing from the 70s and creating an extensive male wardrobe. There is something for everybody: from the cool, hip guy to the "Italian grandpa driving a vintage Ferrari", per his own words. No wonder Casablanca is one of the most sought-after menswear brands of the moment. But its aesthetic is not meant to be a snapshot of our time – rather, it's an open window to all things beautiful in life, things we should take a look at more often, especially in these trying times. Based between London and Paris, Casablanca, named as a nod to the designer's parents and the place where they first met, represents this longing for places that do exist and make us feel right at home. Now one of the 8 winners of this year's LVMH Prize, the brand keeps on expanding and I caught up with Charaf to discuss the new generation of menswear designers, his idealistic approach to designing and yes, his brand new collaboration with New Balance.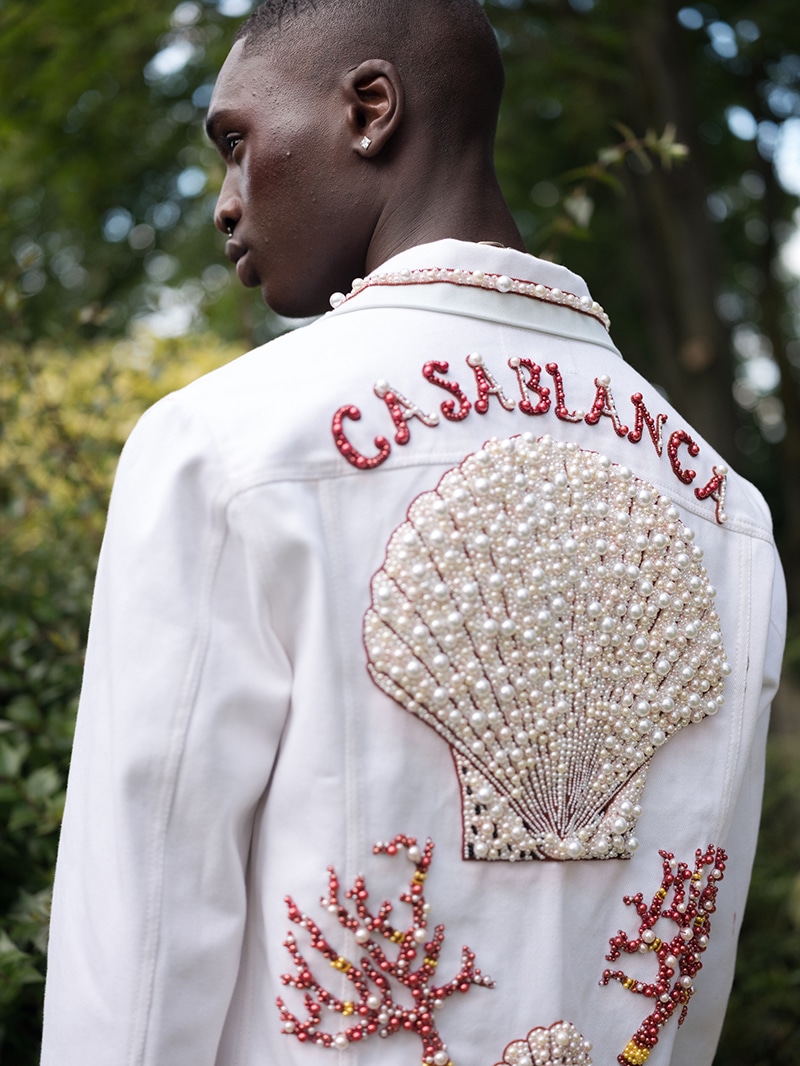 Casablanca SS20 backstage shot by Marc Medina for Fucking Young!
First of all, as we are all going through challenging times right now, how are you doing?
For us and for everyone, all of this is very new. It's a very surprising time. But I hope we will all learn a lesson and realize we are all connected – first as people but also to our planet. We need to be positive and grow from these trying times.
How did it impact your work?
We never stopped working even though we did things remotely. Of course, factories were closed but we kept researching ideas even during the lockdown. It's not the same process as we are not all physically together. Zoom can only work for so long! But we're doing good and working really hard on the upcoming collection.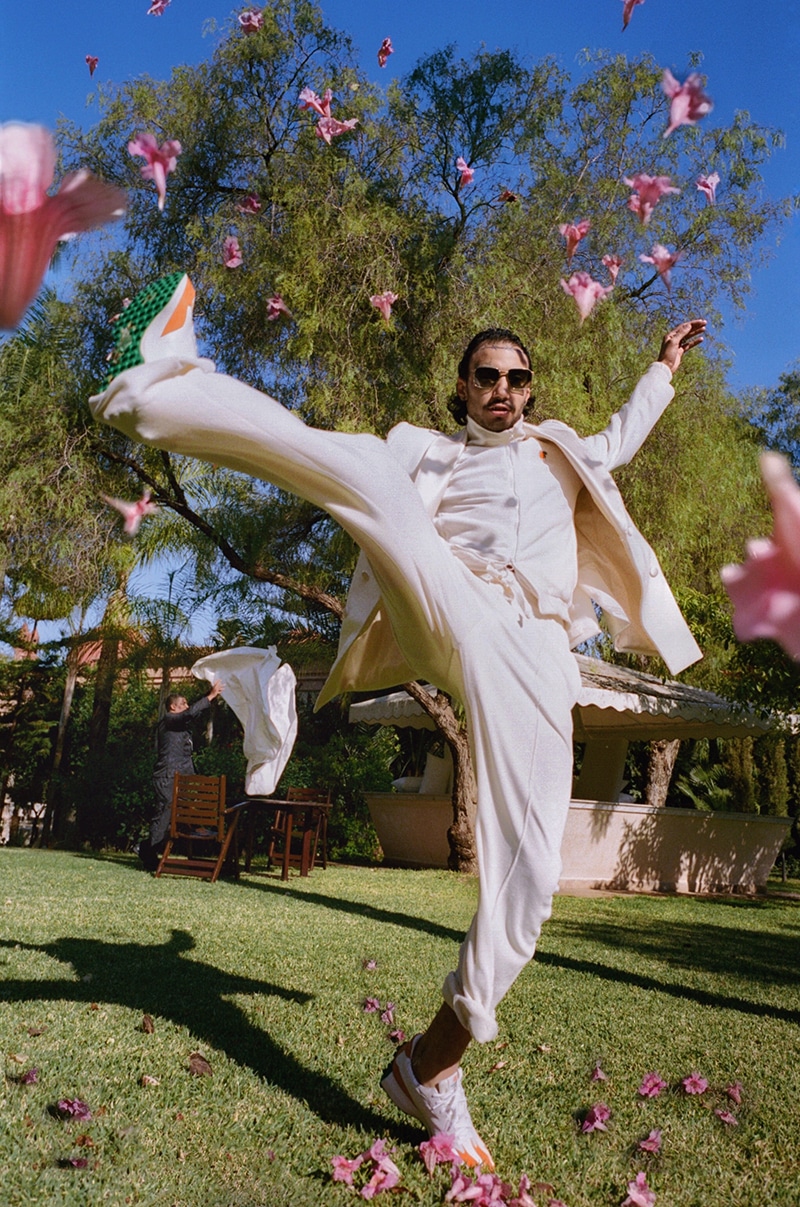 Casablanca SS20 Lookbook shot by Remi Ferrante Hartman
You have a great eye for color. What role does it have in your designing process?
Colors come with the ideas we get for the collections. When we did a collection around Lake Garda in Italy, the colors immediately inspired us. Now we are working on something else, so the palette will be completely different. But the things that always remain and are part of our brand identity are the notions of travel, nature, and architecture. In a way, an idea of adventure, projecting ourselves in an ideal world.
An ideal world, meaning exploring places that do not exist?
On the contrary, it's about real places. Places I go to with my team. I am passionate about traveling and going everywhere whether it's Brasil, Italy, Japan, or Hawaii. For me, being an idealist is not about creating something that does not exist but rather to see the ideal side of actual things. I think the world we live in is magical and so beautiful and we would be crazy not to see it. Maybe the brand can prompt people to look at things through a different lens.
Aesthetically, your campaigns have a real identity. How do you approach creating images for your collections?
We always shoot on film. Not because of the vintage feel it gives but because of the way colors look. It is subtle but noticeable. So that's very important to me. And then it depends on the collection, the story we want to tell… we get together as a team and discuss what we want it to look like and especially what we don't want it to look like. We don't want to shoot content for the sake of it. It has to feel natural but also fine-tuned. It sounds paradoxical but that's the balance we are aiming for every time.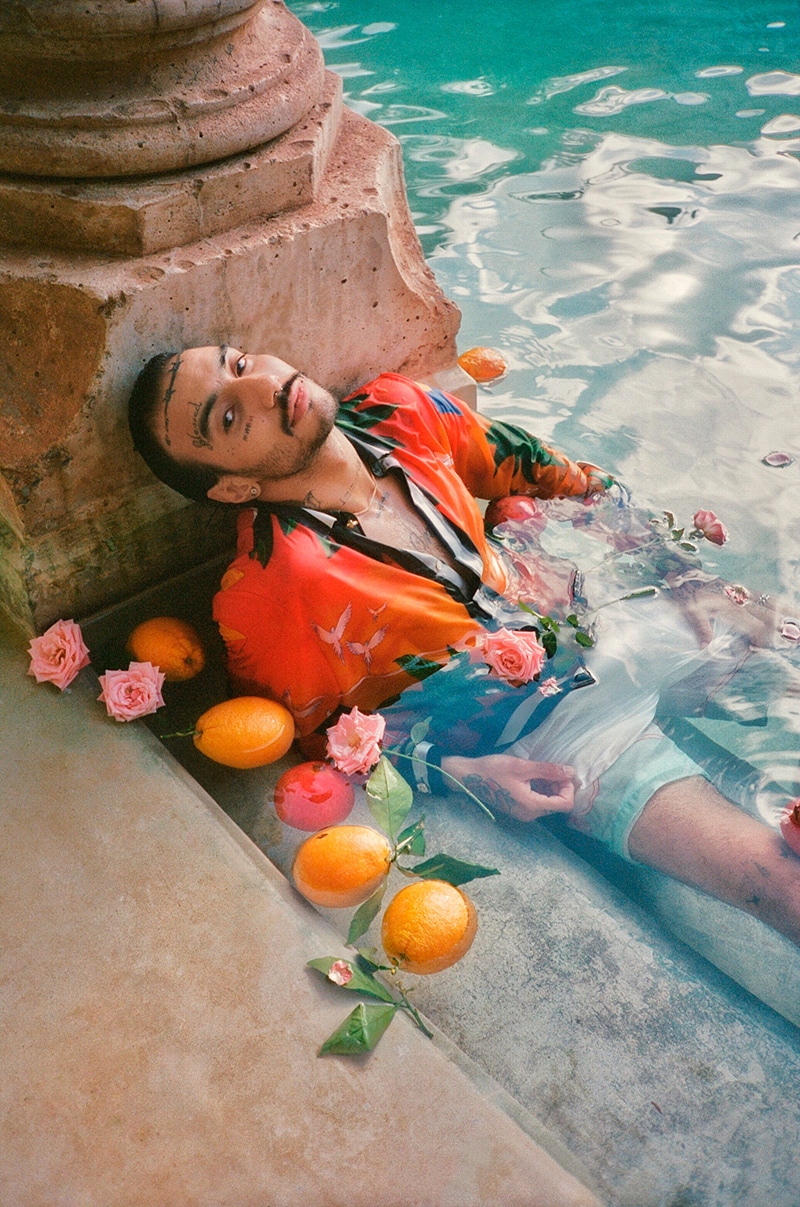 Casablanca SS20 Lookbook shot by Remi Ferrante Hartman
You just collaborated with New Balance. Can you talk me through the process and what inspired this collaboration?
New Balance initiated it. I really like the brand because it has an intellectual side to it. We wanted to do something different and this led to this pair which I'm really happy about. It was inspired by racing sports from the 70s. The pair could be worn by a cool guy who knows everything about automobiles and tennis. I see it as a design piece, just like a chair or a car so it was really interesting to approach it like that rather than treating it as a regular streetwear sneaker. If you look at the pair, it is very classic but the curves are very modern. As a brand, we really like this mix of old and new.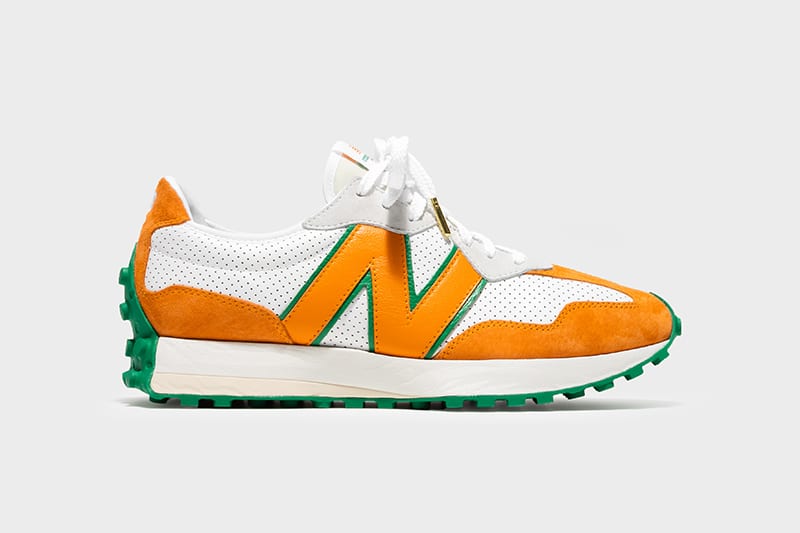 Casablanca x New Balance
When it comes to future collaborations, what would be exciting for you?
I feel like an exciting collaboration has to be between two different worlds. I like the idea of collaborating with someone or something that has nothing to do with me and working on creating something new and impactful. Working with an older, renowned fashion house rather than another up and coming designer for example.
And as you're very inspired by architecture, designing furniture?
I already did it as it was part of my studies. Even with clubs that I owned before, like Le Pompon, I designed everything. So I already have experience in that field. But I would love to design a house.  I think I will eventually. I have been wanting to for a while. It just speaks to me, it means something.
How so? What inspires you in architecture?
Frank Lloyd Wright once said, "The mother art is architecture."  You can find everything in architecture. In fashion too, but it's even more anchored in architecture. It's a very important art for me. Designing a house with my aesthetic, a mix of modernism and tropicalism would be incredible. I like the contrast between classical and modern and the work of John Lautner for example.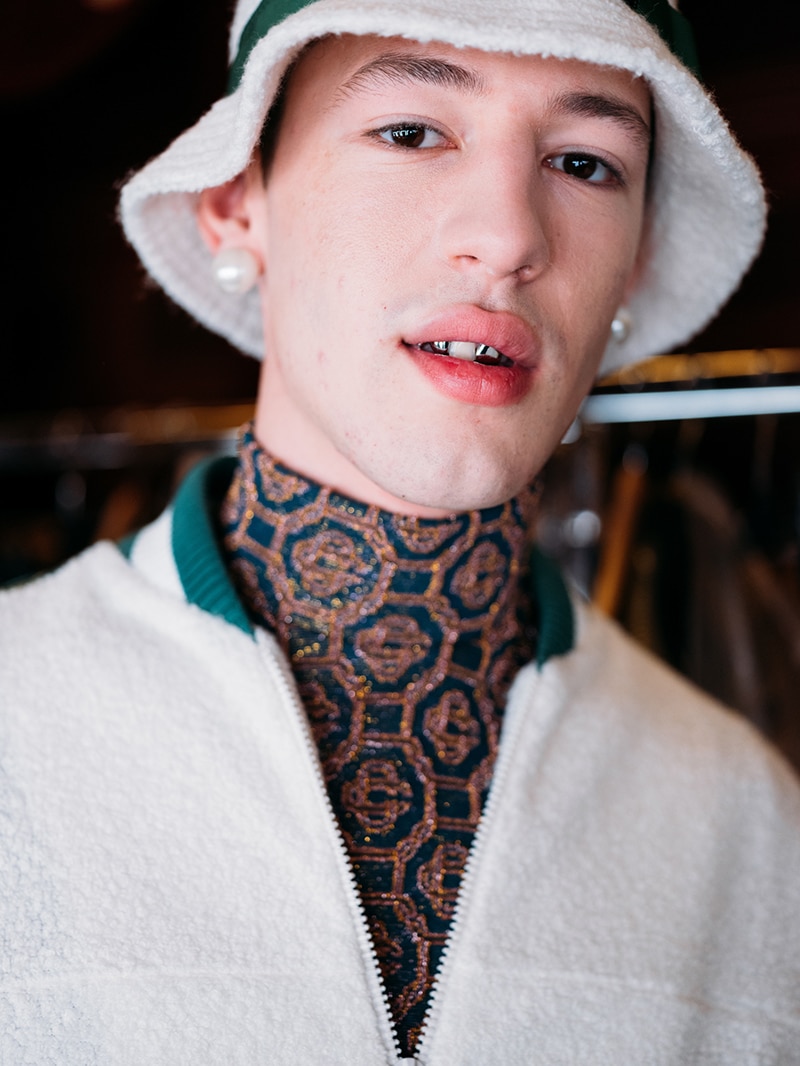 Casablanca FW20 Backstage shot by Marc Medina for Fucking Young!
Do you feel like you're part of a new generation of menswear designers with fresh energy? Especially in France. I mean, there's Ludovic de Saint-Sernin and you…
I knew you were going to talk about Ludovic de Saint-Sernin! I love him. He represents what's most chic in Paris at the moment and I really think he's a very talented man with a vision. It is one of the most important things for me – having a vision and creating your own world. It's not the first time someone mentions him in an interview. I am very flattered to have my name alongside his. He has great taste and things to say and even if we are doing really different things, I have great respect for him and his work.
LVMH Prize. Everybody's talking about it. How does it feel being one of the 8 finalists and winners? (note: this year, due to the global health crisis, it was decided that the top prize would be split among all finalists)
It really is an honor. Associating our name with the greatest luxury group in the world and getting closer to brands we really like was already a victory. Being recognized by your peers, meeting incredible people in the process… it's amazing! Splitting the top prize was a very logical decision considering the current climate. Business is harder for everyone now too so this kind of help is needed. It's fair.
Is it also important for you, being a kind of representative for French fashion?
I'm from Paris so… absolutely! Fashion really is one of the monuments of French culture. So if Casablanca can follow in the footsteps of great French designers and brands… It's true that it's been a while since a Parisian designer has really emerged on the international scene. Parisian fashion is part of my cultural heritage so I totally feel like I am a part of that. Representing Paris is in line with what we want to share as a brand.