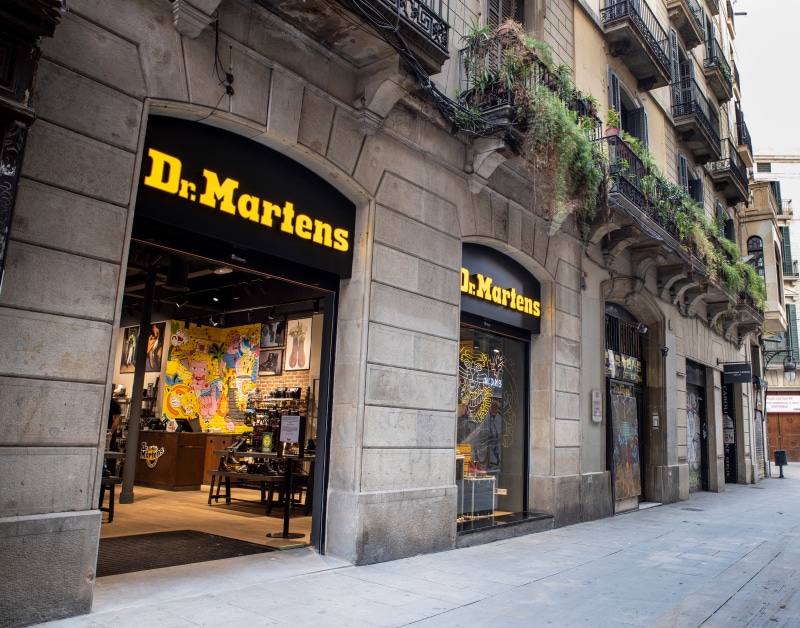 For the decoration of its first store in Barcelona, Dr. Martens, being faithful to his DNA always linked to urban movements, bets on culture and art with a mural by Asis Percales inspired by the essence of the brand.
The new physical store, located at Calle Cucurulla no2, brings together the brand's new launches and timeless classics that are synonymous with their own style, rebellion and authenticity. The store has a wide range of iconic products from the Made in England line, such as the Icon-Boot 1460, the 3-eye 1461 or the classic Chelsea boot. The Fusion line, which elevates the most classic models giving them a modern and fashion air, is present with the Jadon and Sinclair platform boots and the Bex platform oxford shoe. In the store, you can also find the Mini-me collection, designed for the little ones, and the line of accessories and shoe care.
Asis Percales is an artist and illustrator who mixes different iconographies, animals and objects to result in a world of abstract color with circus aesthetics typical of the traditional tattoo world. On the occasion of the opening, the artist also made a live mural in the shop window, during the day various influencers and celebrities from Barcelona visited the store.
We had a little chat with him and here's what he told us:
Who is Asis? Where does he come from and where does he go?
I'm ASIS, Francisco Romero Ruiz, I come from the Guajares, a town in Granada, and to be honest I don't know where I'm going.  Maybe I'll end up in Cincinnati haha. But I think the most important it is to become happy with what one does and with what one is.
Have you always knew that you wanted to be an illustrator?
No, in fact, I never saw it as a profession, I have always drawn but it was more of an entertainment, which I combined with working in the field and my advertising studies. It was when I arrived in Barcelona that some illustration work began to come out of me and one thing came out of another.
How much of a child is there in your illustrations and how important is it to keep that child within us?
Childhood is one of the most important stages and it is the one that will mark you as an individual and is clearly reflected in my work. In addition, preserving the illusion that young children have is something very necessary with the current panorama we have.
You dedicate yourself 100% to illustration. Is it difficult to live from art in Spain?
I have been exclusively dedicated to illustration for about 6 years and now is the time when I can live with some peace of mind from my work, I can now buy the omega 3 enriched tuna cans. In the end, it is an accumulation of things and it may sound hackneyed but above all, it is to spend a lot of time and dedication.
In a certain way, the grotesque and the bizarre are present in your illustrations. Is there beauty in the different and the marginal?
I have always been struck by the different, the grotesque. It is on the margins where the funniest things happen. Beauty and ugliness go hand to hand and it is very relative depending on the observer.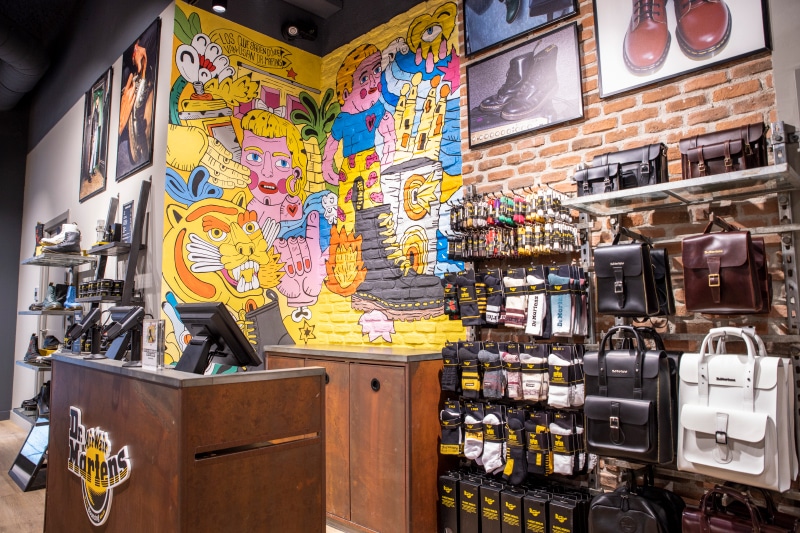 What characterizes your works?
It is characterized by having a positive and cheerful character. In my work, there are different characters, animals and mainly plant elements, with bright colors and accompanied by texts or phrases that enhance the message.
You have just collaborated with Dr. Martens making a mural and the front glass for the new store in Barcelona. How was the experience? What was your inspiration? What did the brand need and what have been the keys and techniques of this work?
The experience was very easy, from the beginning they gave me a lot of freedom when it came to creating the idea. For this, I was inspired by the brand and its history closely related to music and urban culture, as well as integrating some elements that represented Barcelona.
In the shop window, I represented a tiger and a boot, both as elements with great strength and character that you have to tame to make them yours. The keys to this work have been a good understanding between me and the brand and fit the client's needs quite well with my style.
Is street art the best way to communicate and reach a wider audience? Or do you prefer the walls of a museum?
I don't think they are exclusive and there are more and more urban artists in galleries and museums, in the end, the important thing is that your work transmits something, no matter where it is exhibited.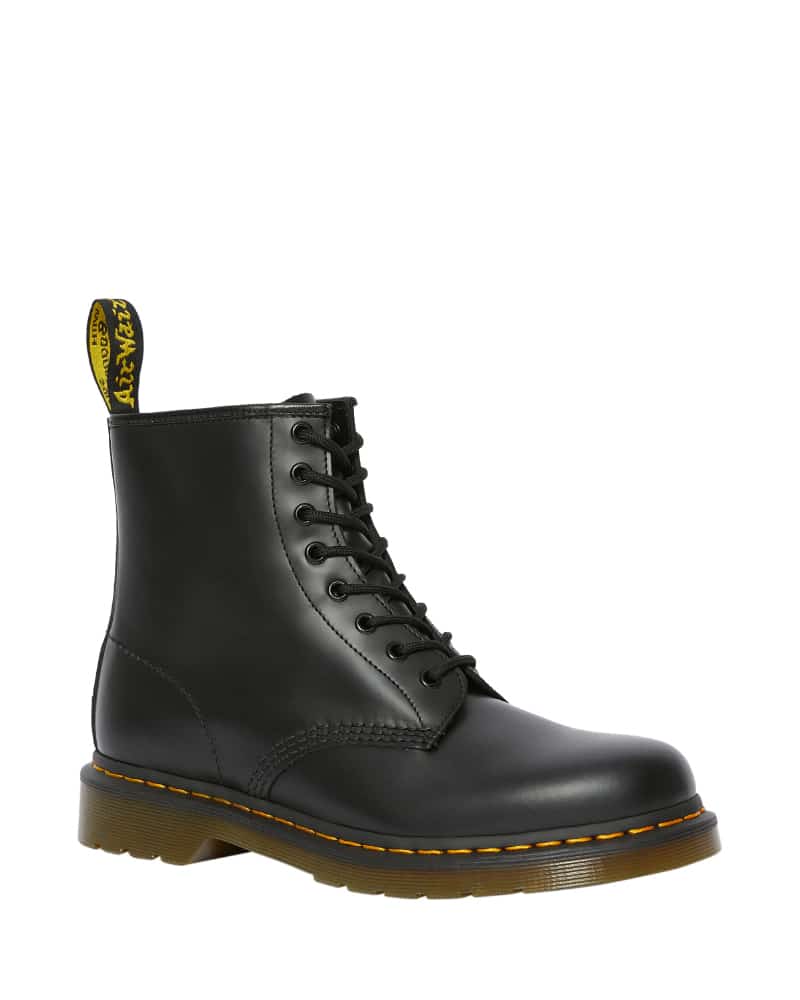 We have all had or have a pair of Dr Martens. Do you remember the first pair you bought? How would you describe Asis and his art back then?
Well, I just got the first pair of Dr Martens this morning right before I started painting the mural and they are quite comfortable.
A place in the city that you want to recommend to us.
El Raval is one of my favorite places in Barcelona, ​​due to the great variety of characters and creatures that make it up.