Tommy Hilfiger and Aries are launching a collaboration we didn't know we need but now we certainly love. Launching on March 31st, the two brands have unified creative power to create a capsule with 35 womenswear, menswear and footwear pieces which are both repurposed and remade, having used pre-existing stock from Tommy Hilfiger archives to come up with handcrafted and one-of-a-kind items reimagined by Aries hacking Tommy Hilfiger's brand codes. With a very strong vibe of street culture and undeniable coolness, the collab mixes Tommy Hilfiger's nautical archetypes with Aries's disruptive and eclectic style in a final result that feels cohesive and somehow makes total sense.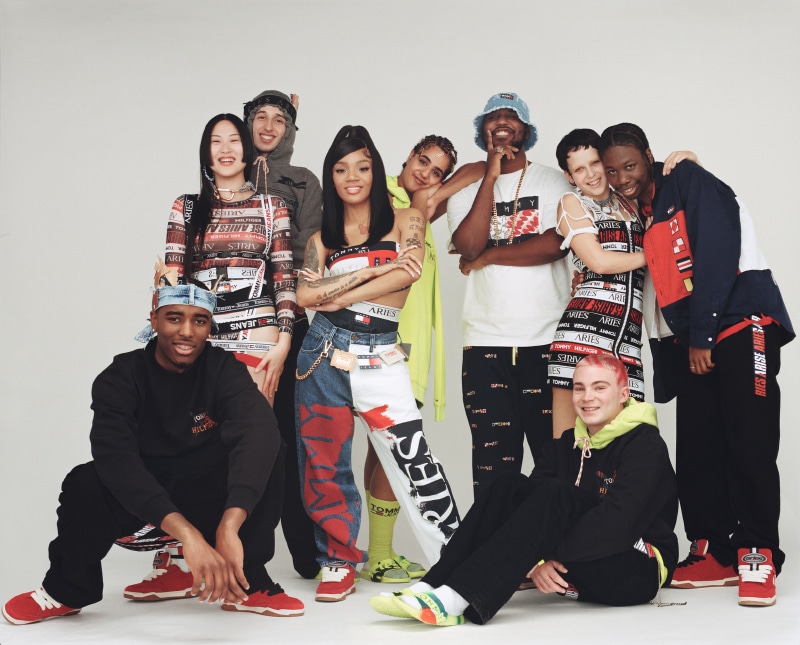 Oozing a real and raw aesthetic, the campaign pictures have been shot by Angelo Pennetta in a very dynamic way and there is also a music video directed by Sofia Prantera with GloRilla performing on it which emulates the hip-hop clips from the early 00s. Aries is a London-based luxury streetwear brand co-founded by Sofia Prantera and is about to open its first store in London very soon. We talk to Sofia and Lee Holman, chief design at Tommy Hilfiger, to get to know more about this now obvious TommyxAries collab, the creative process behind it, the work on repurposing materials and producing some more with this same vibe, and sustainability as a keyword on the result of these dazzling combined forces.
Tommy x Aries is a collaboration that looks and seems so natural from the outside. How did this idea to join for this capsule happen?
Lee Holman: We reached out to Sofia to see if she would be open to being a consultant for the Tommy Jeans label. I was always a big fan of Sofia's work from her early days of designing for Slam City Skates and for one of my favorite skate brands Silas in the late 90s. It really felt like a natural connection and Sofia's passion for having fun and being inclusive.
Sofia Prantera: Lee contacted me to do some design direction and so I felt that maybe the best way was to do something like a capsule and the collaboration, and we had just done this job for a magazine called More or Less which orbits around recycling and sustainability in fashion, and I felt that Tommy Hilfiger's story would allow us to see how we would deal with pre-existing items rather than start making a new product.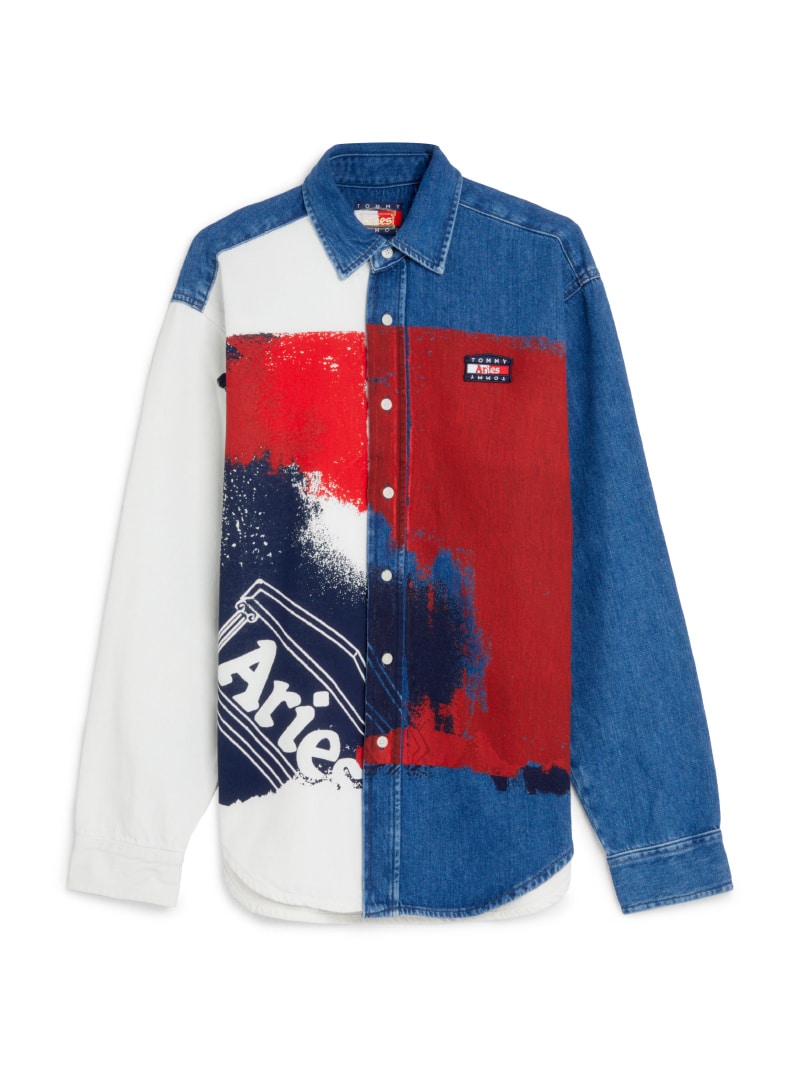 The capsule is defined as having a real and raw aesthetic. What was the reason behind this vibe? What was the concept?
Lee: After our first call, we really felt Sofia has a similar design ethos to our Tommy jeans DNA, the clashing of different design codes together to create a modern expression of streetwear. There was a passion for Tommy 90's Archive in Sailing, skate, and workwear denim. Sofia loved our prep heritage in sailing but wanted to clash these codes through a punk sensibility. It was like we had created the samples in your own home, it needed to feel real and not precious.
Sofia: Most of the time when you are repurposing things you are doing it by hand, so there is an intrinsic rawness and what feels important in fashion at the moment is how you really. There is a very big difference between something that is handmade and something that is manufactured. And to me, it was important to work in the handmade pieces but also to bring that into the production pieces without them starting to look really commercialized. And I think we succeeded at that.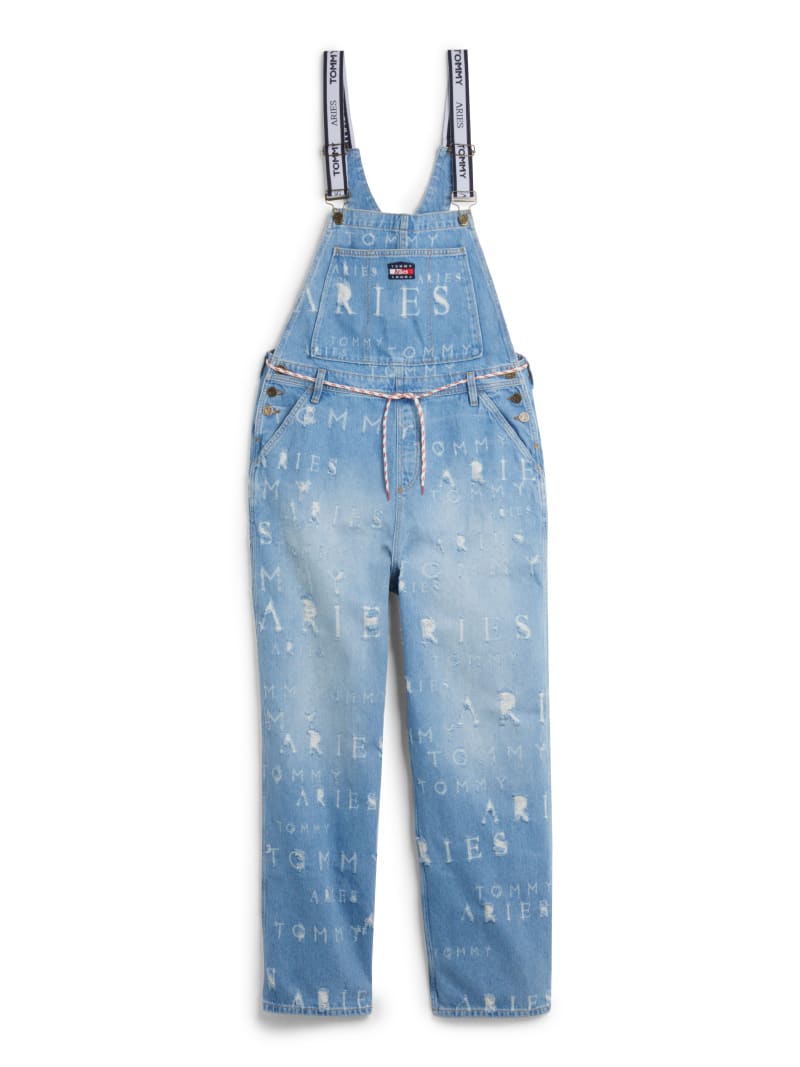 How was the creative process?
Lee: We sent Sofia and her team samples from the Tommy Archives around our heritage in 90s sailing, skate sneakers, and workwear denim, then Sofia started to clash these pieces with her Aries design and graphic codes. This is how the rawness of the printed artwork is overlayed on denim or sprayed stencils on beach slides or taking a logo rib waistband off a Tommy underwear and making a body con dress. It was a very direct and Authentic approach to clashing our brands together.
Sofia: I am very very pleased with the result, I think it feels very in synergy for both brands and I think it looks new and it has a story and I think it doesn't feel cynical like a lot of collabs. We as a brand have a specific way of collaborating, which is very much into what the other brand's DNA is and what is the opportunity for the two brands to find a meeting point. I think it was easy, you know, sometimes is harder to find like a point of connection. A lot of the original ideas within Tommy when it started are very similar to us, kind of like a community brand, around youth culture. The first thing we do is analyze what the other brand is and what it means to us. Sometimes is hard to find a meeting point between two brands but with Tommy Hilfiger was easy, and there was a crossroad with the original images of Tommy, womenswear coming from menswear, elastic bands, and repurposed items. Aries is a unisex brand and quite sort of genderless in that way and I think I was drawn to the early Tommy menswear pieces that were readapted for womenswear by Aaliyah's stylist. It felt like a really great place to start.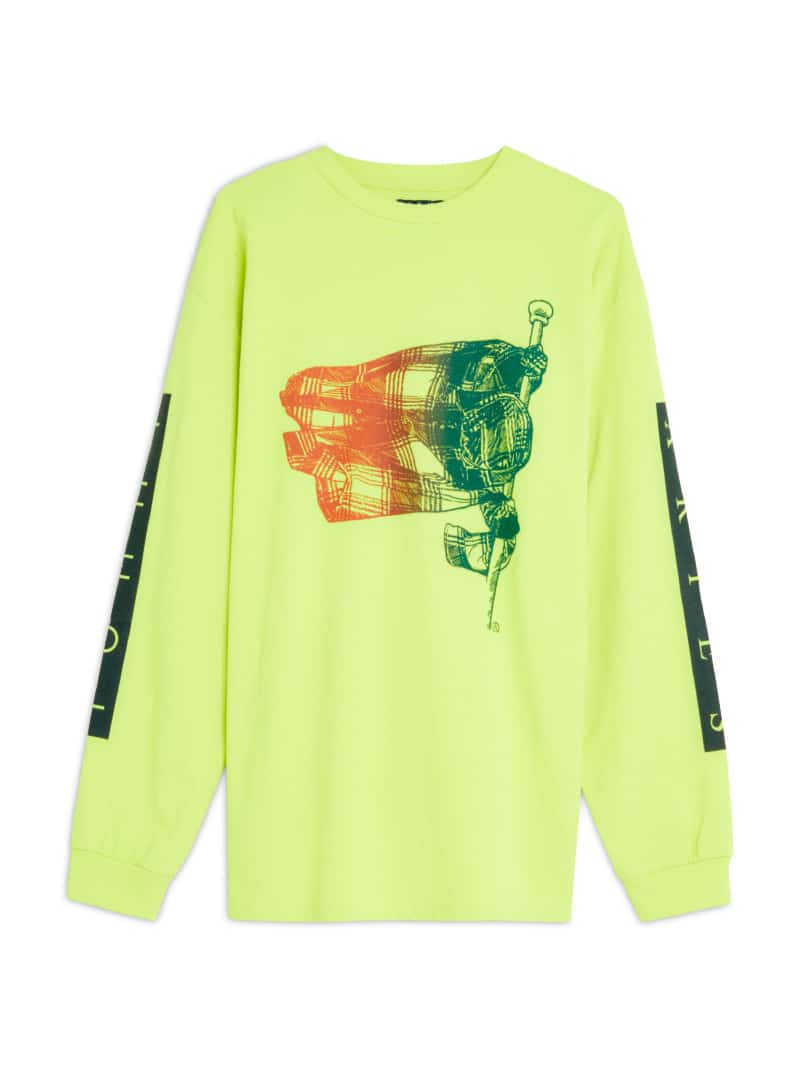 To both Sofia and Lee Holman: what is, if any, your favorite piece or look from the collection?
Lee: I love the body con tape logo dress and pool slides; Sofia has such a great eye for women's streetwear, and she manages to combine both brands' DNA in a new disruptive way.
Sofia: I was really really happy with most of it. There is a cute little top that mimics the Tommy flag which is in the remade collection, which I really love. And I think a lot of the recycled pieces are very interesting because we used pieces that were not very desirable from stock seasons which might have been sort of discarded and without doing too much they were then desirable.
Sustainability is a keyword to the collab, since some of the looks have been crafted from already existing pieces, reimagining classic Tommy Hilfiger's codes. How important has that been to create and upcycle these garments?
Lee: One of the key conversations we had at the beginning was to create unique pieces from product that was upcycled product from consumers. So, we supplied Sofia and her team with Tommy samples from our warehouse and the Aries team started to overprint previous Aries prints onto the garments or cut and sew to product into new designs that would continue the lifecycle of the product.
Sofia: It is difficult for me to talk about sustainability in fashion. We are a tiny brand and I think we have a duty to be sustainable and one of the goals of the collab was to create something without creating a lot of new products, but you know fashion is probably the worst place to talk about sustainability, I think some brands do it from a marketing point of view and it is not something I feel comfortable doing. I feel weird because when you enter the world of business you have the duty to be sustainable but the duty to not talk much about it. There is repurposing in the collection which is very sustainable, and we produced in Europe where you can make sure are being paid properly for that and we tried to do that.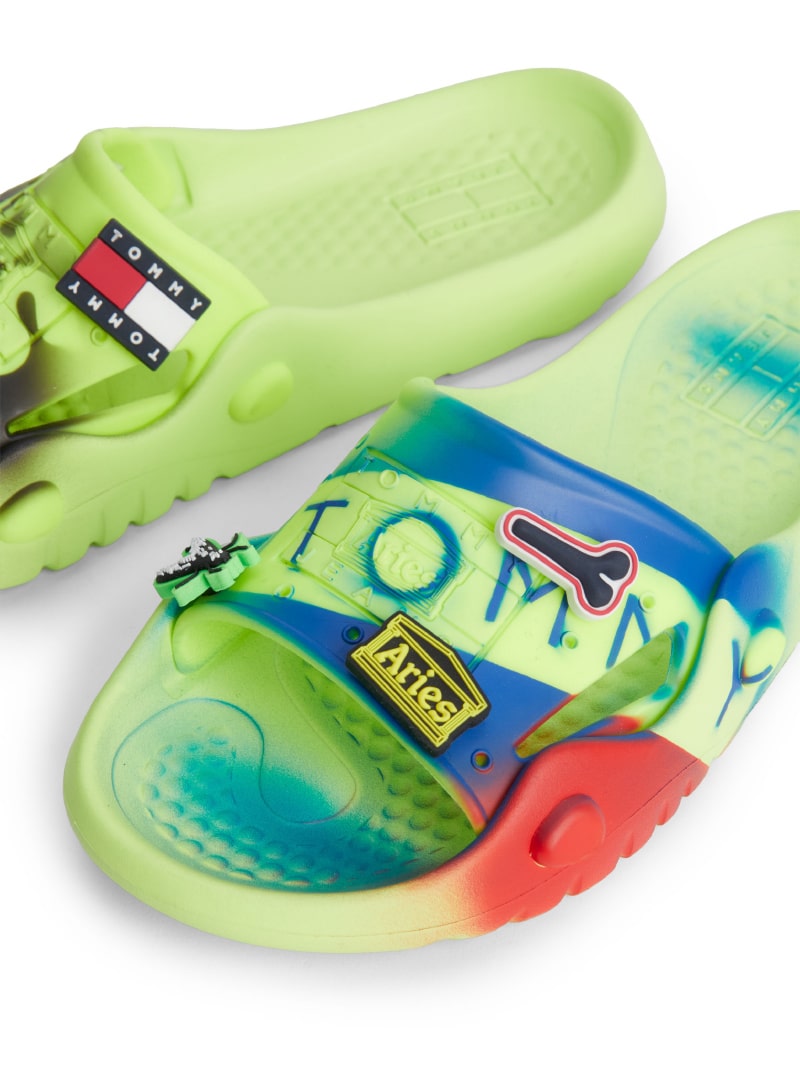 Tommy Hilfiger is set to showcase the modern prep. What does that mean and how does it translate to pieces and style? Where does the imaginary come from?
Lee Holman: One of the starting points for the collaboration was Tommy Prep heritage of sailing. The Tommy flag was created by the sailing morse code of Tommy's initials, so we started to use these flags to create subversive messaging in the artwork. Also, we took the classic prep boat shoe and updated it with Aries's aesthetic.
Back to Tommy x Aries and the pictures by Angelo Pennetta, which seem to have so much movement and dynamism. Is that something the image and collab wanted to convey?
Lee: From the start of the collaboration, we wanted the product and casting to feel authentic to both brands and create diverse pieces that were genderless and inclusive.
Sofia: Clothes put on models who just look pretty is not quite my aesthetic, I like communities and people who has something to say and for the first time in this there were two different choreographers, one on the main set and one on the video set, to work on the movements and we got a lot of interest of it. It is hard to shoot a lot of people together and I think we were successful at it.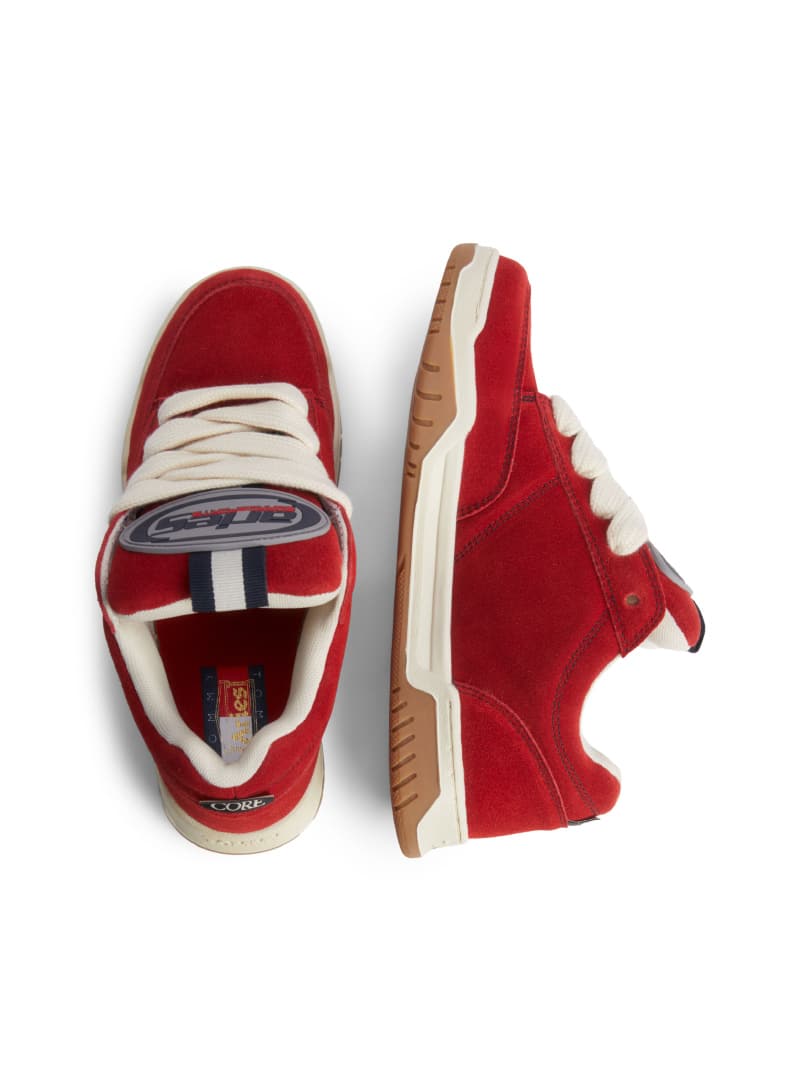 Alongside the pictures, there will also be a film by Sofia to showcase the capsule. What can you tell us about it?
I worked with an Italian film director called Dario Vigorito, who is one of my oldest friends, and he allows me to work on videos in a way that would be difficult to do in other circumstances. We have quite a punk approach to things, I think you get your best when you take some risks, and not everything is predetermined. I found that the Tommy Hilfiger team was very open to this process approach that we used and went with it. I didn't want to make a fashion video, so we made a music video -as I think videos need content- which was associated with Tommy Hilfiger and with Aaliyah. So we sort of built a music video from scratch, GloRilla is performing on it and some young rappers and it is slightly ironic, it's commercial in a way without being too commercial. The music is amazing and there is a reference to every single hip-hop music video with funny little takes on it.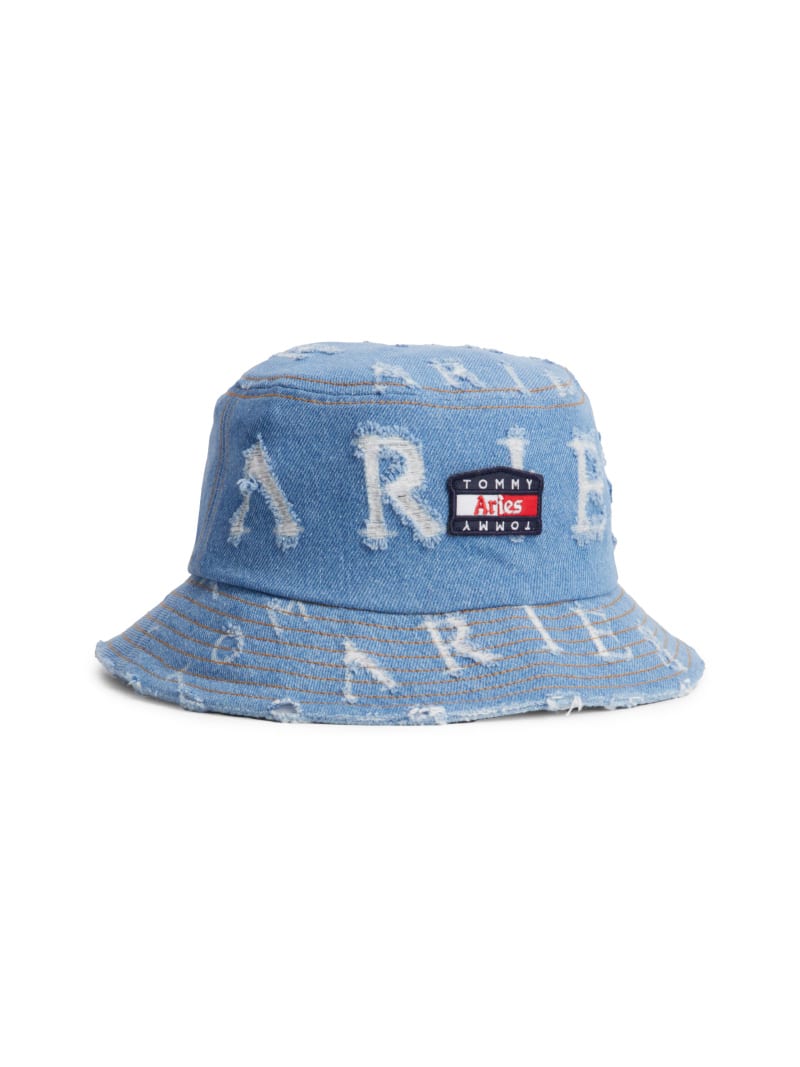 And if the collab was to have a soundtrack, what would it be?
Lee: I'm so excited we have GloRilla in the campaign, so my wish would be to have her create the soundtrack as she has the energy of the collaboration.
Sofia: I guess it would be GloRilla. She is an amazing artist, a real force to be reckoned with and she is a fantastic icon for womenswear and her music is really interesting.