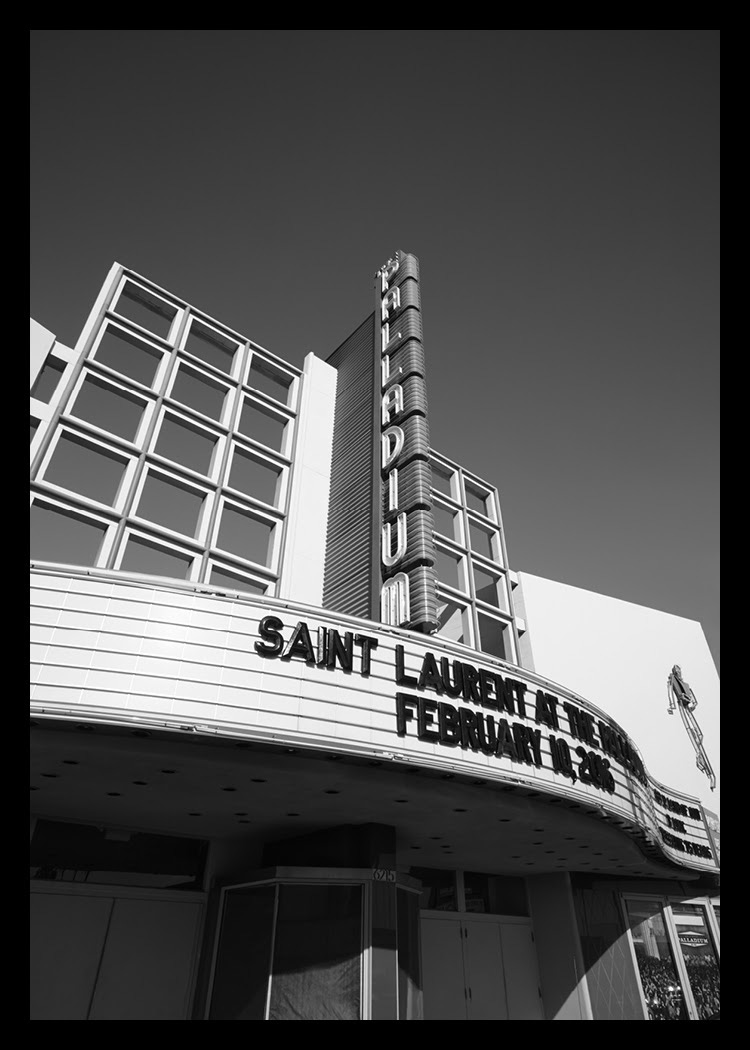 Hedi Slimane will present his Fall/Winter 2016 for Saint Laurent in Los Angeles on February 10th 2016, during the week of the 58th Grammy Music Awards.
The Hollywood Palladium is a historical concert and dance venue located on 6215 Sunset Boulevard. It is allegedly the oldest and largest concert venue in Hollywood.
Frank Sinatra was the first performer on stage at the Hollywood Palladium when it opened on October 30th 1940. Sinatra was succeeded by decades of iconic performances from artists including the Rolling Stones, Bob Dylan, Led Zeppelin, Grateful Dead, Guns n' Roses, Prince and many others.
''Saint Laurent at The Palladium'' is a tribute to the strong music scene in Los Angeles and is the second project of Hedi Slimane in Los Angeles after his exhibition ''California Song'', at the L.A. Museum of Contemporary Art in November 2011.
For almost a decade, Hedi Slimane has thoroughly documented, supported and championed the emerging California music scene. Hedi Slimane has instigated the idea of California, his home since 2008, as a territory of design exploration for luxury brands, following his philosophy he installed his Saint Laurent studio in West Hollywood in 2012.
Creating a high fashion design studio in Los Angeles, just like Yves Saint Laurent did when he designed from Marrakech, was novel in 2012. since then, the city has started to attract more and more high fashion projects.
2016 also marks the 10 year anniversary of the ''Hedi Slimane Diary", a photography blog that has mostly documented emerging music over the last decade; from London and the golden age of brit rock in the mid '00s to the birth of the L.A. surf sound generation in 2008.