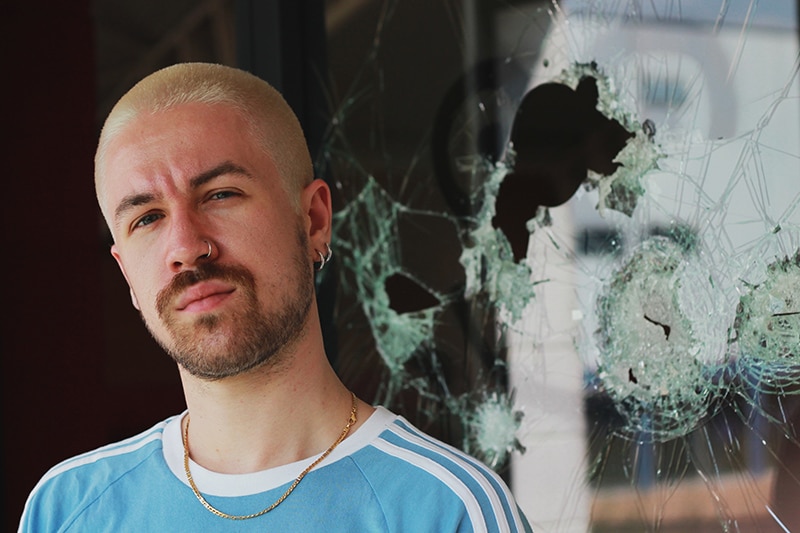 Italian designer Davide Rudello is on a pursuit to promote equality, whether it be between cultures or fostering frank ideals across the fashion game, he aspires for his work to earn full freedom mode. Embroidering motifs from Grecian cherubs onto practical tees to adhering luscious fabrics by emblazoning an all-sexy sartorial nonchalance, Rudello draws a subversive picture for the present (and future) generations and isn't afraid to break a few rules in the process.
When Rudello, an IUAV Design School graduate, was one of the selected for the exclusive on-campus final Press Show, he ditched the notion of crafting hybrids along the lanes of the ordinary and paved a way of showcasing an innermost revolutionary vision. "I found my firmest nature of expression when I had a great deal of trash, utility, and chic to bring to the table. I was finally able to elaborate the chaos and fire I felt while growing up […] My intent was to heed my instinct when it came to harness a theory in fashion," he earnestly reflects.
Due to this undeterred attitude, which he partially accredits to hip hop's '90s wave of music artists and his time working at editorial titles in Milan, he sensed a brighter future.
We caught up with the seditious Rudello whose blueprints indicate a longing to push against the grain of conformity, with an eye aimed at delivering a new diktat in the name of fearless fashion.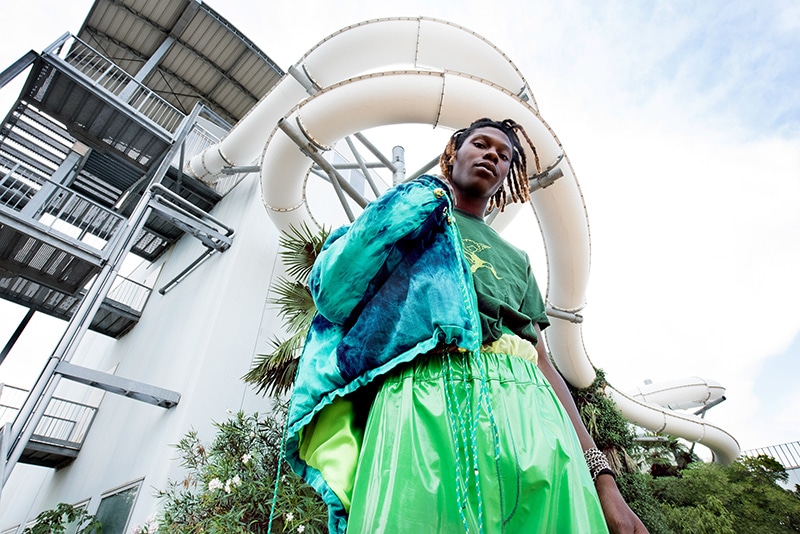 Can you tell me about your earliest memory of fashion?
I remember the Barbie dolls silhouettes drawn by my aunt when I turned eight. I also recall Alexander McQueen's runway Autumn Winter 2008. I mean, those were sheer masterpieces. But then I also recollect my very first t-shirt sample sewn on my first year of university: it had an orange tint with a weird 'horn' in the back. 
You use urban textiles such as denim in your designs. What motivated you to choose them?
My mum is a dressmaker and crafts denim trousers. Since my very early years, this is the very first fabric that I got to play with. I can firmly say denim bleach and ropes are my new-found soul mates, for the simple fact denim is a relaxed texture and can be easily transformed in a variety of wearable options, it's fairly cheap and it's one of the fabrics in Afro-American '90s culture.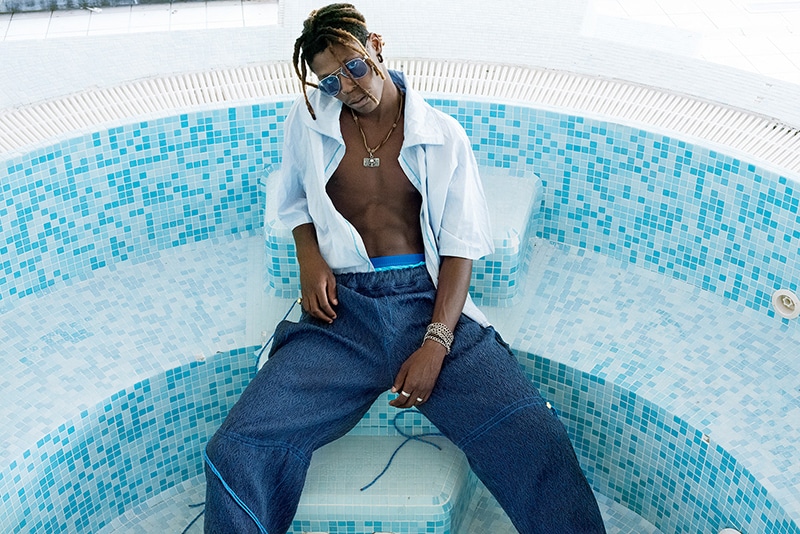 In your grad collection, you mentioned hip-hop culture was something that you were keen on diving into since your first work experience. How come did such idea spurred-up your mind?
Hip-hop culture is straightforward and holds no room for shit. It doesn't stand by reasons or means of constraint, hence with hip hop sees no filters (and I love it). I see hip hop as a form of chaos pivoted by a clash in colors, patterns, and freedom. 
That's cool as fuck. Could you say your garments are fetishized by a sense of modernity, unapologetic sexiness with a fusion of maxi utility?
Yeah, I'd say so. I mean, for me the conception of modern utility channels the basis of my design process. People should be sexy, bold but comfortable in their own skin too of course.
You're also a big fan of the Afro-American culture of the last decade. As a '90s fanatic, how did such references come handy for the making of your collection?
I am incredibly influenced by '90s culture, most considerably I'm drawn to the music clips of that time: Missy Elliot, Aaliyah, TLC, 50cent, Tupac just to name a few. Those were the people who inspired me for my final collection. Tupac's bandana recapped my mask, and all the vinyl of evoked Aaliyah's sensuality, hence the idea of creating monochromatic looks.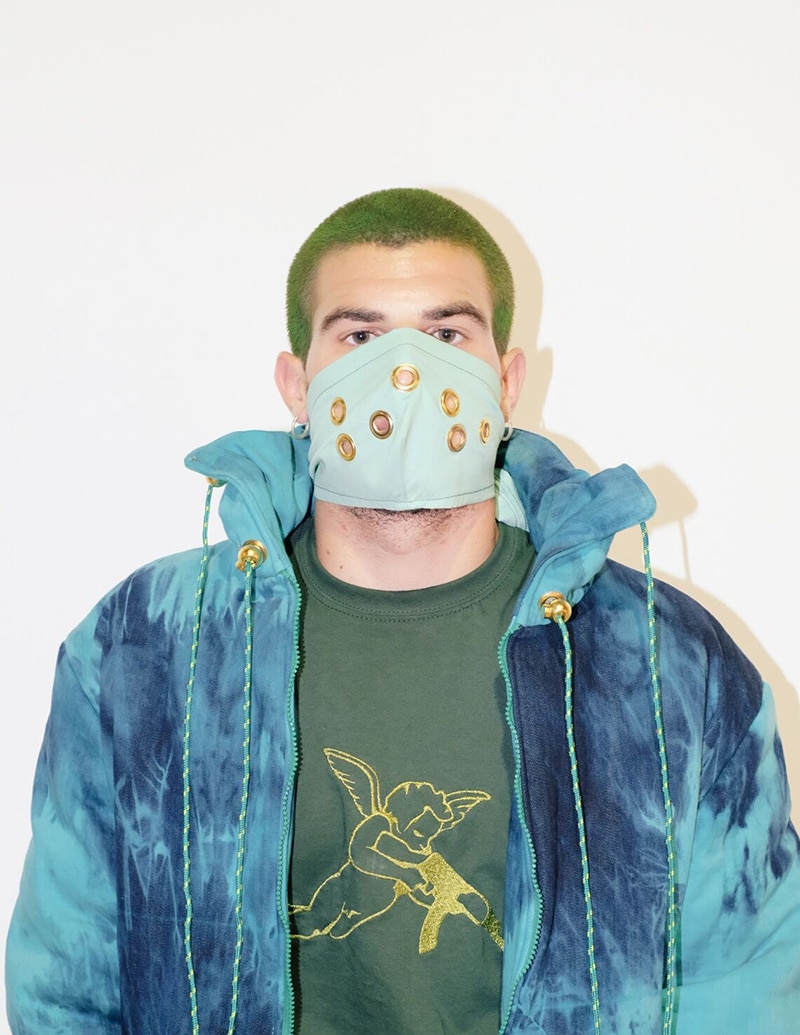 What were your causes while making these hybrids?
Express myself with no remorse. The collection represents my personality and my look at the world I imagine. The hybrids had to be sensual because I like to imagine a world full of sensuality. They had to be "comfortable," because I love comfort and ease in apparel. Lastly, they needed to show rage and rebellion, because that's what I vibe in today's world.
Can you tell me about your experience and your main influences on design and culture?
In my first year of university, I was a total catastrophe. Fair enough, I had good grades, but I couldn't find an identity within my lane.  During my second year, I went to Milan for a university's experience with a publication, and I can say those were the most beautiful six months of my life. Milano was a great city with a huge inclusivity level, people from a myriad of cultural backgrounds and it felt like an experience that needed to happen. After rounding that up, I acquired a valuable skillset that opened me a whole new world, where I was able to express myself and challenge my innermost creative umph.
I mean, your garments and Grad power-catwalk were seditious, and subversive too. How did you tackle such findings and adapted them to a city such as Venice?
I never thought about it if I'm completely honest, and I wasn't worried about the fact that I had to stick to traditional design techniques because I studied in a city such as Venice. Rather, I found my firmest nature of expression when I had a great blend of trash, utility, and chic to bring to the table. I was finally able to elaborate that chaos and that fire I had in me ever since the beginning.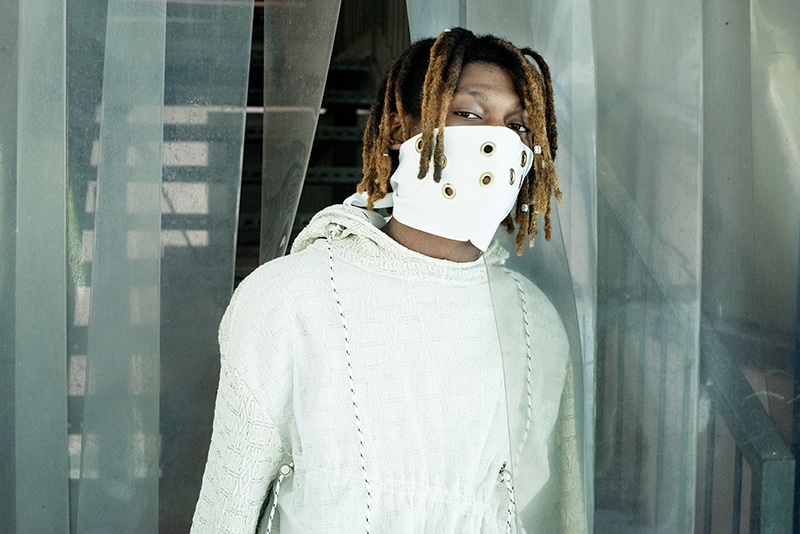 Where do you source your fabrics?
The fabrics of my collection come from a little store located in my small town, called Piove Di Sacco. The denim came from my mum's factory whilst the vinyl and pac were sourced in Milan. When residing in the capital, I began to research fabrics, pinned down cultural references, scrutinized my visual style via mood-boards and you know what, it felt adequate to incorporate a mix of many components – as they added a very bold edge throughout.
You mention a line of embroidered t-shirt as a project in-making. Could you elaborate on what led you to explore basic wear as your aesthetics sits on the opposite edge? 
After three years of studying, I decided to begin a new set of products such as embroidered t-shirts following my final collection. I still have to finalize logistics, but we are close to the end of the production process. The products will be shown across my digital platforms once completed, and the key idea is to elaborate purposeful fashion, wearable and fuss-free, adding an extravagant edge like embroidery patterns. Moreover, metallic details and lurex-made threads will appear in matching tones, gleaming-up each look.
How did you cope with sustainability?
With grandma's sofa, lol. One of my dear friends had these sofa covers from her grandma, and at the point, I was projecting my own garments, she was on the cusp of trashing them. That moment, I told her to stop. Moral of the story: those fabrics went into my trunks and looked as cool as ever.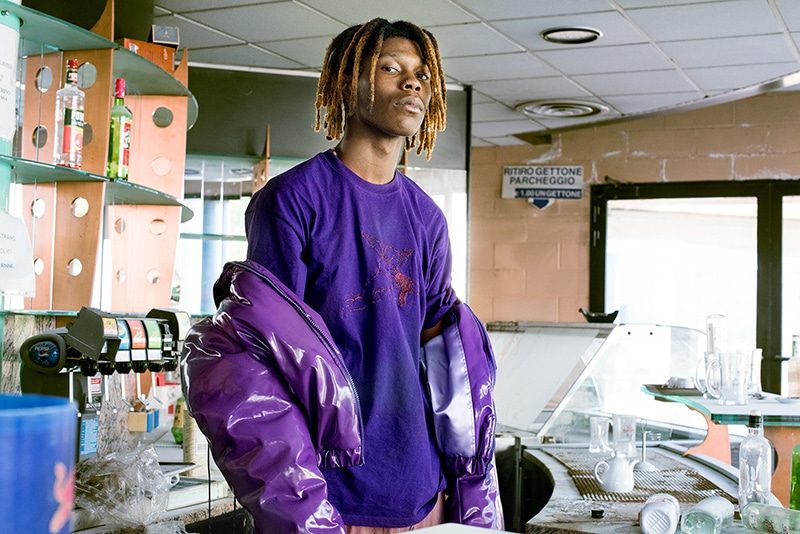 Could you say you were categorized in the process of honing your craft whilst studying or was your main intent the release of an on-show jaw-dropper? What rule did you keep in mind while designing your pieces?
My intent was one and only: dare to dare and heed my instinct when it came to harness a concept in fashion. My final pieces were created without a methodical logic, looking away from the society-centric canons of dressing.
I love all the vinyl and bold streaks in the collection!
Tricky not to love, but cheers!
What next do you have in place?
I would like to create a collection Badass 2.0, however, in this moment I'm focusing more on the retail aspect of fashion. The starting point would be to create the tees I mentioned earlier, but I guess the rest will unfold with time. I'm may not be well and ready yet, but I'll be back ready to serve-up the scene before you know it.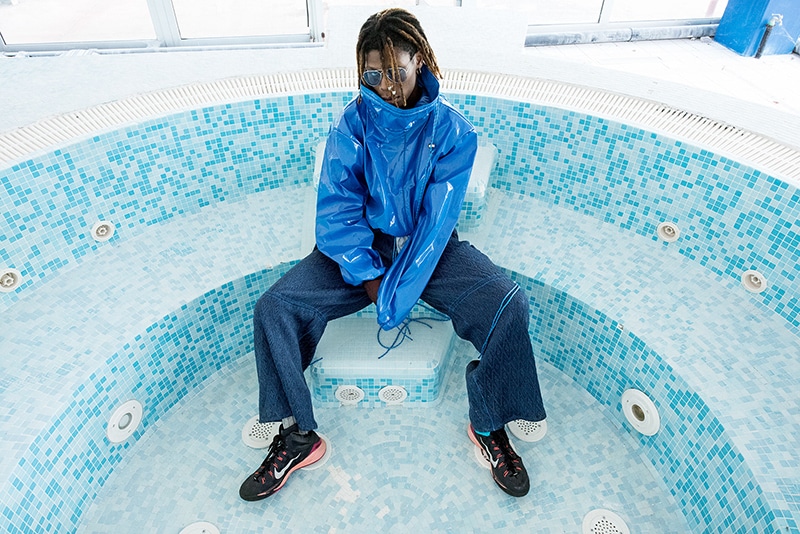 Designer: Davide Rudello @dakyblack
Image Credits: Mattia Sgrinzato @mattiasgrinzato & Elisa Lapin @tricia__takanawa