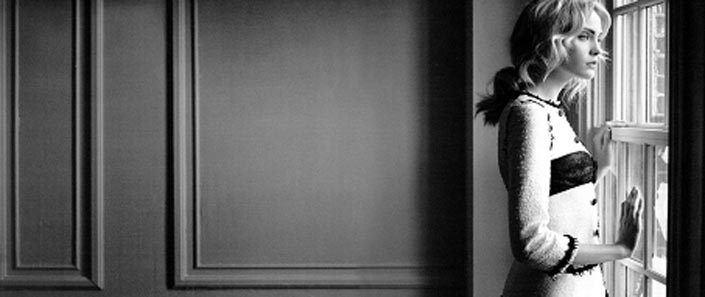 You thought being gay meant a full body wax and annoying accessorizing and I guessed being straight was that recurrent gag reflex men usually get after I walk in. Luckily both myths were shattered by our idiosyncratic personalities that fate brought together in university seminars. It was the birth of Bonnie and Clyde. Britney and Playback. Capitalism and Slavery. The kind of mix that glues stupidity and football fans together apparently for the sake of escapism. They said we were birds of a feather that flocked together… – so tell me: why did you have to go and fluff my feathers?
Last Friday night opened with mushroom risotto and rosé, hosted on a high ceiling Rem Koolhaas extravaganza. It was all about polite and friendly: while straight boys chatted about economy's downturn, my female bitch and I snuck to the nearest bathroom for an IKEA-certified-assembly of a silk jersey deconstructed Haider Hackerman jacket. Numerous unsuccessful ensembles saw the garment FedExed to McKinsey (a management consulting firm advising leading companies on strategy and operations) and we moved on to more down-to-earth accessorizing, namely: hair conditioning.
The evening progressed into driving from uptown to downtown in our luxury cars (or that of a kind millionaire since mine is on back order pending a credit check) until we made an appearance at a very public party— poorly catered with a few sad tequila shots. YEY! Don't fear, at least the city square was packed with an overwhelmingly dangerous amount of straight gals per square metre. I explicitly felt like a minority, but I've sure had worse times in school cafeteria. This time: no one was throwing food at me. And yes, such is listed on my personal little fulfilments list.
Minutes later: RED FLAG! Something openly identified as my STRAIGHT best-friend jumps for an unsolicited animal kiss. Freakshow season was officially open and I had not seen it coming. From the party to the disco and from the disco to the car swirled by 6 hours. Long story short, it ended with some backseat love after a very open, very assuring straight-gone-gay eloquent and promising declaration. I was quite confused and triple excited. So I guess I skipped the "you're probably drunk and I should call a cab now" part, to the "let's get the job done in the parking lot" part at 8am Saturday – slow French kisses and purposefully nipple caressing totally included.
Feeling spicy? It's hot today.
Unfortunately, that morning after the only words he could muster were "I woke up straight". Say what? It's time to channel a Kamikaze rib-kick heightened by a high pitched Mariah Carey whistle. I then transformed into a loud comprehensive reading of The Human Rights Declaration, shouting the "GAY FRIENDS ARE NOT SCREWABLE EASY CIRCUS SKANKS YOU CAN MESS AROUND WITH" amendment. So you felt like taking a ride on the wild side thus making me your rollercoaster? Not pretty. Not after telling me you want to have my babies using a Scandinavian surrogate mother and name the first one GEORGE, Freaking Licking Nazi Creep! (Aka father's name)
Well honey: you're straight as it gets. When it comes to making me feel like a woman, you nailed that straight in, genius. Feeling used? Check. Being lied to and relentlessly manipulated? Double check. Having our "how-can-I-make-up-to-you-date" shortened due to a world cup football match? Super check. There, you gathered my mother's divorce prerogatives all at once, all in one. Then again, I guess cocaine makes you do things.
Birds of a feather flock together and you couldn't avoid fluffing my feathers. I'm not a dipping sauce for your psychotic rampage. So my mother got divorced? Those were the 90's…I'll have you fist fucked and then you'll marry me in Vegas, bitch.