The 2023 edition of BoCA (Biennial of Contemporary Arts) just ended. With a theme centered around "Presente Invisível" (Invisible Present), it explored the hidden layers of our existence and society. This edition continued to challenge, bringing together a diverse array of artistic forms, from theater and performance to visual arts and music. It celebrated emerging Portuguese talents while also welcoming internationally renowned artists.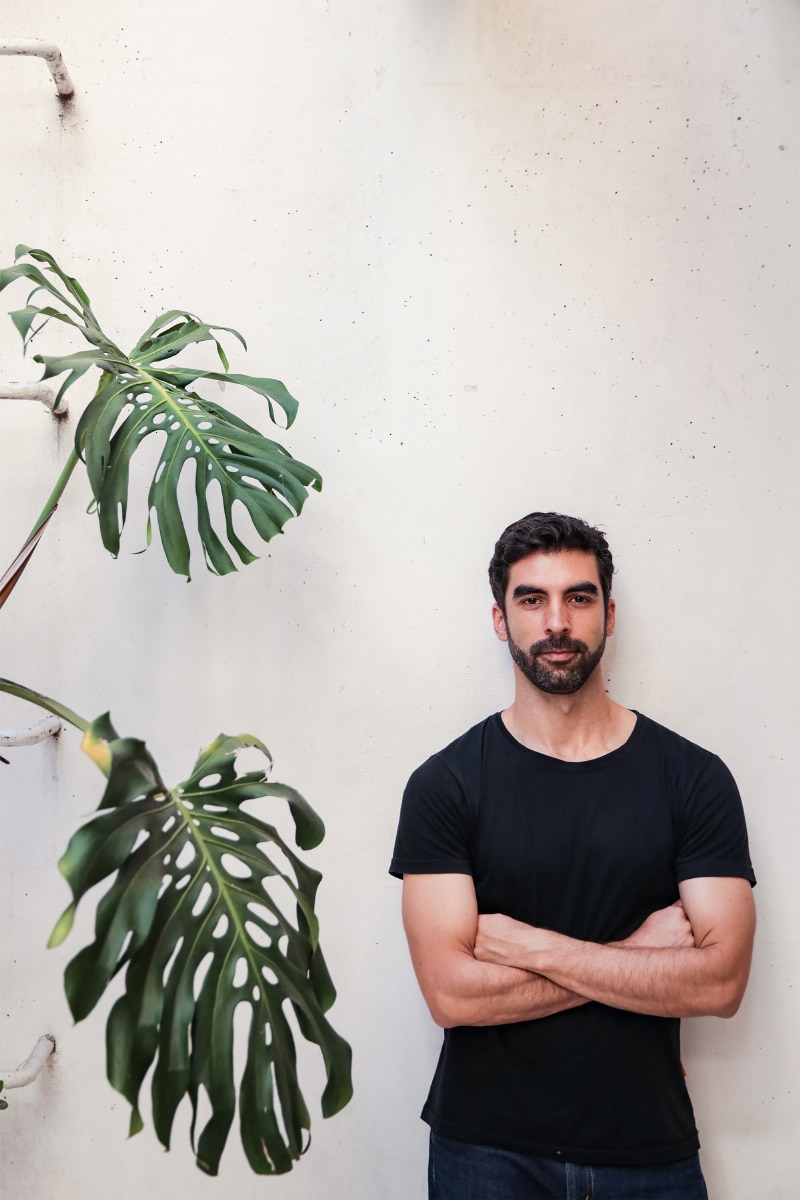 John Romão
We met John Romão, the artistic director of BoCA, to uncover his inspiring journey from the suburbs of Almada to leading one of the coolest and most distinguished platforms in the Portuguese art scene.
John envisions BoCA's future as a platform for international exchange and continuous experimentation, focusing on social engagement and intercultural dialogue. The biennial reflects the fluidity of contemporary life, addressing issues of identity, social and political critique, and inclusive representation.
In this interview, we delve into the creative path that led him to this position, exploring his experiences, inspirations, and the challenges he's faced along the way:
Hi John! For those who don't know you, could you tell us about your journey and how you became the artistic director of BoCA?
I started my artistic journey at a young age in a suburban territory, residing and studying in areas like Almada, Laranjeiro, and Miratejo. The arts became a tool for me to shield myself from the violence I experienced in my surroundings and to discover creative and poetic shields to combat it. When I saw a theater performance for the first time and later joined the school's theater group, I felt like I had finally found a place where language was used differently. It was a relief. The arts allowed me to embrace my diversity, a space where I didn't have to hide my disruptive and poetic imagination from others. At the age of 16, I directed my first play, "Sem Nome," which introduced the words of young poets through theater. And from there, I never stopped. I was always interested in bringing to light less visible and more marginalized subgroups within my surroundings, transforming them poetically. In the shows I directed over twenty years, I worked around themes of marginality, gender, invisible social strata, and what formed beneath the apparent surface. In my productions, I worked with highly acclaimed actors as well as communities of skaters, transvestites, gymnasts, athletes from various sports, sex workers, and choir groups, often mixing them to create cross-disciplinary dramaturgical discourses that propose co-presence. I was always interested in bringing out subcultural and social groups.
A few years later, at 18, I saw a performance by the Argentine artist Rodrigo García that revolutionized my perception of theater. With an artistic language that included social and political commentary on current events, Rodrigo's theater served as a platform for social critique and enjoyed enviable freedom to express its views on stage and challenge dominant ideologies or systems, even within the theater. In short, I ended up working with him for 11 years as his assistant director and producer, traveling continuously to various theaters and festivals worldwide with his shows. This was the main driving force that led me into cultural programming: the privilege of being surrounded by inspiring artists, thinkers, and programmers from around the world, understanding the different programming contexts we encountered in our work, and then wanting to apply that knowledge and experience in Portugal. I also worked with various directors, filmmakers, and visual artists. But in short, this was the path that led me to BoCA in Lisbon, primarily motivated by the question: how can we live together? I continue to seek that answer today, despite the ups and downs of the times and the history we inhabit, through the arts and their cross-disciplinary and institutional intersections, especially between theaters and museums.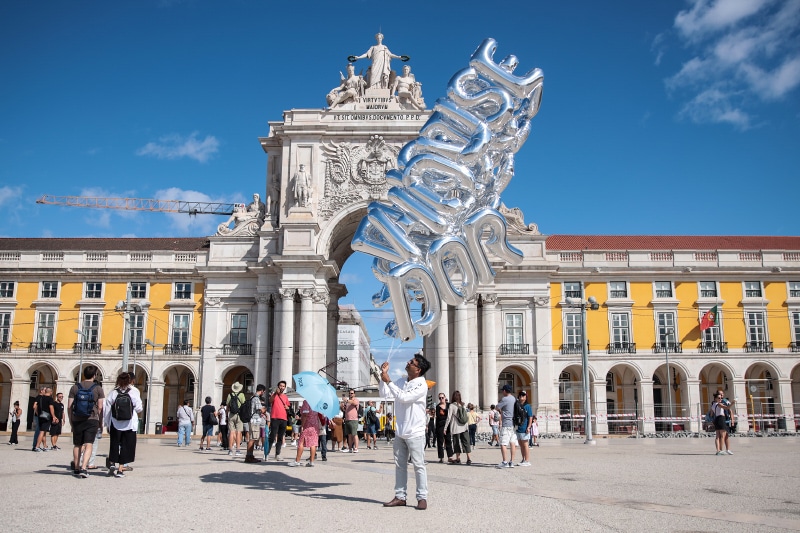 "Quimera" by Hector Zamora
How would you describe the unique artistic identity and vision of BoCA?
It's a trans identity, as I like to say. It inhabits the borders of artistic territories, which is evident in the name itself [BoCA, Biennial of Contemporary Arts], which incorporates references from visual arts by calling itself a "biennial." But BoCA invests in the relationship between performing arts and visual arts or cinema, or between performance and music. It's a territory in constant flow and redefinition, reflecting our times, which are becoming increasingly fluid in terms of different identities, whether they be related to gender or forms of presence, in-person and online, or the blurring of geographical boundaries or the line between the natural and the artificial. This identity not only reflects our contemporaneity but also serves as a social, political, and cultural driving force against all forms of discrimination, primarily those related to categorization and language norms.
How does BoCA support and foster collaboration between different art forms and artists?
It's not obvious because it relies on my sensitivity to certain artistic practices, and the way I look at the body of work of artists whose languages resonate with my interests or those I'm exploring. I imagine that my invitations, which often involve creating projects different from the artist's usual ones, can provoke a challenge in their journey, adding something for them and for BoCA's discourse. It starts with admiration, research, care, and dialogue with artists. Fortunately, it's becoming increasingly clear externally the place that BoCA occupies and the types of languages we develop, which makes it easier when I talk to some artists and institutional partners, providing examples.
In BoCA's DNA, there's a cross-disciplinary dialogue between artistic territories, diverse cultural spaces, especially theaters, museums, cultural centers, and heritage sites, and between different geographical locations during the biennial, which in the last edition took place between Lisbon and Faro, bringing together 35 programming spaces.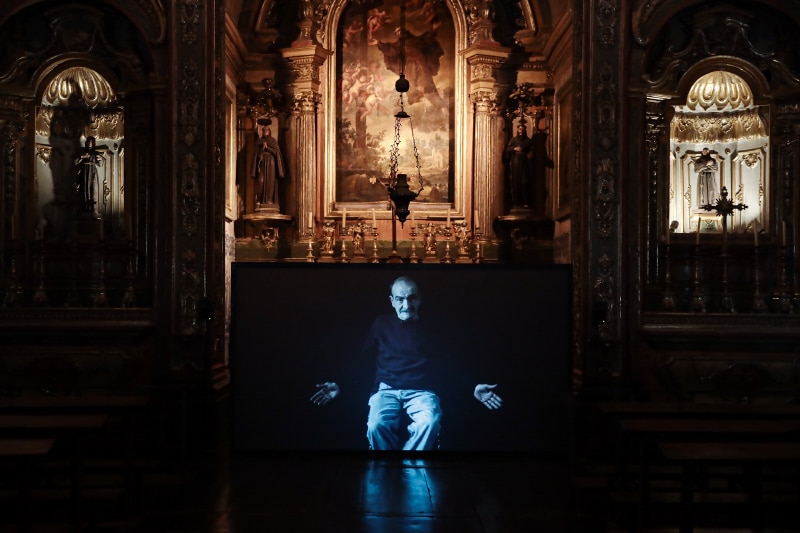 "Terra de Ninguem" by Salome Lamas
How does BoCA play a role in shaping and representing the Portuguese art scene, both at home and abroad?
Over these seven years, BoCA has built its own identity and position on both a national and international level: a place of genuine cross-disciplinary dialogue, transcending artistic territories, between theaters and museums, and natural and heritage spaces. Our programming reflects and drives experimental artistic languages, unexpected dialogues between artists or between artists, and specific presentation spaces. It includes the first times artists create in another artistic territory, promotes unconventional presentation formats, and enlivens creations in natural and heritage spaces that contribute to redefining these places. Various programming strategies construct this artistic ecosystem that not only reflects the creative drive of Portuguese and foreign artists but also promotes different ways of experiencing art, in a more inclusive and integrated manner.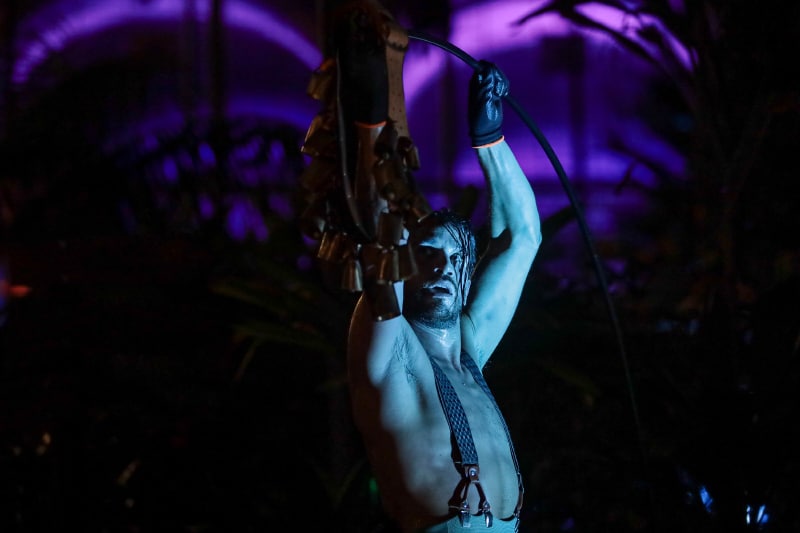 "Terra Cobre" by João Pais Filipe & Marco da Silva Ferreira
How would you describe the current state of the contemporary art scene in Portugal, and what sets it apart from other art scenes globally?
In general, the contemporary art scene in Portugal is quite rich. It is characterized by a fusion of tradition and innovation, seeking interculturality that reflects the cultural and ethnic diversity represented by Portuguese society, with various communities, including a significant Afro-descendant community. It's marked by the sense of place provided by the country's geographical location and the resulting historical and cultural identity. It's also characterized by the diversity of artistic genres and formats adopted in artistic languages and a commitment to risk and experimentation. One significant aspect in contemporary times is the emphasis on representation. The Portuguese art scene, like many art scenes worldwide, is actively engaged in issues of representation. Artists in Portugal are increasingly exploring new perspectives and challenging traditional norms of representation to create more inclusive and diverse narratives in the art world. An important part of this exploration is the focus on underrepresented voices and stories, including issues related to gender, ethnicity, and social class. There is a growing interest in exploring post-colonial perspectives and decolonizing artistic practices, which is a significant feature of the current art scene. Portugal's history as a colonial power has shaped its cultural landscape, and artists are questioning the legacies and power imbalances that persist today. They challenge colonialist narratives and actively seek to provide a platform for decolonial perspectives.
Can you highlight any emerging Portuguese artists or art movements that have caught your attention recently?
I have been following the work of the Unidigrazz collective from the Linha de Sintra with interest. It's a multidisciplinary collective that engages in visual arts, music, cinema and has even produced a play. I've also been keeping an eye on the work of Inês Campos, who was my student when I taught at the Escola Superior de Dança and is embarking on a fascinating artistic journey that spans dance, theater, and puppetry – BoCA will collaborate on her next creation.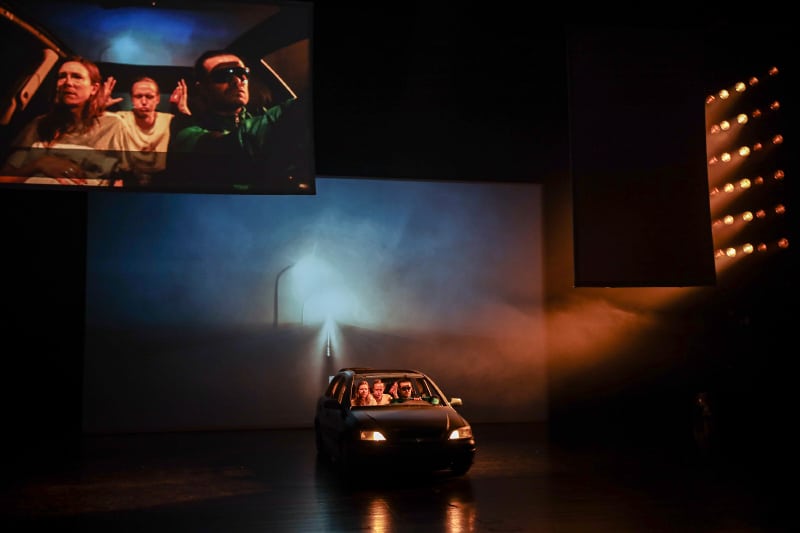 "The talking car" by Agnieszka Polska
What were your favorite moments from the latest BoCA edition?
My favorite moments are those that surprise me the most, where I take a chance on commissioning new projects from artists. I love the shared anticipation between artists and the audience about the outcomes of certain projects. We all create an assembly of the unknown, and I hope the unknown reaches as far as possible and touches us with its beauty, relevance, and humanity.
There were several moments like that throughout this edition. Starting and ending the biennial with the project "E se o autobiográfico não for mais do que a história dos outros a atravessar-nos" by Gabriel Chaile was a standout. It paid tribute to Alcindo Monteiro, who was killed in a racist crime in 1995 and became a symbol of the anti-racist struggle in Portugal. The project not only paid tribute but also activated his memory, the fight, and multidisciplinary artistic expression around this figure, featuring music, debates, film, dance, and Cape Verdean and Argentine cuisine, with the collaboration of artists from various backgrounds throughout the biennial. Another highlight was the first theater piece by the Polish visual artist Agnieszka Polska, "The Talking Car," which disrupts time and identities in a high-speed car and was remarkable for the quality and consistency with which Agnieszka made this shift in language to theater. In a different way, the collaboration I proposed a few years ago, which finally came to fruition in this last BoCA edition, between saxophonist Bendik Giske and dancer Romeu Runa at the National Pantheon was one of the most special moments. And I must also mention, among many other moments, the presence of Paul B. Preciado with two deviant projects, in perfect harmony with BoCA's programmatic identity: his first foray into directing with the staged performance "Yo soy el monstruo que os habla" and the preview of his first film, "Orlando, a minha biografia política." But there were many other moments…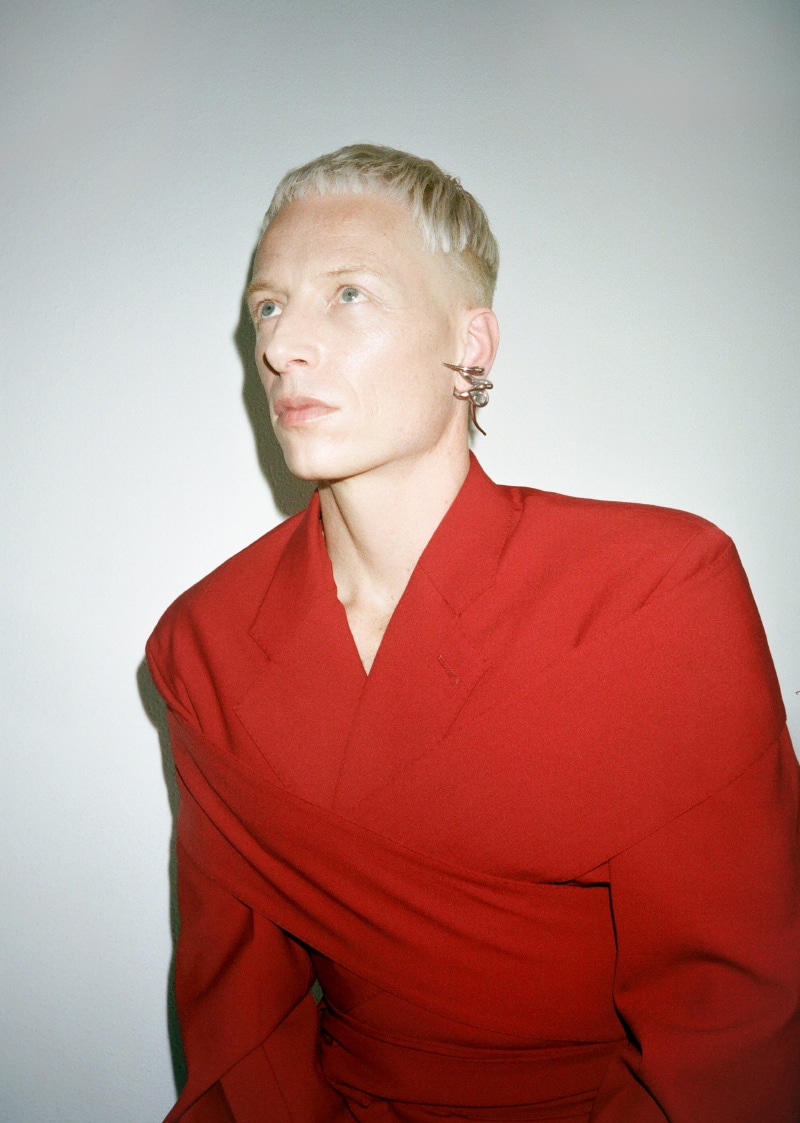 Bendik Giske by Luke Abby
What challenges do you face while curating an event like BoCA?
Firstly, the complexity of including and crossing a wide array of artistic territories, resulting in very different formats (shows, performances, installations, concerts, debates, walks, parties, etc.) and working in very diverse spaces (theaters, museums, monuments, public spaces, etc.). This diversity is extremely challenging in terms of programming and production because it requires a dedicated and differentiated approach to each element, in each space. My curatorial work involves valuing this diversity in its individuality, in each of its details, and in its interdependence, how apparently different elements dialogue with each other. This is the richness of BoCA, turning difference into a unique space for dialogue, through curatorial and conceptual lines that embrace them with care to keep them intact in their individuality while forming part of a curatorial discourse – this year, the title was "Presente Invisível" (Invisible Present). On the other hand, I'm also interested in ensuring the best possible conditions for the projects according to our capacities and seeking partnerships that can improve the conditions for the commissioned projects and design commitments for national and international circulation so that these projects born here can have a post-biennial continuity, often thanks to our efforts.
What do you believe are the most significant challenges and opportunities for Portuguese artists and cultural institutions in the coming years?
One of the main challenges is the funding available for culture. It is hoped that the State's budget for Culture can finally reach 1% of the overall budget so that the distribution to artists and cultural structures in the country can be more equitable and correspond to the artistic quality of the projects submitted to public competitions. Many of these projects are left without funding due to a lack of budget. Simultaneously, more opportunities are arising for partnerships and sponsorships from private entities, which is still a novelty and requires providing more clear information about the tax benefits for these companies, which can help tackle this challenge and provide alternative sources of financial support for Portuguese cultural structures.
Portuguese artists and cultural institutions also face the challenge of limited exposure to international markets. Efforts should be made to overcome barriers and find ways to promote Portuguese art and culture on a global scale, which has so far been a result of individual efforts by artists and private cultural structures. I believe that the State, through the public entities representing it in the field of Culture, could invest in support for internationalization to advise and accelerate international collaborations and partnerships, promoting the work of Portuguese artists abroad. The creativity and quality of Portuguese artistic practices, in general, are very high, and this is something that many international programmers and curators agree on, but there needs to be more direct, trustworthy, and institutional state incentives to accelerate these partnerships.
Another opportunity lies in engaging and developing local communities through artistic practices and promoting inclusion among artists and cultural institutions. Creating community partnerships and implementing inclusive programming can help ensure the longevity and vitality of the artistic and cultural landscape in Portugal by making art and culture an increasingly essential and transformative asset, both socially, culturally, and politically, as it becomes more present in civil society.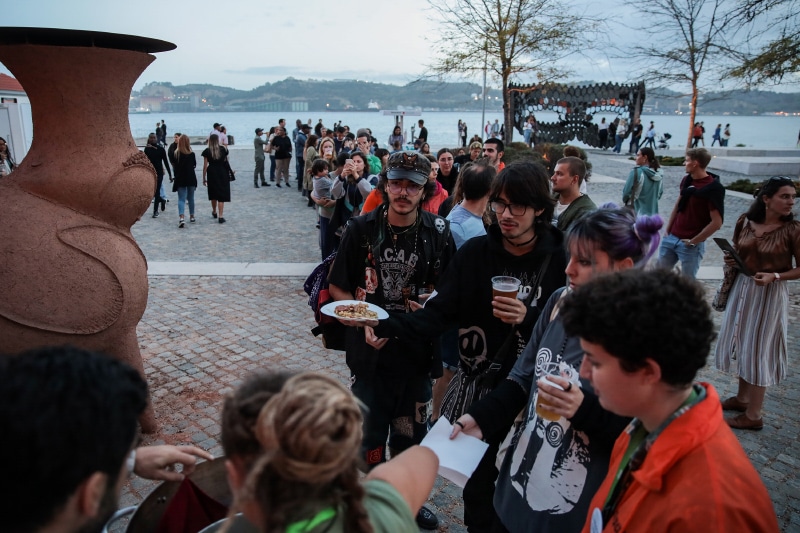 "What if the autobiographical isn't more than the stories of others passing through us?" by Gabriel Chaile
As the artistic director, how do you envision BoCA evolving and adapting to changing times and trends in contemporary art?
I have noticed, with appreciation, that over these years, BoCA's practices have been taken as an inspiration and reference for other cultural institutions or festivals to promote more internal dialogues within cultural institutions or between cultural institutions and artistic practices. More than chasing trends, what interests me is developing trends that are committed to cultural, social, political, and human dimensions. I have some resistance to what is sometimes referred to as the "evolution of the times" – evolution does not necessarily mean progress, and artistic practices also serve to ensure that this evolution reaches the human. For example, we see an evolution of the times that involves the rise of the extreme right in many parts of the world, advocating, among other things, an extremist policy of separation, discrimination, and segregation. BoCA has positioned itself against this movement from the very beginning, through its own trans identity, which invites the opposite: dialogue, intersection, and the coexistence of what is said to be different, to a place of love.
From a more formal perspective, I'm interested in fostering more collaborations with international artists and cultural institutions to create joint projects that continue to emphasize diversity, representation, and inclusion, while enabling the development of projects involving artists from different geographical locations. We also intend to explore ways to incorporate digital platforms into our public mediation practices. On the other hand, we want to continue artistic projects involving the participation of local communities, with social impact, in addition to the artistic dimension.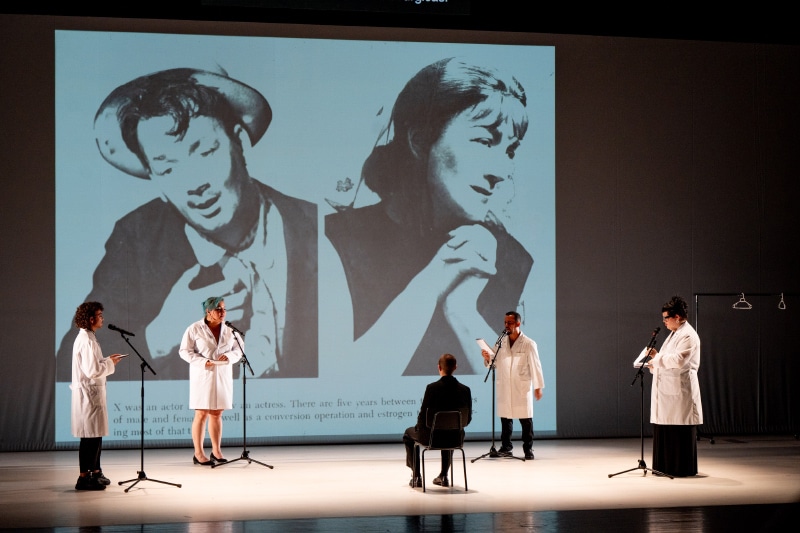 "Can the Monster Speak" by Paul B. Preciado
What exciting developments or themes can we expect in future BoCA editions?
I will soon begin working more deeply on the 2025 edition of BoCA. One aspect I'll focus on from now on is defining the second city for BoCA 2025, in addition to Lisbon. In previous editions, alongside Lisbon, we have always collaborated with another invited Portuguese municipality (Porto, Braga, Almada, Faro). However, I would like to explore the possibility of a foreign city to promote an intercultural exchange on an international scale, starting from the roots.
Curatorially, I'm interested in future editions to continue blurring the boundaries between different forms of art, always within a performative framework, as well as blurring the boundaries between art and society, with socially engaged artistic projects that involve community participation. I want projects that continue to challenge internationally acclaimed artists to develop new creations in domains they haven't explored before, following the projects we have developed with Gus Van Sant, Tania Bruguera, or Marlene Monteiro Freitas. These are desires and possible directions that I will be investigating, but I always have a special interest in providing artistic experiences that forge consistent connections and collaborations between cities, institutions, and artists.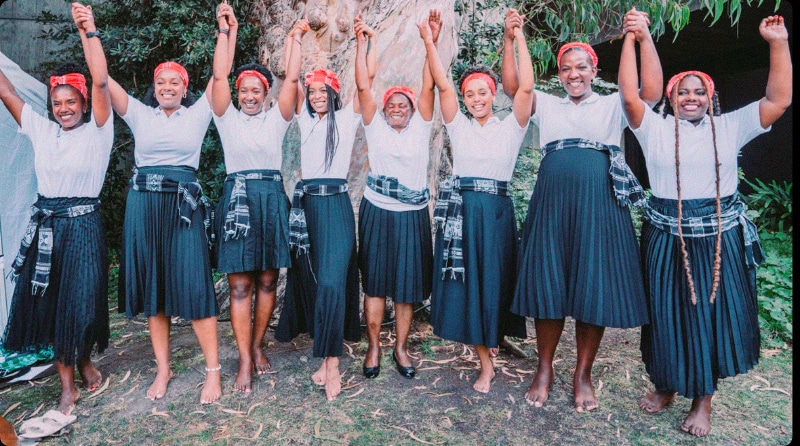 Batukadeiras