If you are looking to see strong and fresh menswear, TRANOÏ is definitely the place to be. With a curated selection by TRANOÏ and the Fédération de la Haute Couture et de la Mode (FHCM),organizer of Paris Fashion Week®, of the most interesting emerging brands from all of the world they give us a vision on creativity and innovation from the cutting edge menswear brands making up the scene.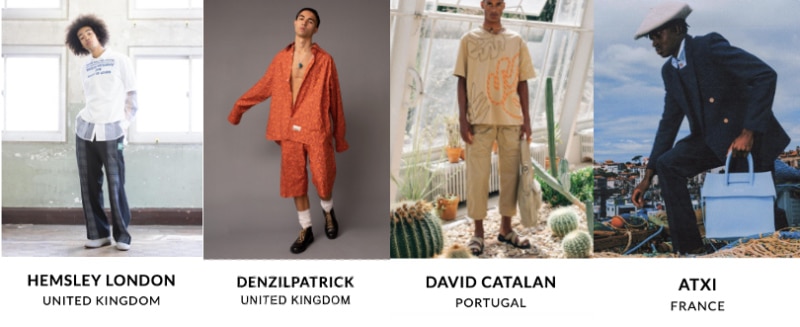 "Emerging designers it's all about breaking boundaries and we think how we can do things in a mass market" explained the Danish duo behind ISNURH.
From the 23rd to 26 June at the Palais de Tokyo, the four-day event is dedicated to designers with a creative approach and we just got news of this edition's line-up. Following up on last season's edition, TRANOÏ has continued to give a platform not only to highlight creative talent in menswear but also a focus on genderless and sustainable designers. The events gives out a strong message that creatives are highlighting solutions and sustainable practices while not afraid to speak up on hot topics such as the social and environmental cost of cheap fashion making part of the ongoing dialogue changing the way that men dress.
This season Tranoï is adding an extra day and will open its doors for 4 days (instead of 3). More than twenty newcomers including: Joah Kraus (Germany), None of my Business (Canada), TJ Who (Nigeria), Sreu (Japan), Sventum (China), N Palmer (USA), Huarte (Portugal) … enrich the selection, while France is well represented with more than a dozen French designers including: Atxi, Gunther, Erevan, 8IGB Community Clothing, De Pino, Recoded by Aalto, Mworks (Mansour Martin), Monsieur L, Choushu, Llosa…
Finally, Tranoï welcomes the world back with a return of international visitors and buyers from: USA, China, Portugal, South Africa, Canada, Japan, Nigeria or India, Chile and Denmark… In total, more than fifteen nationalities will propose their S/S 23 collections to French and international buyers.
Tranoï Men SS23 Designers:
8IGB Community Clothing – FRANCE
Aalto Recoded – FRANCE – New
Athanasiou – GERMANY – New
Ver esta publicación en Instagram

Atxi – France
Atxi emphasize sthe know-how of the Basque region thanks to a rigorous sourcing of raw materials through working with local suppliers in order to create short production circuits and to perpetuate ancestral know-how.
Carré Y – FRANCE – New
Choushu – FRANCE – New
Daniel Essa – FRANCE – New
Ver esta publicación en Instagram

David Catalan – PORTUGAL – New
David Catalán is an European menswear brand oriented to youth culture and lifestyle drawing inspiration from its day-to-day.
David Tlale – SOUTH AFRICA – New
DenzilPatrick – UK
De Pino – FRANCE
Duarte Brand – PORTUGAL – New
Erevan – FRANCE – New
Ver esta publicación en Instagram

Estelita Mendonça – PORTUGAL – New
Estelita Mendonça is a Portuguese contemporary menswear brand.Based on the classic male clothing works on a more cerebral, free of rules and conventions.
Guido Vera – CHILI – New
Gunther – France
Hemsley London – UK – New
Ver esta publicación en Instagram

Huarte – PORTUGAL – New
Huarte is a Portuguese brand that offers a mindful and stylish wardrobe, believing that gender boundaries are blurred in the conception of their collections.
Iago Otero – SPAIN
Isnurh – DENMARK
Itoh – INDIA – New
Jack Gomme – FRANCE
Joah Kraus – GERMANY – New
Llosa – FRANCE – New
Ver esta publicación en Instagram

Lyph – UK – New
LYPH finds reference points from modern subcultures and postmodernism with innovative streetwear designs that twist and re-shape classics into a new language.
Maurizio Miri – ITALY – New
Monsieur L – FRANCE – New
MRKNTN – CANADA – New
Mworks – FRANCE
None of my Business – CANADA – New
Ver esta publicación en Instagram

N Palmer – USA – New
N Palmer explores repurposing vintage fabrics through innovative textile techniques, upcycling, and contemporary design.
Sreu – JAPAN –New
Svencum – CHINA – New
TJWho – NIGERIA – New
A new format for TRANOÏ HOMME
To allow designers to increase their visibility and strengthen their reputation during Paris Fashion Week®, Tranoï is offering designers' presentations at the Palais de Tokyo:
DENZILPATRICK: Thursday 23 June > 11:30am/2pm (by invitation)
LYPH: Friday 24 June > 12pm / 2.30pm (by invitation)
DAVID TLALE: Saturday 25 June > 10am/12.30pm (by invitation)
For international distribution players who cannot easily travel, Tranoï offers a Live Streaming Studio. Buyers will have the opportunity to discover the designers' new collections live. By appointment only, each morning will be dedicated to Asia, while European and American buyers will be able to exchange with the designers every afternoon.
TRANOÏ MEN
Spring/Summer 23
23-26 June 2022
PALAIS DE TOKYO
13 avenue du Président Wilson, Paris
Get your badge HERE!