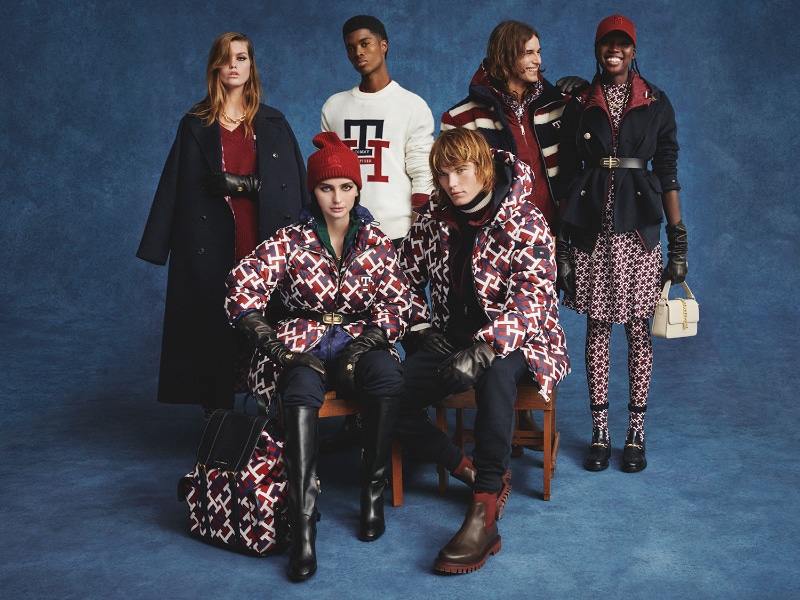 Summer is almost over and the return of the iconic American brand Tommy Hilfiger to the catwalks and to New York Fashion Week (NYFW) is almost imminent.
All eyes are on its long-awaited return to the shows, but to make matters even more intense, T.H. has just unveiled a Fall/Winter collection called "TH Monogram".
The fashion house's newly introduced monogram, created in collaboration with celebrated British illustrator and graphic designer Fergus Purcell, becomes the undisputed star of the line, in which preppy codes and style are reinvented to create sophisticated pieces for all genders and ages.
Fresh and edgy airs are what the brand is currently receiving, thanks in part to the logo created by Purcell and his avant-garde contribution to the company's East Coast style heritage. This element brings together the classic and the new and provides a fresh take on the preppy style and DNA of TOMMY HILFIGER, and is the result of extensive research into the house's archives, as Fergus discovered several common motifs in iconic pieces from the brand's design history, which he has reinterpreted with an intertwined T and H.
The collection features premium pieces, printed with the monogram in the brand's signature colours of red, blue and white. The monogram becomes a print that is printed on coats, accessories and unisex looks, while on jackets and tailored pieces it is presented as a tone-on-tone weave. The changes in size reflect the versatility and dynamism of this new identity.
Another of the characteristics that stand out in "TH Monogram" is the care for details and manufacturing, which make the proposal become an offer of the highest quality. The garments are made with top-quality wool and recycled fabrics and the 'Prep' classics feature recycled feather filling and intricate jacquard workmanship. All finished off with embroidered monograms, leather pieces and metal buttons and trims.
Want to know more about "TH Monogram" and its new monogram? You'll have to wait until September 11th, when the monogram will be unveiled worldwide on Tommy Hilfiger's phygital runway during NYFW. This unveiling, as we've already told you, will be complemented by a series of physical and digital experiences, as well as one-off collaborations around the world.
Stay tuned!