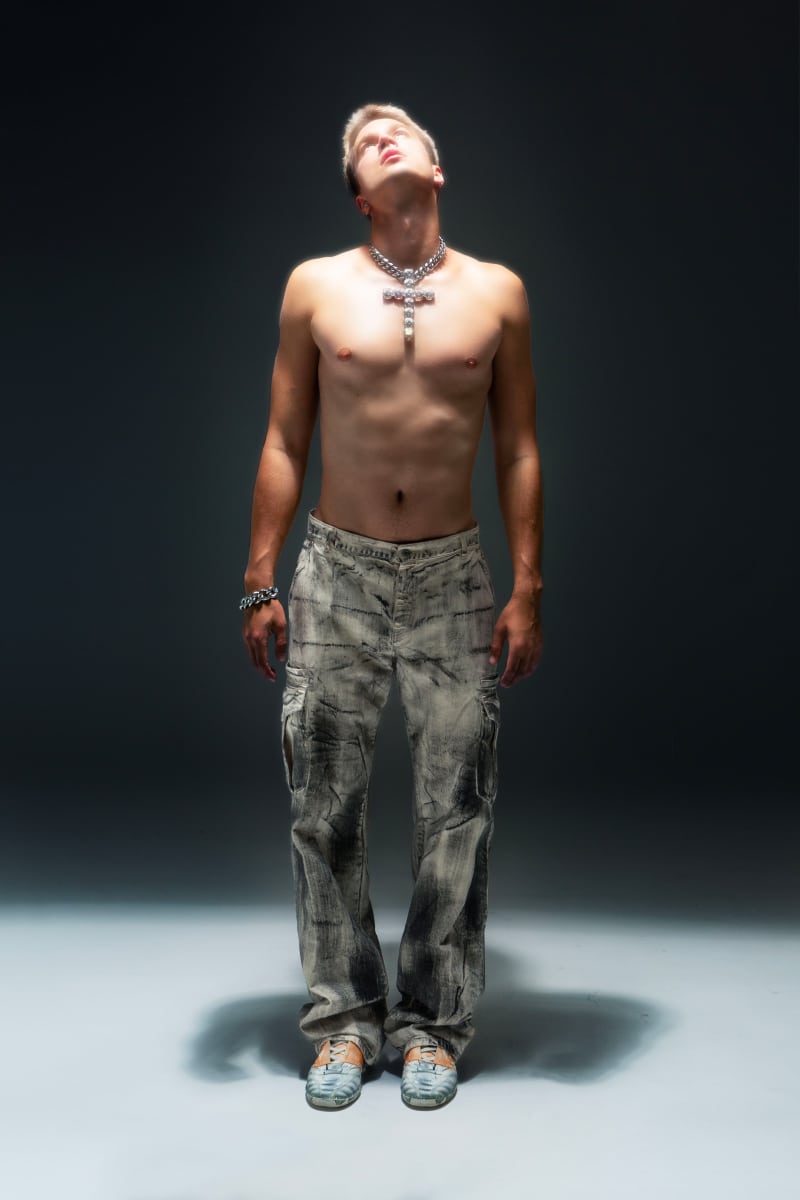 Tim Vagapov is an LA-based actor, creator, and model who you may have seen in recent campaigns or on the runway for some of your favorite brands. Born and raised in Saint Petersburg, he is of Kazakhstani and Ukrainian ancestry. He started playing basketball professionally in Europe when he was just 15 years old and eventually made the Russian National team. Tim's professional basketball career was cut short by an achilles injury, but during the epidemic, he switched to social media and rapidly established a reputation for his attractiveness, charm, and dry humor. He now has 237k and over 94k followers on TikTok, respectively.
Tim is currently enrolled in the prestigious Sanford Meisner Acting Center, having recently relocated from New York to Los Angeles, where he is studying acting. Photographer Nick Little captured Tim in this Fucking Young exclusive! And we got the chance to get to know this rising talent.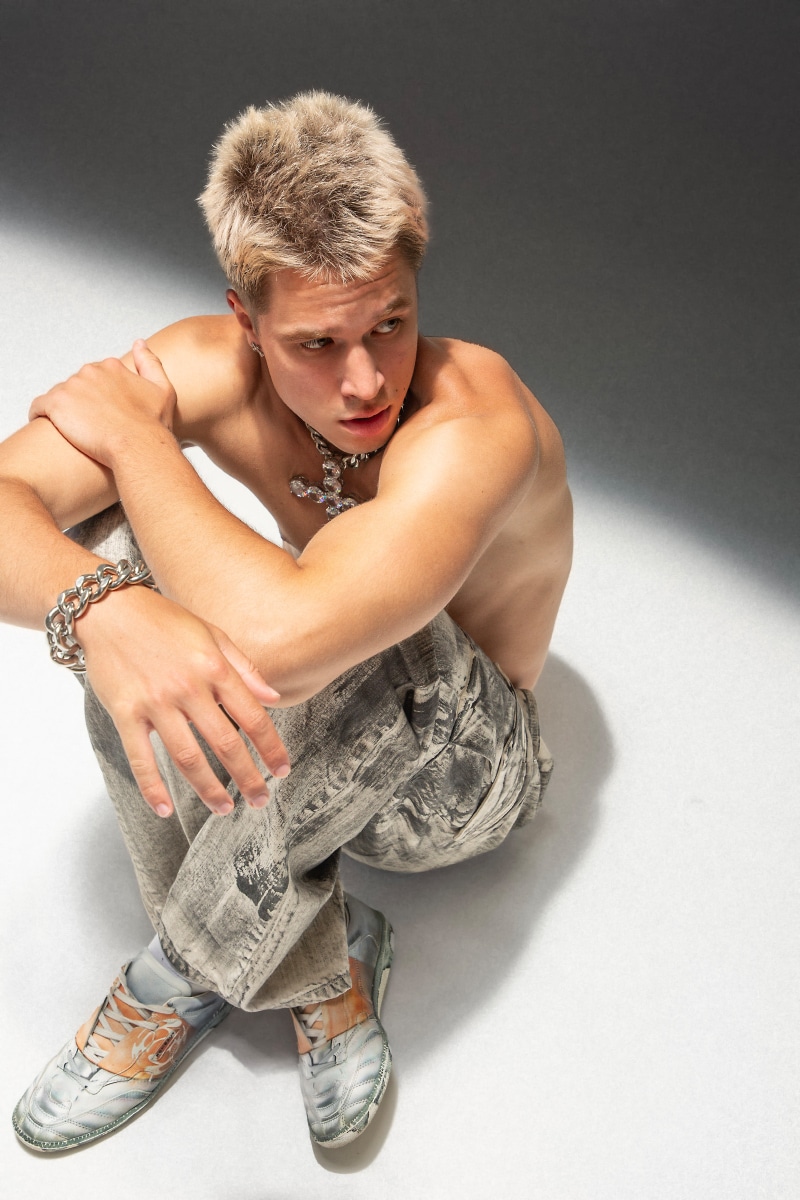 You are a former pro athlete turned actor and now found in Dior campaigns and on the runway. How did you venture into the fashion industry?
When you put it like that, it definitely sounds crazy! I'm so proud of my journey, and it all happened so quickly. I think what has helped me navigate everything is listening to my heart and going with the flow.
I've always been interested in fashion, but my primary focus was on basketball, so I literally lived in sweatpants and hoodies. When I ventured into modeling, I realized the importance of elevating my fashion sense. I didn't want to be the model who lacked knowledge and respect for the industry. So, I gradually began experimenting and educating myself about fashion. Now as I grow and mature as a person, that growth reflects itself in my style, and what I wear is an accurate representation of how I feel, and who I am.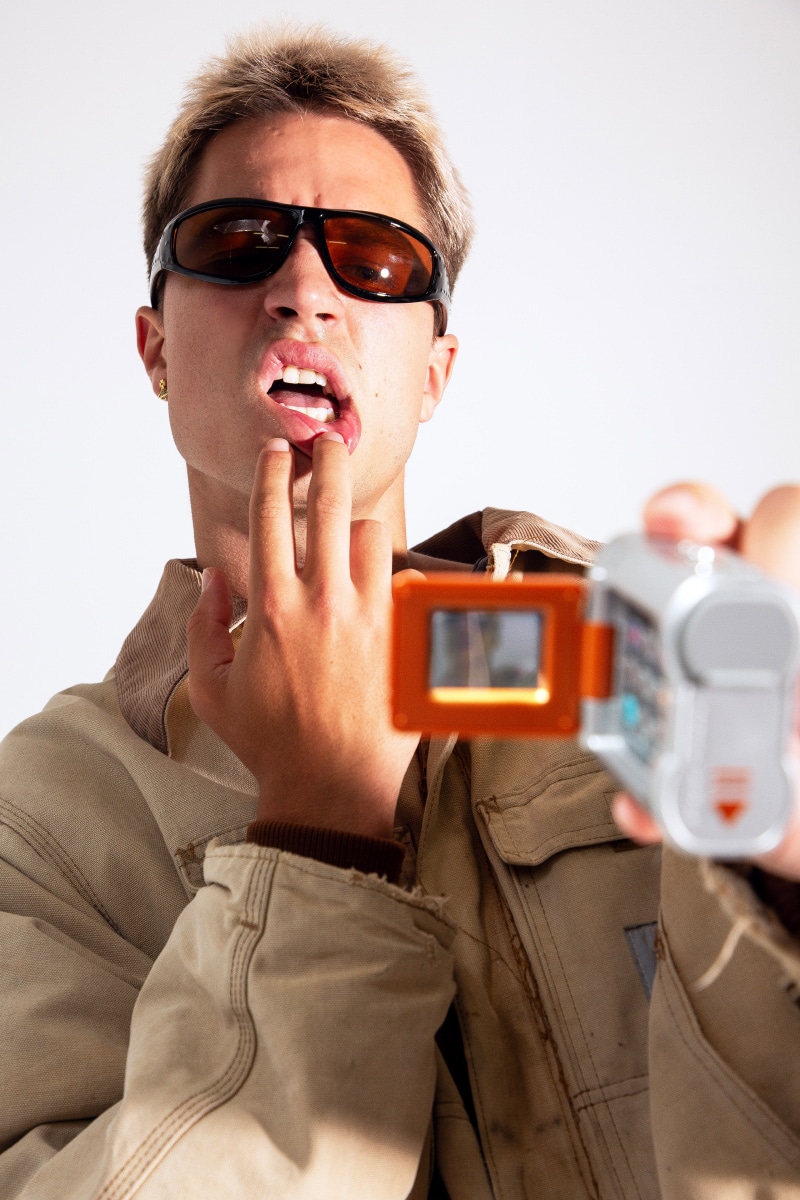 Let's go back a bit prior to becoming a model, I heard your lifelong goal was to play in the NBA. Is that what brought you to LA?
Yes, I earned a full scholarship to play basketball at a small college in Kansas. Later, I transferred to play at a different school in Ohio, and then once more to North Florida. It's been quite a journey, right?
Eventually, I made the decision to step away from basketball. I had many injuries, and my love for the game was fading because of that. On December 17, 2021, I moved to New York City in search of myself. I remember that day so vividly because it was one of the best decisions of my life.
At the same time, a friend of mine challenged me to start a TikTok page and gain 5,000 followers by the end of the year. Although I fell short of the goal, I achieved it within the first two weeks of January. This was a pivotal moment for me as I realized my love for creating content, and that I was actually good at it. As I started gaining a presence on social media, I was discovered by a manager who helped me sign with The Society NYC for modeling. Afterward, I made the choice to move to Los Angeles to pursue acting. Now, my days are filled with acting classes, and I couldn't be happier. I'm doing what I'm passionate about, and I'm preparing for my opportunity in the acting industry.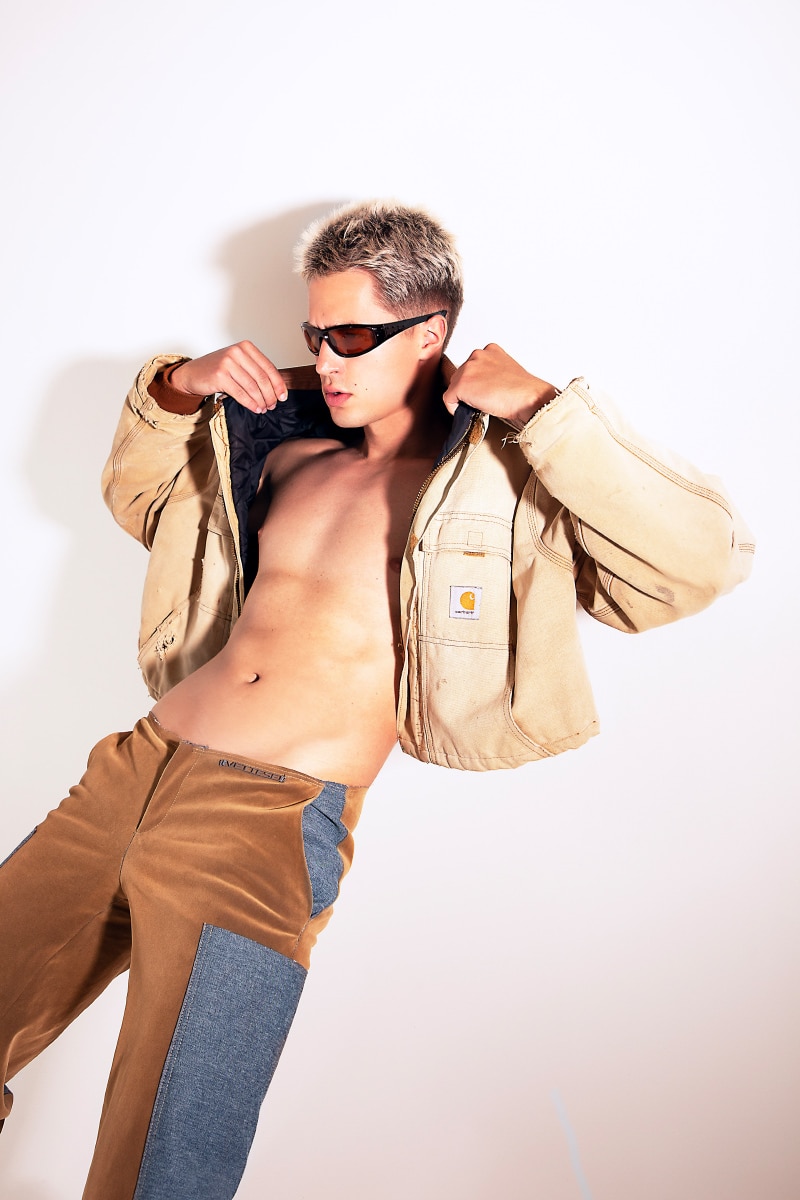 Street Style or Tunnel Shots?
It's always Street Style.
Lakers or Clippers?
Lakers and who?
Do you have an NBA jams playlist? And if yes, what is on it?
I do, and it's dominated by Drake and J Cole.
Before we move on from basketball, what is your preferred shoe on the court and on the runway?
The answer for both would be anything comfortable.
Social media, and TikTok in particular, really propelled you forward. What are your key thoughts regarding the whole Instagram thing?
It's been a bit of a love/hate journey for me. I went through many different phases of that relationship, and I came to the conclusion that doing what you love will always attract the right audience. People resonate with authentic personalities.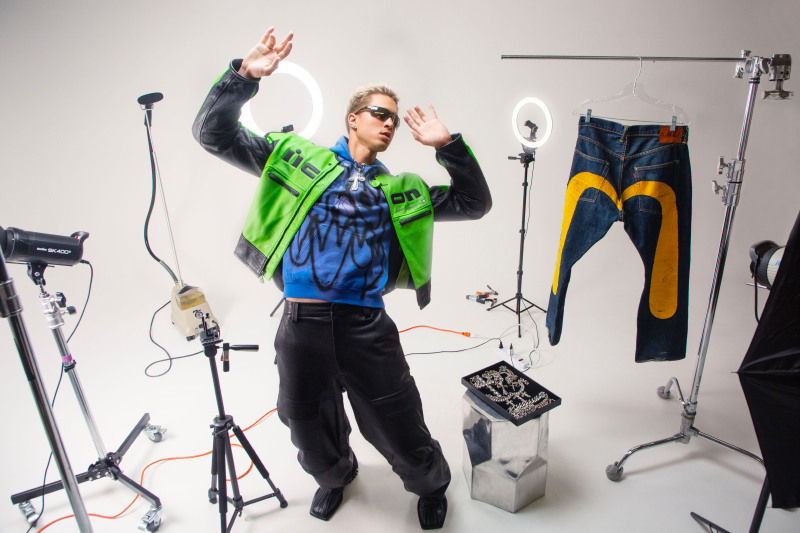 Let's have a little fashion fun. What was the worst style choice you ever made?
My very first major photoshoot was quite an experience. The photographer requested my outfit choices for the shoot, and I sent her a photo of me wearing skinny jeans. I had recently retired from basketball and was just beginning my journey into the fashion world so I didn't know much about styling. We ended up using her oversized clothing for the shoot and it turned out to be amazing.
What's even more special is that the photographer and I developed a strong friendship from that day on, and we continue to create art together. The skinny jeans era may be a thing of the past, but that story always makes me smile, as it reminds me of how far I've come.
If you could bring back any fashion trend what would it be?
Skinny jeans! Okay, I'm joking. I feel like the Old Money Aesthetic is what we're missing. Today's generation is full of romantics, but no one dresses like one. It's interesting how fashion evolves and sometimes revisiting the classic aesthetics can be a refreshing change.
Which designers are you loving at the moment?
I'm a huge admirer of Teddy Santis's work with Aime Leon Dore. Their unique blend of vintage and modern aesthetics resonates with my personal style. It's rare to find brands that tastefully embrace classic elements in the modern age.
Do you have a favorite piece of clothing?
It's got to be blazers. They make any look elevated.
Finally, if you could live anywhere in the world for one year, where would you go?
Paris. I just want to have a little cute apartment there, detach from the whole world, and be in my own romantic fairy tale.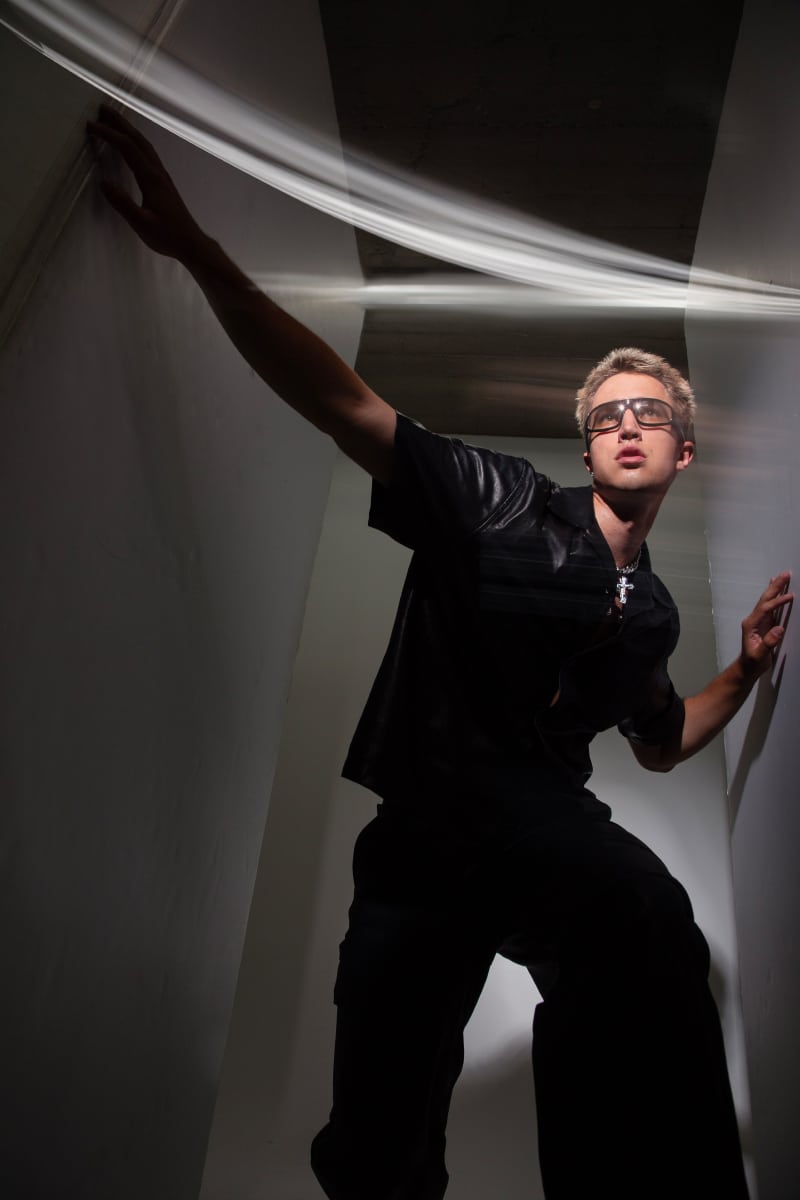 Credits
Talent: Tim Vagapov @timvagapov
Photographer: Nick Little @nklil
Stylist: Stephanie Drew @saintstephy
Clothing: Jeans by RTA, shoes by Rombaut, jewelry by Average Citizen, sunglasses by Oakley, jacket by Carhartt, pants by VETTESE, jeans hanging by Evisu, trench coat by Plagueround, top by Closet Food