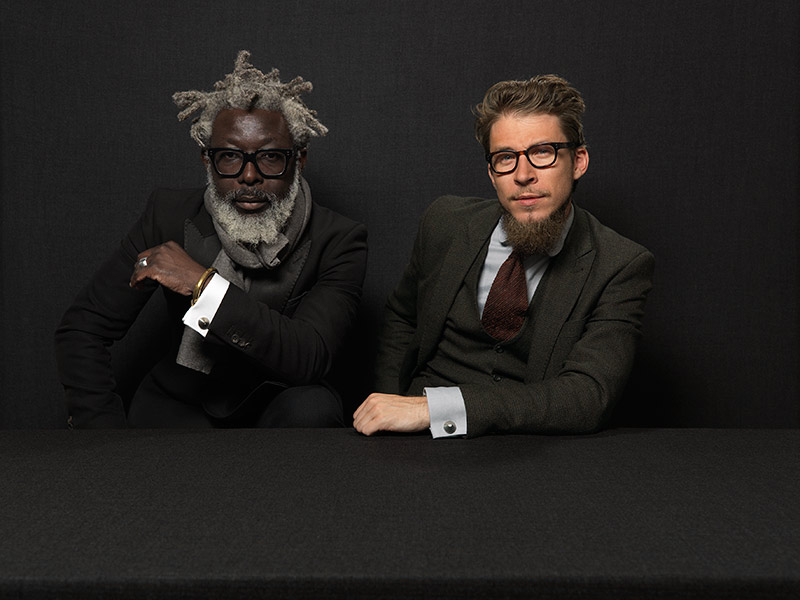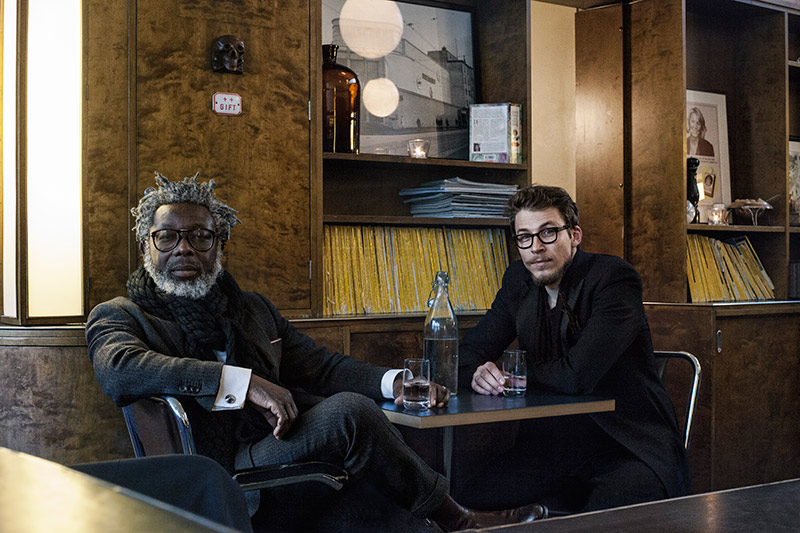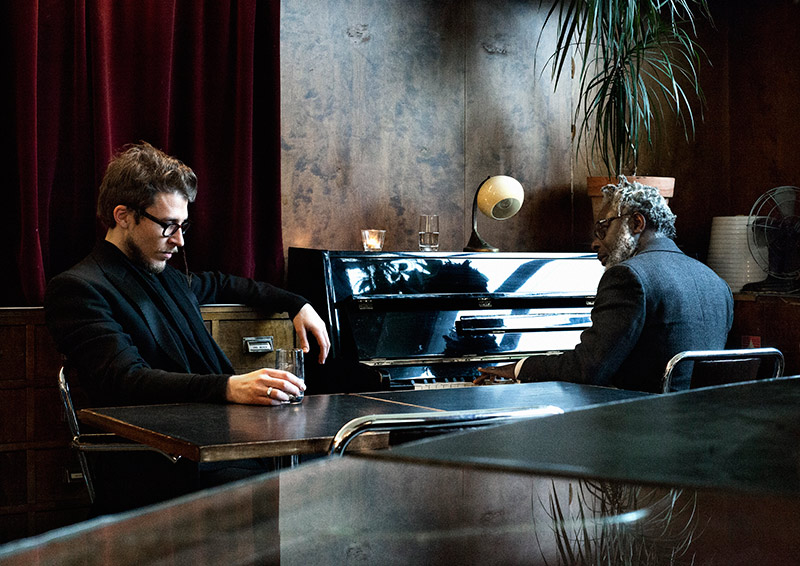 "I'm singing in the rain
Just singing in the rain
What a glorious feelin'
I'm happy again…"
Certainly if the musical masterpiece starring Gene Kelly had been shot in 2013 he, Gene, would have worn one of the raincoats created by T-Michael and Alexander Helle for the brand Norwegian Rain: the impeccable gray suit would not have got soppy with water and the charm, the magic of the moment would not have been affected… Not at all!
Also Edith Head – the Golden Age Hollywood' queen of costumes – would have chosen them… Maybe to be worn by the star of a noir because, we are sure, she would have loved T-Michael and Alexander a lot!
Back to us… We have decided to rely on the words of the famous Arthur Freed's song to introduce the brand designed and created by this duo based in Bergen – the rainiest city in Europe – together with the photographer Bent René Synnevaag and the graphic design studio Grandpeople because in their garments there is the whole tailoring tradition exalted and celebrated just by the cinema of the past…  The same as Humphrey Bogart's in Casablanca…
A reinvented, polished, innovative tradition. A tradition that looks at the future of fashion and the cultural influences of today's melting-pot society. A contemporary, seductive, exciting tradition. Tailoring techniques and 100% waterproof. Eco fabrics to create raincoats that don't look like raincoats. Classic and experimental. The high tech is hidden… Winning features for a winning brand.
We have had the pleasure to interview them, on one of this early autumn's Tuesdays… While outside, ironically, a driving rain was falling… Obviously we were not afraid of it!
Fucking Young! – Let's Start! Who are Alexander Helle and T Michael?
T-Michael – He's Alexander Helle and I am T Michael (laughing). I have been working as owner and creative director at T-Michael 17 years now and I worked at clothing, shoes, bags… Then, together with Alexander we projected the Norwegian Rain project.
FY! – Norwegian Rain is a project born in Bergen, the rainiest European city… It might sound trivial to ask but when, how and why did the idea come?
Alexander Helle – I think it's really easy to answer because when you live in Bergen and it just keeps on raining, every day you get reminded that you have good clothing or you don't. At a certain point in my life, I was in Milan and thought it was nice to make a change. When back in Bergen I started to think about how I could live my life in the best way possible and then the idea of the raincoat started. Our ideas came from all the guys in Bergen that we have been looking at for years and from people doing these handcraft. Then I had to convince some to become partners of the project and happily they did. When Michael came with his ideas we tried to turn them into something more concrete.
FY! – You two… The arm and the mind, the mind and the arm… But Norwegian Rain is also and especially a great and tested  team which, besides yourselves, include the photographer Bent René Synnevaag and graphic design studio Grandpeople… How do you interact? How important is a good  communication? Are there specific roles?
T-M:  It's very natural the way we work. We have a concept about how to have our garments, our products done and it makes sense to speak to the right people that can help you to transform these garments into something that all the people desire. Then it's when the photograph comes in and the graphic designer comes in as well. We all feel we have the same canon of aesthetics and the same way of thinking. Sometimes we surprise each other in positive ways. Our communication is based on being skilled and trusting in the next person.
A: Basically it is all about capturing our universe in all levels of visual communication. An extension of our thoughts, ideas and visual values. Spiced with their own creative mind and their relation to rain. The result is us 100 %. Hopefully that will create the presence of our garment so that people desire them.
FY! – What do you think the Norwegian Rain duo's secret weapon is?
T-M: I think our secret weapon is the fact that we lived in the rainiest city in Europe. Maybe it sounds very trivial and banal but we know that if the garment is not good to be used in Bergen, you don't really wear it anywhere. At the same time, we want a garment to be more than just a raincoat.
A: Our products are always inspired by our customers and created for them.
FY! – The raincoat is the item that tells your philosophy, your mood, your brand… In what is this item so different from the other ones that in a few years you have succeeded in making it the new object of desire?
T-M: I think that the reason why the raincoat looks like it does and the reason why it has this DNA is because at very early  point we decided the raincoat should not look like a raincoat. It should have an attitude which goes behind just keeping the water out. It should look like something all the people want to buy and that they can style their own way which means a lot of different people wearing it in also different ways. So we bring in the tailoring to give it the shape, the style; then we add the function to it; we bring the fabrics and start to put everything together and then we go on making it more functional but also wearable in a stylistic way. All these things together with the kind of people we are show that our products are simple but advanced, technical but very tailored. They keep the rain out but in a stylistic way.
A: By living in this natural laboratory that Bergen is, we had the opportunity to see how people related to the rain, how they were dressing in the rain. Many dress functional but a lot don't. Comfort is not just being functional, it's about to represent what you want to represent. Comfort is as much a visual thing as a functional thing and with our products we don't want to compromise any of them.
FY! – A little jokingly question… Alexander's and T-Michael's biggest value?
T-M: Alexander's biggest value is his ability to challenge existing things, his habitude to ask me: "Why are you doing like that?" which makes me think twice about the right answer and sometimes he makes me say: "Ok, let's try differently".
A: I think it's quite the same for T-Michael.  If I come with an idea, he says: "Oh yes, it's a good project but what if we do like this?". Generally we are never satisfied d with the firs idea coming to mind. Moreover, he's more conceptual, an artist: he has a lot of handcraft skills but his mind is on another level.
FY! – From Norway to Italy. From France to Great Britain to the United States. Yours is a rising brand. Which your reaction to success?
T-M: I think we had a very subdued reaction to it because you know normally we are at work dealing with different projects together and sometimes we have not the time to understand what's happening. Which is not normally a very good thing because you are immerse in your work and then you come back home and say: "Oh, wow! Look at that!". So that's why we appreciate all the feedbacks, all the comments, all the fans that encourage us to work harder and to give more.
A: I think that one of our strengths is also the fact that we put a lot of energy in even the smallest things and we are aware of the value of all of them.
FY! – Instead, is there any market you still want to conquer? If I say "East",  what do you say?
A – Japan is already our biggest market but anyway we are very product-focused: we want to make the absolutely best products possible so that we can attract the most influential stores worldwide. Our garments can be enjoyed by all the people around the world.
FY! – Yours is clearly a success confirmed by the numerous awards got over the past few years. Among the others… The Award for Design Excellence 2012 – Norwegian Design Council, Designer of the Year 2012 – Naaloyet Norway, Talented Newcomer 2010 – Vogue Italy & WHITE, Vogue Talents – Vogue Italia. Since now, what has been the most rewarding and/or exciting moment?
T-M: I'd say that the most exciting moment was when we presented our collection to the National Award Prize. We didn't win but the most exciting thing was that table with all the powerful houses of fashion in Europe. It was very exciting to see their response to what we were doing. The feedback was very encouraging and beautiful. We learnt we were on the right track and that we just have to keep on doing it.
A: Actually there are a lot of these moments, for example when we presented our collection to the Japanese buyers and they were there listening to our story and backgrounds. It was a surreal experience.
FY! – Among the celebrities, who could be your ideal customer? The one that could best  represent your style?
T-M: For me it's a combination of Steve McQueen and Sidney Poitier.
A: For me it's a combination of Clint Eastwood and Björk.
FY! – Alexander,  I know that Italy has a place of honor in your heart but, in general what is the city that makes you feel at home?
T-M: It change so quickly this base… It's hard to answer. I can say I feel home everywhere.
A: I am travelling so much now and we experienced fantastic things all around the world that it's hard to choose just one place. I can say I love Paris with its coffee shops where you can see people walking around
FY! – The 2013-14 F/W signed Norwegian Rain…
T-M: We have just arrived to introduce two garments for men: the jacket, which is called NUTTER´S PETRICHOR that is basically based on a man's blazer. It's shorter, a little bit more shaped and a little bit more elegant and at the same time it's able to protect you from the elements without losing its dapper-esque edge. We also have a longer version of a raincoat which looks like a crumby raincoat. It has the same quality of a raincoat but it doesn't look that.
A: All the garments follow our concept about extreme technical outwear and functionality. We have used Japanese recycled fabrics to make raincoats for urban use that are perfect wearable even when it's sunny.
FY! – The 2014 S/S signed Norwegian Rain…
T-M: It follows up the same DNA in a way regarding the fabrics, even if they are lighter. In Asia, for example,  it rains a lot when it's summer so we have introduced light weighted fabrics that can be used in this season whether it's co, whether it's cold whether it's raining… and then we have introduced some coats with the mandarin collar. Anyway, our coats ban be used all around as well.
FY! – As for the new Collection, we know it's a top secret project but, anyway, can we have some little anticipation?
T-M: It's very exciting!
A: Now we are already working at the next winter collection, called Rain 3.0. We'll have shoes and jackets made for extreme cold weather. There's also a collaboration with a hand maker in Florence and one of our favourite Japanese designer, but we can tell you the name yet… As all our other collections, this one will be available online as well.
FY! – What is fashion today? What will it be in 10, 20 years? Which language does it speak?
T-M: I think the language of fashion changes every year, even if it's quite an everyday language. There are new fabrics and extravagant pieces but I think collections are becoming more functional. I am not an expert in fashion but I think there are a lot of new technologies that will be used in fashion in the next years.
A: It will speak Norwegian (laughing)… anyway, I hope that we can all grow together to create the most ecofriendly fabrics.
FY! – What will you be doing in a month?
A – We are opening our first shop abroad in November  – in London.
FY! – Your secret dream…
T-M – Can I tell you?
Thanks a lot!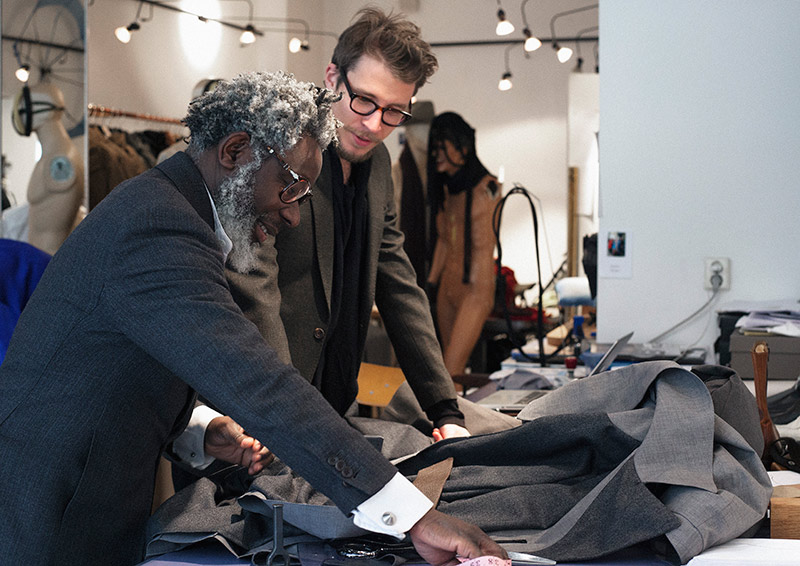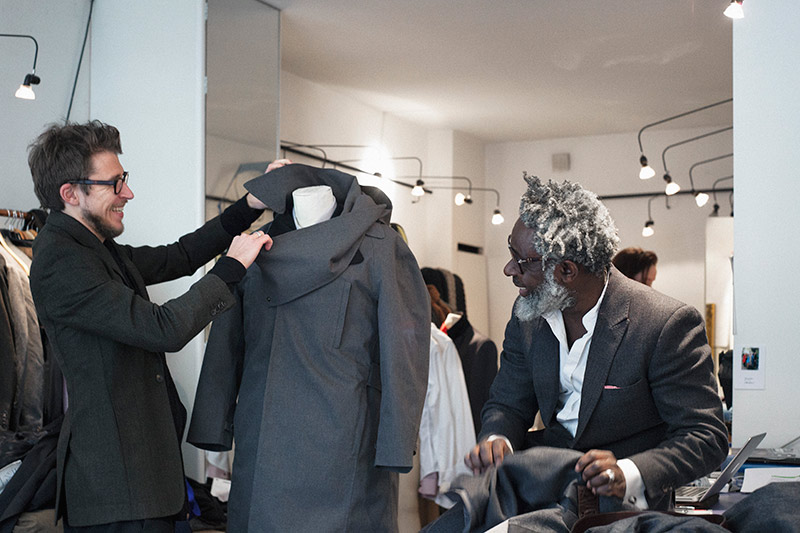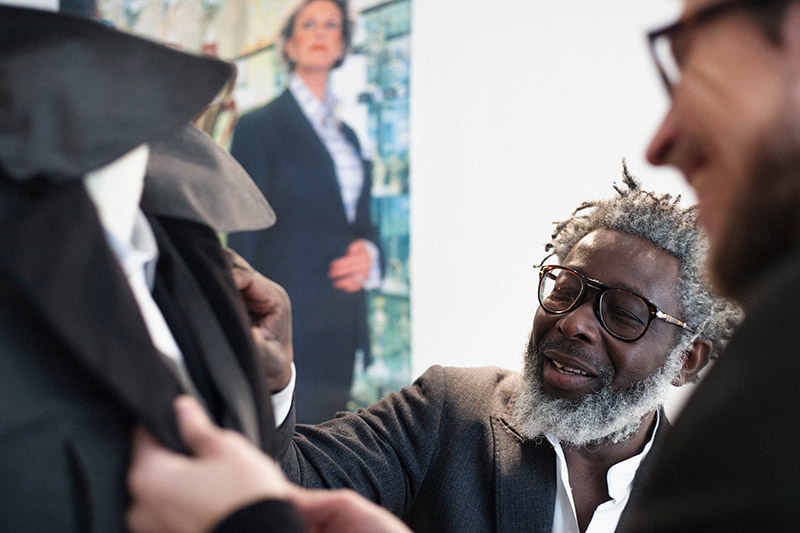 Photos by 
Bent René Synnevåg
.